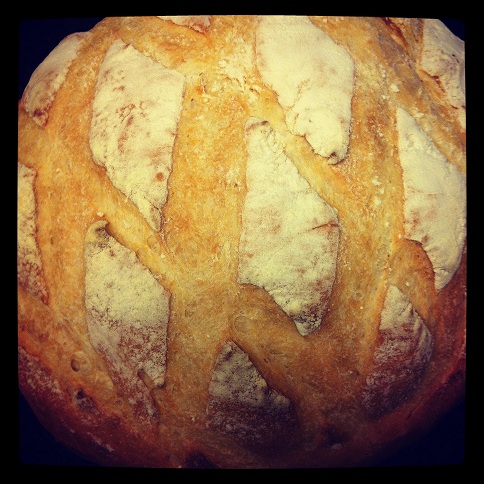 Clearly you deserve a better post…but that won't be today. 😛 It's been a long week around here. People who are close to me know that when someone passes in my life I usually bake bread. Not sure why I just always have. Sadly one of our local hockey family, a guy I have played both with and against, passed away on Wednesday morning. He played a game of hockey and said he wasn't feeling well but still went to his second game of hockey where he played a few shifts. Told everyone he didn't feel great and was going home. And at 7am the next morning he had a heart attack and died. Life is short people, spend it with the ones you want to, don't waste your time on anything that isn't bringing you joy.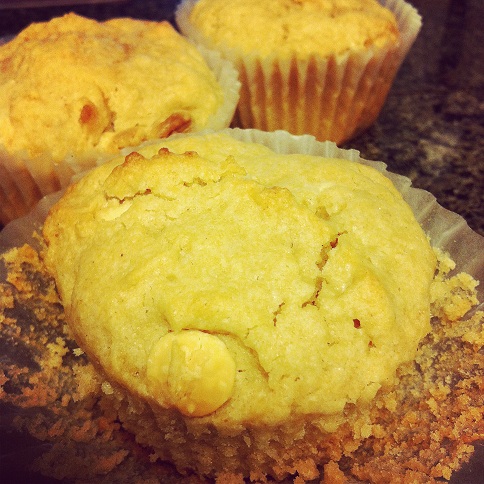 I did manage to make something…these are kind of healthy muffins…well healthy for me. I was going to make a pretzel topping but never got around to it. Like I said, weird week.
Peanut Butter White Chocolate Chip Muffins
½ cup vegetable oil
1 cup peanut butter (your choice…I went with Jif)
1 ½ cups granulated sugar
½ cup brown sugar
4 eggs
1 TBSP vanilla extract
2 cups all-purpose flour
1 cup whole wheat (see the healthy part)
2 ½ tsp. baking powder
Pinch of salt
¾ cup whole milk
1 ½ cups white chocolate chips (I went white so that the dog could have a bite 😛 )
Preheat oven to 350F.
Using a stand mixer with the paddle attachment, beat together the oil, peanut butter, and sugars until on medium-high speed for 3 minutes, it should get lighter in color.
Add the eggs and vanilla and beat for 2 minutes. Scrape down the bowl.
Add ½ the dry ingredients and with the mixer on low add until just combined. Then add the milk, and mix on low. And then add the remaining dry ingredients until just incorporated.
Fold in the white chocolate chips.
Scoop into muffin tins (with liners), doing the standard 2/3 of the way up. You will get 24 of these bad boys…or at least I did.
Bake for 18-20 minutes. Remove from oven and cool on a wire rack. Remove muffins when completely cool.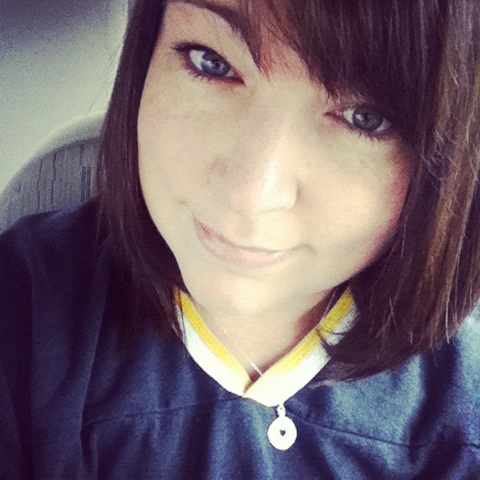 Here's a picture of me with my new do for the late spring into summer. Thank goodness I have friends who are in the industry to keep me looking lovely for cheap. 🙂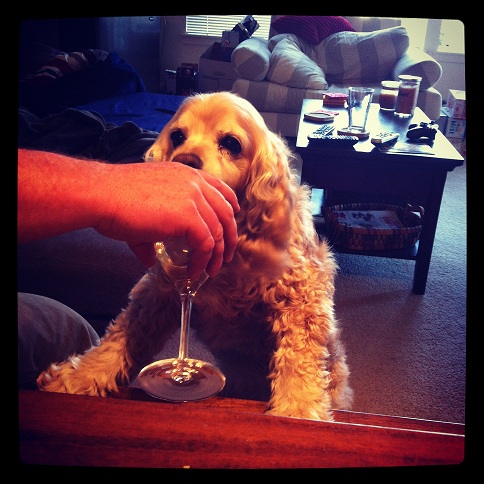 And since it is Fur Baby Friday here is CCS enjoying some white wine…I kid, she is a dark beer drinker. 😛