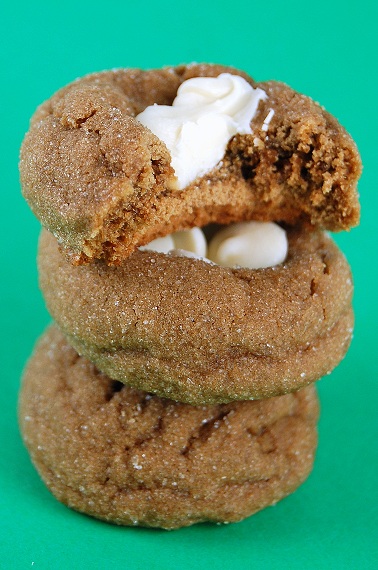 So these were made last year so we aren't really going that far back. But I thought I would feature them again as they are literally the number one source of traffic from Pinterest right now, with many people coming back and telling me how yummy they are. I recommend these cookies for cookie exchange big time. Not everyone likes gingerbread flavors, but those who do will thank you greatly for making these.
I do have to say that I am in awe that this little cookie is the thing that currently people are coming to my site to see. I mean they are good, don't get me wrong but of all the things on my site, I am thoroughly amused that this is what is getting the most traffic. 🙂 For which I am extremely thankful for though. I have quite a few new readers to the blog thanks to Pinterest, not to mention a ton of ideas for myself!

White Chocolate topped Gingerbread Cookies
3 cups flour
2 tsp. Ginger, Ground
1 tsp. Cinnamon, Ground
1 tsp. baking soda
1/4 tsp. Nutmeg, Ground (I used fresh)
1/4 tap salt
3/4 cup (1 1/2 sticks) unsalted butter, at room temperature
3/4 cup firmly packed brown sugar
1/2 cup molasses
1 egg
1/4 cup granulated sugar
1 tsp. Vanilla Extract
1 cup white chocolate chips
Mix flour, ginger, cinnamon, baking soda, nutmeg and salt in large bowl.
Beat butter and brown sugar in large bowl with electric mixer on medium speed until light and fluffy.
Add molasses, egg and vanilla; beat well. Gradually beat in flour mixture on low speed until well mixed. Press dough into a thick flat disk. Wrap in plastic wrap. Refrigerate 4 hours or overnight.
Preheat oven to 350°F. Shape dough into 1-inch balls. Roll in granulated sugar. Place 2 inches apart on ungreased baking sheets.
Bake 8 to 10 minutes or until edges of cookies just begin to brown. Immediately press about 5-6 white chocolate chips into center of each cookie. Remove to wire racks; cool completely. Store cookies in airtight container up to 5 days.
Adapted from McCormick and Company Inc.