This Peppermint Bark Shortbread is a buttery and crumbly shortbread that is dipped in chocolate and covered in candy cane pieces.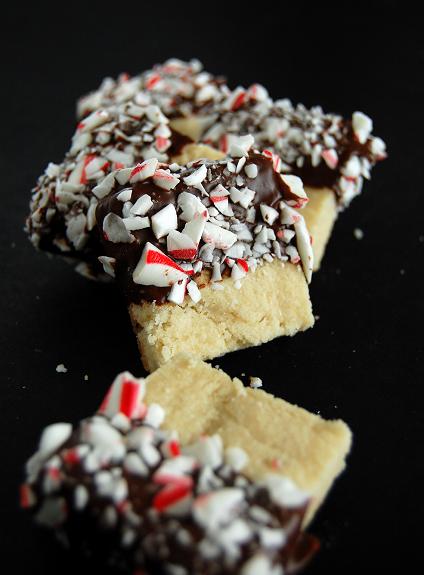 As much as I try and fight it I am in the Holiday mood already.
Not sure why.
Last year it took everything in me just to put the tree up let alone put out any other decorations.
But this year I can't seem to wait.
I've already been sneaking in a little upbeat holiday music to my workout playlist. 🙂
Though will admit that it's a little too early to get your photo taken with Santa…but he was there at the mall already the other day!
Don't they know he doesn't come until after the Macy's Thanksgiving Day Parade (as a kid that's how I knew Santa was on the job)?
Now, I'm not quite as gung ho as some people.
I have about a handful of friends who are already completely done with shopping this year.
Maybe it's the foodie in me but I haven't thought about gifts, just cookies and foods I plan to make.
I have two cookie exchanges to go to so far and I have a rep to protect. 😀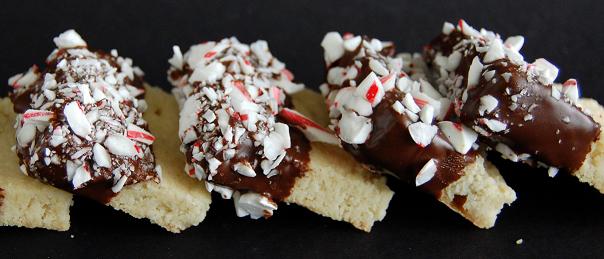 One cookie that is always a hit is this Peppermint Bark Shortbread that I made back in December 2008.
I have made them every year since and have no plans for stopping.
These are unique in the fact that they use white rice flour.
People ask me is it necessary…yes, yes it is.
It gives them an amazing texture that regular flour can't.
You can usually find it near the specialty flours or nowadays where the gluten free stuff is located in your grocery store.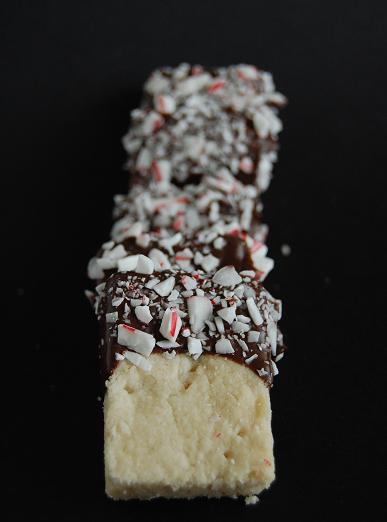 These are simple to make, though you might panic when you make the dough and it doesn't come together.
Just dump it in the pan and press it down and when it starts to bake it all comes together.
The original recipe calls for dipping the whole shortbread, but I chose the side because I am lazy and it is easier that way.
P.S. It's a great day to buy my cookbook Holy Sweet!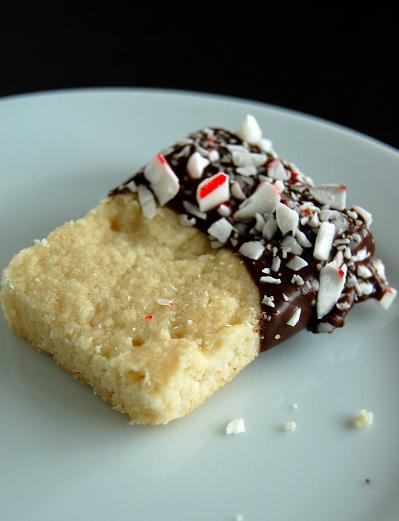 Want More Cookie Recipes?
Roll Out Shortbread Sugar Cookies
White Chocolate Chip Creamsicle Cookies
Vanilla Bean Caramel Thumbprint Cookies
White Chocolate Dried Pineapple Salted Macadamia Nut Cookie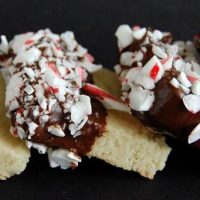 Peppermint Bark Shortbread
Ingredients
For the Shortbread:
1 cup granulated sugar, plus 2 TBSP for the top
2 cups unsalted butter, at room temperature
1 tsp. peppermint extract
3 ½ cups all-purpose flour
1 cup white rice flour (yes, you really do need this it makes a huge difference in texture)
½ TBSP salt
For the Coating:
16 ounces semi-sweet chocolate
1 TBSP vegetable oil
Crushed candy canes (8-10 mini canes)
Instructions
For the Shortbread:
In a standard mixer or with a hand-held beater, cream sugar, butter and peppermint extract until light and fluffy.
Add the flours and salt and combine until mixture just starts to come together. (The dough should be crumbly but stick together when squeezed.) Don't panic as the dough will be very crumbly, when they start to bake they will form into a cookie.
Line a 12-by-16-inch pan with parchment (I used a 9 by 13-inch pan just fine).
Place dough into the pan and break up any large clumps, spreading evenly.
Press dough down gently and sprinkle the remaining sugar on top I skipped the extra sugar).
With a rolling pin or drinking glass, roll out the dough evenly. (Use a little additional sugar if the dough sticks to the rolling pin.)
With a meat tenderizer or fork, press indentations into the top of the shortbread. (This prevents the shortbread from rising unevenly.)
Bake at 350 degrees for 20-25 minutes or until shortbread is golden brown.
Cut into squares while still warm and remove cookies from pan to cool.Makes 24 2-by-2 inch cookies
For the Coating:
To finish, melt chocolate and vegetable oil over double boiler or in a microwave, watching constantly to prevent chocolate from burning.
When melted, remove from the heat and stir to cool slightly.
Dip bottoms of shortbread in melted chocolate (I did just the side), then dip in crushed candy canes.
Place on parchment or wax paper to set up.