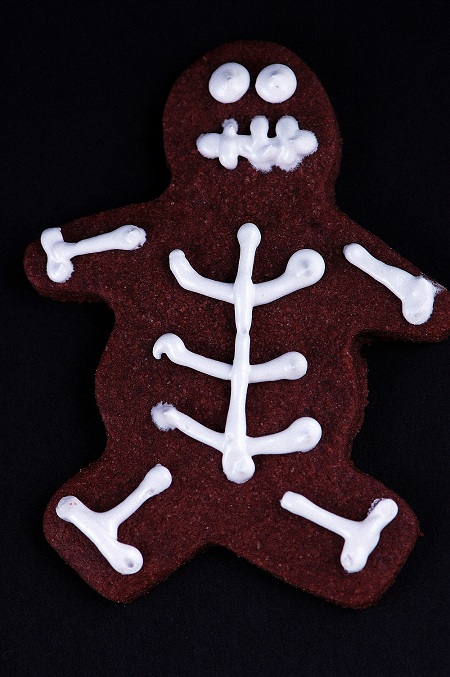 Hello All, Happy Monday! Here's what is going on in my life.
1. Made Mummy Pops using Oreos.
2. Shot corn out of a cannon…strangely exciting.
3. Watched the unrated version of Bad Teacher. Love that movie…though I must say I think you have had to teach junior high to fully appreciate it.
4. Tortured dog with constantly putting on her banana costume.
5. Played tic-tac-toe at Red Robin…where they gave us no red crayons and that seemed odd to us.
6. Played Gummy Bear Wii Mini Golf and lost badly. I need my mom to come for a visit as she always sucks worse at video games than me and makes me feel better about myself. 😛
7. Picked out pumpkins and gourds. Some will be carved, some wont. The carved one is getting the Flames logo put on it.
8. The Cozi app is very helpful…especially the grocery list and color coded dots…oh and the email reminders.
9. Go Girl Lemon Drop is now my new Energy Drink Vice.
10. Can't get the song Pumped Up Kicks by Foster the People out of my head.
These are a great cut out cookie for the fact that you don't need to refrigerate the dough, only freeze the cut out cookie right before you bake. I used what I had, which is why they are gingerbread men cookie cutters to make the "skeletons". I think that makes them cuter anyway.
Since I am decorative challenge I am quite sure that anyone can make these…and yours will not doubt be better looking than mine.
Chocolate "Gingerbread Men" Skeleton Cookies
2 ½ cups all-purpose flour
1/2 c. dutch-process cocoa (natural is OK, too)
1/2 tsp. coarse salt
1 cup unsalted butter
1 cup granulated sugar
1 egg
1 tsp. vanilla
Preheat oven to 350. Line baking sheets with parchment paper.
Whisk together the flour, cocoa,  and salt; set aside.
Cream together the butter and sugar until light and fluffy. Beat in the egg and vanilla until well combined.
In 3 additions, add the flour mixture at low speed. Scrape down sides and bottom of bowl as needed.
Roll the dough on a lightly floured and cocoa-ed surface. (I mixed the 2 of these, then spread on my rolling surface, on my rolling pin, and used it to dip my cookie cutters) and use gingerbread man cookie cutter to make "skeletons".
Freeze cut cookies five minutes.
Bake 8 minutes. Let cool completely.
With white royal icing and a #4 (or so) plain tip, pipe the skeleton bones.
Let the icing dry (overnight is fine).
{Modified from Bake at 350 who modified it from Cookie Craft}