These Brownie Cupcakes with Peanut Butter Frosting are the beloved combo of chocolate and peanut butter. Family and friends will love them.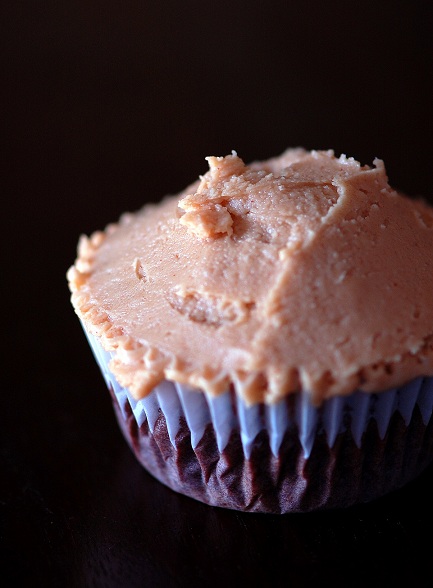 Insert witty post here.
Sorry I have been MIA busy weekend obviously and no real time now.
So I will leave you with these Brownie Cupcakes with Peanut Butter Frosting.
They were one of the original recipes on this blog back in 2006!
And no this isn't a Way Back as I remade them.
Because the photos I had back then were blurry and with a flash and you could barely tell what they were.
I actually make these a lot.
People and kids (in fact I had helpers make these…they get mixed by hand so that's always good to get the kiddos involved with) alike love them.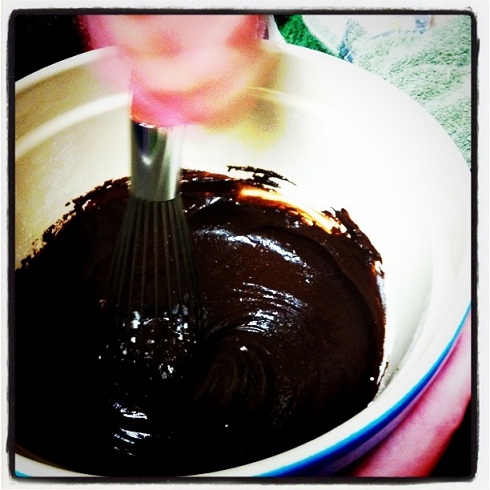 While called cupcakes they are really just brownies that are in a cupcake liner.
And are filled up all the way to look like cupcakes.
The peanut butter frosting is what really takes them up a notch.
You will definitely need a big glass of milk with this one.
P.S. It's a great day to buy my cookbook Holy Sweet!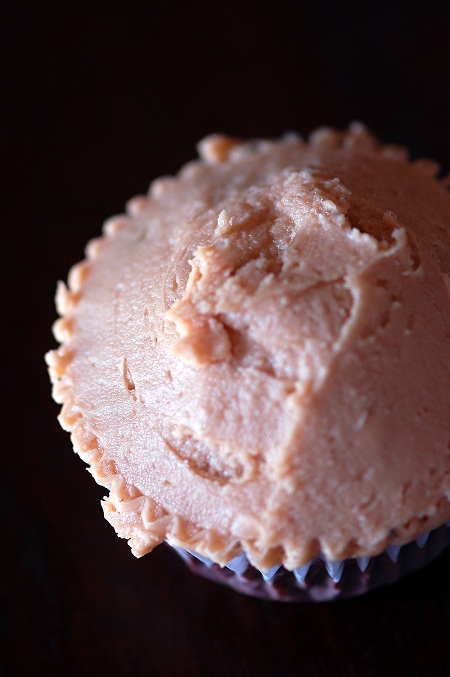 Want More Brownie Recipes?
Red Velvet Hot Chocolate Brownies
Marshmallow Crunch Brownie Bars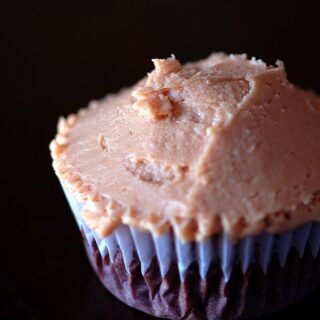 Brownie Cupcakes with Peanut Butter Frosting
Ingredients
For the Cupcakes:
6 TBSP (3/4 stick) unsalted butter, cut into 4 pieces
1 1/4 cups semisweet chocolate chips (about 8 ounces)
3 ounces unsweetened chocolate, chopped
1/2 cup (packed) golden brown sugar
1/3 cup sugar
2 large eggs
1 tsp. vanilla extract
1/2 cup all-purpose flour
1/4 tsp. salt
For the Frosting:
1 cup powdered sugar
3/4 cup creamy peanut butter (do not use old-fashioned or freshly ground)
1/4 cup (1/2 stick) unsalted butter, room temperature
1/4 teaspoon vanilla extract
4 teaspoons (about) whipping cream (optional)
Instructions
For cupcakes:Preheat oven to 350°F. Line 10 standard (1/3-cup) muffin cups with paper liners.
Combine butter, 1/2 cup chocolate chips, and unsweetened chocolate in top of double boiler set over simmering water.
Stir until mixture is melted and smooth. Remove from over water. Whisk both sugars into chocolate mixture, then whisk in eggs 1 at a time.
Whisk in vanilla, then flour, salt, and remaining 3/4 cup chocolate chips.
Divide batter among prepared muffin cups (about 1/4 cup for each).
Bake cupcakes until tester inserted into center comes out with moist crumbs attached, about 20 minutes. Transfer cupcakes to rack and cool completely.
For frosting:
Put powdered sugar and next 3 ingredients in medium bowl. Using electric mixer, beat until mixture is smooth, adding whipping cream by teaspoonful's if frosting is too thick to spread.
Spread frosting over top of cupcakes. (Can be made 1 day ahead. Store in single layer in airtight container at room temperature.)