This Strawberry Donut Bundt Cake is my nod to Homer Simpson. A strawberry Bundt cake topped with a strawberry jam icing and sprinkles.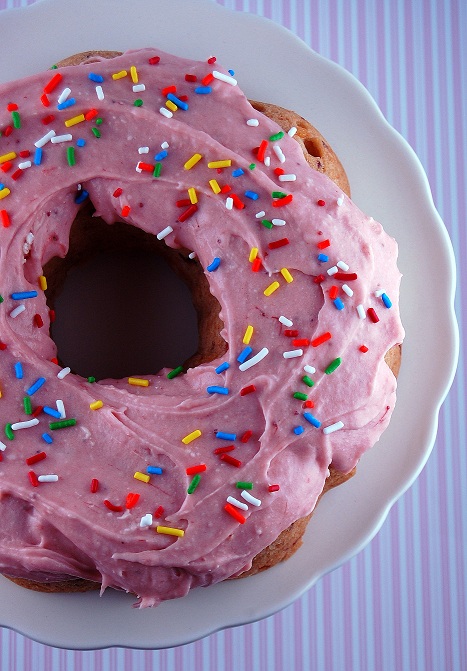 Every year for my birthday I start my day off with a sprinkled donut, I have since I was allowed to eat donuts.
Except this year I didn't.
For the first time ever I just really didn't want one.
I know, what the heck is wrong with me?
Well, a lot of stuff, but the lack of donut wanting is disturbing all the same.
No, instead I mostly wanted fried rice, which I didn't get as I was playing hockey.
But I did get it on 4th of July. 🙂
I also haven't had the overwhelming desire to bake either.
Yikes,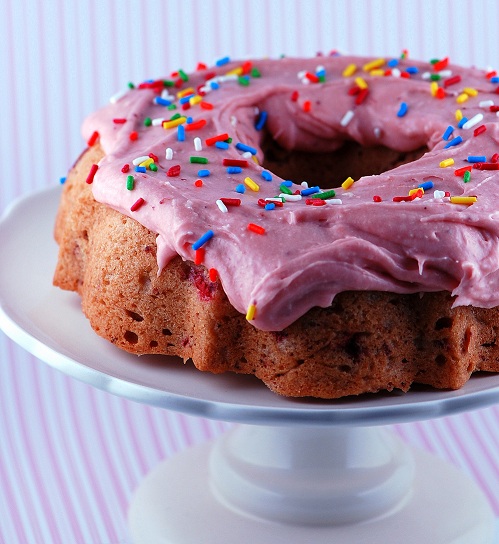 Today the weather at 1:30pm was 57F where I live.
The weather was screaming bake and I was just like ugh.
BUT I knew I had to , I just had no inspiration whatsoever.
Until I was on Pinterest and saw a cake which I didn't make, but it got me looking around the person's website and I found a strawberry doughnut cake.
It was too cute and reminded me about my birthday donut that I never got to eat!
This cake taste nothing like a donut, so if you are expecting that, get it out of your head asap.
This cake just looks like a donut.
Just like a Yule Log looks like a log…but doesn't taste like one (yay!).
Since I am a sucker for anything with sprinkles and is pink, I was all over this.
I love the buttercream frosting, which is similar to one I make.
You just can't eat this cake and not feel happy. 🙂
Lucky for me our strawberries have been local and wonderful as of late.
So they helped make this cake sing.
I suspect if I made this in the off season of strawberries, it would not be nearly as good.
Last but not least…it's a great time to order my cookbook.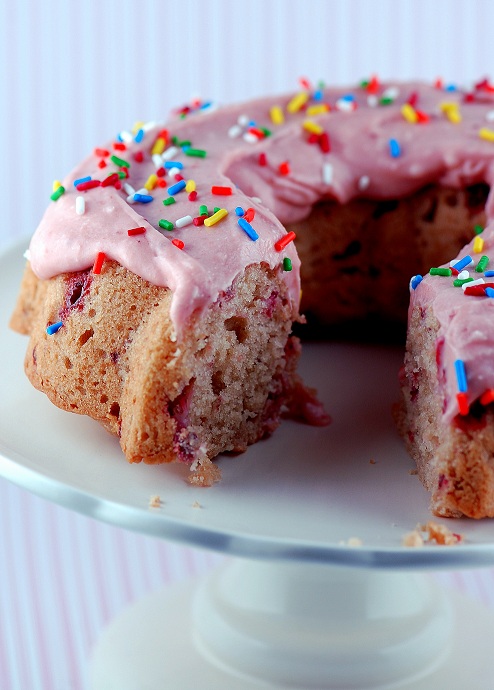 Want More Cake Recipes?
Bourbon Brown Butter Chocolate Chip Cake
Strawberry Lemonade Bundt Cake
Whiskey Glazed Apple Buttermilk Pound Cake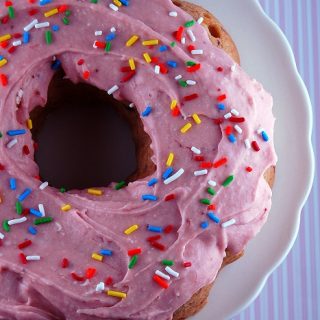 Strawberry Donut Bundt Cake
Ingredients
For the Cake:
6 TBSP unsalted butter, at room temperature
1/2 cup granulated sugar
1 egg
1/2 tsp. pure vanilla extract
1 ¼ cup all-purpose flour, sifted
1 tsp. baking powder
1/4 tsp. baking soda
A pinch of salt
1/4 cup sour cream
½ pint strawberries, hulled and finely chopped
For the Icing:
For the strawberry jam icing:
1 cup powdered sugar, sifted
4 TBSP unsalted butter, at room temperature
1/4 cup strawberry jam
A pinch of salt
Sprinkles, to decorate
Instructions
Preheat oven to 320Fand butter a Bundt tin (I used a8-inch pan.
Whisk strawberries in a medium bowl with sour cream and set aside.
Beat butter and sugar in an electric mixer until creamy.
Add egg, and then add vanilla extract.
Meanwhile, sift flour, baking powder and baking soda into a bowl with a pinch of salt.
With mixer on low speed, add half the flour mixture, then half the strawberry mixture. Repeat, then spoon mixture into cake tin.
Smooth top, then bake until cake is golden and an inserted skewer withdraws clean (45-50 minutes, less if using a flatter pan). Cool in tin for 10 minutes, then invert onto a rack and cool completely.
For the frosting:Place sifted powdered sugar and butter in a mixing bowl and beat with an electric mixer until pale and fluffy.
Add strawberry jam and salt and beat to combine.
Use a spatula to ice the cake and top with sprinkles.
Can be stored in an airtight container for a few days.