Back in 2007 I reviewed a Vegan baking book called My Sweet Vegan for my blogging friend Hannah Kaminsky. If you don't know Hannah, she runs the blog Bittersweet. One of the things I love about Hannah is that even though she is Vegan herself she is more than okay with others not being Vegan. While I very much liked her first book, I must say that Hannah has really grown in her dessert making in the years between. There are quite a few vegan books out on the market these days but very few dessert ones.
As many of you know I have a slight dairy allergy so I *try* to not have dairy all that often, usually turning to coconut milk based ice creams, as I can also not have soy as well. The first recipe I noticed right away was for Mojito cookies which I made, but you won't be seeing them until an upcoming Farm Update post as I used the mint from my own farm for the cookies. I made them the non-vegan way and that is okay. Just like when I make something that is non-vegan and vegans come and make it their own. I did the same as well.
In her new book, Vegan Desserts: Sumptuous Sweets for Every Season, as the title would suggest, the desserts are broken down by season. She has many great ideas; though I must admit that fall desserts were the most appealing to me…imagine that. There is a recipe for Sticky Toffee Donuts that is screaming my name…my thighs are screaming back no. 🙂 Or Stuffed Cider Donuts? Hello! Or how about the adorable Candied Apple Cookies, shaped like apples, perched on a stick, and then dipped in candy apple glaze. Seriously cute!
The ice cream I made here is not actually from the book, I figured since I was already using one of her recipes for another post that I would hold off on giving all of them away. This is super simple and dare I say good for you. Just three ingredients and the raspberries could be subbed for just about any berry you like. But I had a ton of Costco raspberries, so raspberries it was. The other two ingredients are honey and coconut milk. How easy is that? And as you can see, coconut milk makes really great ice cream!
If you are vegan, like to cook vegan from time to time, or just like dessert cookbooks, give Vegan Desserts a try!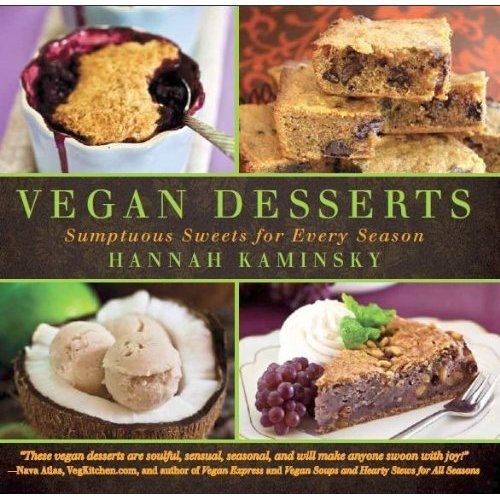 Raspberry Coconut Milk Ice Cream
*1 can (or 13.5 oz) high quality full fat coconut milk
*1/2 cup honey
*3 heaping handfuls fresh ultra-ripe raspberries (about 2 cups)
Prepare ice cream machine by freezing mixing vessel for 8 hours prior to ice cream making.
Whisk coconut milk and honey together in a medium sized mixing bowl.
Pour into ice cream maker. Add raspberries after churning has begun.
Once contents freeze to desired consistency, (about 20 minutes) immediately scoop into bowls and serve. Leftovers (if there are any) can be stored in an airtight container in the freezer.
Adapted from HomeGrown.org