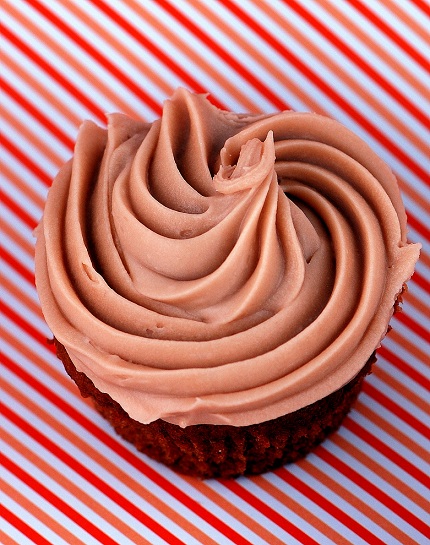 Coming fresh off a great birthday! I spent the day playing in a mini one day hockey tournament which was more than a perfect way to spend my birthday. Thought that I would answer some of the random questions that people asked so here we go:
Apron or no apron when baking?
I try to remember to wear them I mostly seem to remember to wear one right around the time powdered sugar comes out of the mixer and lands all over me, and the counter, and the floor, and the dog. 🙂 When I do wear an apron I usually wear the cute pea pod one that Cookie Baker Lynn made for me. I have almost worn that one out. 🙁
Do you know how to make good hamburger buns? Do I need to convince my family that they must delete the expectation of store bought from their brains before trying any of my attempts? LOL
I do have a great recipe, go here.
Is your name pronounced "Pea body" like it is spelled, or "Peebiddy" like the city in Massachusetts?
It's pronounced Pea Body, though everyone from the east coast tends to call me Peebiddy. It's fine, I've been called worse. 😛 My close friends either just call me Pea or Peabs (which is my nickname).
Hi Peabody, how do you stay motivated to keep blogging? Do we, your avid readers, let you know how much we appreciate your posts?
Well for a long time the blog was my therapy so that helped. It's hard some days to keep motivated. People come here expecting unusual recipes or funny stories, both can be hard to come up with, especially after 6 years of writing. Lately I'm motivated because people have given me money to keep the blog going. Since when I worked out my budget for living after the divorce I didn't include this blog because I was making okay ad revenue, which now I am not, I depend on donations really to keep this blog going.
So the second part about do the readers let me know that you appreciate my posts: I say yes, though truthfully I have wondered where the commenters have gone. I have the same amount of traffic but far less people are leaving comments which makes me a little on the bummed out side. But people have lives I know. 🙂 And of course there are those who interact with me on Facebook and those who financially donate to the blog that let me know that they appreciate the time I put in.
Are you ever "baked out"?
Often, especially in the summer months when I have zero desire to turn the oven on.
If it can be any question, then what type of mascara do you wear? You have great eyelashes!
This one made me laugh. 😀 Well unfortunately for the average person I have exceptionally long natural lashes. I mean really long, I can't wear certain sunglasses or eyeglasses because my lashes hit the lenses. But my every day mascara is cheap ol' waterproof Covergirl in the orange tube. When I go out and want to bat my eyes for the boys, I wear Bare Essentials Buxom. I got it as a sample once at Sephora and it makes my lashes pop more than usual.
Well there you have some of your questions answered. I will work on more in the days to come.
As usual, I had to make myself a birthday cake. I decided I wanted something pumpkin, screw that it is summer. I did that last year as well. This is normally a layer cake but works fine as cupcakes as well. The frosting in the picture is piled on, but you will want to use MUCH less frosting when doing yours. This is a wonderful, but sweet frosting so a ton of it is over kill.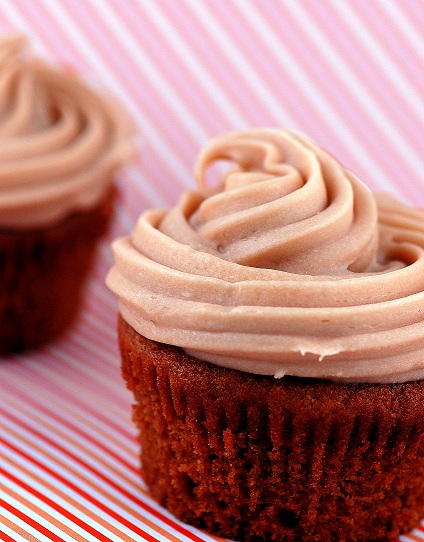 Pumpkin Cupcakes with Brown Sugar Icing
Pumpkin Cupcakes
¼ pound unsalted butter
1 cup all-purpose flour
1 tsp. baking soda
½ tsp. ground cinnamon
¼ tsp. ground cloves
½ tsp. ground nutmeg
½ tsp. salt
¾ cup 100% natural solid pack pumpkin
½ cup nonfat buttermilk
½ cup tightly packed light brown sugar
½ cup sugar
2 large eggs
½ tsp. vanilla extract
Line a 12 cup muffin pan with liners.
Combine together in a medium bowl flour, baking soda, spices, and salt. Set aside.
Place pumpkin and buttermilk in a small bowl and combine thoroughly. Set aside.
In a mixer fitted with a paddle attachment cream together the butter and sugars. Beat on medium for 2 minutes. Scrape down the sides of the bowl . Increase speed to high and beat an additional 2 minutes. Scrape down the bowl. Add the eggs and beat on medium for 30 seconds. Add the vanilla and beat on high for 30 seconds. With mixer on low alternate adding the dry ingredients with the wet ingredients into the mixing bowl. Mix until just combined. Remove the bowl from the mixer and use a rubber spatula to finish mixing the batter, until smooth and thoroughly combined.
Immediately pour the cake into the prepared pan, filling each cupcake liner 2/3 of the way full. Bake on the center rack of a preheated 325F oven. Bake for about 22-24 minutes or until a toothpick inserted comes out clean. Remove the cupcake from the oven and cool in the pan for 15 minutes at room temperature.
Brown Sugar Icing
2 cups tightly packed brown sugar
1 cup heavy cream
½ pound unsalted butter, cut into 8 1-ounce pieces
¼ tsp. cream of tartar
Heat brown sugar, heavy cream, 2 1-ounce pieces of butter, and ¼ tsp. cream of tartar in a 3 quart saucepan over medium-high heat, stirring frequently while bringing the mixture to a boil. Allow the mixture to continue boiling while stirring constantly, for 2 minutes.
Transfer the bubble hot mixture to a 3-quart stainless steel bowl and allow to stand at room temperature for 1 hour before proceeding. Place the cooled mixture into the bowl of an electric mixer fitted with a paddle. Beat on low for 30 seconds.
Then beat on medium for 2 minutes, while adding the remaining 6 pieces of butter, one at a time, until incorporated. Scrape down the sides of the sides of the bowl. Increase the speed to high and beat for an additional 2 minutes. Scrape down the sides of the bowl and beat on high for an additional 1 minute. Refrigerate for an hour.
Adapted from Desserts To Die For by Marcel Desaulniers, 1995