So I made salted caramel ice cream. I put it on top of a vanilla bean cake which is a recipe I will share this weekend. Then I got distracted (shiny squirrel) only to come back later and notice that I left my ice cream out and it melted. I don't like the texture of melted ice cream refrozen so I knew I wouldn't be freezing it again. Well crap I thought. And then I thought again. I thought what if I just let it come to room temperature and then make it into frosting? So that's what I did.
If you are going to give this a go you can use any ice cream I suspect, but I would steer clear of any overly sweet ice creams to start with as you will be adding more sugar to make frosting. While I have been loving my new ice cream book, I thought I would go back to my first ice cream book that I had much success with, The Perfect Scoop. I chose to make a salted caramel ice cream because while I have enjoyed it elsewhere I never have made it at home. This works great because it is not too sweet to begin with. Needless to say this could change your frosting options for life. 🙂 Yes, I am mellow dramatic.
This is a short post due to the fact that I am off to see Bad Teacher. I cannot tell you how excited I am to see this movie, and I don't even like Cameron Diaz. I have a feeling if you work in a school, especially if you have ever been a teacher that this movie is going to become one of your favorites. Everyone enjoy your weekend! I will try and enjoy mine, unless of course my dog is successful.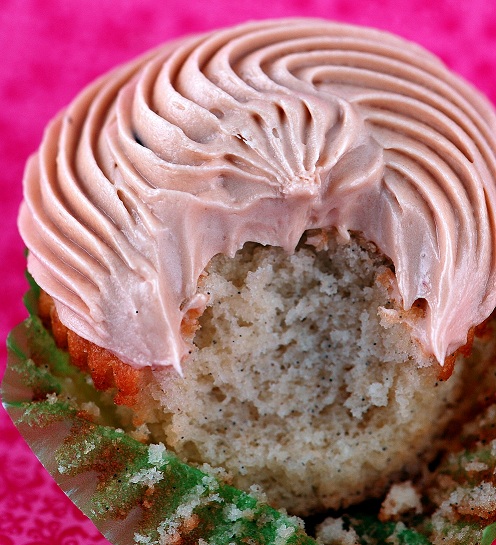 Ice Cream-Buttercream Frosting
1 ½ cups ice cream of your choice (I made a Salted Caramel recipe, here) ice cream, melted and at room temperature
½ cup unsalted butter, at room temperature
3-5 cups powdered sugar, depending on the consistency of the frosting you want
Using a stand mixer with the paddle attachment, beat together melted ice cream and butter. Beat until you do not see the butter anymore.
Add powdered sugar, one cup at a time until you reach your desired consistency of frosting.
Frost on a cupcake or eat with a spoon.