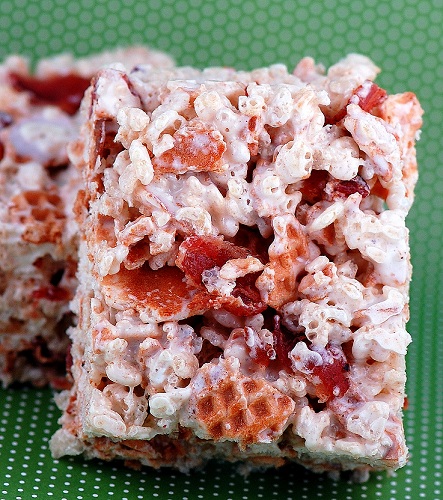 Last night was a glowing reminder of why I still eat bacon.
***Warning, kind of a downer, but read anyway.***
Though I was not supposed to play hockey, I still went to my game to support my team (aka watch), I am captain after all. As I walked into the rink, I could tell something was off. One of the players in the game before me, someone I knew well (and many guys knew) had collapsed on the bench during the game. At that point the EMT's arrived and worked on reviving him. It's one thing to watch that, it's another thing to watch that happen to someone you know. Horrid is the only word I can find to describe it. He is stable now but still in ICU, we are hoping for the best.
We didn't end up playing, obviously. We mostly sat in silence facing that of our own mortality. Most of the guys in the league that play at our level are around his age. You could see that look in their eye of that could be me. That could be anyone. At any time. It really is a giant game of Russian roulette sometimes. My parents are at the age where people they know are passing. And I can tell you there doesn't seem to be some magic formula for living longer. Some of them did all the "right" things, exercise and ate right. Passed. Some did all the "wrong" things, sugar, smoking, alcohol, etc. Passed. And some are in between.
It's for this reason I still eat bacon. It's for this reason I believe that Sugar Free Pudding cups are not dessert (even when I am dieting…still not). For this reason I make things like Bacon and Waffle Cone-Maple Syrup Rice Krispie Treats…because, why not? If Burger King can deep fry French Toast and call it breakfast, surely this counts as well. If a Pop Tart and Toaster Strudel are breakfast (and a mighty fine one that I enjoy often), then so can these…these at least have protein…and maybe iron?
The idea came about when I saw waffle cone bowls on sale at the store. I was trying to figure out what I could do with them. I saw waffles and fried chicken on the Food Network and decided I would rather have waffles and bacon any day. And thus came the idea for putting it in a Rice Krispie Treat. I brought them to hockey last night. And though most of us just wanted a giant shot of alcohol, all we had at that point was food (we did go get alcohol after). I got quite the look from a lot of people at first. Bacon? Yes, bacon. If you are wondering how they went over…I got a marriage proposal. 😉
Down this baby with a glass of orange juice and I am pretty sure that you have a balance breakfast (says the girl who thinks gummy bears is a food group).
Everyone enjoy Super Bowl Sunday. I myself am not a football fan and really don't care who wins. That being said, I will root for the Packers, as I appreciate people who are will to wear cheese as an accessory. For the record, I would root for Pittsburg if they wore food on their head. Regardless of whether you are going to watch it or not, I hope you spend the day with your loved ones. Give your kids and extra hug and kiss. Hug your significant other just a few seconds more today. Because ladies and gentleman, you just never know….so eat bacon while you can.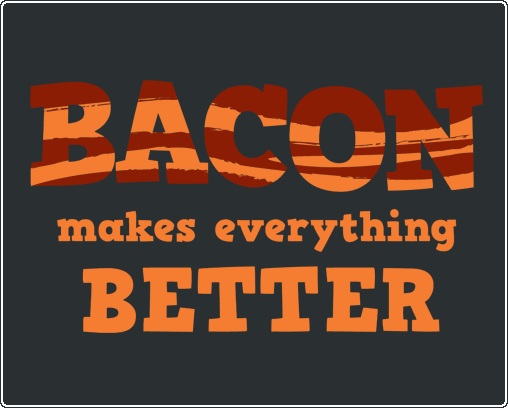 Bacon and Waffle (cone)-Maple Rice Krispie Treat
6 TBSP unsalted butter
16 ounces marshmallow
12 ounces Rice Krispie cereal
2 cups crushed waffle cone
1 pound (yep, a pound) of bacon, fried up and crumbled…with a few pieces missing I am sure once you smell the pig candy you have to have some
½ cup maple syrup, grade B
Butter a 9-x-13 inch pan.
In a large pot, over low heat add butter. Let melt.
Add marshmallows. Stir with butter. Let them melt until almost all of the marshmallows are in liquid form, add maple syrup.
Once melted, take off of heat. Add cereal, bacon, and waffle cone pieces. Mix and mix until your hand gets tired and all the ingredients are equally distributed as best you can. And don't pick the bacon out as you are doing this…because you know you want to.
Let firm up for an hour or so. Cut and enjoy.