These Oatmeal Scotchie Bars are a slight twist on the classic oatmeal scotchie cookie filled with oats and butterscotch chips.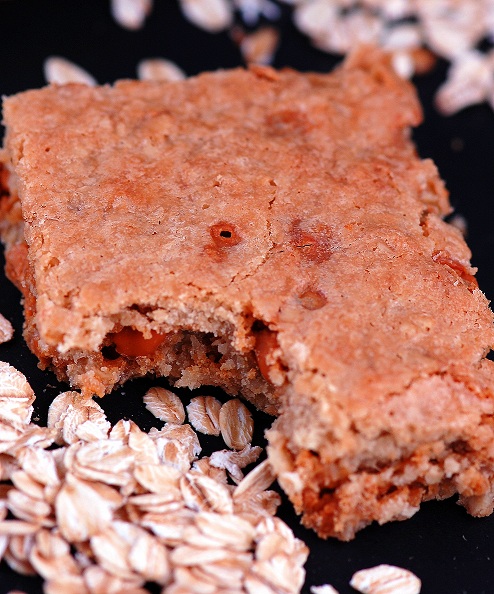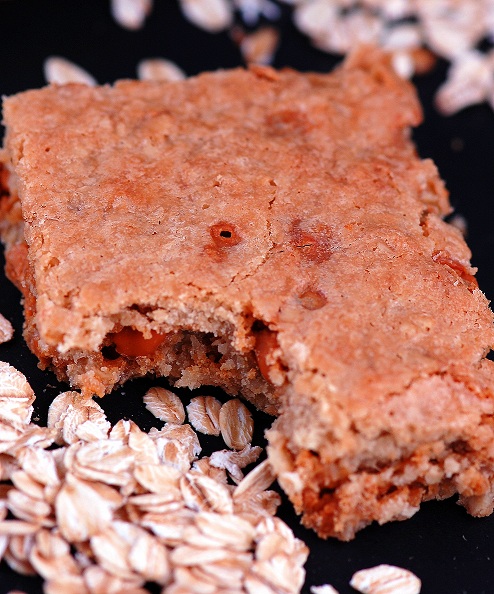 Sunday my personal Facebook page was filled with many, many people I know running the St. Patty's Day Dash.
Recently there has been a resurge in my friends wanting to run in 5 or 10K's with even a few venturing out into the marathon world.
There are two types of people in my life who are runners:
My friends who ran in junior high and high school and have always been runners (these people I can deal with), and then those who seemed to be having some sort of crisis in their life and they decide it will be awesome to run a 5K, then a 10K and so on.
The second half of people are annoying.
Really annoying.
Now before you say have you ever done it…yep, been there, done that, hated that, got the t-shirt, and the free crap they give you in the bag afterwards.
Oh and the orange slices.
I have just over twenty 5K's in my repertoire and three 10K's (truly stupid, they were dreadful).
And yes for the record, I was going through crisis; a break up with a boy that I thought for sure would be the one.
And well, most of my friends running these 5K's are either very unhappy with themselves or their life.
I got sucked into doing them by friends who didn't want to do it alone.
People if you insist on running, don't drag your poor friends into it and lie to them saying it will be something to do that is fun.
It's not fun.
Or they tell their friends it will help them get in shape.
Yeah, no offense, but the vast majority of my friends who took up running look the same way they did before they started.
All of my friends, including me that have done the 5K bandwagon, get off of the bandwagon eventually.
But in the meantime they just annoy the heck out of me.
They work into their daily conversations how far they have run.
I don't annoy people with how many miles I have skated in a week, why do people think I give a crap about how far they ran that week?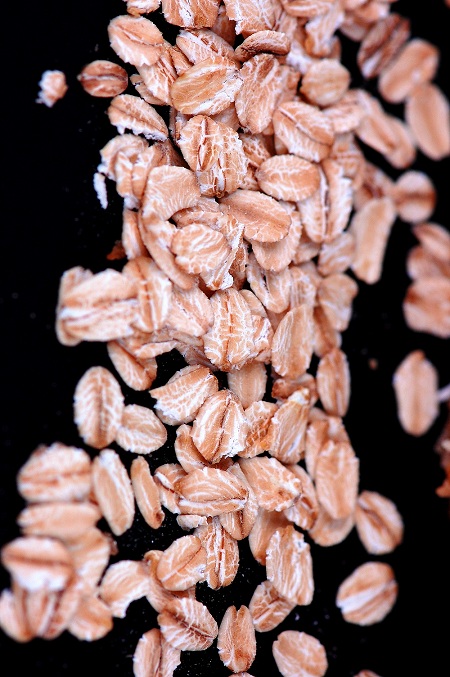 They post on Facebook the pictures of them with sweat matted to their beet red faces proudly displaying their medal.
Don't display your medal unless it actually means something.
Did you come in first, second, or third?
NO?
Then don't show me your participation ribbon/medal like the kind they give 3rd graders on Field Day.
I don't get a participation ribbon when I play in a hockey tournament.
Well I do, but it's called a t-shirt, and you get one of those for running as well.
If you have two legs and are healthy, put the ribbon in your pocket and walk away, a 5K isn't that hard…if I can do that crap, anyone can.
Don't get me wrong, if you are running and getting exercise that is awesome.
But there is just something about recreational runners that drive me insane.
None of my friends in a softball league tell me how long they stood on the dirt.
No one who plays tennis I know tells me that their game lasted 37 minutes, down from 44 minutes.
I went to the gym this morning and worked out on the elliptical.
I didn't go around telling people how long I was on the machine for or how many calories I burned.
You know why…I exercise for me and me alone.
So recreational runners of the world start running for yourself and not for the attention you are trying to gain.
And for the love of God, stop trying to drag your poor friends on the bandwagon with you.
Fortunately for me, my best friend is also in the run if being chased only category.
So he won't be pulling me down into the let's train together, won't it be fun lie.
And as a thank you to him for that, I made a version of Oatmeal Scotchies.
When I made the Butterscotch Blondies a few weeks back, he was all over them, and told me they reminded him of Scotchies, which he apparently loves.
I learn something new every day.
Now he knew I wasn't just going to make Oatmeal Scotchies, as I always try and do something different on the blog.
But I could tell he really wanted some version of them. So I made Oatmeal Scotchie Bars which is like the cookie but with just a little twist.
Didn't want to deviate too much.
They were a big hit.
P.S. Yes, there are a lot of people who run, so I suspect I will get many a lovely comment.
If you are going to bash me about running, please make sure to annoy me with how long you can run a mile in. 😛
And by the way, your non-running friends really do feel this way, they are just chicken, unlike me to tell you.
Last but not least…it's a great time to order my cookbook.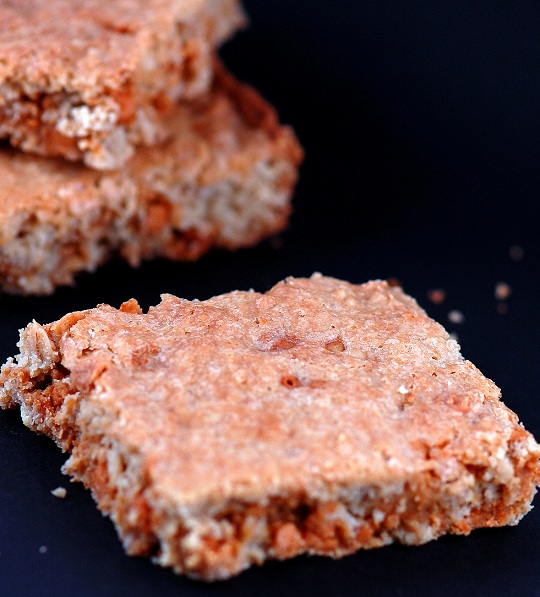 Want More Bar Recipes?
Butterscotch Honey Roasted Cashew Bars
Salted Chocolate Chip Butterscotch Toffee Cookie Bars
Strawberry Lemonade Lemon Bars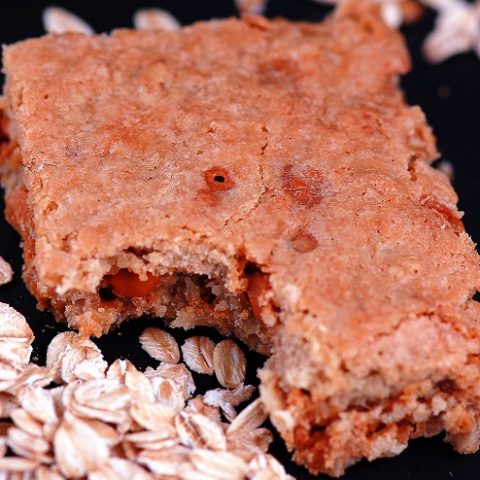 Oatmeal Scotchie Bars
Ingredients
1 cup unsalted butter, at room temperature
1 cup granulated sugar
¾ cup brown sugar, firmly packed
1 tsp. vanilla extract
2 eggs
1 ¼ cups all-purpose flour
1 cup oats (pulverized in a food processor into powder form)
2/3 cup oats
1 tsp. baking powder
¼ tsp. baking soda
¼ tsp. salt
12 ounces Butterscotch Chips
Instructions
Preheat oven to 350F. Spray a 9-by-13-inch pan with baking spray.
Using a stand mixer, cream together the butter and sugars. Beat until light and fluffy, about 3 minutes.
Add eggs, one at a time and scrape down bowl after each addition.
Add vanilla and beat another 30 seconds on medium-high.
Add the dry ingredients with the mixer on low speed, and mix until fully incorporated.
Fold in butterscotch chips.
Dump into pan and spread batter evenly with a spatula (if it sticks, spray the spatula with baking spray).
Bake for 30-35 minutes, or until outer edges are brown and you can stick a wooden skewer in the middle and it comes out clean. Let cool on a wire rack.
Serve with ice cream and butterscotch sauce for extra yumminess.