This Gingerbread Stout Cake is a moist gingerbread stout bundt cake all covered in an ale based caramel sauce.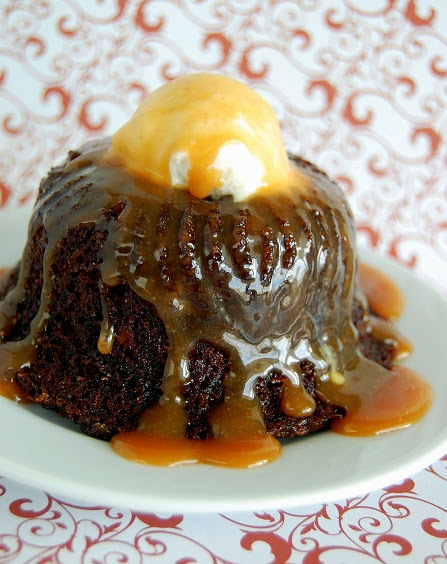 I am NOT a cocktail girl.
I could think of a lot of cocktails but really wanting to make one into a dessert wasn't whipping me into a frenzy of excitement ( where I once again probably break the Top Chef Just Desserts rules).
I'm a beer girl through and through.
One does not throw back a Cosmo or Mojito while watching hockey…it's against nature.
After a week of pouring through cookbooks, I even have one dedicated to Booze, I ended up saying screw it and went with what I love.
Beer, a black and tan of sorts to be exact.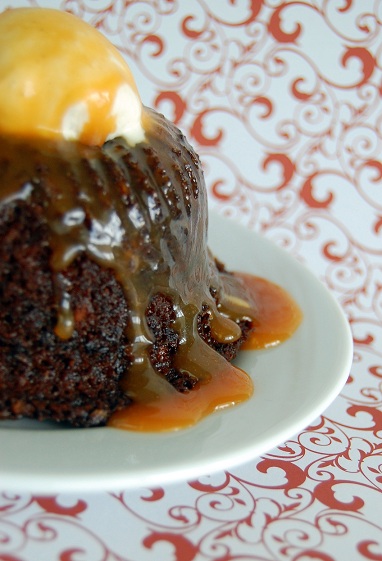 There are lots of stout cakes out there.
Almost all of them are chocolate stout cakes that come out for St. Patrick's Day.
I really loved the idea of the Gingerbread Stout Cake I saw on Epicurious awhile back that then showed up on Deb's site.
That gave me the black of the black and tan but I needed the tan.
Enter the caramel made with ale.
I chose to go with orange blossom ale, as I think gingerbread and orange go together in a delightful way.
If you don't know, stout cakes tend to be moist and dense, and this is exactly that.
You can not taste a ton of beer in the beer caramel, but just a hint, which is nice.
Same goes for the stout in the cake, but you know it's there.
This is the perfect ending to a meal, especially a Saturday night one, while watching Hockey Night in Canada. 🙂
Which, FYI- Hockey starts tonight!  In fact, this is also doubling as my contribution to Ivonne's Hockey Night in Canada celebration as well as my Top Chef Just Desserts attempt.
I fear the next challenge I will not lie.
Wedding cakes and I are not friends (unless I am just eating them).
We shall see.  
Everyone watch hockey tonight…it will make you a better person…promise.  🙂
If not, just make the cake instead.
P.S. It's a great day to buy my cookbook Holy Sweet!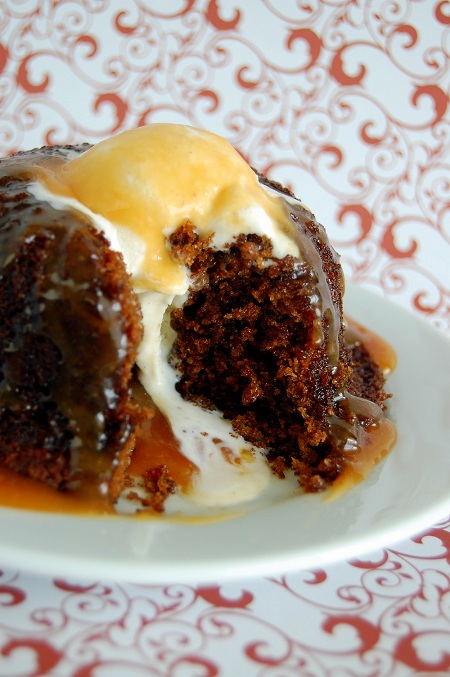 Want More Bundt Cake Recipes?
Strawberries and Cream Bundt Cake
Bourbon Brown Sugar Pound Cake
Bourbon Brown Butter Chocolate Chip Bundt Cake
Bailey's Salted Caramel Chocolate Bundt Cake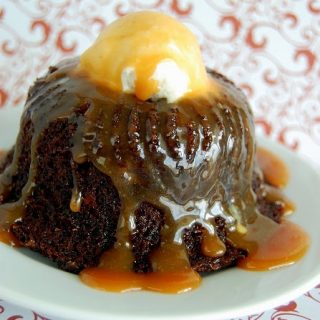 Gingerbread Stout Cake with Caramel Ale Sauce
Ingredients
For the Gingerbread Stout Cake:
1 cup stout ( I chose to use Southern Tier Creme Brulee Milk Stout)
1 cup dark molasses (not blackstrap)
1/2 teaspoon baking soda
2 cups all-purpose flour
1 1/2 teaspoons baking powder
2 tablespoons ground ginger
1 teaspoon ground cinnamon
1/4 teaspoon ground cloves
1/4 teaspoon freshly grated nutmeg
Pinch of ground cardamom
3 large eggs
1 cup packed dark brown sugar
1 cup granulated sugar
3/4 cup vegetable oil
For the Caramel Ale Sauce:
12 ounces Ale (I used Buffalo Bill's Orange Blossom Cream Ale)
2 TBSP unsalted butter
1 1/2 cups brown sugar, packed
1 cup heavy (whipping) cream
pinch salt
1 tsp. vanilla extract
Instructions
For the Cake:
Generously grease and dust with flour (or use baking spray) a 10-inch (10- to 12-cup) bundt pan or 8 mini bundt pans. Set aside.
Preheat oven to 350°F.
Bring stout and molasses to a boil in a large saucepan and remove from heat.
Whisk in baking soda, then cool to room temperature.
Sift together flour, baking powder, and spices in a large bowl.
Whisk together eggs and sugars.
Whisk in oil, then molasses mixture.
Add to flour mixture and whisk until just combined.
Pour batter into bundt pan (or divide evenly among mini pans) and rap pan sharply on counter to eliminate air bubbles.
Bake in middle of oven until a tester comes out with just a few moist crumbs adhering, about 50 minutes (about 35 minutes for the minis).
Cool cake in pan on a rack 5 minutes.
Turn out onto rack and cool completely.
For the Sauce:
Pour the ale into a medium saucepan and bring to a low boil.
Cook, uncovered, stirring occasionally, until reduced by two-thirds.
Add the butter and brown sugar and cook, stirring only when the mixture is in danger of boiling over, until thick and syrupy, 10 to 15 minutes.
Slowly stir in the cream (it will splatter up!).
Cook another 5 or 6 minutes, until thickened.Remove from heat and stir in the vanilla.
Cool to warm, it will thicken up more as it cools.
Pour over stout cake and add ice cream if desired.