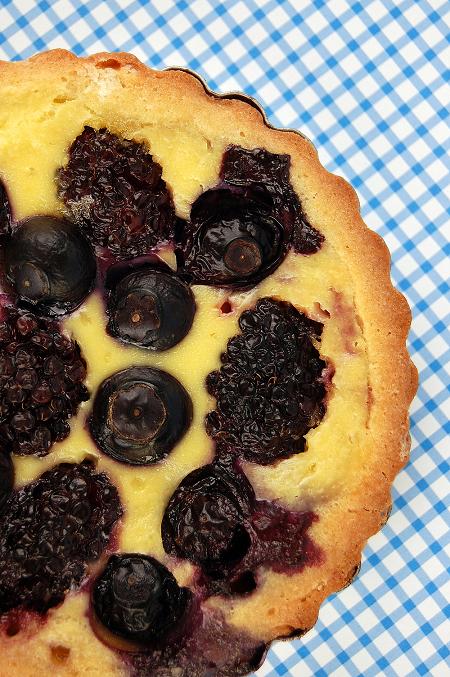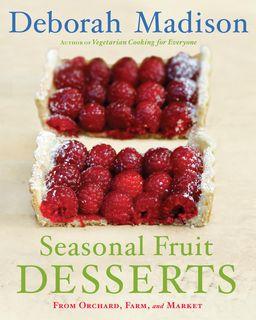 One of the joys of living in Western Washington is the abundance of fresh produce to choose from. Farmers Markets and road side stands are scattered across our areas. Some of us are even lucky enough to belong to a CSA (Community Supported Agriculture). So when the opportunity to receive Seasonal Fruit Desserts (right when lots of fruit will be in season) I was all over the chance.
Seasonal Fruit Desserts by Deborah Madison( I actually own her Vegetarian Cookbook) is a visually beautiful cookbook that really focuses on creating desserts that lets the fruit shine through (imagine that). Some of the desserts are as simple as Strawberries in Red Wine Syrup which consists of strawberries (duh), red wine (again duh), sugar and some peppercorns, which I thought was an interesting addition. The author suggest serving them over orange segments. I, being a glutenous person, would probably go for over ice cream. 🙂 But that is an example of the many recipes that highlight just the fruit and all it has to offer at it's seasonal best.
I personally chose to make a tart. Now if you read my blog you will know that I don't make a lot of pies (at least not traditional ones) as I hate making pie crust. So when I saw the recipe for Cream Tart with Black Raspberries I almost passed it up since it said tart. But while looking at the photo I noticed that the tart dough looked different. And it is. It's almost cake like, and goes amazingly well with the fruit. If I were to get nothing else more from this book, that Silky Tart Dough recipe is worth the cost of the book (though I must disclaim that I received this book for free). I did deviate for my recipe and use blackberries and blueberries. No black raspberries to be found and those were the closest I could find in color. And it was the color in the photo that made me pick the recipe.
And don't just think it is all about Summer produce, there are some great recipes for the more hearty months. I can't wait to try the Quinoa Pudding (I love and obsess over quinoa so it was great to see it in a dessert) using dried cherries and cranberries. And the Native Wild Rice Pudding with Maple Syrup and Wine Soaked Cherries sounds like a winner as well. I love the use of wild rice.
If you love fruit and more importantly desserts that highlight all the lushness that fruit has to offer, than this is the book for you.
To see what others thought about the book, head over to A Blithe Palate for the round up later on this week.