These Key Lime Raspberry Bars have a graham cracker crust, tart key lime cheesecake filling and fresh raspberry puree swirl.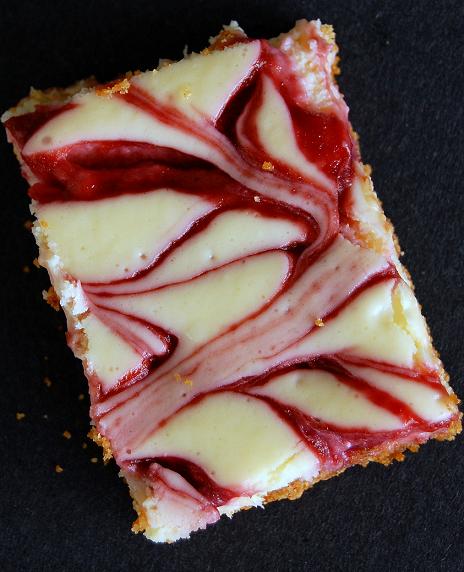 I give up.
I tried and tried to come up with something to write about and it is just not happening.
I'm also having a baking slump too.
I pour and pour through tons of cook books only to find nothing to make.
Kind of like my closet, totally full, and yet never anything to wear.
I did get a new cookbook this week so hopefully that will inspire me (Dulce: Desserts in the Latin-American Tradition if you are wondering what I got).
My life the last week has been mostly hockey, hockey, hockey.
Either watching or playing (it is playoff time…and yes my team is doing badly).
I was in a tournament.
We made it to the championship game.
And lost.
Yep, first losers again.
Sigh.
Suffering from a sinus infection.
Makes that whole breathing while playing hockey thing hard.
Got glasses and contacts last week.
Was told I didn't really need them by the eye doctor but the DMV told me that if I wanted a license I will need them.
Boo.
For some reason now that I have glasses, I feel old.
Never really felt old until that day.
I'll get over it though. 🙂

And lastly I have been working on getting my teaching certificate here in the state of Washington.
Yes, that's right, I am considering going back into the classroom.
May just be as a sub, but may just be full time eventually.
Never know.
I have absolutely no tie into these Key Lime Raspberry Bars.
I made them because they are key lime and are cheesecake like.
The original recipe doesn't call for key limes, but I always sub key lime for regular lime.
I also threw in some raspberry sauce.
The original recipe uses a white chocolate drizzle, which I am sure is lovely too.
But since I love key lime and raspberry together that is what I went with.
Good?
Pretty much ate the whole pan in less than a day.
P.S. It's a great day to buy my cookbook.
Want more Bar recipes?
Strawberry Lemonade Lemon Bars
Chocolate Chunk Churro Cookie Bars
Butterscotch Walnut Meringue Bars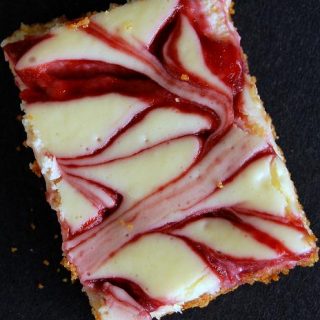 Key Lime Raspberry Bars
Ingredients
For the Raspberry Puree:
2 pints of raspberries
1/2 cup sugar
lime juice, to taste
For the Crust:
1 ½ cups ground graham crackers (about twelve 2 ½ by 5 crackers)
3 TBSP sugar
1 TBSP freshly grated lime zest
1/8 tsp salt
6 TBSP unsalted butter, melted
For the Topping:
16 ounces cream cheese, at room temperature
2/3 cup sugar
2 egg yolks
½ cup freshly squeezed key lime juice
1 TBSP freshly grated lime zest (use regular limes as they are more colorful)
1/3 cup raspberry puree (see below)
Instructions
For the Raspberry Puree:
Combine ingredients in a saucepan and cook over medium heat, stirring occasionally, until berries have given up their juices.
Bring liquid to a boil and continue to boil until liquid is thick but still fluid.
Set aside until ready to use.
Run berries through a fine mesh strainer. Pressing down to make sure that you are forcing all the fruit and juices through.Refrigerate.
Position rack in the center of the oven. Preheat to 350F.
Grease a 9-by-13 inch pan. Set aside.
Combine graham crackers, sugar, lime zest, ans alt in a bowl.
Pour the butter over the mixture and blend with a fork. Press the mixture inti the bottom of the prepared dish.
Bake for 10-12 minutes.
Remove the pan from the oven and set it aside to cool slightly.
Meanwhile, in the bowl of and electric mixer set on medium speed, cream the cheese and sugar together.
Add the egg yolks and continue to mix until well blended.
Scrape down the bowl.
Add the key lime juice and lime zest and mix until well incorporated.
Pour the mixture over the warm crust, and make sure it is spread evenly.
Drizzle raspberry puree in a random pattern over the top of the filling. Use a knife to swirl the puree into the filling. Do as much or as little of this as you like.
Bake for 30-35 minutes, or until the center of the topping is set and the top begins to color slightly.
Remove the pan from the oven and set it on a wire rack to cool completely. Cut into bars.