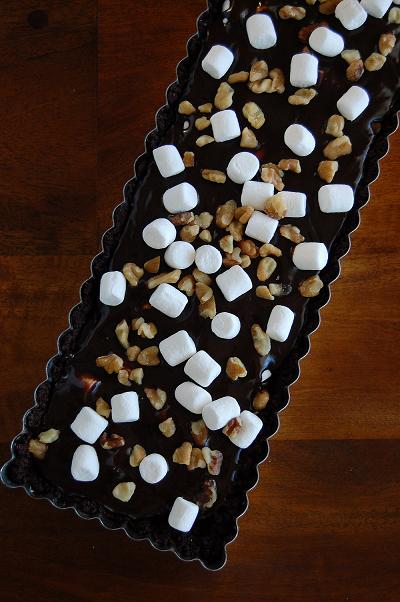 Well that's a lie. But it's the lie I am telling myself. If you are not a food blogger than you are probably asking what don't I want to go to anyway. BlogHer Food. This weekend, hundreds of food bloggers are in San Fransisco, and I, I am not. 🙁
But enough about those people, I had a  little food get together on my own…well, not on my own, with another food blogger. And not just any food blogger, the lovely Cookie Baker Lynn. We decided awhile back we would do a little baking together. One time at my house and one time at Lynn's. Our version of baking from my home to yours…though no Dorie showed up. 😉 Though that would have been nice.
Lynn and I meet from time to time for lunch or tea, etc. The last time we did this, we stopped into a Dutch bakery. I tried these cookies called Jon Hail's (which I will post later). We decided we would make those and whatever else we could come up with. I had just gotten a couple of cookbooks, one which was Baking Kids Love. I don't have kids, but since I have the maturity of a 12 year old, this was right up my alley. We looked through the book and found a Nutella tart that screamed make me.
This is very easy to make. If I were to make it again, I would add some ground hazelnuts to the crust and maybe a splash of Frangelico as well. The original tart was a little plain so we decided to jazz it up a little bit and make it rocky road style. Throw in some marshmallows and some nuts and you are good to go. Very simple to make…which is good since you are suppose to make this with children.
So though I didn't get to spend the day at Blogher, I did get to spend it with Lynn (who came bearing bread and cookies!)…and that is pretty darn awesome to me. To see somemore photos of the actual day, head here…you can see me in action…ha!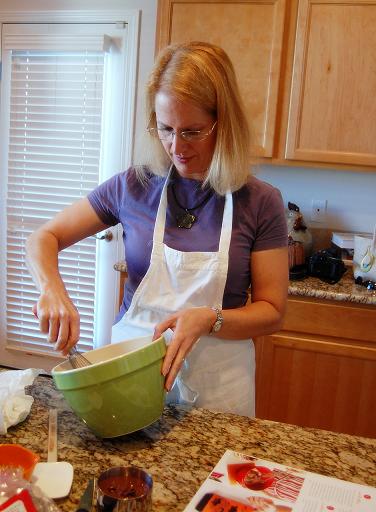 Two Hot Baker Chicks Nutella Rocky Road Tart
Crust:
1 ½ cup chocolate cookie crumbs (I used Trader Joe's Chocolate Cat Cookies)
6 TBSP unsalted butter, melted
Filling:
¾ cup Nutella
4 oz semisweet chocolate chips
2/3 cup heavy whipping cream
1 cup marshmallows
½ cup walnuts
For the Crust:
Spray a 14-x-4-inch rectangular tart pan with baking spray, or butter. Set aside.
Preheat oven to 350F.
In a small bowl, mix together cookie crumbs and melted butter. I just used a food processor since I had to make the crumbs. Mix until fully combined and you can press the crust with your hand and it stays in place.
Dump the crust into the tart pan. Using your hands, press the tart crust evenly up the sides and in the middle of the tart pan.
Using center rack, bake tart for 8-10 minutes. Remove from oven and let cool on wire rack.
For the filling:
Place chocolate chips into a medium sized bowl. Set aside.
In a small saucepan, bring cream to a boil. Once it begins to boil, pour over chocolate chips. Let sit for 2 minutes. Then whisk until smooth.
Whisk in the Nutella until fully incorporated. It should look glossy and smooth.
To assemble the tart:
Take ½ the marshmallows and ½ walnuts and scatter them onto the bottom of the tart.
Pour Nutella filling into the tart, over top the marshmallows and nuts. Smooth out tart if needed. Top with remaining marshmallows and nuts.
Place in refrigerator for 20 minutes. Cut and serve. This is very rich, so makes about 10 servings.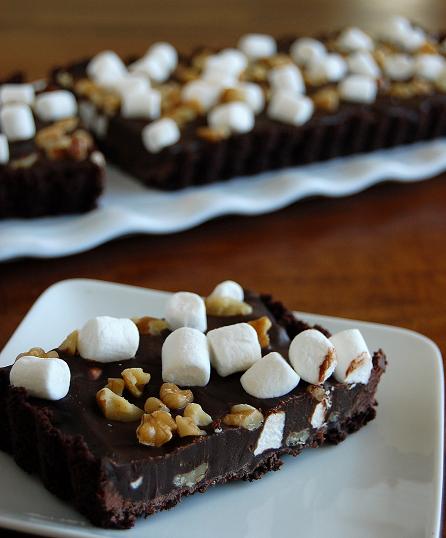 Adapted from Baking Kids Love by Sur la Table and Cindy Mushet, Andrews McMell Publishing