These Brown Sugar Toffee Bars have a buttery brown sugar shortbread base topped with chocolate and chopped almonds.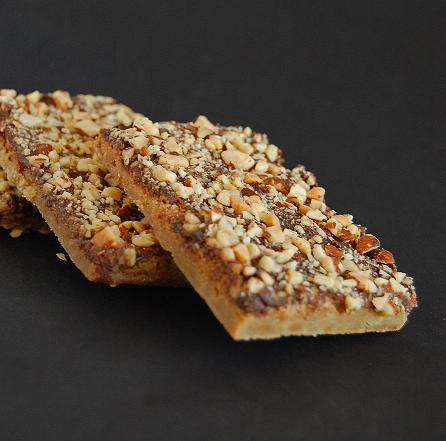 Before moving to Washington, I thought nothing of the sun.
We had it all the time in Phoenix.
It was hot all the time, it was miserable all the time.
That is one of the main reasons I moved to Washington.
I like rain.
I knew it rained here.
And so you never hear me complain about the rain.
But boy oh boy do my friends.
A lot.
They say it's not so much the rain as it is the gray.
I like gray as well.
Gray is wear comfy clothing while sitting on you couch curled up with hot chocolate and a book weather.
As where the sun is the opposite.
My friends are often shocked when they ask me how I spent the gorgeous sunny weekend. Indoors.
"But the sun was out." (Excellent observation…good to see that college education paying off).
Very aware the sun was out.
I was in it briefly, it caused my eczema to break out.
Awesome.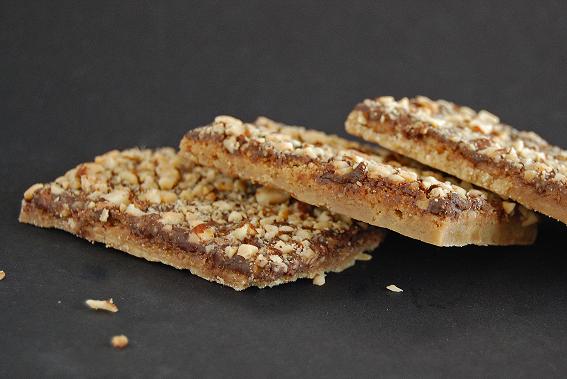 The sun makes me think I should be doing something.
People are out boating (we don't own a boat).
Out hiking (not really my thing, I keep trying but it's not taking).
Exercising (I like to do mine where there is A/C thank you very much), etc…
I don't want to feel like I have to do something on the weekend just because a big, yellow ball in the sky is telling me to.
What I think what I hate most of all is people's attitudes.
I will often read a fellow Seattle dwellers Facebook update about them having a bad day.
And sure enough some will post the phrase I can't stand…"yeah, but the sun is out today, so it can't be all that bad".
Yeah, bummer that you were at your dad's funeral, but hey, the sun it out.
Really?
I just don't find the sun all that mythical.
It's not curing cancer here people…in fact, if you are in it too much, it will give you f-ing cancer.
Get over it.
When you are having a good day, I don't say to you…yeah, but it's raining.
Since I obviously want rain, it got me in the mood for some Scottish shortbread, since they get some rain too…from time to time. 😉
I decided to make it into more of a toffee than an actual shortbread.
These Brown Sugar Toffee Bars one step above cracker toffee, which is also good.
Last but not least…it's a great time to buy my cookbook.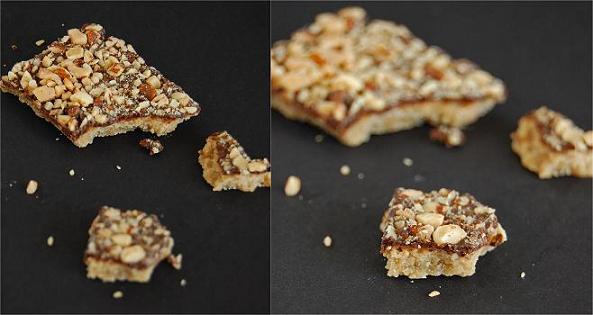 Want more Bar recipes?
Strawberry Lemonade Lemon Bars
Chocolate Chunk Churro Cookie Bars
Butterscotch Walnut Meringue Bars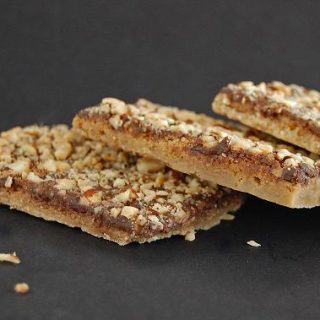 Brown Sugar Toffee Bars
Ingredients
1 cup unsalted butter, at room temperature
1 cup firmly packed dark brown sugar
1 ½ cups all-purpose flour
½ cup rice flour
¼ tsp salt
½ tsp almond extract
12 ounces semisweet chocolate chips
6 ounces almonds, finely chopped
Instructions
Preheat oven to 325°F.
Spray baking spray in a 9-x-13-inch pan.Using a standing electric mixer, beat 1 cup butter in large bowl until light and fluffy, about 3 minutes.
Add brown sugar and beat on medium high until fully incorporated.Add in almond extract and beat for 30 seconds on medium-high.
Turn mixer to low speed and mix in flours and salt.
Press dough into prepared pan, it will be thin, you want it to be.
Bake until shortbread is brown, firm at edges and slightly soft in center, about 30 minutes.
Take shortbread out of oven.
Sprinkle chocolate chips evenly over the shortbread.
Place back in oven for 3 minutes.
Remove from oven and using a spatula, spread the chocolate out evenly over the shortbread.
Sprinkle the almond pieces on top of the chocolate.Let cool.
Place in freezer for 10 minutes (helps with the cutting).
Cut into 1-ounce rectangles.