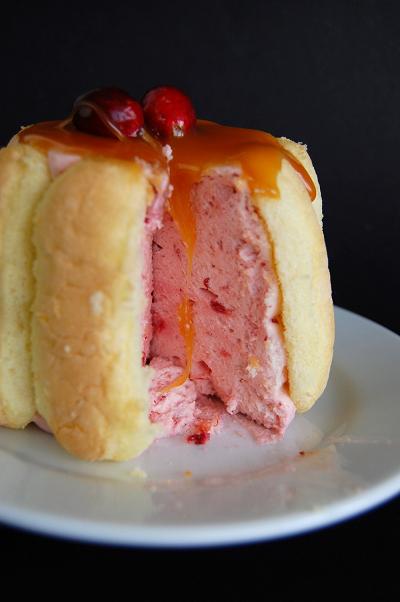 So to round out what had already been a very odd week, Little Fuzzy Bunny was scheduled to be spayed on Tuesday.
After getting blood work and the once over LFB was cleared for surgery and I went home (this was around 9am).
Now even though spay and neutering is very routine I was still a tad nervous, as anytime a small animal goes under anesthesia it is never good, and LFB is only a little over 2 pounds total.
Around 2 pm I got a phone call from the veterinarian.
I was suppose to get LFB at 3 pm and so I assumed it was them telling me that everything had gone well and I can pick up LFB in about an hour.
But instead it was the Vet telling me that there was a problem.
My heart sank.
I asked if something had gone wrong in the surgery and he told me no, that LFB had not even gone into surgery yet.
At this point I was confused.
The Vet told me that he was embarrassed to say this but that LFB could  not be spayed that day.
I asked why not and he said because LFB was not a girl, but at BOY.
Yes, that's right my little baby bunny girl who has been referred to as a girl for the last 7 months is indeed a boy.
You see, I was told that LFB was a girl.
I had never noticed any "parts" and LFB had never displayed any boy behaviors of any boy bunnies I had in the past.
But sure enough when they shaved him down, there in all it's less than glory was his tiny manhood.
So tiny in fact that a veterinarian who specializes in rabbits didn't catch on.
We laughed and laughed and I told him no worries as I had told him that "she" was a girl.
He asked if I wanted LFB to be neutered and I did…so in a way LFB is back to being a girl. 😉
It has taken some getting used to.
We still slip up and call him a her.
I still slip up and call him girly, girl (a former nickname).
Lucky for us he has no idea and hopefully isn't having any sort of identity crisis. LFB is doing well now.
He has recovered just fine…at least physically. 😉
When I was stressing over the surgery I was figuring out what to do with some cranberries I bought.
I originally thought I was going to make a cranberry lime semifreddo, but had no limes and it was a little too cold that day to be wanting anything frozen.
Having bought some ladyfingers and then doing nothing with them I decided to make a Charlotte and fill it with a cranberry orange Bavarian cream.
This will blow away any cranberry Jello salad that anyone brings to the Thanksgiving day table.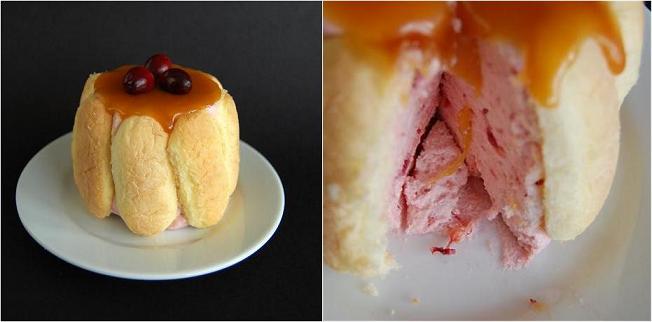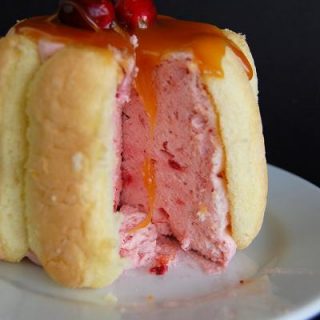 Orange Cranberry Charlotte Russe
Ingredients
1 package ladyfinger cookies (about 20-25)
cranberry orange bavarian (recipe follows)
caramel sauce (you can use store bought)
Cranberry-Orange Bavarian
2 eggs, separated (at room temperature)
2/3  cup fresh cranberries
3 TBSP fresh orange juice
½ cup granulated sugar (vanilla sugar if you have it)
2 TBSP superfine sugar
½ cup heavy whipping cream
2 tsp powdered gelatin.
Instructions
In a small saucepan add the cranberries, orange juice and ¼ cup vanilla sugar.
Cook over medium-high heat until the cranberries start to make a popping sound, 2-3 minutes. Remove from heat and let cool to room temperature.
Run cranberry mixture through a blender and puree until smooth. Set aside.
In a metal or glass bowl, add the egg yolks, remaining ¼ cup vanilla sugar and cranberry mixture. Whisk together to combine.
Place bowl over a pan of simmering water (or use a double boiler if you have one), whisk until the mixture is thickened and hot. Keep whisking the whole time to prevent the mixture from becoming scrambled eggs. This will take about 3-5 minutes depend on the conductivity of you bowl.
Remove the bowl from the pan and move to an ice bath ( a large bowl full of ice cubes). You are wanting to cool down the mixture.
While still warm, sprinkle gelatin evenly over the cranberry-egg mixture.
Whisk to incorporate. Keep whisking until mixture has cooled to room temperature. You don't want it to get cooler than that as the gelatin will start to set if you let it get too cool.
In a thoroughly clean mixing bowl, add the egg whites and whip on high speed with an electric mixer (or whisk by hand if you are wanting a workout) until they start to get frothy.
Slowly sprinkle in the superfine sugar and whip until the egg whites are peaking.
Using a spatula, gently fold the egg whites into the chilled cranberry mixture.
Whip the whipping cream until stiff peaks form.
Again with the spatula, gently fold into the cranberry mixture.
Set ladyfingers into a Charlotte mold.
Pour Bavarian into the center of the mold, careful to not cover up the ladyfingers.
Refrigerate for at least 4 hours.
Unmold the Charlotte and serve chilled with a little caramel sauce on top if desired.
Scoop the leftover Bavarian into glasses and chill for 4 hours