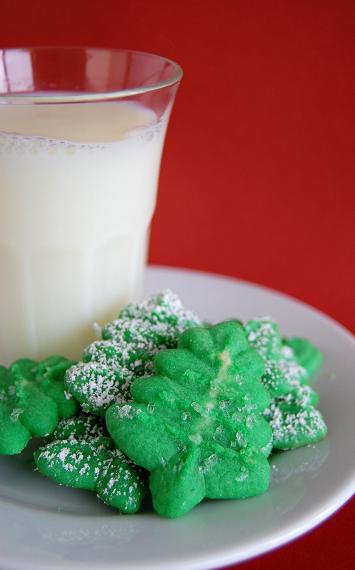 I stole a book from the library once.
Though I didn't know I stole it. I found it years later and noticed stamped inside was the name of my high school library. Oops. That book was The Field Guide to North American Birds. I am still not sure why I would have even checked out a book like that. Not the field guide part, but the bird part. So I had a bit of a flashback when Anita's (Dessert First) cookbook arrived in the mail. For there in the mail was the best field guide I had every seen, a field guide about cookies! Now surely if my high school library had that this cookbook in it, it would have totally made sense that I would rip it off (though really I must say I do not condone stealing…buy the book instead!).
Anita Chu's first cookbook Field Guide to Cookies, or How to Identify and Bake Virtually Every Cookie Imaginable, packs an enormous amount of cookie recipes and cookie information for such a compact little book. I had a myriad of cookies to choose from but the minute I saw the picture of the spritz cookies I knew that is what I wanted to make. You see I got a cookie press for my birthday this year and had yet to put it to use! I have always been fascinated by them. My mom never made them (probably because she never had a cookie press…good detective work I know). So since we never had them at home around the holiday time I would scour peoples cookie plates to see if they had them. They are essentially a buttery sugar cookie that get squeezed out of a tube in different shapes. I went with the festive tree shape since before we know it Christmas will be here. Be warned though, they are highly addictive and I now know why maybe my mom never made these. They made about 5 dozen. I made them 3 days ago. There are none left. 😛
The cookbook is easy to use and navigate through, and more importantly it has a picture of every cookie, a huge bonus to me. But the most interesting thing about the cookbook (well to me) is the information before each cookie recipe. Not only a general description of the cookie but the history about the cookie. I learned that my cookie, the spritz, is Scandinavian and they were made for Christmas celebrations (good thing I made trees) from as early as the 1500's. This is a great little book especially for your friends who are not that comfortable baking. Has clear and easy directions that all bakers can appreciate. I'm glad I got to be apart of the tour. If you missed any part of it you can see the list of talented bakers who participated in this Cookiepalooza.
Since I am the last leg of the cookie tour everyone has pretty much asked Anita all the serious questions, I took the liberty to have a little more fun with mine. I mean, don't you want to know which of her cookies is the most aerodynamic for a food fight?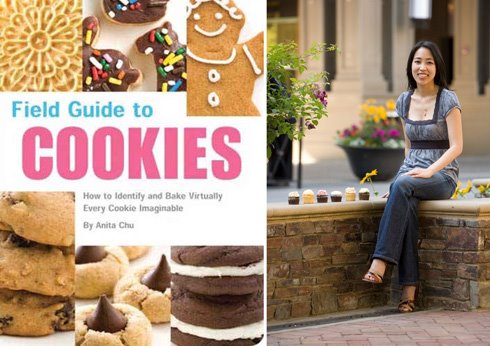 P: The Keebler Elf or Cookie Monster¢â¬¦who wins in a fight, and why?
A: Cookie Monster – he¢â¬â"¢s big, blue, and has those awesome googly eyes.
P: Personally I feel that the Snickerdoodle is one of the most underrated cookies of all time. What do you feel is the most underrated cookie?
A: I love snickerdoodles as well! But I think one of the most underrated cookies is oatmeal raisin, mostly because it gets mistaken (and then ignored) for chocolate chip so often. When the two types of cookies are on the same plate, I always see people pick them over carefully, wanting to make sure they don¢â¬â"¢t end up with oatmeal raisin by accident. It always makes me feel bad for the oatmeal raisin cookies. They¢â¬â"¢re great too!
P: Do you think there is an overrated cookie? If so, what?
A: Hmm, should I mention one that¢â¬â"¢s in my book?:) That might be a little mean (you notice I¢â¬â"¢ve gotten very protective of cookies after writing this book!) You know those Danish butter cookies that come in round blue tins? I used to love those cookies when I was little, and now they always seem kind of dry and tasteless. Either the quality has changed or my cookie experiences have grown and I realized they aren¢â¬â"¢t what I thought they were. If there¢â¬â"¢s still excellent Danish butter cookies out there, I¢â¬â"¢d love to know about them!
P: Do you like to dunk your cookies in milk?
A: Certain cookies, like chocolate chip and Oreos, wouldn¢â¬â"¢t be complete without a glass of milk.
P:You and I both morned the loss of the beloved Mother¢â¬â"¢s Circus Animal cookies. Having tried to recreate them myself I know they were a little tricky. Is there a store bought cookie you wish you could figure out how to make at home?
A: I can¢â¬â"¢t believe you asked this! Yes, as a matter of fact. I got these cookies from Marks and Spencer a few years back, which were like a vanilla biscuit with bits of honeycomb toffee and dried raspberries mixed in, and the whole cookie was dipped in dark chocolate. I have been dying to recreate that cookie, especially since it¢â¬â"¢s hard to get Marks and Spencer in the US. The day I do this will make for one of my happiest blog posts ever.
P: Which cookie in your book would be the most aerodynamic for a food fight?
A: Well, I think the flat cookies like the tuiles might fly the farthest, but for damage potential I¢â¬â"¢d have to go with the big, solid guys like rock cakes. I mean, they really do harden into rocks over time!
P: When making a chocolate chip cookie are you a with nuts or without nuts kind of gal?
A: I am a no nuts kind of girl, but I have encountered chocolate chip -pecan cookies that have tested my resolve.
P: Did you eat every cookie that is in the book?
A: Yes, I¢â¬â"¢ve tried all the cookies, although I didn¢â¬â"¢t eat every single one out of every batch! There were times towards the end of the testing when it was all I could do to take one bite of a cookie.
P: What is next for you Anita? Are you working on your next cookbook?
A: Yes, I am! I am working away already on my second cookbook by the same publisher, due to come out at the end of next year. I¢â¬â"¢m looking forward to revealing the topic as it gets closer to the publication date. As well, I¢â¬â"¢ll be teaching a cupcake class at my alma mater, Tante Marie¢â¬â"¢s Cooking School, in the spring. And, of course, there¢â¬â"¢s a huge backlog of ideas I have for Dessert First that I¢â¬â"¢d love to explore. So much baking to do!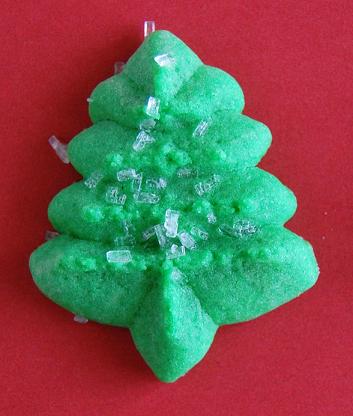 Spritz Cookies
(You will need a cookie press in order to make these cookies)
2 cups cake flour
¼ tsp salt
¾ cup unsalted butter, at room temperature
½ cup granulated sugar
1 egg yolk
½ tsp almond extract
½ tsp vanilla extract
3 or 4 drops food coloring (optional)
Preheat oven to 350F. Line several cookie sheets with parchment paper.
Sift flour into a bowl. Ad in the salt and sift again. It is important to sift the flour twice.
In a stand mixer, beat butter on medium speed for several minutes until soft.
With the mixer on low speed, add the sugar in a slow stream and beat until light and fluffy.
Add in the egg yolk and both extracts and mix until combined.
Add in the flour mixture and mix until combined.
Add a few drops of food coloring if desired.
Load the dough into the cookie press per the manufacturer's instructions.
Press cookies onto the cookie sheets about 1 ½ inches apart. Decorate the cookies with sprinkles, candies, and other decorations. Bake for 8-10 minutes until golden. Cool cookie sheets on a wire rack..
Makes about 5 dozen small cookies.