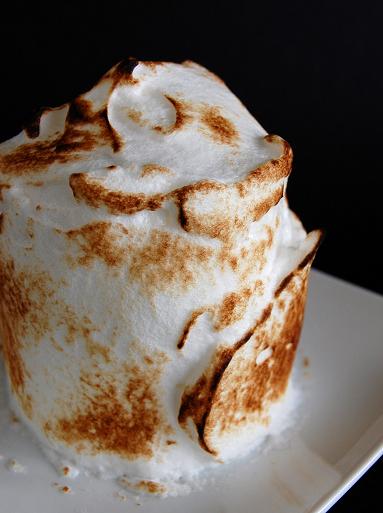 Good in theory…bad in practice. I say this a lot in my life. Mostly in hockey though. For there are a lot of things I see so clearly in my mind yet when I go to execute them at hockey they never go that way. It's a very sad sight indeed.
Sometimes the good in theory, bad in practice phrase also relates to my baking. This week's Tuesday's with Dorie (which we were allowed to post late due to US Thanksgiving) was a Thanksgiving Twofer Pie (La Casserole Carree). It's basically a combo of pecan pie and pumpkin pie. I of course set out to do something different. I wanted to make a pecan pie cake. Pumpkin ice cream. And then turn that into a Baked Alaska.
The cake itself was tasty, but when I went to cut into circles it rebelled against me…with a vengeance and I never got a very good circle out of any of them. The ice cream was super yummy. I made a Kabocha Squash and Pumpkin Ice Cream. But getting the ice cream on top of the mutilated pecan pie cake was also difficult, even with me holding it together with caramel.
Then I over whipped my meringue by not paying attention but at that point didn't care as I was already angry. They still spread so that worked out.
Like I said, in theory this was great. In practice the separate pieces were great. Together we were the leaning, annoying tower of Thanksgiving.
Those of you celebrating US Thanksgiving I wish you a full stomach and not that many dishes to do. As for me, I am headed to a 9 course tasting menu where I don't have any dishes to do. 😉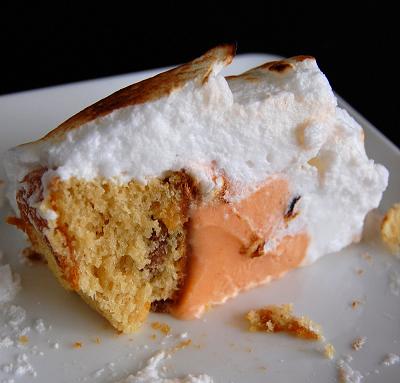 Pecan Pie Cake
Yellow Cake Batter:
2 cups cake flour
2 tsp baking powder
½  tsp salt
½  cup unsalted butter, softened
1 cup sugar
3 large eggs, room temperature
2 tsp vanilla
¾  cup milk
*This cake makes enough for 2 9-inch pans. But for this recipe you are only using half of the batter. Reserve the batter for a Banana Butterscotch cake that will be up over the weekend.
In bowl, combine flour, baking powder, and salt with a wire whisk.
Cream butter and sugar until light and fluffy. Beat in eggs, one at a time. Add vanilla and mix until completely combines. Slowly add flour alternately with milk. At end of addition batter should be smooth.
Make pecan pie portion:
¼ cup light or dark corn syrup
1/8  cup packed light brown sugar
1 TBSP unsalted butter, melted
1 large egg
¼  tsp pure vanilla extract
Pinch of salt
3/4 cups pecan halves or pieces
Mix all together in one bowl. Then fold into the yellow cake batter until completely incorporated.
Bake for 22 to 27 minutes. Use a tester to make sure it is baked all the way through. Cool 5 minutes in pan, then invert onto a rack.
Cut out into little circles using cookie cutter.
Yellow cake recipe adapted from: about.com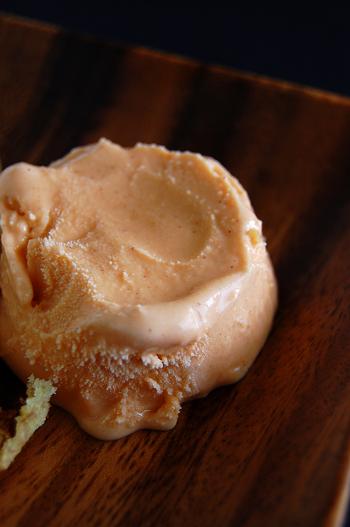 Kabocha Squash and Pumpkin Ice Cream
4 Large whole eggs
1 3/4 cup Granulated sugar
4 cups Heavy cream
2 cups Milk
1 cup Kabocha squash puree (drained over night to reduce moisture) can also just use pumpkin
1 1/2 cups pumpkin puree (drained overnight to reduce moisture) or canned
2 T Pumpkin spice
With an electric mixer using the whip attachment, whip the eggs together until they become pale in color, about 3-4 minutes. Add in the sugar, pumpkin and squash puree until very smooth, scraping the sides and bottom of the bowl. With the mixer on low speed add the cream, spice and milk. Freeze in ice cream maker according to the manufacturer's instructions.
 To see how to make it into Baked Alaska, head on over to Aran's site (Cannelle et Vanille) for meringue recipe and instructions.