These Pumpkin Whoopie Pies with Maple Cream Cheese Filling scream fall. Pumpkin and maple always go well together.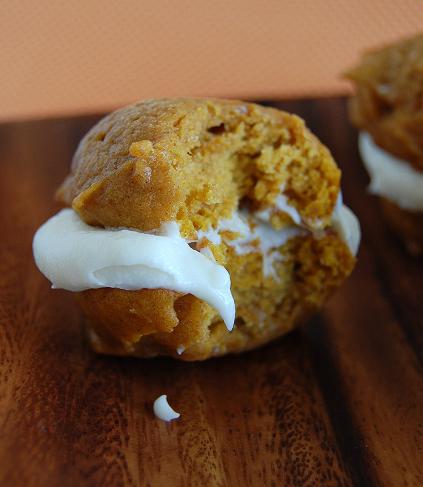 I was doing so good.
Really I was.
I hadn't even clicked on Amazon.com for awhile.
And then like a fool I went on, and even more foolish, I looked at my recommendations.
The evil geniuses at Amazon once again pulled me into the black hole that is the myriad of cookbooks I didn't know I needed…but of course now need.
I broke down and ordered a few.
They arrived and I did my initial run through.
When I get a new cookbook I immediately go through it.
First, if is a book with few photos, I go searching for those.
Then I skim through looking at the titles of all the recipes.
And then if I have time I will read the ones that sounded good.
When I have time I sit down and read it from cover to cover, just as if it were any book, not just a cookbook.
The book I fell in love with this week is Baked.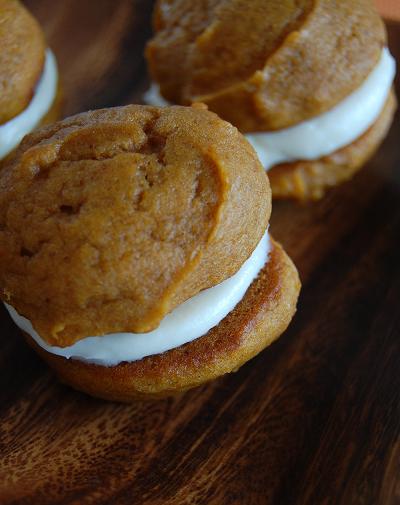 Baked is a bakeshop in Brooklyn that has a frontier theme…very odd, but I think it works for them.
There are soooo many things I want/need to make from this cookbook, it's not even funny.
You will be seeing quite a few things in the coming months from this baby.
But, if you can't wait, I suggest you just go buy it.
The first thing I decided to make from it were these Pumpkin Whoopie Pies.
Which I made into Pumpkin Whoopie Pies with Maple Cream Cheese Filling.
My what a mistake that was.
Who knew I could eat so many of these things in one sitting?
I added a little maple syrup to my cream cheese filling (yes, I realize I have been adding that a lot as of late).
Canadians are always allowed to add maple syrup to just about anything, remember that. 😀
I also considered making a cinnamon version of the frosting as well.
So many choices.
What is a girl to do?
I know…keep making them in different ways.
Though I feel my waistline might veto that.
Ah, what the heck, it's Fall now, I can just wear bulky clothing, eh?
It's a great day to order my cookbook.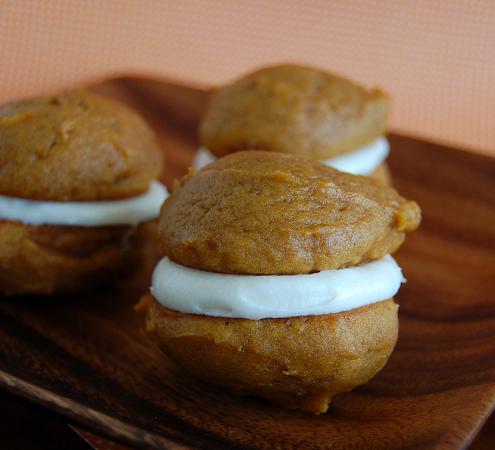 Want More Pumpkin Recipes?
Pumpkin Creme Brûlée Tartlets with Chocolate Ginger Crust
White Chocolate-Pumpkin Topped Blondies
Pumpkin Pecan Pie Gingerbread Bars
Brown Butter Pumpkin Pie Layer Cake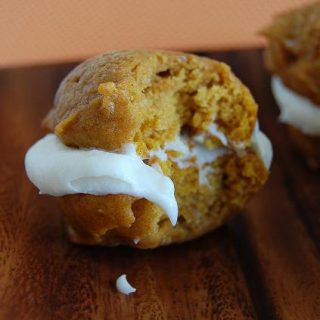 Pumpkin Whoopie Pies with Maple Cream Cheese Filling
Ingredients
For the Pumpkin Whoopie Cookies:
3 cups all-purpose flour
1 tsp salt
1 tsp baking soda
1 tsp baking powder
2 TBSP cinnamon
1 tsp ground ginger
½ tsp ground fresh nutmeg
1 cup granulated sugar
1 cup dark brown sugar, firmly packed
1 cup canola oil
3 cups chilled pumpkin puree
2 large eggs
1 tsp vanilla extract
For the Maple Syrup Cream Cheese Filling:
3 cups powdered sugar
½ cup unsalted butter, at room temperature
8 ounces cream cheese, at room temperature
3 TBSP maple syrup
1 tsp vanilla
Instructions
For the Pumpkin Whoopie Pie Cookies:
Preheat oven to 350F.
Prepare to baking sheets lined with parchment paper.
In a large bowl, whisk together the flour, salt, baking soda, baking powder, and spices. Set aside.
In a separate bowl, whisk to sugars and oil together.
Add the pumpkin puree and whisk to combine thoroughly.
Add the eggs and vanilla and whisk until combined.
Sprinkle the flour mixture over the pumpkin mixture and whisk until completely combined.
Use a small ice cream scoop with a release mechanism to drop healing TBSP of the dough onto the prepared baking sheets, about 1 inch apart.
Bake for 10-12 minutes, until the cookies are just starting to crack on top and a toothpick inserted into the center of a cookie comes out clean.
Remove from the oven and let the cookies cool completely on the pan while you make the filling.
They will look more like mini cakes then cookies, so don't panic about that.
For the Maple Cream Cheese Filling:
In the bowl of an electric mixer fitted with a paddle attachment, beat the butter until smooth with no visible lumps.
Add the cream cheese an beat until combined.
Add the powdered sugar, maple syrup and vanilla and beat until smooth. Be careful not to overbeat the filling, or it will lose structure.
To assemble:
Turn half the cooled cookies upside down.
Pipe filling (about a TBSP) onto that half.
Place another cookie, flat side down, on top of the filling. Press down slightly so that the filling spread to the edges of the cookie.
Repeat until all the cookies are used.
Put the whoopie pies in the refrigerator for about 30 minutes to firm before serving.
Notes
Adapted from Baked: New Frontiers in Baking by Matt Lewis and Renato Poliafito