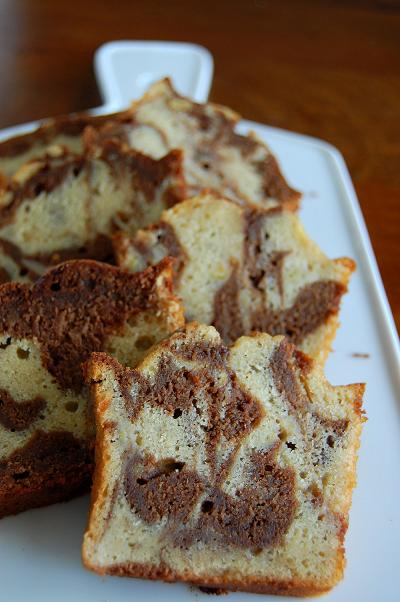 One of the only disadvantages I see of not having children is when you move into a new neighborhood. We moved into our house in October 07 and we had only met one neighbor, who was looking for a play date for her child. Other than that nothing. Now why not bake something and go over and give it to the neighbors you ask? I have done that at previous places with HORRID results. HORRID I tell you.
The first time I made a Bundt cake for my downstairs neighbors. They opened the door, said nothing to me, took the cake, slammed the door. That was it, and I never got my cake plate back(a lesson learned to give things on disposable dishes) nor did I ever really see them again, except when they asked me to watch their children(but that is a story for another time) for "awhile" while they got away.
The second time I gave a little basket of mini loafs to my neighbors downstairs and across the hall. There was a lemon poppy seed, banana nut, and orange cranberry. How did that one go you ask? They smeared the banana nut bread  on my door with a note saying they are allergic to nuts. I would have liked a simple no thanks. Needless to say I was a bitch to them and got even with them when they were breaking an apartment rule(normally I could care less, but they squashed bread on my door). I did however get the basket back. Plus one for me.
And the worst one of all was my third and final attempt. Late 20 something girls who seemed to be home when I was and directly across the way from me. So again I tried with the little basket of mini loaves, this time making sure that there were no nuts to be found. But what I did get was the whole basket returned to me with a note(visible to everyone) saying please don't leave them food as they did not want to get "fat like you(me)".
Three strikes and I was out…or done with it in this case.
Lucky for me my neighbor across the way, who I have now met decided to throw a BBQ in our cul-de-sac. It was originally last week and I was deeply saddened because we were to be in Idaho with the In laws visiting my parents. But God was looking out for me by dumping A TON of rain that day and so it was rescheduled to this last Sunday. And I could go…yay! My neighbors across the way were kind enough to organize it with another neighbor and provide the burgers and hot dogs. We were asked to bring a chair, something to drink and either a salad or dessert. Well, as you can guess, I brought dessert…and a lot of it. I couldn't decide. I made Rice Krispy Treats because everyone loves those. I made Chocolate Fudge Cookies(I left out the nuts), Oatmeal Toffee Cookies, Orange Cranberry Cake and the TWD pick for this week, Black and White Banana Loaf. I know, enough to feed an army. Luckily much of it went in other people's tummy.
And speaking of lucky, I sure do have some nice neighbors. It was great to finally meet some of them and now I have someone to say hello to, feeling a little less isolated. 🙂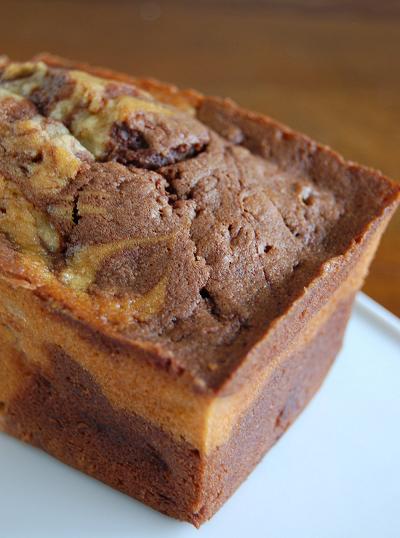 The Black and White Banana Loaf is nice and moist as the bananas and sour cream(never mind there is not sour cream…I was making something else with sour cream at the same time) help with that. I did change a couple of things in the recipe. I used semisweet chocolate instead of bittersweet and I used banana liqueur instead of rum. I also omitted the lemon juice. Other than that I stuck to the recipe. Many a TWDer had issues with the cake not baking all the way through. I made mini loaves and did not have a problem at all. If you go with the mini loaves they took about 45 minutes to bake.
Thanks to Ashlee of A Year In The Kitchen (you can get the recipe there)for this weeks Tuesdays with Dorie pick, it was a good one.