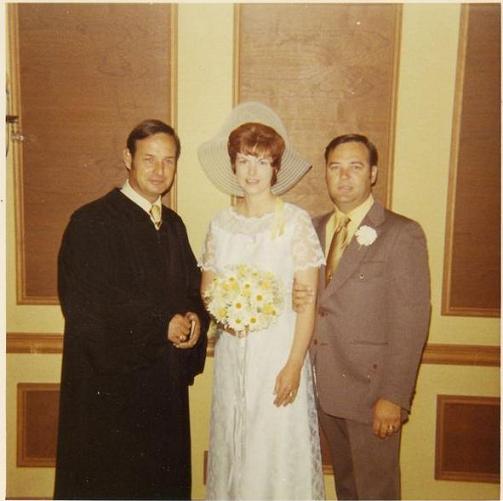 I can't say easy as pie, as I am a huge hater of making pie crust(cream cheese pie crust aside), but crisps…those are for real easy. Just like my parents marriage…or so they make it seem.
Today is my parents(pictured above in the swanky 70's wear*) wedding anniversary. 37 years of successfully not killing each other and I am pretty sure successfully not wanting to kill each other either. 😛
My parents are still very much in love to this day. They still hold hands everywhere they go. They still go and do things together(though they can do separate things just as easily). They are kind and considerate to each other. I never really saw/heard them fight, the exception being when my grandmother lived with us(and that can cause even Gandhi to get cranky). Like me, my parents courtship was quick and so I think to this day that is why my mother never pressured me to get married, she knew I would just find someone and I would be hit hard…just like she was.
When I was in college I broke up with my first real serious boyfriend( I even had a promise ring…and btw, how stupid are those?). I was 18 and very devastated(everything is devastating at that age), sure that I was never to love again(vomit). My father wrote me a letter telling me how sorry he was that I was having to go through this pain but that it would pass. And that all he could hope for was that "I could find someone who loved me as much as he loved my mom." I wish I still had that letter, I thought I did. I had planned to read it at my wedding to let my dad know that I had found someone who loved me as much as my dad loved my mom. It's probably best I didn't as my dad and I are criers and were already bawling through a lot of it(and I had already eloped…we are such saps)
We still have some good local strawberries right now and before the go away I thought it best to use them in something. It's great way to represent my parents marriage, sweet and easy(though I know they have had their rough spots from time to time, everyone does)…and a little nutty on top. 😛
Happy Anniversary parental unit, keep on keeping on(70's flashback…had to be done with that clothing they were wearing).
* I am sure my father would like for me to point out that my mother not only had a beehive hair-do(with hat) AND was also wearing heels and therefore looks taller than my dad which she is not.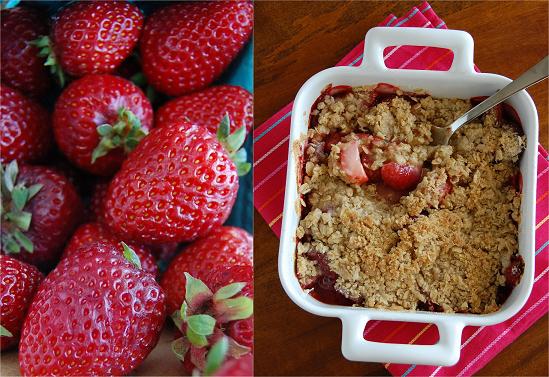 Strawberry Crisp
1 cup uncooked oatmeal
1 cup all-purpose flour
1 cup brown sugar
¼  cup chopped walnuts
½  cup unsalted butter, cold
1/3 – ½   cup granulated sugar(depending on how sweet your berries are)
3 cups sliced fresh strawberries
1 ½ TBSP all-purpose flour
Mix together oatmeal, flour and brown sugar. Add nuts. Cut in butter until crumbly. In another bowl, mix strawberries, sugar and flour together.
Grease an 8-in. square pan. Place strawberry mixture into pan. Spread crumb mixture over top. Bake in 350ºF. oven for 45 minutes.
Makes about 6 servings.