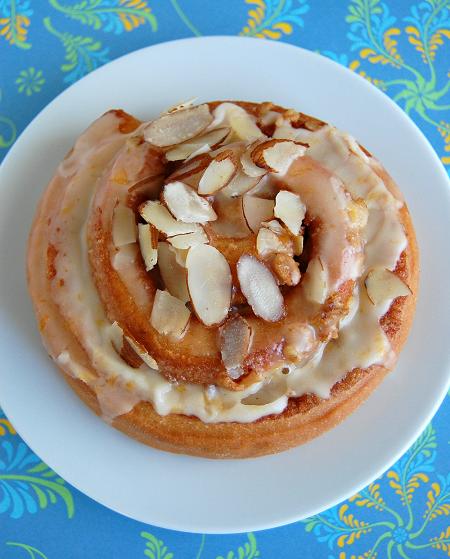 My mother always gives me two birthday cards. This year one of them was a girl sitting down to breakfast pouting with a very disapproving look on her face. This was the best card my mother ever sent, because well, it was me growing up. I am not a morning person as most of you know(a night owl through and through…all my life, even as a kid). I would come down to breakfast and everyone knew they should not talk to me or they would face the wrath of Hurricane Peabody(I am better now but when I first wake up it is best not to pepper me with questions). And Lord help you if my cup and bowl were not exactly how I like them. I was very inflexible, which is very humorous if you know me now(or so I thought).
I used to think I was Ms. Spontaneous, Ms. Go with the Flow. However it seems the older and older I get the more I realize how very routine oriented I am even though I never really thought I was. Having my In laws here for the last week and a half really through off my routine. We were always doing things with them, including a trip over to Idaho to see the parental unit(rabbit and dog in toe), that I never really got anything done that I needed too. The laundry stacked up nicely(and is being washed as we speak). The house needs a good cleaning as the attack dust bunnies have grown to a very large size(pray they do not get me!) and are giving me the evil eye. And my blogs. My poor, poor blogs have suffered big time. They especially suffered since pretty much everyday my In laws were here we had perfect overcast, cool baking weather…and I got to bake nothing. Nothing I tell you. 🙁 The day it was 57 and raining I could not take it anymore. I HAD to bake. My body was twitching from baking withdrawals. So there I was at 1am(again with the night owl thing) feeling the need to make something with yeast.
I have been on a bit of an orange kick the last couple of days. I have drank more orange juice since Tuesday than I probably have all year. So the orange influence shine through when I thought about what to bake. I chose to make a comfort food…cinnamon rolls/buns…but I didn't want cinnamon. And I made me some pretty BIG ones at that. I was needing to stress eat. Not that my In laws were stressing me out, the lack of routine was. These were certainly a great food choice for stress eating…sugar and bread…the perfect calming effect on me.
My In laws are on their way home now(we really did have a nice visit with them). I am slowing getting back into my routine, though I am seeming to be playing a little more catch up than I had hoped. Hopefully, the gears will be in full swing by the end of this week!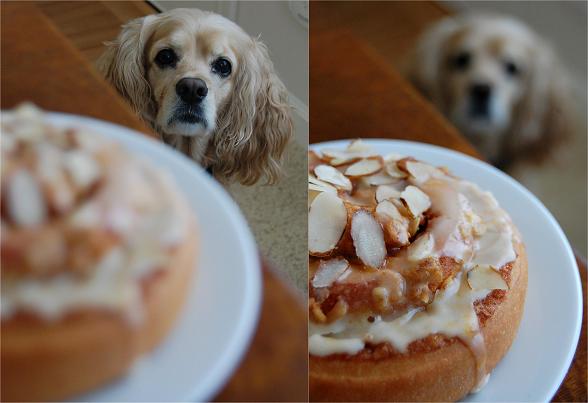 Orange-Almond Buns
For dough:
1 2/3 cups warm milk (105°F)
4 ½  teaspoons active dry yeast
(2 packages, ¼  ounces each)
3 tablespoons granulated sugar
1 stick unsalted butter, softened
1 tsp almond extract
2 large eggs
1 tablespoon salt
6 ½ cups all-purpose flour
Cooks' note:
¢â¬¢ Yes, they mean 1 tablespoon, not 1 teaspoon, of salt for the dough; with 6 1/2 cups of flour, it is needed.
For the filling:
½  cup chopped slivered almonds
½  cup granulated sugar
1/3  cup light brown sugar
zest of 1 orange
3 TBSP unsalted butter, melted
Make dough:
Mix milk, yeast, and sugar in a standing electric mixer fitted with whisk attachment until combined well. Let stand until foamy, about 5 minutes.
Add butter, eggs, almond extract, salt, and 3 cups flour and beat until smooth. Fit mixer with dough-hook attachment and, with mixer on medium-high speed, gradually knead in remaining 3 1/2 cups flour, occasionally scraping down side of bowl with a rubber spatula, until dough is smooth and elastic, about 6 minutes.
Transfer dough to a large oiled bowl, turning to coat, and cover with plastic wrap. Let dough rise in a warm place until almost doubled in bulk, about 1 1/2 hours.
Make orange-almond filling while dough is still rising:
Mix together almonds, both sugars and orange zest. Set aside.
Shape, fill, and bake buns:
Punch down dough, then halve it. Pat each piece into a flat rectangle and cover 1 piece with plastic wrap. Roll out remaining dough on a lightly floured surface with a lightly floured rolling pin into a 17- by 13-inch rectangle (about 1/4 inch thick). Brush top with half of melted butter and sprinkle evenly with filling. Roll up, beginning with a short side, to form a 13-inch log and press seam to seal. Cut log crosswise into 6 pieces and arrange, cut sides up, in 2 rows of 3 buns in half of a buttered 13- by 9- by 2-inch metal baking pan. Make 6 more buns in same manner and let buns rise 30 minutes. Preheat oven to 350°F.
Bake buns in middle of oven until golden brown, about 40 to 45 minutes.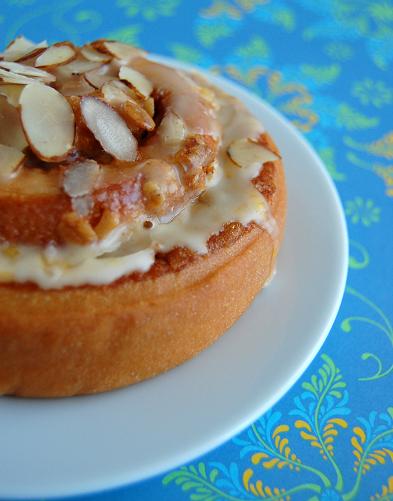 For glaze:
2 oz cream cheese, softened
2 ½  cups confectioners sugar, sifted
3 TBSP fresh orange juice
zest of 1 orange
½  teaspoon vanilla
Make glaze while buns bake:
Beat together glaze ingredients with an electric mixer until smooth.
Cool buns in pan on a rack 15 minutes, then spoon glaze evenly over warm buns. Sprinkle with slivered almonds if you desire.
Adapted from Gourmet Magazine, February 2000