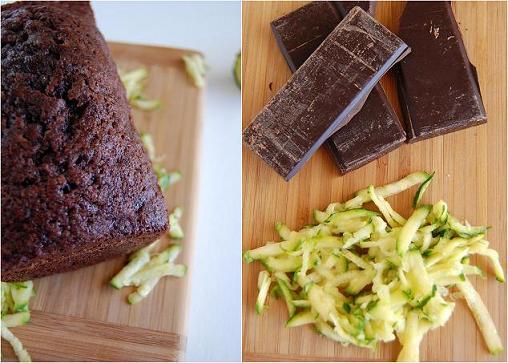 I can't believe it. For the first time I am missing Tuesdays with Dorie. But don't get mad, you can't get mad at me…it's my birthday tomorrow(not my blogs…but mine) so you have to be nice!
I had every intention of making the Apple Cheddar Scones that Karina of the Floured Apron chose…except that the weather chose not to cooperate. Right about the time I got to feeling better Summer finally decided to show up around these parts(it's been so cold here people were calling it Junuary). And when Summer came it came hard. We don't usually get into the high 80's and low 90's(we average in the low 70's for June) and when we do we all tend to melt since very few of us around here have air conditioning. I being one of the air conditionless am not about to turn on the oven…not even to bake me my very own birthday cake(Cold Stone here I come for an ice cream cake).
So into the vault I went to find this chocolate zucchini bread I made a little while back.
I'll admit it doesn't really say birthday, but it does say breakfast. And since there are two loaves sitting in the freezer right now, it will probably be my birthday breakfast…if I remember to take it out. I am getting old you know. Although apparently not old enough. I had to laugh as in the couple weeks I have received quite a few comments and emails about the photos(of me) in my blog. How everyone thought I was older than what I am. Is it because I am wise beyond my years? HA! More like I keep my body filled with pastries…plump adds more youth as it fills in the wrinkles. 😉 Something to remember.
This is a nice moist bread as it has mascarpone cheese as well as buttermilk in it. I used a super dark chocolate…I want to say 76%. Not positive though. I won some free chocolate at a Seattle Food Blogger get together and was using that. I had a couple to choose from and I don't remember which one I picked…again with the old age.
How will I be spending my birthday you ask? I always start the day by going to the gym. Nothing says I love you to your body and heart like a nice little cardio workout. And I figure if I can still drag my butt there to do it then I can't be THAT old. 😮 Then a quick lunch with a friend and then out to the Melting Pot for dinner with my beloved hubby. We go the Melting Pot each year. I just love fondue…it's so fun. I already got my birthday gift…a nice little shopping spree at Williams-Sonoma, so you know I was a happy girl!
P.S. Happy Canada Day for all that applies to!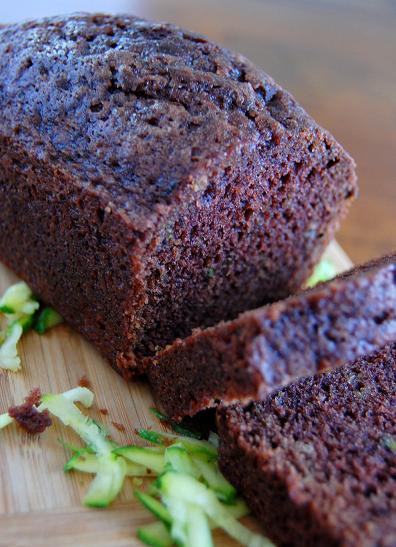 Chocolate Zucchini Bread
3/4 cup unsalted butter, at room temperature
4 ounces bittersweet chocolate, chopped
1 cup granulated sugar
1/2 cup light brown sugar
1 1/2 cups shredded unpeeled zucchini
3 eggs
1/3 cup mascarpone cheese
1/3 cup buttermilk
1 tsp vanilla extract
1/2 tsp ground cinnamon
1 tsp baking powder
1/2 tsp baking soda
1/8 tsp salt
2 cups all-purpose flour
Heat oven to 350°F.
Melt together butter and chocolate over medium heat in a double boiler.
When melted remove from heat.
Mix in mascarpone cheese until it melts in with the chocolate mixture.
Place mixture into a bowl of an electric mixer fitted with paddle attachment. Mix in sugars, zucchini, eggs and vanilla on low speed until well combined.
In a large bowl sift together the flour, baking soda, baking powder, cinnamon and salt.
Add half of the dry ingredients to the mixer bowl. Then add the buttermilk. Then add the remaining dry ingredients.
Spoon batter into 2 greased and floured 8×4-inch loaf pans.
Bake for 35 to 45 minutes(about 20-25 minutes for mini loaves) or until toothpick inserted in center comes out clean.
Cool 10 minutes on a wire rack.
Remove from pans and continue to cool on wire rack.