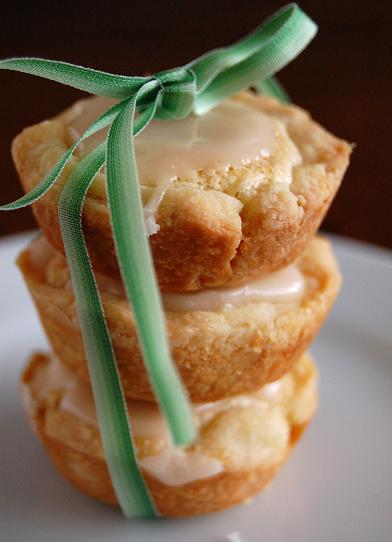 Sadly I can not remember the last time I participated in Sugar High Fridays. It seems I barely participate in anything anymore as it is(DMBLGIT). It just slips my mind(what's left of it these days :P). But when my lesser evil twin Helen(Tartelette) announced that she was hosting, I of course had to participate…how could I not?
Helen picked a citrus theme, which is so versatile and so Summer. Good choice Helen. I really thought of doing something elaborate but I was sitting around looking through my blog and realized that I haven't made any cookies in a really long time. Ironically these cookies ended up being pretty elaborate for a cookie.
Coconut Lemon-Lime Tassies were a little more work than I was wanting. I don't know what I was thinking. I don't like making pie, and this was pretty much like making pie….just really small ones. The cream cheese pastry is easy but you have to wait around for 4 hours for it to chill. I'm not good at smashing them into the mini muffins as I have long nails and when I would press down on them, those suckers would just stick to my nail. Many, many bad words were used. Then you have the filling and then a glaze. These are a good cookie but I probably wont make them again until my mom comes out as she is a pecan tassie lover and I think she would really enjoy these.
So there you have it, my leap back into SHF. I'm hoping to be better about keeping on top of SHF, along with a few other events I used to participate in.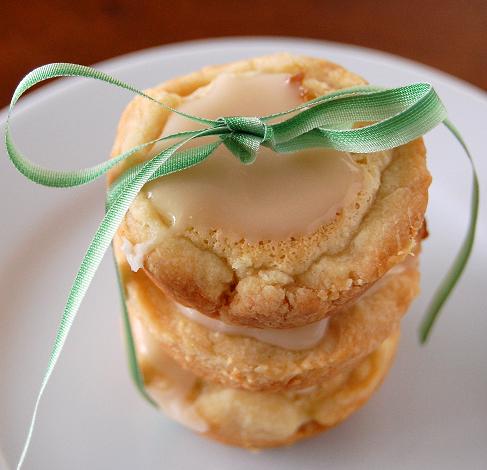 Coconut Lemon-Lime Tassie
1 recipe Cream Cheese Pastry(recipe follow), formed into 2 4×6-inch rectangles
Filling:
3 TBSP all-purpose flour
½ tsp baking powder
¼ tsp salt
4 large egg yolks
1 ¼ cups sugar
3 TBSP fresh lime juice
3 TBSP fresh lemon juice
2 tsp freshly grated lemon zest
2 tsp freshly grated lime zest
1 cup chopped sweetened, flaked coconut, divided
1 recipe Vanilla Glaze(recipe to follow)
Divide each rectangle of pastry into 24 1-inch squares. Roll each into a ball and place into mini-muffin tins. Mold the dough into each hole, pressing it up the sides. Chill while preparing the filling.
Position the shelves in the upper and lower thirds of the oven. Heat the oven to 350F.
Strain together the flour, baking powder and salt. Set aside.
In a large bowl of and electric mixer fitted with the whip attachment, beat the egg yolks on medium speed until lightened in color. Add the sugar in a steady stream, beating until thickened. On low speed blend in the juice and the zests. Remove the bowl from the machine and fold in the dry ingredients and ½ cup of the coconut.
Sprinkle the remaining coconut into the pastry-lined muffing cups. Empty the filling into a measuring cup with a spout and pour the mixture into the tins, filling them no more than two-thirds full.
Bake for 30 to 32 minutes or until the pastry is golden brown around the edges. Toward the end of baking time, rotate the pans top to bottom and front to back. Let stand 5 minutes. Using the tip of a paring knife, run the blade carefully around the edges of the muffin cups to loosen the Tassies. When cups are cooled enough to handle, remove them form the pa and set on a cooling rack. While they are slightly warm, apply a small amount of the Vanilla Glaze to the top of each Tassie, spreading it with the bottom of a teaspoon.
Store in the refrigerator in an airtight container, layered between strips of wax paper for up to 5 days.
Cream Cheese Pastry
1 cup unsalted butter, at room temperature
8 ounces cream cheese, at room temperature
2 ¼ cups all-purpose flour, spooned in and leveled, divided
¼ tsp salt
¼ cup powdered sugar
In a large bowl, using a wooden spoon, mix together the butter and cream cheese until smooth and thoroughly blended.
Mix in 1 cup of the flour and salt, working until almost incorporated. Cut in another ½ cup flour with the spoon, again working it until the flour is almost incorporated. Complete the process by kneading in another ½ cup flour. Do not overwork.(Note: The remaining flour is used for rolling).
With lightly floured hands, shape dough into a mound., then divide in half and form two 5-inch disks. Dust disks lightly with the flour and warp with plastic. Chill for at least 4 hours or up to 3 days.
Vanilla Glaze
2 cups powdered sugar
2-3 TBSP hot milk
1 TBSP corn syrup
½ tsp vanilla extract
pinch of salt
Place the powdered sugar in a large bowl and add the remaining ingredients. Stir with a small whisk or spoon until very smooth. The glaze should pour from a spoon in a steady stream. Use additional liquid sparingly. A little bit goes a long way.
Source: Adapted from Great Cookies by Carole Walter