This Apple Blackberry Crisp with Blackberry Ice Cream is a apple and blackberry dessert with crumb topping and homemade blackberry ice cream.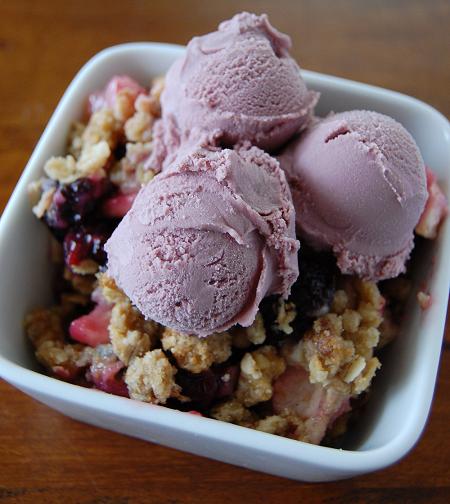 The first time I saw someone picking blackberries it was along the side of the road in Oak Creek Canyon, Arizona(just outside of Sedona).
It was a man, standing there, facing bushes along the road beside his car.
I assumed he was peeing. Ew, I thought…and said.
"Ew? You don't like blackberries?" said J, our neighbor across the street from us, who's kids I spent almost everyday with.
"I don't think I have ever had blackberries…and what does that have to do with the man peeing?"
Boy they had a good laugh at me and then pointed out that the man was not peeing but picking blackberries from the blackberry bushes along the road.
The sheltered Suburban girl in me was shining through at that moment (I was only like 10 or 11).
But still, I never stop to think up to that point how food even got to my table.
I mean, didn't it just magically show up in those plastic containers, eh? 🙂
Apparently not.
Apparently, people pick and gather all types of fruit and vegetables.
Who knew…obviously not the girl who mistakes someone picking blackberries for peeing. 😛
I never did pick blackberries, well not until I moved here.
The dense bushes are blanketed across many parts of Western Washington and when I saw them I knew I would be dragging myself out there to experience blackberry picking.
The good news is, it's nothing like peeing. 😛
The bad news is, you have purple fingers for the next three to four days.
It is the price one pays to have the bounty that is fresh blackberries.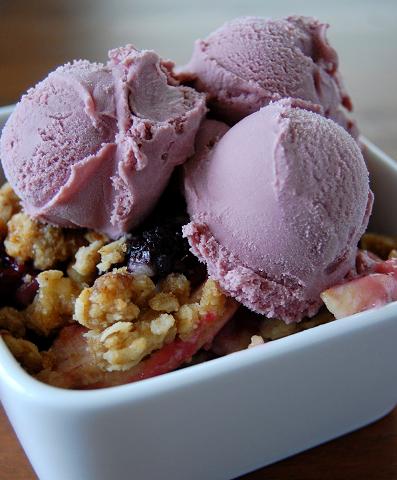 Having been in the Northwest cuisine mindset as of late I was drawn to the blackberries(the ones in the magic plastic containers) that I saw at the store.
A little steep in the price range with today's evil grocery prices, I knew I would need to mix them with something.
I went with the other Northwest staple…apples.
And since I am too lazy to be a pie maker, I went with the ever easy but equally satisfying crisp.
If I had hazelnuts, I would have used those, but I did not so walnuts won the nut lottery for this recipe.
Since crisps are a little on the boring side, I found an ice cream recipe for Blackberry Ice Cream(on My Husband Cooks) that screamed make me…so I did.
It just takes the homey crisp to a whole new level of happiness.
If you have never been blackberry picking or any fruit picking I encourage you to do so.
Just make sure to keep your hands where everyone can see them and no one can mistake you for peeing. 😉
P.S. It's a great day to buy my cookbook.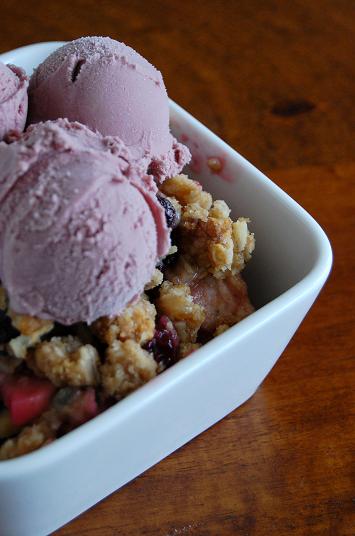 Want More Fruit Based Desserts?
Cherry Limeade Biscuit Cobbler
Mixed Berry Oatmeal Cookie Cobbler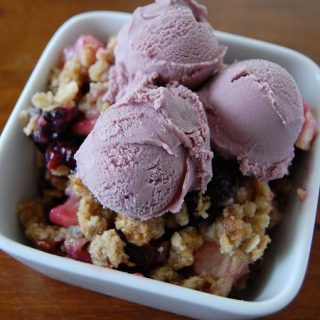 Apple Blackberry Crisp with Blackberry Ice Cream
Ingredients
For the Apple Blackberry Crisp:
For the Filling:
6 Granny Smith apples, peeled and cored
2 cups blackberries
¾ cup sugar
2 TBSP flour
For the Topping:
½ cup rolled oats
½ cup all-purpose flour
1/3 cup chopped walnuts
1/3 cup butter, melted
1/3 tsp brown sugar
For the Blackberry Ice Cream:
1 quart blackberries
2 cups heavy cream
1 cup half and half
1 tsp lime juice
1- 1 ½ cups sugar(depending on how sweet your berries are)
3 egg yolks
1 tsp vanilla
¼ tsp salt
Instructions
For the Apple Blackberry Crisp:
Preheat oven to 350F.
Butter a 9 by 13-inch pan or individual ramekins.
Cut apples into thin slices.
Place apples and blackberries in a large mixing bowl.
Sprinkle with flour and sugar.
Gently fold to coat the fruit pieces.
Pour fruit into prepared pan.
Combine all topping ingredients together in a bowl until everything in moist from the butter and has a crumbly appearance.
Sprinkle topping over fruit.
Bake for about 35-40 minutes or until fruit is soft and topping is browned.
Serve warm and top with Blackberry Ice Cream or vanilla.
For the Blackberry Ice Cream:
Add the yolks and sugar to a medium-size bowl.
Whisk together and then set aside.Using a double boiler over medium-low heat, add the half and half, cream, blackberries and salt.
Regularly whisk the mixture, heating until the temperature reaches approximately 145F.
The mixture should begin to turn purple.
Once the cream mixture has reached the desired temperature, slowly add about half of the mixture to the eggs and sugar while whisking vigorously. This will prevent the eggs from curdling.
Once the eggs and cream have been thoroughly integrated, pour back the egg mix into the remaining cream.
Whisk constantly and slowly as the mix rises in temperature.
Once the temperature has reached 165-170F ¢â¬â€ or when the mix evenly coats the back of a spoon, remove from heat and add the lime juice and vanilla.
Whisk them in completely and run through a sieve to remove blackberry seeds.
Move to a new container to cool.
The mix can be placed in the freezer for 2 to 3 hours or, preferably, into the refrigerator overnight.
Churn according to your ice cream maker's instructions.
After churning, place in freezer to firm up. I recommend placing a seal of plastic wrap tight against the ice cream after making it to prevent a skin from forming on the ice creams surface.
Serve once firm enough. Enjoy!