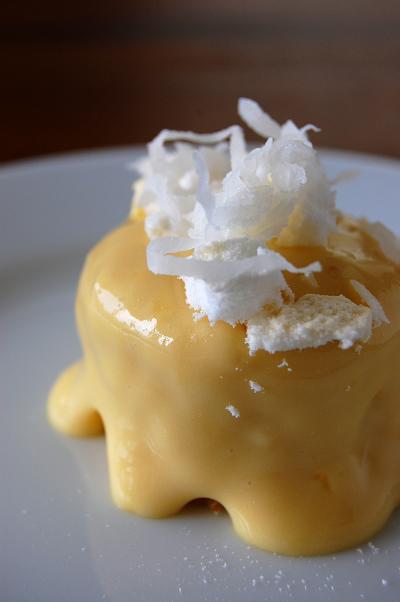 When this weeks Tuesday's with Dorie pick from Dianne of Dianne's Dishes was Florida Pie, I was happy yet sad at the same time. See Florida Pie is pretty much Key Lime Pie…and we all know I love that. The only thing is, if you read this blog you know that I just made Key Lime Pie. And I don't really like repeaters.
I thought of different ways to make the pie and it just wasn't doing it for me. I knew that I wanted to make the key lime filling. I knew I wanted some sort of graham cracker element. I needed coconut since that is what helps make this different from regular key lime. And I knew I needed meringue but that I wanted it in cookie form.
I originally thought of a deconstruct(like the photo below). But I am just not really a fan of those desserts for some reason. They seem cold to me…and not like ice cream cold, more like mean boy that tells you that you DO look fat in those jeans cold.
So back to thinking I went. I decided to see if I could make a genoise using graham flour. I was afraid it would be a little to heavy but it turned out beautifully(yay!). I then decided instead of filling the cake I would thin out the filling and make it more of a glaze. I didn't really need to do anything to the filling except give it a whirl in the Kitchen Aid once it had been baked, frozen and then refrigerated. Top it with some crushed up meringues and some shredded coconut and I had myself a tasty little dessert.
Sherry Yard and Nick Malgieri also spent their Tuesday with Dorie as they were the other "contributers" to my dessert.
I am sure lots of other TWD participants actually made the PIE. So if you are interested in that check out the Tuesday's with Dorie website.
P.S. Don't they look like the ghosts(Blinky, Pinky, Inky, and Clyde) from Pac Man days?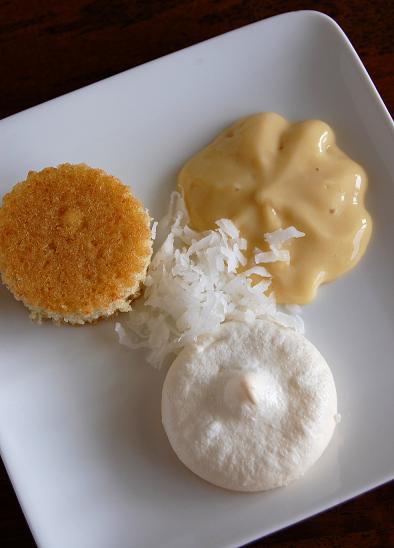 Graham Cake with Florida Key Lime Pie Glaze
Graham Genoise:
6 large eggs
1 cup sugar
4 ounces unsalted butter, melted
½ cup cake flour, sifted
½ cup graham flour
Preheat oven to 350F.
Grease and flour two 8-x-8-inch pans.
Fill a medium saucepan halfway with water and bring to a simmer over medium heat. Combine the eggs and sugar in the bowl of our standing mixer and place it over the simmering water, creating a double boiler, being careful that the bottom of the bowl does not touch the water. Insert  a thermometer. Whisk continuously until the temperature reaches 110F, 3 to 4 minutes.
Remove from the heat and transfer the bowl to a standing mixer fitted with a whisk attachment, or use a hand mixer. Whip on high speed for  5 to 8 minutes, or until the eggs are three times their original volume, are thick and pale yellow in color. Turn down the mixer and whip for 2 minutes to help stabilize the foam. On low speed, stream the warm melted butter into the batter and mix for 15 seconds until incorporated.
Add the flours to the foam all at once and fold it in carefully with a balloon whisk just until incorporated, maintaining as mush of the foam as possible.
Pour the batter evenly among the two prepared pans. Tap each pan lightly on the table three times to eliminate air bubbles. Then, using the same jerking wrist action you would use to throw a Frisbee, swing each pan around on the table so that the batter is forced up the sides of the pan. This will prevent a dome from forming in the middle of the cake.
Bake for 15 minutes. Switch the pans front to back and rotate them, then bake another 10-12 minutes more. Test the cake for doneness by lightly touching the top of it with a finger. The finger indention should spring right back into place. If it doesn't, bake for another 5-10 minutes more. The cake is also done when it begins to pull away slightly from the sides of the pan.
Let cool on rack for 15 minutes, then invert onto the rack, remove pans and cool for at least 2 hours before using. Once cooled, cut out rounds using a cookie cutter.
Source: Adapted From The Secrets of Baking by Sherry Yard
Key Lime Pie Filling:
4 large eggs yolks
1 14-ounce can sweetened condensed milk
1/2 cup fresh Key (or regular) lime juice (from about 5 regular limes)
Working with a stand mixer, preferably fitted with a paddle attachment, or with a hand mixer in a large bowl beat the egg yolks at high speed until thick and pale.  Reduce the mixer speed to low and beat in the condensed milk.  Still on low, add half of the lime juice.  When it is incorporated, add the reaming juice, again mixing until it is blended.
Bake the pie for 12 minutes.  Transfer the pie to a cooling rack and cool for 15 minutes, then freeze the pie for at least 1 hour. Then place in fridge until needed.
Source: Adapted from Baking From My Home To Yours by Dorie Greenspan
The merignues were made using the recipe from the mushrooms for the Yule Log. I didn't make them into mushrooms though and they were not dipped in chocolate. For the recipe go here.
To assemble:
Scoop pie filling out and place in the bowl of a standing mixer. Using a paddle attachment, beat until smooth. It will seem liquid like. That is okay, you want it to form more of a glaze then a filling.
Place Graham Genoise round on plate. Spoon or pipe filling over cake.
Garnish with crushed meringues and sweetened shredded coconut.