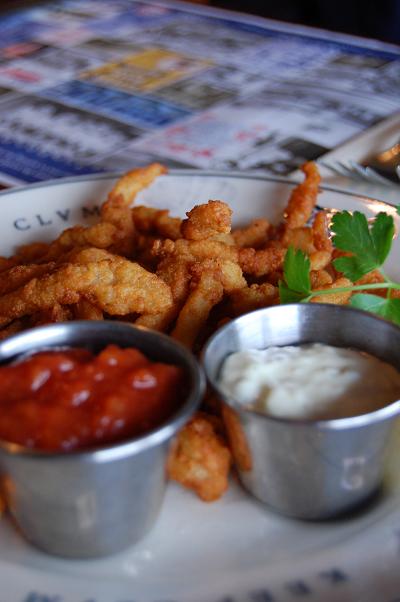 (Fried Clams from Seattle's Beloved Chain, Ivars)
I eluded to it before but now with less than one month away it is time to talk about Northwest Noshings.
When I moved to the Pacific Northwest from desert Arizona I had no idea the variety of culinary treats I was in for. My first time at a farmer's market out here was jaw dropping. The farmers market was not just dried chilies and citrus fruit. The shear variety of mushrooms was insane.(Speaking of mushrooms if you want a chance to win 2 lbs of fresh morel mushrooms you should enter the contest over at Marx Food). The strawberries were red inside…the ones we got in AZ had a ton of white in the middle. I personally don't eat tomatoes but I can tell by just looking at them that Washington tomatoes kick Arizona tomatoes ass…and they have all the heirloom variety that don't cost and arm and a leg..and another leg.
Many times I have made something that I wanted to share with my readers but it just really didn't fit into the genre of my blog. Plus I get A LOT of emails(really, we are talking hundreds here people) asking me if all I do is sit around and eat breads and sweets…they want to know if I eat "real" food. Yes, we eat real food. I tend to eat real food…my husband eats sloppy joes. 😛
Add on to that, many a local person asks me where they should eat and I decided to make a food blog dedicated to all things Pacific Northwest. So starting June 1st(2008), I will have another food blog(yes, I am insane) that will be recipes and restaurant reviews…and not just limited to the Seattle area, and get this…no sweets or baking(gasp). Northwest Noshings will not be updated nearly as often as Culinary Concoctions is(my head might explode if it was) but will have a post a week.
In order to celebrate my new food blog I am having a give away to one lucky person(winner will be chosen randomly) out there in blogland. You will be receiving a lovely Pacific Northwest gift pack. So if a cookbook from our local celebrity chef, local chocolate, spice rubs and what not sounds like something you are up for then all you need to do is leave a comment on this post.
Thanks for being a reader of Culinary Concoctions by Peabody and I hope to have you as a reader of Northwest Noshings.
Cheers,
Peabody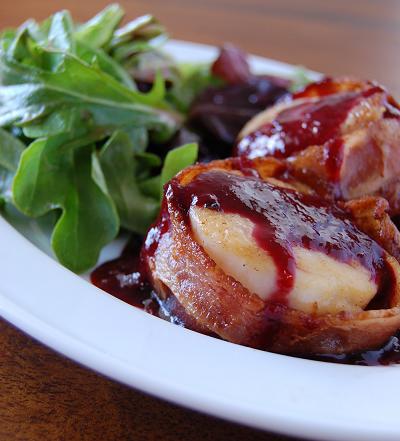 (Bacon Wrapped Scallops in a Blackberry Reduction inspired by Purple Cafe and Wine Bar)