This Perfect Party Cake has white cake layers with honey tangerine mousse and covered in Swiss meringue buttercream.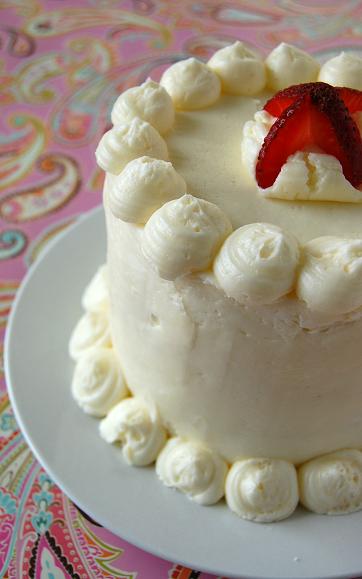 Had a little bit of a scare there yesterday.
I went to publish my story and it wouldn't save or publish.
AHHHHHH!
Lucky for me, I am married to a computer programmer so I stuck him on it while I went out for girls night.
When I came back it was all fixed, sort of.
We had to upgrade to the latest version of WordPress…and now it is like I am learning all over again.
Boo.
Anyway, it is that time again.
Time for the Daring Bakers challenge.
You might have thought it was Tuesday since this is indeed a Dorie recipe and is indeed from Baking From My Home to Yours but it is Sunday.
This recipe was chosen by Morven of Food, Art and Random Thoughts.
And before I forget a special thanks to Morven for sending me the coolest care package from New Zealand.
First she sent me a fabulous magazine called Dish.
Which I was confused by since it came with no note and a return address from a place of business.
That was followed up by Apple Syrup(I am thinking about what to make with it), Quince Paste(which I will eat with cheese!) and two Cadbury Chocolate bars(one is already gone!).
See a while back I won a contest that was about food and art(two things I know about) and I guessed the most correct.
So I got the cool package.
You may be jealous now.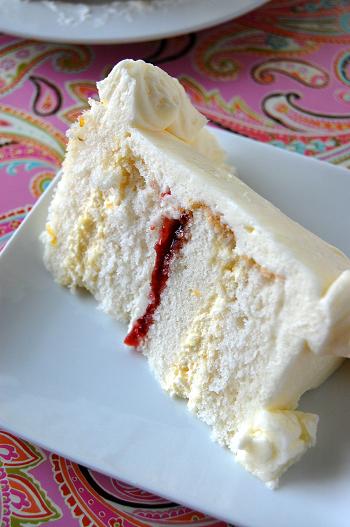 Okay, back to the Perfect Party Cake.
I only like going to weddings for one thing.
Cake.
And my favorite is always white cake with white buttercream frosting.
So when I saw that this was basically what we were making with the Perfect Party Cake I was beyond excited.
The original recipe calls for just buttercream and jam between the layers.
But as I was trolling the web I saw that Helen had made a lovely lime mascarpone mousse and I decided to do something with that.
Except that mine is made with honey tangerines.
Yes, I have been on a tangerine kick.
No, don't worry I don't have scurvy…or should I be getting it anytime soon.
If you have never seen a honey tangerine they do look a little different than a regular tangerine.
They are larger and are honey in color and have usually blackish spots on them.
But they have the wonderful taste of tangerines but a tad bit sweeter.
And you know me, the sweeter the better.
I would make this cake again in a heartbeat.
It uses my favorite type of buttercream, Swiss.
Which reminds me…Rene, this is the type of buttercream you need to learn how to make!
It is very versatile as you will see if you go around to the hundreds of Daring Bakers websites.
I have seen combos I would have never thought of.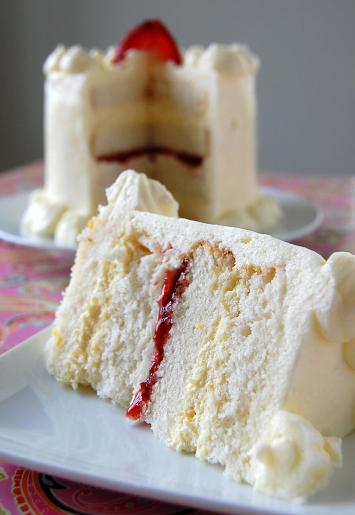 Storing:
The cake is best the day it is made, but you can refrigerate it, well covered, for up to two days.
Bring it to room temperature before serving.
If you want to freeze the cake, slide it into the freezer to set, then wrap it really well and it will keep for up to 2 months in the freezer; defrost it, still wrapped overnight in the refrigerator.
Other Flavor Suggestions:
Since lemon is such a friendly flavor, feel free to make changes in the preserves: other red preserves such as cherry or strawberry look especially nice.
But you can even use plum or blueberry jam.
For Fresh Berry Cake Option:
If you will be serving the cake the day it is made, cover each layer of buttercream with fresh berries.
Use whole raspberries, sliced or halved strawberries or whole blackberries, and match the preserves to the fruit.
Top of the cake with a crown of berries or make a pattern with the fruit.
You can also replace the buttercream between the layers with fairly firmly whipped sweetened cream and then either frost the cake with buttercream (the contrast between the lighter whipped cream and the firmer buttercream is nice) or finish it with more whipped cream.
If you use whipped cream, you'll have to store the cake the in the refrigerator and let it sit for about 20 minutes at room temperature before serving.
P.S. It's a great day to buy my cookbook Holy Sweet!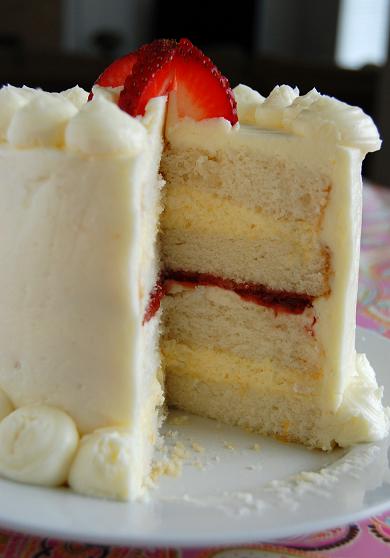 Want more Layer Cake Recipes?
Strawberry Mascarpone Buttermilk Layer Cake
Sweet Corn and Raspberry Layer Cake
Circus Animal Cookie Layer Cake
Strawberry Lemonade Layer Cake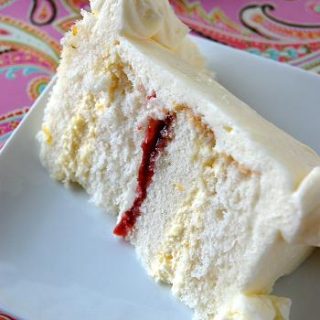 Perfect Party Cake
Ingredients
For the Cake:
2 1/4 cups cake flour (updated 25 March)
1 tablespoon baking powder
½ teaspoon salt
1 ¼ cups whole milk or buttermilk (I prefer buttermilk with the lemon)
4 large egg whites
1 ½ cups sugar
2 teaspoons grated lemon zest
1 stick (8 tablespoons or 4 ounces) unsalted butter, at room temperature
½ teaspoon pure lemon extract
For the Honey Tangerine Mascarpone Mousse:
2 eggs, separated
4 TB sugar
4 oz mascarpone cheese, at room temperature
5 ounces heavy cream
2 tsp. powdered gelatin + 2 TBS water
zest and juice of one honey tangerine
For the Buttercream:
1 cup sugar
4 large egg whites
3 sticks (12 ounces) unsalted butter, at room temperature
¼ cup fresh lemon juice (from 2 large lemons)
1 teaspoon pure vanilla extract
For Finishing
2/3 cup seedless raspberry preserves stirred vigorously or warmed gently until spreadable
Instructions
To Make the Cake
Sift together the flour, baking powder and salt.
Whisk together the milk and egg whites in a medium bowl.
Put the sugar and lemon zest in a mixer bowl or another large bowl and rub them together with your fingers until the sugar is moist and fragrant.
Add the butter and working with the paddle or whisk attachment, or with a hand mixer, beat at medium speed for a full 3 minutes, until the butter and sugar are very light.
Beat in the extract, then add one third of the flour mixture, still beating on medium speed.
Beat in half of the milk-egg mixture, then beat in half of the remaining dry ingredients until incorporated.
Add the rest of the milk and eggs beating until the batter is homogeneous, then add the last of the dry ingredients.
Finally, give the batter a good 2- minute beating to ensure that it is thoroughly mixed and well aerated.
Divide the batter between the two pans and smooth the tops with a rubber spatula.
Bake for 30-35 minutes, or until the cakes are well risen and springy to the touch or a thin knife inserted into the centers should come out clean.
Transfer the cakes to cooling racks and cool for about 5 minutes, then run a knife around the sides of the cakes, unfold them and peel off the paper liners.
Invert and cool to room temperature, right side up (the cooled cake layers can be wrapped airtight and stored at room temperature overnight or frozen for up to two months).
For the Mousse:Sprinkle the gelatin over the water, stir and let sit to bloom. In a large mixing bowl, whisk the mascarpone with the sugar, add egg yolks and whisk until well incorporated. Heat the gelatin for about 10 seconds in the microwave and quickly whisk it in the mascarpone batter. Add the tangerine juice and zest. Whip the egg whites until stiff, fold into the mascarpone mixture. Whip the heavy cream to medium stiff peaks, and fold into the mascarpone.
To Make the Buttercream:
Put the sugar and egg whites in a mixer bowl or another large heatproof bowl, fit the bowl over a plan of simmering water and whisk constantly, keeping the mixture over the heat, until it feels hot to the touch, about 3 minutes.
The sugar should be dissolved, and the mixture will look like shiny marshmallow cream.
Remove the bowl from the heat.
Working with the whisk attachment or with a hand mixer, beat the meringue on medium speed until it is cool, about 5 minutes.
Switch to the paddle attachment if you have one, and add the butter a stick at a time, beating until smooth.Once all the butter is in, beat in the buttercream on medium-high speed until it is thick and very smooth, 6-10 minutes.
During this time the buttercream may curdle or separates just keep beating and it will come together again.
On medium speed, gradually beat in the lemon juice, waiting until each addition is absorbed before adding more, and then the vanilla.
You should have a shiny smooth, velvety, pristine white buttercream.
Press a piece of plastic against the surface of the buttercream and set aside briefly.
To Assemble the Cake
Using a sharp serrated knife and a gentle sawing motion, slice each layer horizontally in half. So that you end up with four cake layers total.
Put one layer cut side up on a cardboard cake round or a cake plate protected by strips of wax or parchment paper.
Spread it with half of the mousse.
Top with another layer, spread with preserves and buttercream.
Top with the third layer and spread the remaining mousse.
Top with the last layer cut side down on top of the cake and use the remaining buttercream to frost the sides and top.