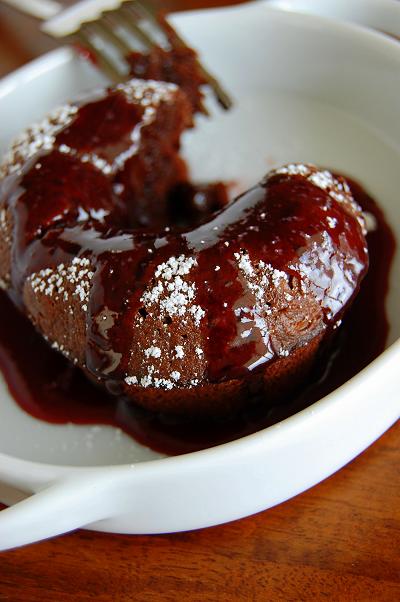 Well, I almost didn't get this one done. But fortunately for me Leigh of Lemon Tartlet chose a recipe that takes little time to prepare and only 13 minutes to bake. Good thing or my April Fool's Joke would have been that I was the fool that didn't bother to get her baking done.
The thing I love most about Tuesdays with Dorie is that I have a lot more freedom than I usually do with the Daring Bakers(though this last pick was great with variety…did you see all the different things people did!). This recipe called for bittersweet chocolate and well, I really was wanting milk chocolate, which is actually out of character for me. But milk chocolate is what I went with. You were also suppose to sprinkle finely chopped chocolate on top of the cakes. Didn't do that either. Mine got powdered sugar and raspberry sauce(from Fran's Chocolates).
I guess I baked mine the correct time because they were indeed gooey in the middle. You really do need to eat these right after you bake them, though I will be finding out tonight if they reheat very well.
Quick, easy and some gooey goodness.
For more gooey cakes go here.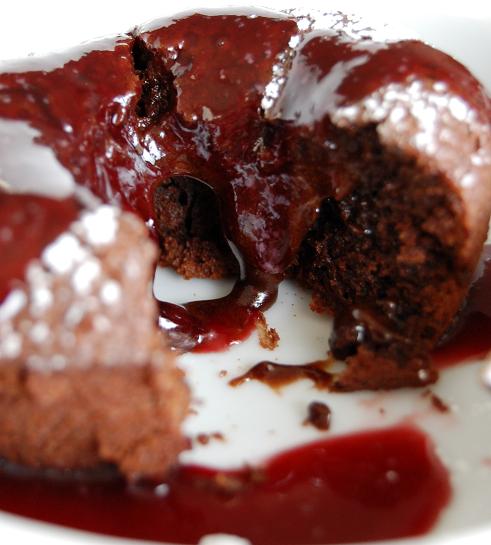 Gooey Chocolate Cake
1/3 cup all-purpose flour
3 tablespoons unsweetened cocoa powder
¼ teaspoon salt
4 ounces coarsely chopped milk chocolate,
1 stick (8 tablespoons) unsalted butter, cut into 8 pieces
2 large eggs, at room temperature
1 large egg yolk, at room temperature
6 tablespoons of sugar
Getting ready: Center a rack in the oven and preheat the oven to 400 degrees F. butter (or spray ¢â¬â€œ it¢â¬â"¢s easier) 6 cups of a regular-size muffin pan, preferably a disposable aluminum foil pan, dust the insides with flour and tap out the excess. Put the muffin pan on a baking sheet.
Sift the flour, cocoa and salt together.
Set a heatproof bowl over a saucepan of gently simmering water, put the coarsely chopped chocolate and the butter in the bowl and stir occasionally over the simmering water just until they are melted ¢â¬â€œ you don¢â¬â"¢t want them to get so hot that the butter separates.  Remove the bowl from the pan of water.
In a large bowl, whisk the eggs and yolk until homogeneous.  Add the sugar and whisk until well blended, about 2 minutes.  Add the dry ingredients and, still using the whisk, stir (don¢â¬â"¢t beat) them into the eggs.  Little by little, and using a light hand, stir in the melted chocolate and butter.  Divide the batter evenly among the muffin cups.
Bake the cakes for 13 minutes.  Transfer them, still on the baking sheet, to a rack to cool for 3 minutes. (There is no way to test that these cakes are properly baked, because the inside remains liquid.)
Line a cutting board with a silicone baking mat or parchment or wax paper, and, after the 3-minute rest, unmold the cakes onto the board.  Use a wide metal spatula to lift the cakes onto dessert plates.