Poteca Nut Roll is a rolled yeast-based pastry layered with a slightly sweet pecan nut and brown sugar filling that you see at Christmas time.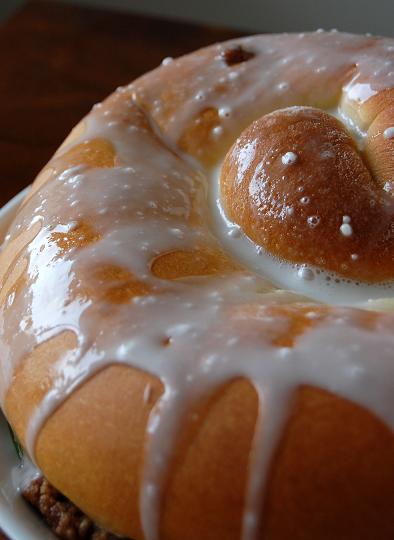 Patience.
You either have it or you don't.
And if you are going to be a baker and a pastry maker, you need patience.
I realize many a person does not possess this trait.
For people are always apologizing for making me wait.
I always give them a big smile and say, "I used to teach Junior High, I have the patience of a saint."
And they smile back and know that I am not mad at them.
Most days I have patience.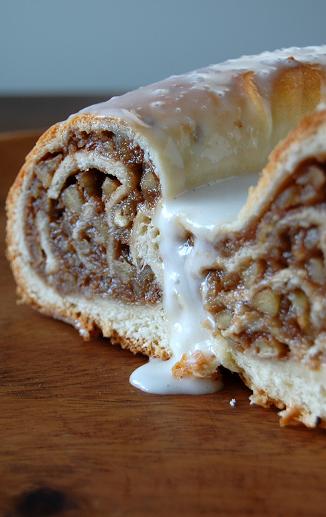 When I made this Poteca Nut Roll I had patience.
I made the dough.
Let it rise.
Punched it down, rolled it out and stuffed it with pecan filling.
Then let it rise again.
And then after the almost 3 hours were up, into the oven it went.
Thirty-five minutes later out of the oven it comes.
No problem.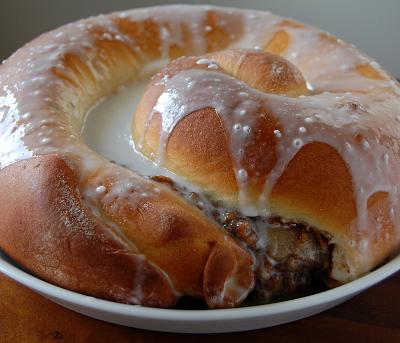 Since I got the idea to make the bread at 11:00 at night I did not finish until almost 3am (remember I am the night owl).
Obviously there was no light out so I knew that I would not be taking photos of this bread until I awoke the next morning(afternoon).
So I chose to wait on glazing the bread, so it would not get soggy.
I overslept and quickly realized that the beloved Sun Break (a term I never heard of until I moved to the Seattle area…it simply is a break from all the rain…except they last about 15 minutes it seems) would soon be over.
So I jumped out of bed and ran down stairs to quickly make the glaze.
I looked for my sifter and could not find it.
I looked out the window at the looming rain clouds rolling in and thought "screw it", I just threw together the powder sugar and milk and slopped it onto the bread.
And for that I was severely punished.
Sigh.
Big, giant clumps of non-sifted powder sugar staring back at me on my bread.
Mocking me if you will.
Did the Sun Break pass?
Yes, though I did get a few photos in, BUT it didn't matter to me because I just kept seeing those horrible little specks of sugar glaring at me. Boo.
So was it worth it to rush?
Not so much.
I think this proves that patience is most definitely needed for a quality product and I am going to buy another sifter so that I have two now and won't have to go looking for just the one.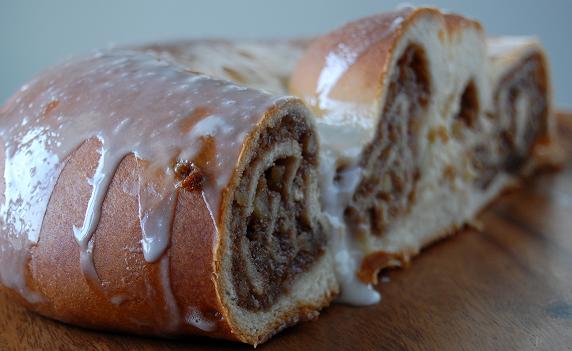 Want more recipes like this? Try these:
Sticky Toffee Pudding Sticky Buns
Apple Cider Whiskey Glazed Pumpkin Pull Apart Bread
Blue-Raspberry Laminated Brioche Buns
Coconut Cream Pie Breakfast Buns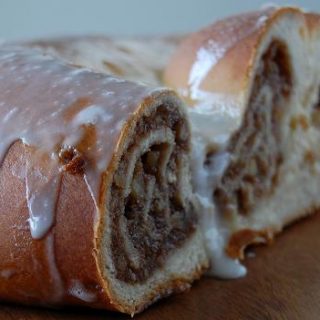 Poteca Nut Roll
Ingredients
1 package( ¼  ounce) active dry yeast
¼ cup warm water(110-115F)
¾ cup warm milk(110-115F)
1/3 cup sugar
¼ cup shortening
1 tsp salt1 egg, slightly beaten
3 to 3 ½ cups all-purpose flour
Filling:
4 cups ground or finely chopped pecans
1 cup brown sugar
½ cup unsalted butter, softened
2 eggs, lightly beaten
1 tsp vanilla extract
milk(amount to be determined on consistency...I used about ¼ cup)
Instructions
In a mixing bowl, dissolve yeast in water.
Add milk , sugar, shortening, salt, egg. And 1 ½ cups flour.
Beat until smooth.
Add enough remaining flour to form a soft dough (mine took the whole 3 ½ cups).
Turn onto a floured surface, knead until smooth and elastic, about 6-8 minutes.
Place in a greased bowl, turning once to grease the top.
Cover with plastic wrap and let rise in a warm place for 1 hour or until doubled in size.
Combine nuts, brown sugar, butter, eggs, and vanilla extract.
Add enough milk until mixture is spreading consistency.
Punch dough down. Roll into a 30-inch by 20-inch rectangle. Spread filling to within 1-inch of edges.
Roll up from one long side; pinch seams and ends to seal.
Place on a greased baking sheet; shape into a tight spiral.
Cover with a towel and let rise in a warm place for about 1 hour or until doubled in size.
Bake at 350F for 35 minutes or until golden brown. Cool on a wire rack.
If desired, brush with a glaze of powder sugar and milk (but what ever you do...sift the sugar!)