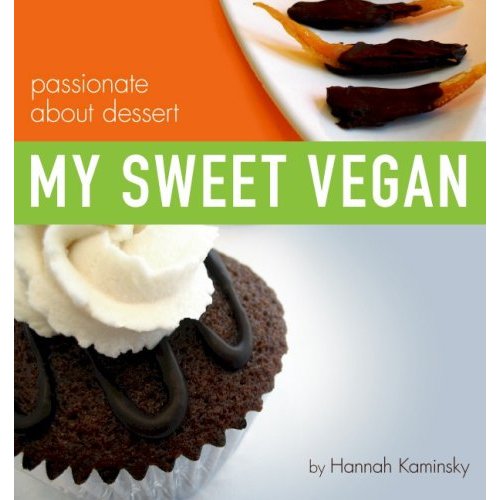 I am always amazed at the variety of readers I get, from international to gluten free. But no one is more surprised than me with all the Vegan readers I have. I mean, I think bacon should be the 5th food group. I sometimes feel that my Vegan readers see my creations as a challenge, a challenge to see if they can "veganize" it. And when they do I am always in awe, just like I am in awe when the gluten-free Daring Bakers make bread.
So when I was presented the opportunity to review Hannah Kaminsky's(you might know Hannah from her great blog Bittersweet) new cookbook, My Sweet Vegan, I thought heck ya! Here is my chance to give my Vegan readers some love back. I was most excited to see how far the Vegan world has come. About a decade ago I dated a Vegan, and I will admit I hated cooking for him. To this day I dread eating anything with lentils because that is all we seemed to eat. So the idea of a cookbook dedicated to the world of Vegan sweets sounded like a good idea to me. I would have loved to have a cookbook while I was dating D. Though I doubt most of the products that are available now, weren't back then.
The first thing I love about this book is that it has an Ingredient Guide of all the different types of Vegan baking items that are out there today. I had no idea, I must admit, that a lot of that stuff was even out there. From Agave Nectar to Ricemallow Crème to Textured Vegetable Protein….it's all there with descriptions of what each is and is generally used for.
Like the beloved Dorie Greenspan, Kiminsky had a knack for writing her cookbook more like a conversation than just someone spewing information. It's easy to read and never once did I have to look back at a recipe and think, what did she mean by that….it's pretty straightforward. And better yet is the fact that EVERY recipe has a photo of it. I can't tell you how much I prefer a cookbook that has a photo of each recipe…really keeps the guessing game to a minimum. Especially since many of the veganized versions look slightly different than that of the original, which is perfectly fine but you like to know that is how it is SUPPOSE to look.
I had originally planned on making three things from the book to highlight, but time has gotten the best of me and I wanted to review this before Christmas as I think it would make a fantastic gift for any Vegan you know, and non-Vegan for that matter. So I had to prioritize what to make.
When I first glance through the book I noticed a Canine Cake. Well you all know how much I love my puppy so that was tagged right away! It's chocked full with carrots and peanut butter, two of my puppy's favorite things. The original recipe made one larger cake but I actually quadrupled the recipe and make them into muffins.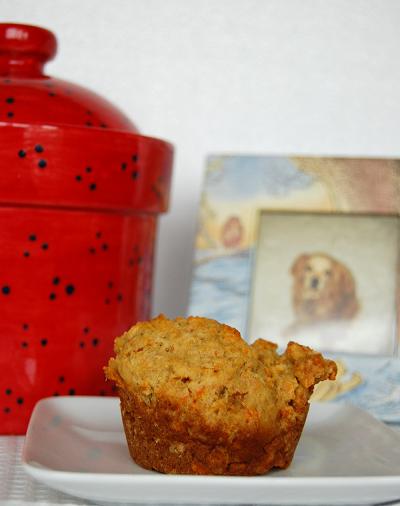 Then I saw a Orange Dreamsicle Snack Cake. But this is where the time thing got me. I had run out of orange juice(or should I say a certain husband of mine drank it all!) and had no soy yogurt lying around the fridge. I do still plan on making this though!
And lastly was the Dried Fruit Focaccia. I adored the idea of a sweet focaccia and can't remember every seeing one before. The original recipe called for apricots, raisins and cranberries but I was out of apricots and substituted cherries…worked out great. This was quite tasty and must hang my head slightly in shame because I did eat it toasted with some cream cheese on it(I really like it like that with a little apricot jam too!). But I must say that by me using the cream cheese simply demonstrates how those individuals like myself, who do not live the Vegan lifestyle, can integrate these Vegan treats into their everyday life!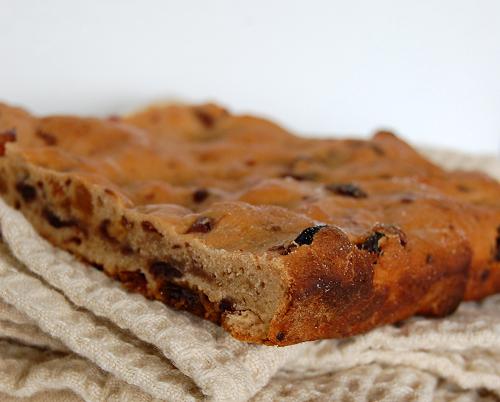 So help support a fellow food blogger and buy this lovely cookbook. Even if you are not Vegan, I bet you know some who is or is at least a Vegetarian. Surprise them with a treat for this book…or buy them the book.