This Sweet Potato Pound Cake with Cranberry Walnut Streusel is a great fall dessert and perfect for holiday entertaining.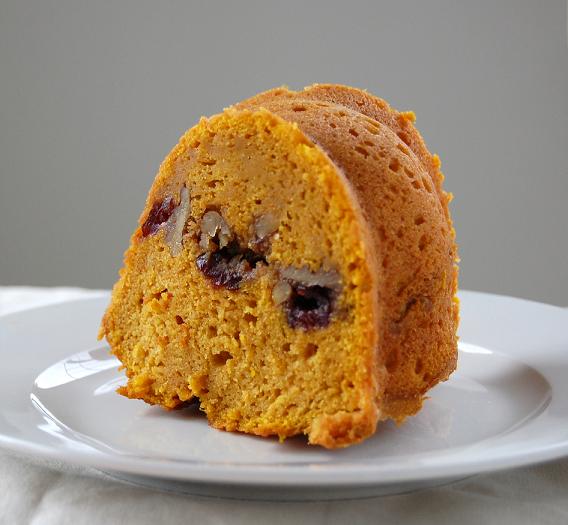 There are very few times in life my mother uses swear words (hard to believe I am her daughter :P)
One of those times is usually a holiday.
And it is usually for the same two things.
#1. She forgot to take the rolls out of the oven, or she forgets to serve them all together.
#2 The marshmallows were piled on too high on the sweet potatoes and they took on a life of their own, boiling up and eventually exploding into a hellacious pile of goo that will have to be scoured for hours off of the bottom of the oven.
I would like to point out however that my mothers swear words are far more watered down than mine ever are…I don't want to paint a bad picture of her. 🙂
Since I already celebrate Thanksgiving in October (that is when we do our more traditional T-day) I don't make it in November, we go out to eat, at a very nice restaurant.
I do however crave certain things.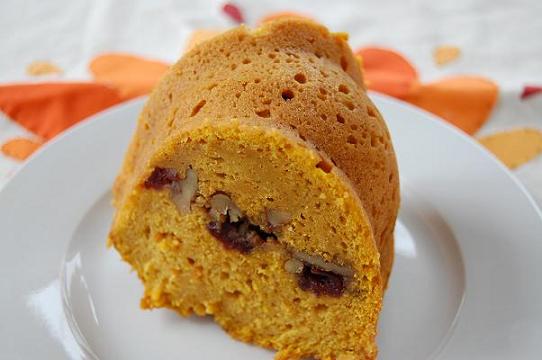 Sweet potatoes is one of those things.
This Sweet Potato Pound Cake with Cranberry Walnut Streusel is my version of sweet potatoes this year.
I thought about doing something with marshmallows but didn't want to be scraping marshmallow off of the bottom of my new oven…though I'm sure my mother will be(love you mom).
This is very dense, I am still experimenting a little with the recipe, I think perhaps a little more buttermilk or maybe sour cream….we shall see.
But it is pretty good as is and a great way to eat your sweet potatoes.
Hope that everyone has a wonderful American Thanksgiving!
Gobble, gobble!
P.S. It's a great day to buy my cookbook Holy Sweet!
Want More Pound Cake Recipes?
Whiskey Glazed Apple Buttermilk Pound Cake
Maple Whiskey Pecan Pound Cake
Bourbon Brown Sugar Pound Cake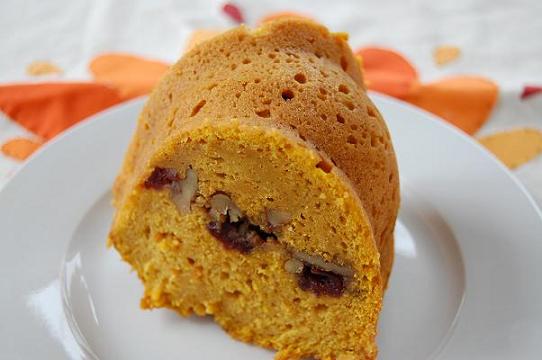 Sweet Potato Pound Cake with Cranberry Walnut Streusel
Ingredients
For Cake:
1 cup unsalted butter
2 cups granulated sugar
2 cups cooked, peeled, mashed sweet potatoes, cooled
1 tsp vanilla
4 large eggs
3 TBSP buttermilk
3 cups all-purpose flour
2 tsp baking powder
½ tsp baking soda
¼ tsp salt
1 tsp cinnamon
½ tsp ground nutmeg
For Streusel:
1/3 cup dark brown sugar
2 TBSP melted unsalted butter
½ cup roughly chopped walnuts
1/3 cup dried cranberries
Instructions
Preheat oven to 350F.
Grease and flour a 10" tube or Bundt pan.
In the bowl of an electric mixer, cream together the butter and the sugar, until light and fluffy, about 3 minutes.
Add sweet potatoes, buttermilk, and vanilla and beat for one minute.
Add eggs, one at a time and beat for 1 minute, scraping down the bowl after each addition. Batter will look curdled…not to worry.
In a separate bowl, combine flour, baking powder, baking soda, spices and salt.
Slowly add the flour mixture to the potato mixture on low speed.
Pour half of the batter into the tube/Bundt pan.
For the streusel:
Add all the ingredients together and combine.
Evenly distribute the streusel around the batter, covering as much batter as you can.
Pour the remaining batter over the streusel.
Bake for 1 hour and 20 minutes or until a toothpick or knife comes out clean.
Cool on a wire rack for 20 minutes, then invert onto a serving plate.
Can be served plain, with powder sugar or a glaze (orange would be nice).