These Rocky Road Cookie Bars have a brown sugar cookie base with marshmallows, pecans, and chocolate swirled on top.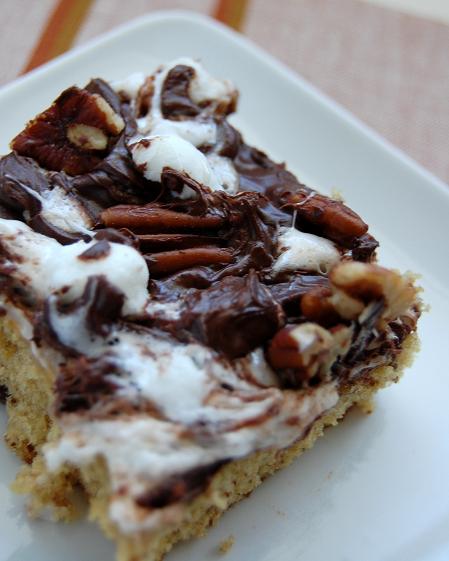 In 7th grade I took Home Economics.
The old school way was half a year was sewing(I still can not sew on a button) and the other half was cooking.
We had to fly solo in sewing class(which was taught by the math teacher…again, perhaps why I can't even sew on a button).
But in cooking class we had a partner.
Little did I know that my partner D and I would be partners in class all the way through our undergrad degrees.
Oddly enough only two of those times we selected each other.
The other 9 times were random.
Yes, I had the same cooking partner and lab partner 11 times.
D was not someone I would have chosen.
For starters, D is a guy.
He took Home EC to scam on chics, and well, I was so not someone he wanted to scam on.
So we didn't start off the best.
We so did not get along in Home EC.
He never paid attention and I ended up doing all the cooking.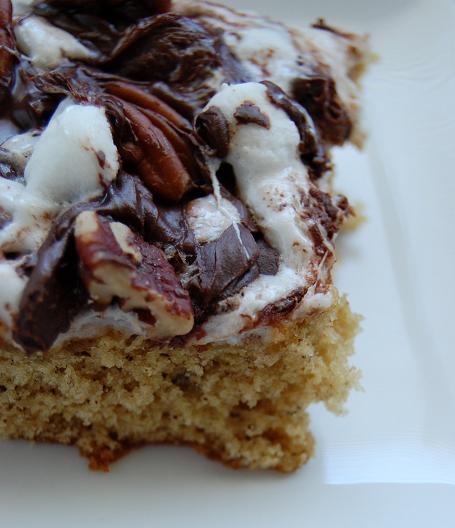 Luckily by the time we got to high school, that all changed.
We learned to draw on each others strengths to get each other through the class.
In Biology, he did all the dissecting.
In Chem class I did all the calculations and so on.
We didn't hang out together, we ran in very different crowds, but he did become someone I ended up depending on time and time again.
He was even nice enough to get suspended for 3 days for telling our Physics teacher to go f*ck himself for saying that girls were too stupid to take physics.
Which our teacher said on our first day of class….and by the way I carried the highest grade the whole year and scored a perfect score on my AP exam.
Anyway, back to our Home EC days.
So like I had said, D was of little help.
Oh he would stir stuff and what not to look busy but that was about it.
One day we were making pumpkin pie.
I had to use the restroom and I told him to go gather our ingredients.
For some stupid reason all of our ingredients were put into bowls.
And right next to each other was the salt and the sugar.
I'm sure you know where this story is going.
D, had grabbed us a cup and a half of salt.
This of course did not become apparent till it started to bake, and curdle a little.
Unfortunately for us, the main rule in class was, whatever you bake/cook(allergies excluded) you had to take a bite of.
So that was the day I threw up in class.
Salt pie is not something that tastes all that good.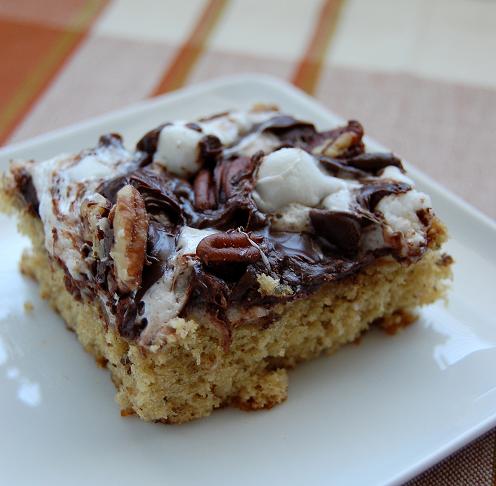 These Rocky Road Cookie Bars come from our 7th grade Home Economics cookbook that we made at the end of the year.
It had every recipe that we made.
I have to say, we made quite a bit.
And I must have gone to a pretty rich school, because there is no way there would be funding for all that food nowadays.
It's fun to thumb through it.
I have little glitter sticker stars next to the things I liked.
My name and some boy named John, who I can't seem to remember, captured in a little heart with swirls all around it.
I'm pretty sure that this cookbook is the only useful thing I got out of junior high.
P.S. It's a great day to buy my cookbook.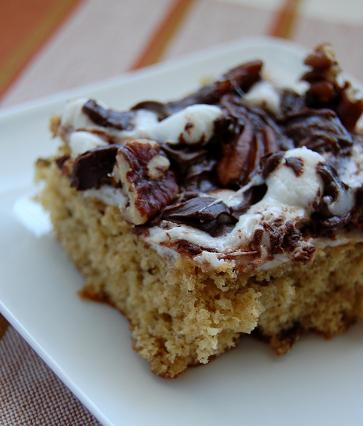 Want more Bar recipes?
Strawberry Lemonade Lemon Bars
Chocolate Chunk Churro Cookie Bars
Butterscotch Walnut Meringue Bars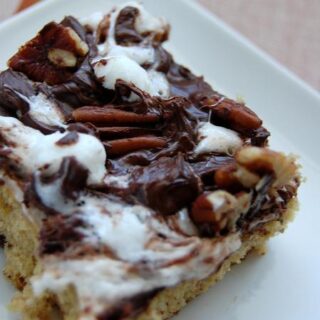 Rocky Road Cookie Bars
Ingredients
1/2 cup sifted flour
1/4 cup chopped pecans
1/2 tsp baking powder
1/4 tsp baking soda
2/3 cup brown sugar
2 eggs
2 TBSP butter, softened
1 tsp vanilla
2 cups mini marshmallows
1/2 cup chopped pecans
1 12oz package chocolate chips
Instructions
Beat with mixer first 7 ingredients, EXCEPT for the nuts.
Add nuts and stir, pour into greased 9×12-inch pan (I used 8×8 because there seemed to be sooo little batter I didn't even think it would spread out.
But it does puff up quite a bit so perhaps you should stick with the original plan). Bake for 15-20 minutes.
Immediately layer with 3 last ingredients (since I used and 8×8 pan I used half the amount of the toppings).
Bake for another 5-7 minutes.
Remove and swirl topping with knife.
Cool and cut into squares.
These turn out very gooey and not so fun to cut. But considering the fact that they are from a home economics cookbook, they are pretty good.
I would like to go back and try it in the 9×13 inch pan to see what kind of difference it would make.
Notes
Source: A piece of cake...the cookbook from my home ec class, 1984(yes, I'm old :P)