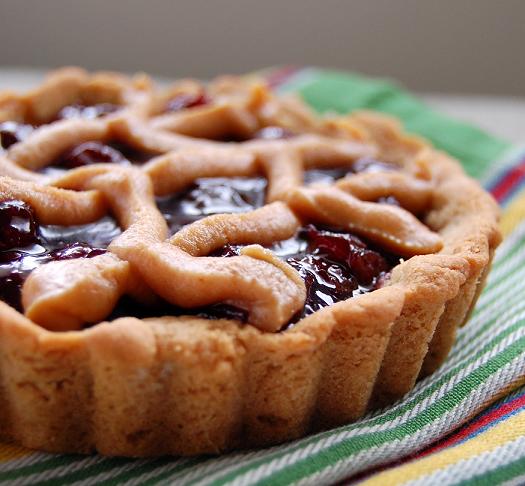 Everyday my husband goes to work with pretty much the same lunch: peanut butter and jelly sandwich, bag of chips and 3 cookies of various types. Personally, I would go insane. He on the other hand does not seemed phased at all to eat the same thing day in and day out.
The peanut butter and jelly sandwich is a classic lunch staple. I can't even begin to count how many times over the years that it has shown up in my lunch pail. As a teacher, I used to eat lunch with the kids, a lot(I was cheap and the rule at our school was that if you ate lunch with the kids your meal was free). I would say half of the table of kids were more than likely eating a pb and j. Mine of course must be made with Jif peanut butter and I usually enjoy it most with good ol' grape jelly(which is funny because I don't like grape jelly on anything else).
School is starting back up in Arizona(they have another month up here in the Seattle area), but since I taught in AZ, I tend to keep that schedule. Though I am now 3 years out of teaching I still seem to rule my life by the school calendar…I even use a student planner instead of a grown up one…so my year always starts in August.
So to honour the new school year and all my poor teacher friends who are back to school next week, I made this peanut butter and jelly tart. It is basically a peanut butter cookie dough that has been modified to roll out a little better. Simply topped with some of my mom's really good homemade jam. And then topped with some peanut butter ganache. So to all you teachers who are heading back into the trenches, I wish you the following:
I hope you have a good class this year.
I hope you have parents who will be supportive and actually show up to parent/teacher conferences and all the other stuff that a parent should show up to.
I wish you quick staff meetings, so that your entire afternoons are not sucked up into a 2 hour drone of your principal sounding like the teacher from Charlie Brown.
I hope that "that kid" is stuck in some one else's classroom this year, and not yours.
I hope that when a kid doesn't show up with homework he/she has come up with some interesting and original excuse.
I hope you have enough school supplies so that it doesn't have to come from your own bank account.
I hope your principal backs you when a kid is being a snot and so are his/her parents.
I hope your school district magically decides to give you a pay raise or at least a bonus 🙂
And last but not least I hope you have a stress free year(yeah, right!)
Have a great school year everybody!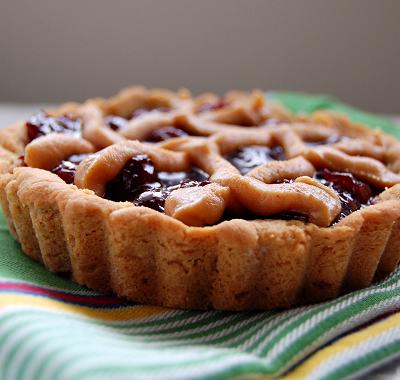 Peanut Butter and Jelly Tart
4 peanut butter tart shells(recipe follows)
homemade jam
peanut butter ganache(recipe follows)
Peanut Butter Cookie Tart Dough
½ cup unsalted butter, chilled and cut into 10 pieces
1/3 cup granulated sugar
½  cup firmly packed dark brown sugar
½  cup peanut butter
1 extra large egg
1 tsp vanilla
2  cups  all-purpose flour
½  tsp baking soda
pinch of salt
In a food processor, blend together butter and sugars. Add egg and vanilla. Add the peanut butter and pulse until completely mixed together.
Sift together flour, baking soda and salt. Add to food processor. Pulse until it starts to form a ball. Take out and roll into two balls. Wrap in plastic wrap and place in refrigerator and chill for at least 1 hour.
Take dough out of refrigerator, divide ball into two parts, place onto a heavily floured surface and roll out into a circle. You might have to pat it back together a few times. Carefully lift and place into a greased and floured tart pan(I used 3-inch diameter ones). You will most likely have to do some patch work, which is easily done.  Using a fork, poke the bottom of the tart, I did it about 10 times. Place a piece of parchment paper and then pie weights or dried beans.
Bake at 375F for 10 minutes. Take weights and parchment paper off and bake for another 6 minutes.
Makes 4 small tarts shells.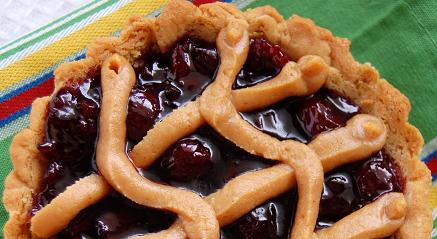 Peanut Butter Ganache
1 cup peanut butter chips
3 TBSP heavy whipping cream
In a saucepan, on low heat, melt together peanut butter chips and heavy whipping cream.
To assemble tart:
Place desired amount of jam/jelly into tart shell. Take peanut butter ganache and place in a piping bag. Pip ganache in whatever pattern you would like. These are best eaten the day of.