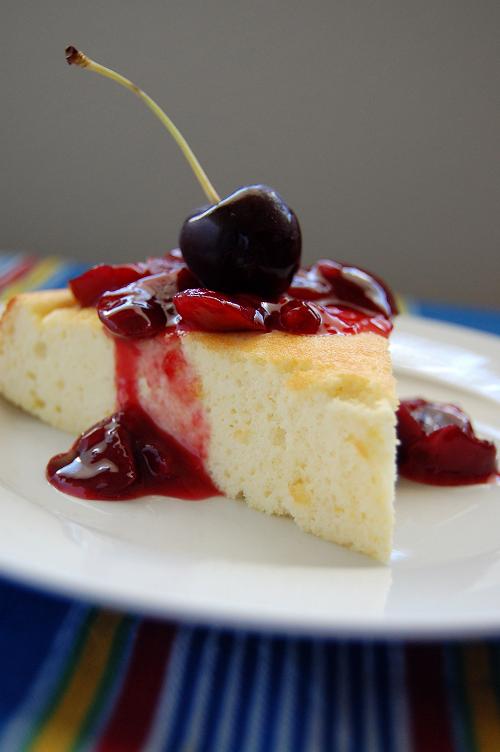 For some reason, perhaps the mirror cake, I have been stuck on wanting to make multi-step desserts. My ankle of course has decided to most definitely veto that idea. So I moved onto my other urge, unusual desserts…and I found me a winner. Tagged awhile ago was a recipe for a goats cheese cake from a local chef here in the Seattle area. I was intrigued as it was a flourless cake(well 3 TBSP) with very little sugar. What was most important to me is that it looked easy(and it was). This cake is absolutely wonderful. It baked up beautifully and is so light and tangy. This cake in my opinion(depending on the topping) could be used as either dessert or an appetizer. I used cherries(the season is coming to an end so I thought I should put them to use) but I think the topping choices are endless. I was thinking about making it next time using some orange blossom water in the cake and then drizzled with honey and pistachios.
If you are a goat cheese lover this is a must for you.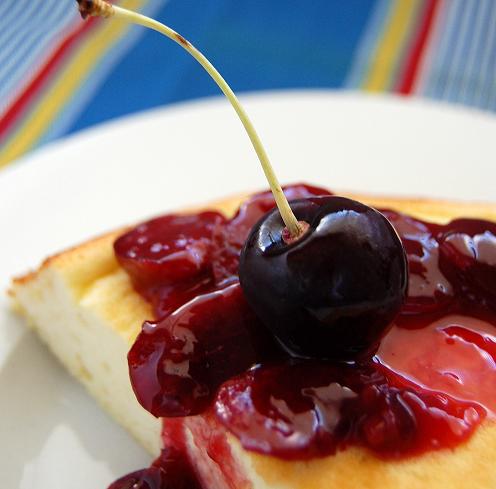 Goats Cheese Cake
10 ounces goat cheese
¼ cup sugar
2 TBSP honey
1 teaspoon vanilla
1 teaspoon lemon zest
1 teaspoon lemon juice
6 eggs, separated
3 Tablespoons flour
Preheat oven to 350°F. Combine cheese, sugar, honey, vanilla, zest and juice. Mix well. Add egg yolks, two at a time, mixing to combine after each addition. Stir in flour. Beat egg whites until soft peaks form. Gently fold whites into cheese batter. Pour into well-greased 9 ¢â¬â€œ inch, round baking pan. Bake 25-30 minutes or until wooden skewer comes out clean. Invert onto large plate and cool. Serve with orange-cherry compote.
Chef Tamara Murphy of Brasa ¢â¬â€œ Seattle, WA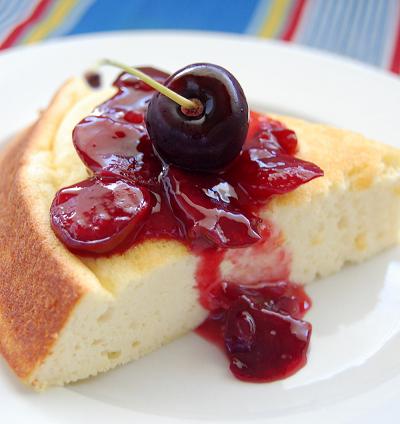 Orange-Cherry Compote
1 cup pitted cherries, chopped
1/3 cup orange juice(no pulp)
1 TBSP honey
1 tsp cornstarch
splashes of Grand Marnier( personally like a lot of splashes :P)
Whisk together orange juice and cornstarch, making sure it dissolves so there are not clumps. Place cherries, juice/cornstarch mixture, and honey in a sauce pan. Turn on medium heat. stir every 30 seconds or so until it has thickened up. If it takes forever to do this, throw a little more cornstarch(your cherries might be juicer than mine). Take off of heat and throw in some splashes of Grand Marnier to taste. Spoon over the goats cheese cake.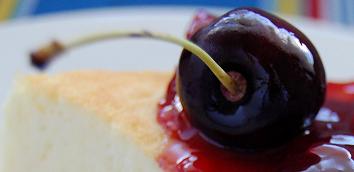 You can serve this with a variety of toppings, such as simple berries.