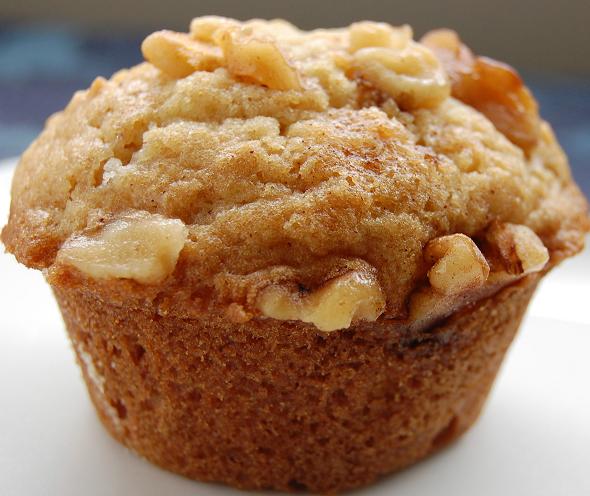 I always have buttermilk. I always throw out buttermilk. I always find a recipe I want to make using buttermilk after it has expired. Well, as I went to my fridge  to get a glass of milk, I glanced at the expiration date on my buttermilk….today. Crap.
Determined not to waste another $3.50 on unused buttermilk, I went sifting through my "will make someday" pile in search of any and all things made with buttermilk. What I came across were these. These muffins come from one of the few chain restaurants that I like, Mimi's Cafe. Mimi's is one of the few things I miss about Arizona(besides my friends). It was the site of my husband and I's(bad English I know) first date. I ate there about once a week. It was around the corner from my apartment and they were open until 11pm. It was the only place that I know of that didn't get upset or rush you out if you showed up to eat at 10:55pm. They have pretty good food, but it is their salads and muffins I love the most. And when you order a salad you get a muffin. And that is where my dilemma began. For I love two of their salads(one they don't carry anymore) and two of their muffins; a carrot raisin and a buttermilk spice. I usually chose the buttermilk spice, not because it was better, but because before your meal came they gave you a bread basket. In that bread basket was a sourdough bread and a carrot raisin bread, which was pretty much the same as the muffin. So I knew each time I would be getting the carrot raisin in one form or another. Being the cheap teacher I was at the time, I would eat my salad and take my muffin home for breakfast the next day. My good friend C, who I stay with when I go down, is super sweet and goes and buys me a carrot raisin muffin for me to eat each morning I stay with her(One of these days I will make the carrot raisin bread and post it).
These are nice and moist and have just enough hint of spice so that you are not overpowered with cinnamon or nutmeg. At the restaurant they make these into Jumbo muffins, but I just made the average size ones. The recipe does tell you how to modify though if you chose to make the jumbo.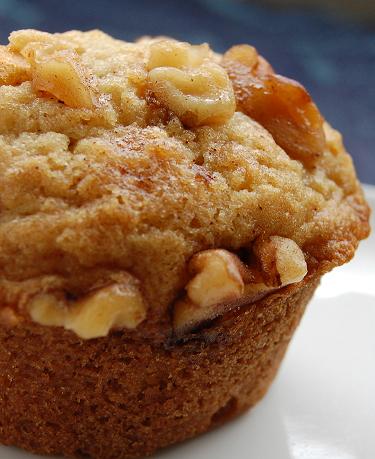 Buttermilk Spice Muffins
1 cup sugar
1/2 cup butter
3 eggs
1/2 teaspoon cinnamon
2 1/2 cups flour
2 teaspoons baking soda
1 teaspoon nutmeg
3/4 cup + 1 tablespoon buttermilk
For Topping:
1/2 cup sugar
1 cup walnuts, finely chopped
1/2 teaspoon nutmeg
1/2 teaspoon cinnamon
Grease the baking tins with butter
Method
Preheat oven to 375°. In a mixing bowl, cream the sugar and the butter together with an electric mixer. When they are thoroughly mixed, add eggs and beat one more minute.
Sift the flour into a separate bowl, together with the baking soda, nutmeg and the cinnamon.
Add the flour and the buttermilk to the first mixture, mix at low speed until smooth. To avoid lumps in the batter, add the wet and dry ingredients alternately, in small amounts.
Make the nut topping: Mix all ingredients together in a small bowl.
Grease muffin tins with butter or margarine. You can also use paper baking cups. Fill each cup 3/4 full of batter. Add a full, rounded tablespoon of nut topping on top of each muffin cup of batter. Bake immediately or the topping will sink to the bottom of the muffin.
Bake at 375°  for 20-25 minutes, until golden brown. A toothpick inserted in the middle of the muffin should come out dry. Home ovens heat differently from commercial ovens so you may need to adjust the temperature or the baking time accordingly.
Recipe yields 12 standard-size muffins, or six jumbo size muffins. If using the jumbo muffin pans, reduce the oven temperature by 25° and increase the baking time 5-10 minutes.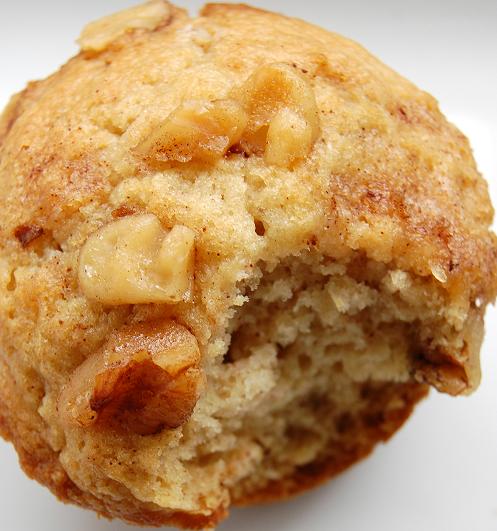 Adapted from: Mimi's Cafe Website