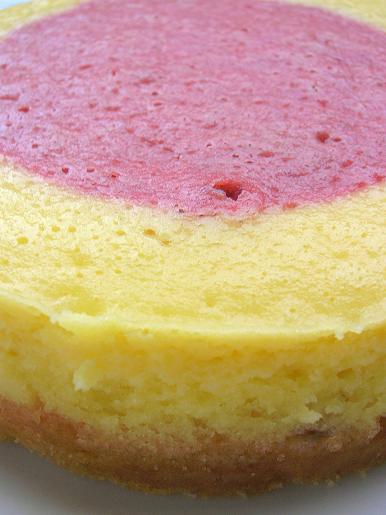 Much sadness around the house of Pea. My Sabres are out. I shouldn't be too surprised. I did after all bet against them to win it all in our hockey pool. I have Ottawa and Anaheim in the finals. Which now all I need is for Anaheim to make it to the finals and I win the pot. No one else in our pool had that match up. That would definitely cheer me up 🙂 By default(being Canadian and all) I must now cheer for the Senators to win(sorry Ivonne).
This is a quick post since I'm not much of a writer(in general) and less so when I'm somber. I made this cheesecake a while back and just never got around to putting it up because I hated the lighting that day for the photos. But no baking has been done lately and I have to put up something.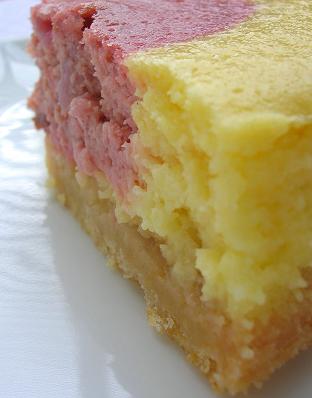 Key Lime Raspberry Bullseye Cheesecake
Crust:
Key lime cookie dough(recipe to follow)
Filling:
2 lbs cream cheese
2  cups sugar
3 TBSP flour
4 eggs
1 egg yolk
3 TBSP key lime juice
½ cup pureed raspberries
1. Line a 10 inch spring form pan with parchment paper. Press the crust onto the bottom of the pan. Prick well with a fork. Bake in a 350F oven for about 10 minutes until the crust is golden brown. Cool the crust.
2. Meanwhile, cream the cheese and sugar until soft. Add in eggs one at a time. Add in egg yolk. Mix until incorporated and scrape down the bowl down occasionally. Add flour and mix well. Stir in the key lime juice.
3. Take 1/3 of the cheesecake batter and place in a small bowl. Stir in the pureed raspberries, until the batter is pink in color.
4. Pour the plain batter into the prepared pan. Pour raspberry portion into the center of the plain batter, trying to create a bullseye.
5. Bake in a water bath at 350F for approximately 2 hours.
6. Remove cake from water bath. Cool to room temperature and then chill over night.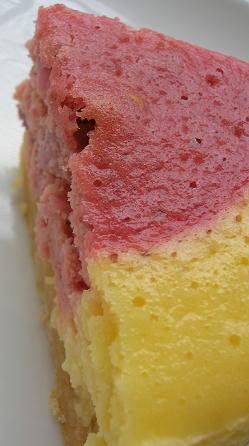 Key Lime Cookie Dough
¾ cup powdered sugar
¾ cup granulated sugar
1 cup butter, room temperature
1 egg
1 tsp key lime zest(or if you like me and had none 2 TBSP key lime juice)
2 ½ cups flour
1 tsp baking soda
1 tsp cream of tarter
Mix sugars, butter, egg and zest until creamy.
Mix in flour, baking soda and cream of tarter.
Cover and refrigerate for 2 hours.