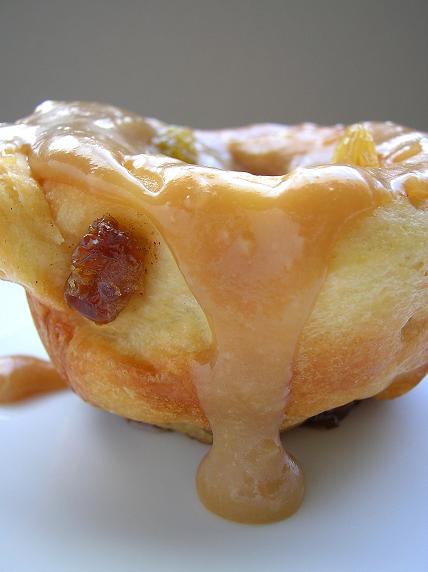 One thing you learn quickly when you play or score keep men's recreational hockey is that a perfectly sane, nice man off the ice can turn into a raging lunatic in a matter of seconds when you put a stick in his hand. I don't know if it is the combination of the smell of the ice and the smell of the unwashed uniforms(laundry anyone?) but something makes them go stupid. And well, a lot of stupid has been floating around the rink as of late. Why just last night I had three fights, a scrum, something that looked like two men dry humping and grown men swinging there sticks at any body part they could find. Maybe it is because I am a woman and I don't have enough testosterone to truly understand. I mean, I go out and play. Many times(this Monday in fact) I get pushed down, hit, butt ended(when someone shoves their stick in your belly or other areas) etc… but do I feel the need to two handed slash them? Drop my gloves and fight? Thank you, no. Do I tell them to go fuck themselves(or worse)? Usually :P.
Unfortunately, I am living up to my given nick name, Gracie(thanks to Lisa). I didn't really do anything to my ankle, it just started a revolt against me. I played defense for the first time in awhile. It is my "natural" position(meaning the one I play the best) but I have been a forward for quite sometime because my ankle hurt to much to transition to backwards skating. So after just one period of playing "D" my ankle said no thanks and swelled to the size of a small grapefruit. As I have mentioned before, hockey players are dumb and naturally I skated the rest of the game on it. It's down to naval orange size now so that is good :).  Will I get to play this season, that is the unknown though :(.
Enough hockey talk. Food. These are another thing I made awhile back but never got around to posting. I can no longer make sticky buns, cinnamon rolls or anything in that family anymore without it being with brioche. Perhaps it is because my body just doesn't get enough unsalted butter in it on a daily basis. 🙂 Lots of steps but all in all pretty simple to make.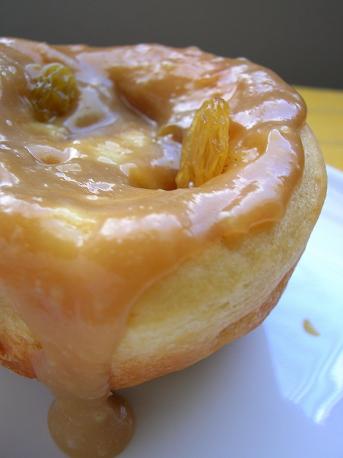 Apple Cinnamon Brioche Buns
For the buns:
1/2 recipe dough for Golden Brioche, chilled and ready to shape(recipe follows)
Generously butter a 9 x 13-inch baking pan(a Pyrex is perfect for this) or you can use a muffin tin.
For the Filling:
1/4 cup light brown sugar
2 medium sized apples, peeled, cored and roughly diced (I used Pink Ladies)
2 tsp ground cinnamon
1 tsp ground fresh nutmeg
3 TBSP unsalted butter, at room temperature
1/3 cup golden raisins
To Make the Filling: Mix together the sugar,cinnamon, nutmeg and apples in a bowl. Reserve raisins for later.
To shape the Buns: On a flour-dusted work surface, roll the chilled dough into a 16-inch square. Using your fingers or pastry brush, spread the softened butter over the dough. Sprinkle the dough with the cinnamon sugar apple mixture, leaving a 1 inch strip bare on the side farthest from you. Sprinkle raisins on top of the cinnamon sugar apple mixture. Starting with the side nearest to you, roll the dough into a cylinder, keeping the roll as tight as you can.
With a chef¢â¬â"¢s knife, using a gentle sawing motion, trim just a tiny bit from the ends of the rolls if they¢â¬â"¢re very ragged or not well filled, then cut the log into 1-inch-thick buns. Fit the buns into the pan cut side down, leaving some space between them. Or you can fit the buns individually into the muffin cup.
Lightly cover the pan with a piece of wax paper and set the pan in a warm place until the buns have doubled in volume, about 1 hour and 45 minutes. The buns are properly risen when they are puffy, soft, doubled and,in all likelihood, touching each other.
Getting Ready to Bake: When the buns have almost fully risen, center a rack in the oven and preheat the oven to 375F.
Remove the sheet of wax paper and put the pan on a baking sheet lined with parchment or a silicone mat. Bake the buns for about 30 minutes or until they are puffed and gorgeously golden: Let sit for about 10 minutes and then frost.
For the Frosting:
caramel frosting(recipe follows)
6 ounces cream cheese, room temperature
To make the frosting:
Combine caramel frosting and cream cheese in a mixer fitted with a paddle attachment. Beat on medium speed for about 2-3 minutes. Spread over buns so that frosting melts just a little and seeps down into any cracks.
Caramel Frosting
3 cups (light) brown sugar, firmly packed
1 cup plus 2 tablespoons half and half
1/2 stick (4 tablespoons) butter
1 teaspoon vanilla extract
1. Mix sugar and half and half in a heavy saucepan and cook, stirring over low heat until syrup reaches the soft-ball stage, 235 degrees on a candy thermometer. If lacking a thermometer, check doneness by dropping a tiny bit of syrup into a cup of cold water. When the syrup can be gathered up in fingers and will almost hold its shape, it has reached the soft-ball stage.
2. Remove pan from heat. Stir in butter, then let syrup cool. Add vanilla and beat until frosting reaches spreading consistency. A little cream (or half-and-half) may be added is mixture is too thick.
Golden Brioche Loaves(adapted from Baking From My Home to Yours by Dorie Greenspan)
make dough one day ahead then shape and bake the next
2 packets active dry yeast (4 teaspoons)
1/3 cup just-warm-to-the-touch water
1/3 cup just-warm-to-the-touch while milk (I used skim)
3 3/4 cups all-purpose flour
2 teaspoons salt
3 large eggs, at room temperature
1/4 cup sugar
3 sticks (12 ounces) unsalted butter, at room temperature but still slightly firm
Put the yeast, water, and milk in the bowl of a stand mixer and, using a wooden spoon, stir until the yeast is dissolved. Add the flour and salt, and fit the mixer with the dough hook, if you have one. Toss a kitchen towel over the mixer, covering the bowl as completely as you can to keep you from being covered in flour! Turn the mixer on and off in a few short pulses, just to dampen the flour (you can peek), then remove the towel, increase mixer speed to medium-low and mix for a minute or two. At this point you will have a dry, shaggy mess (it¢â¬â"¢s true).
Scrape the sides and bottom of the bowl with a rubber spatula, set the mixer to low and add the eggs, followed by the sugar. Increase the mixer speed to medium and beat for about 3 minutes, until the dough forms a ball. Reduce speed to low and add the butter in 2 Tablespoon size chunks, beating until each piece is almost incorporated before adding the next. You¢â¬â"¢ll have a dough that is very soft, almost like a batter. Increase the speed to medium-high and continue to beat until the dough pulls away from the sides of the bowl, about 10 minutes (This made my heavy kitchen aid mixer "dance" across the counter, so you may want to listen and be available to steady the mixer).
Transfer the dough to a clean bowl, cover with plastic wrap and leave at room temperature until nearly doubled in size, 40-60 minutes. Deflate the dough by lifting it up around the edges and letting it fall with a slap into the bowl. Cover the bowl with plastic wrap and put it in the refrigerator. Slap the dough down in the bowl every 30 minutes until it stops rising, about 2 hours, then leave the covered dough in the refrigerator overnight.
If making Brioche loaves: Butter and flour 2 8.5 X 4.5 inch loaf pans. Pull dough from the fridge and divide into two equal pieces. Cut each piece of dough into 4 equal pieces and roll each piece into a log about 3.5 inches long. Arrange 4 logs crosswise in the bottom of each pan. Put the pans on a baking sheet lined with parchment or silicone mat, cover the pans lightly with wax paper and leave the loaves at room temperature until dough fills pans.
Preheat oven to 400 degrees F. Bake until loaves are well risen and deeply golden, about 30-35 minutes. Cool for 15 minutes, then run a knife around the sides of the pans and turn the loaves out onto cooling racks. Cool at least one hour.