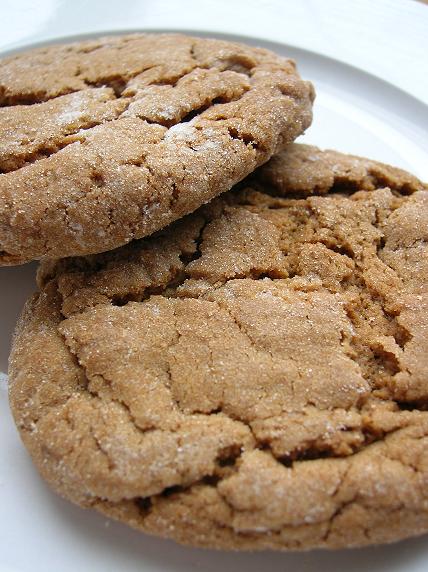 I much prefer eating molasses crinkles to that of a gingerbread man. Many of the same flavors highlighted, yet none of the guilt associated with biting off the head of the gingerbread man and knowing that poor Mrs. Gingerbread man will have to explain to all the little ginger children why daddy isn't coming home. And then they will all have to go to therapy for years, go broke and get evicted from the gingerbread house, and I simply can't deal with the guilt of all that! But a crinkle, that's nothing. I can rip into those with the ease of knowing I'm not breaking up a family. 🙂
A crinkle is such a homely cookie, often passed up by someone who has never had one. But to the person who passes on them from looks alone I say, serves you right. You are missing out on a spicy, old fashion, wonderful with tea cookie. This particular recipe comes from Cooks Illustrated and is for soft and chewy cookies. I like to bake them a tad longer than what it calls for because I like my molasses cookies a little more chewy than soft, everyone has a preference.
So this holiday season before you break out your gingerbread cookie cutters, think long and hard about the consequences of your actions. Wont you help Mr. Gingerbread, and so many needy others like him. Just say "no" and make molasses crinkles instead.
 Molasses Crinkle Cookies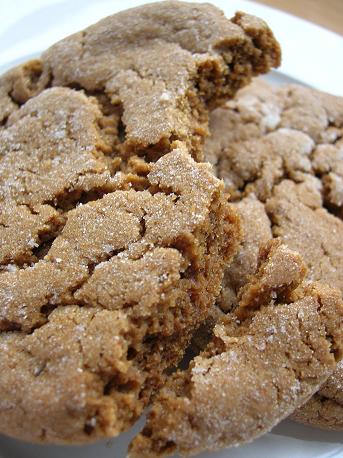 1/3 cup granulated sugar, plus 1/2 cup for dipping
2 1/4 cups all-purpose flour
1 tsp baking soda
1/4 tsp salt
1 1/2 tsp ground cinnamon
1 1/2 tsp ground ginger
1/2 tsp ground cloves
1/4 tsp ground allspice
12 TBSP unsalted butter, softened but still cool
1/3 cup packed brown sugar
1 large egg yolk
1 tsp vanilla extract
1/2 cup light or dark molasses
1. Preheat oven to 375F
2. Whisk flour, baking soda, salt, and spices in a medium bowl until thoroughly combined; set aside.
3. In a standing mixer fitted with a paddle attachment, beat butter with brown and granulated sugars at medium speed until light and fluffy, about 3 minutes. Reduce speed to medium-low and add yolk and vanilla; increase speed to medium and beat until incorporated, about 20 seconds. Reduce speed to medium-low and add molasses;beat until fully incorporated, abuot 20 seconds, scraping bottom and sides of bowl once with rubber spatula. Reduce speed to the lowest setting; add flour mixture and beat until just incorporated, about 30 seconds, scraping bowl down once. Give dough final stir with rubber spatula to ensure that no pockets of flour remain at bottom. Dough will be soft.
4. Using TBSP measure, scoop heaping TBSP of dough and roll into a ball. Roll ball in sugar and place onto prepared cookie sheet. Repeat with remaining dough. Bake 1 sheet at a time until cookies are browned, still puffy, and edges have begun to set but centers are still soft, about 11 minutes(I wanted a a less soft cookie so I baked mine longer about 13).
5. Cool cookies on baking sheet 5 minutes and then transfer to a wire rack.
Makes 22 cookies.