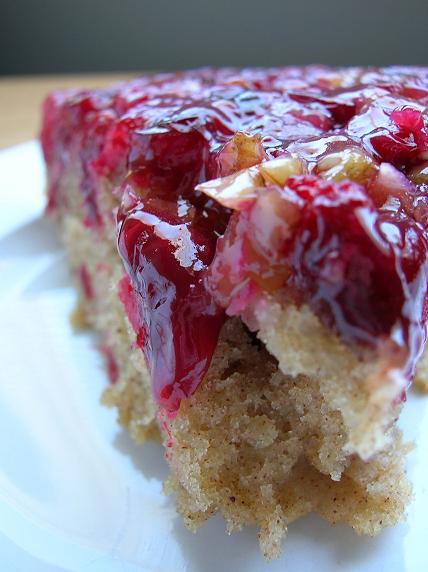 So I wrote a little bit about this book in my previous post when I selected Chipster-Topped Brownies to make for my husband and for game night. But in all my browsing through the cookbook I knew instantly the recipe that I wanted to make…..the Cranberry Upside Downer. It was bright and vibrant and I knew it would photograph well…plus it looked tasty(the most important thing). It's a cleaver take on the old pineapple upside down cake, however it is much spicer(there is cinnamon) and of course more tart because of the cranberries. If I had some, cinnamon ice cream would have gone fabulously with this cake. This cake was easy to make and smelled so good baking in the oven that is caused both the dog and me to howl in hunger. The only nervous part is of course flipping the cake, but luckily it came out beautifully. And though it did warn that the berries might stick, mine did not. Once fliped you have a jewel encrusted cake that sure be a stunner at an Fall event you would be hosting.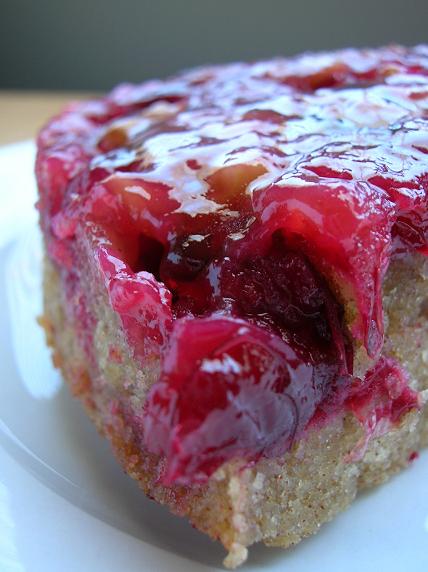 Like I said in my previous post the directions are very clear and I would be confident that any of my non-baking friends could make this cake, as well as most things in this book. The most refreshing thing about this book is that it uses widely available ingredients. Which is nice because sometimes I really want to try a recipe but can't find all the specialty ingredients needed to make it.
Cranberry Upside Downer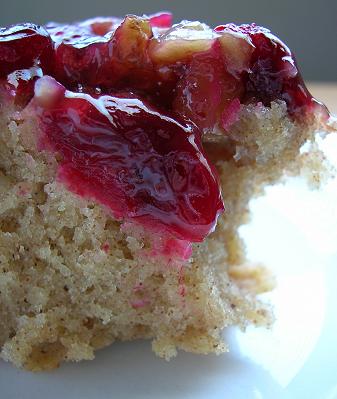 1 cup all purpose flour
1 tsp baking powder
1 tsp ground cinnamon
1/4 tsp salt
1 3/4 sticks unsalted butter, room temperature
1 cup minus 2 TBSP sugar
1/4 cup chopped walnuts or pecans…I used walnuts
2 cups cranberries-fresh or frozen(if frozen, do not thaw)I used fresh
2 large eggs
1 tsp vanilla extract
1/3 whole milk
1/3 cup red currant jelly, for glazing the cake
Center a rack in the oven and preheat the oven to 350F. Put a 8X2 inch round cake pan on a baking sheet.
Whisk together the flour, baking powder, salt and cinnamon.
Melt 6 TBSP of the butter in a small saucepan. Sprinkle in 6 TBSP of the sugar and cook, stirring, until the mixture comes to a boil. Pour this evenly over the bottom of the cake pan, then scatter over the nuts and top with the cranberries, smoothing the layer and pressing it down gently with your fingertips. Set aside.
Working with a stand mixer, preferabley fitted with a paddle attachment, or with a hand mixer in a large bowl, beat the remaining stick of butter on medium speed until smooth. Add the remaining 1/2 cup of sugar and continue to beat until pale and creamy, about 3 minutes. Add the eggs one at a time, beating for 1 minute after each addition and scraping down the bowl as needed. Pour in the vanilla. Reduce the mixer speed to low and add half of the dry ingredients, mixing only until they disappear into the batter. Mix in the milk, then the rest of the dry ingredients. Spoon the batter over the cranberries and smooth the top with a rubber spatula.
Bake for 40-45 minutes, or until the cake is golden and a thin knife inserted into the center of the cake comes out clean. Remove it from the oven and run a blunt knife between the sides of the pan and the cake. Carefully turn the cake out onto a serving platter. If any of the berries stick to the pan-as they might-just scrape them off with a table knife and return them to the cake.
Warm the jelly in a small saucepan over low heat, or do this in a microwave oven. Gently brush the glaze over the hot cake.
Source: Adapted from Baking: From My Home to Yours by Dorie Greenspan, Houghton Mifflin Company, November 2006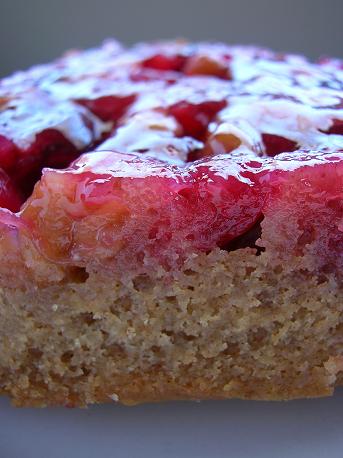 You will see many more recipes from this cookbook popping up on my blog from time to time, for this one has just too many to choose from. I hope you add it to your Christmas wish list…that is if you can wait that long.
Amoung the one I hope to get to are: Chocolate Armagnac Cake, Swedish Visiting Cake, Caramel Crunch Bars, Pecan Honey Sticky Buns, The Most Extraordinary French Lemon Cream Tart, Rosy Poached Pear and Pistachio Tart and the Coconut-Roasted Pineapple Dacquoise all are things that sound wonderful too me. Those are just some, there are really many more, but then I would just be listing the index 🙂