This Pumpkin Cinnabon Cheesecake Caramel Pecan Cake has a pumpkin Cinnamon cheesecake middle, buttermilk cake layers, and caramel and pecans.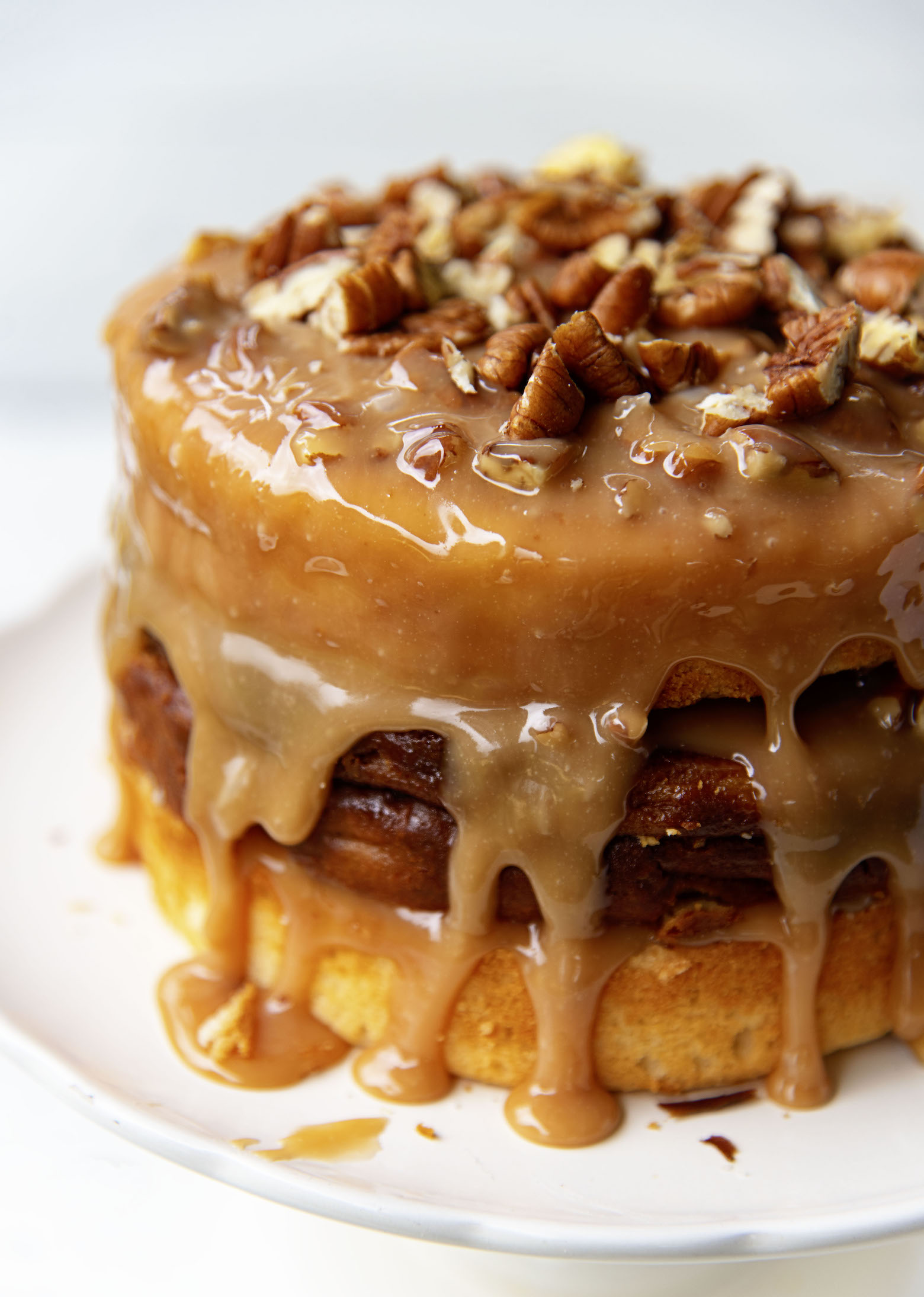 Starbucks has it's Pumpkin Spice Latte out today.
So even though it's not really fall yet, it is to me.
The official start.
This past weekend I started what I call my basic bitch bingo.
What is basic bitch bingo?
Well, it's my card where I collect all the basic bitch activities.
This past weekend I went to the Sunflower festival.
Check.
Had my PSL this morning.
In a few weeks will be apple picking.
And we round it all out with picking a pumpkin at the pumpkin patch.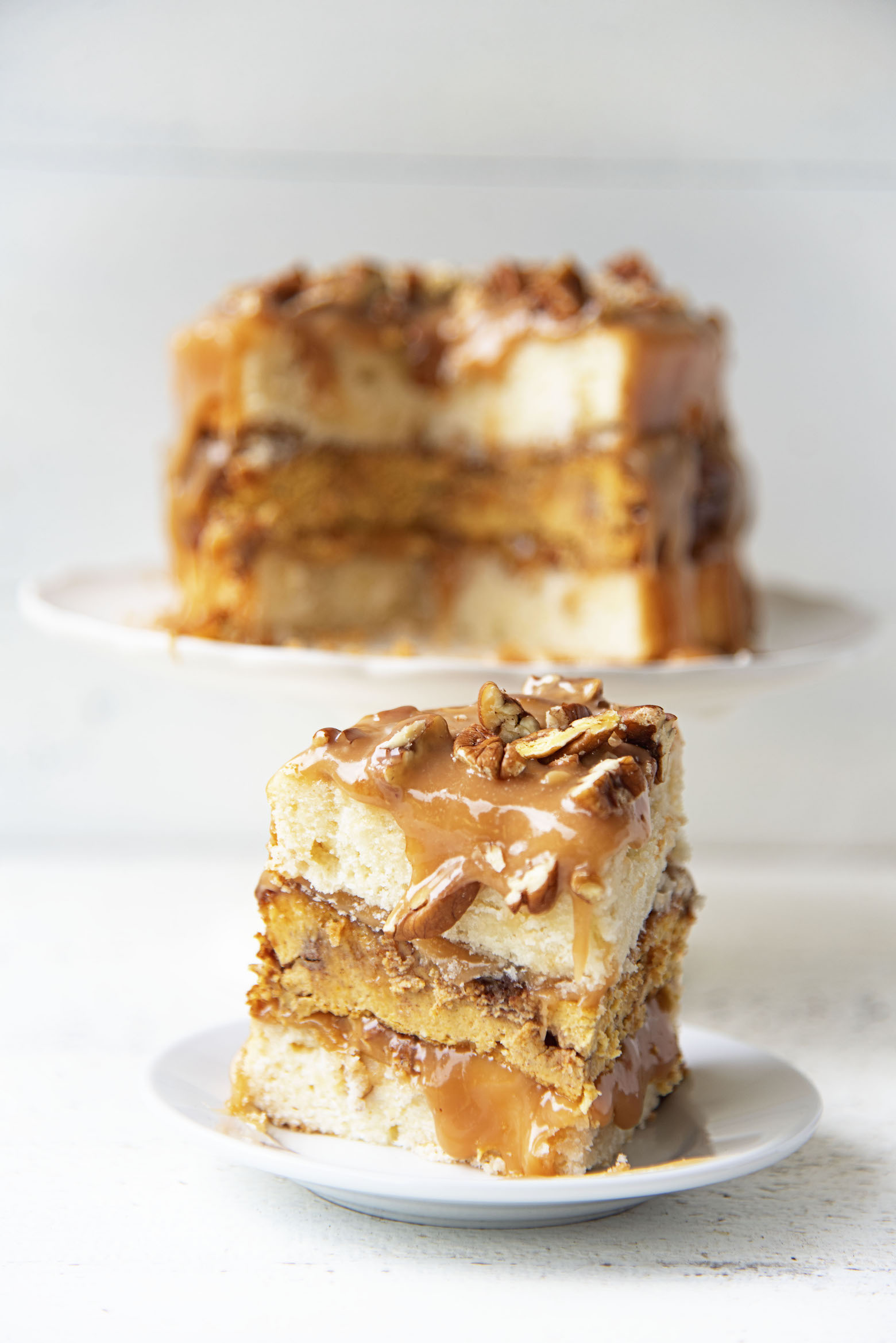 Which means I have pumpkin on the brain.
In turn means I have pumpkin on the blog. 🙂
Not a hit you over the head pumpkin.
An ease you into fall pumpkin.
This Pumpkin Cinnabon Cheesecake Caramel Pecan Cake is your gateway dessert to fall.
Oddly enough my idea for this started with the show The Americans.
Which is about Russian spies in America.
And if you have never seen the show, it's worth streaming.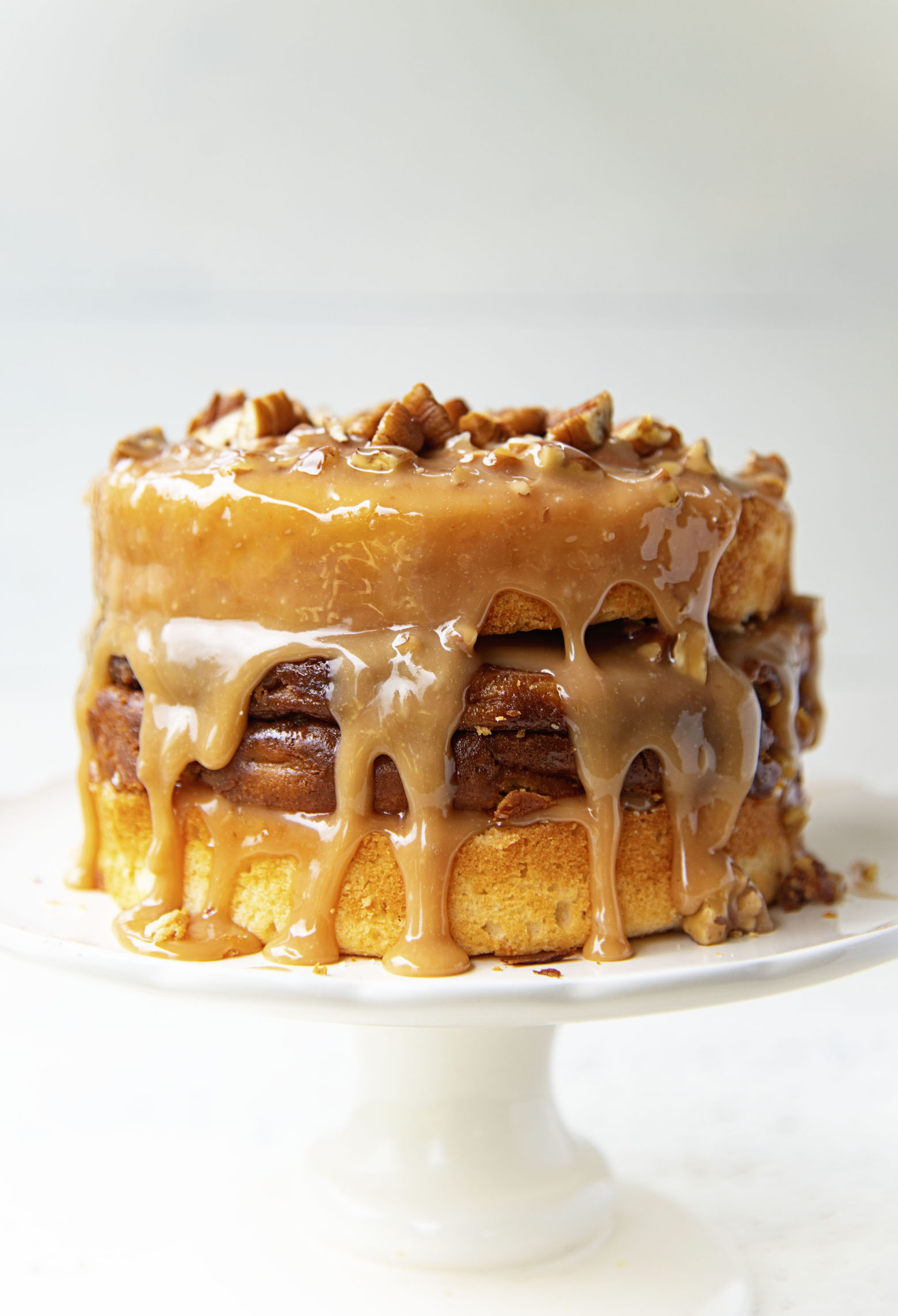 Anyway, they were eating in a Bennigans (takes place in the 80's).
Which made me wonder if those exists anymore (they do).
But also gave me ads for TGI Fridays.
We don't have those anymore in Washington state.
But I was curious to see their menu.
And they had some sort of Cinnabon Cheesecake Cake thing.
Which had a cake layer and a Cinnamon cheesecake layer.
With caramel sauce and a cream cheese glaze.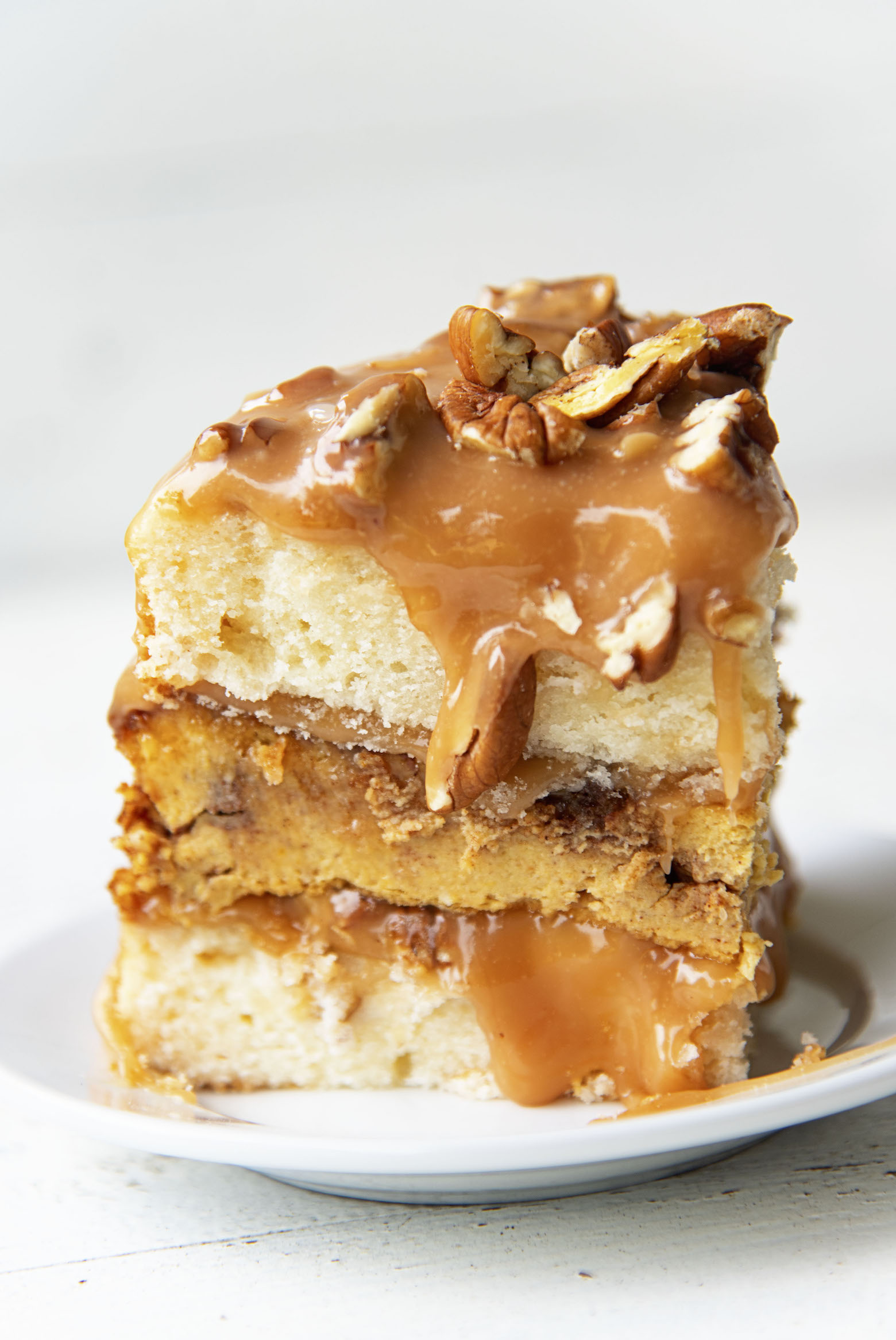 I thought about just recreating that.
But the urge to sneak pumpkin into it took over.
And what you ended up with was this dessert.
So make this dessert and come to the dark side…aka fall.
Last but not least…it's a great time to order my cookbook. 😀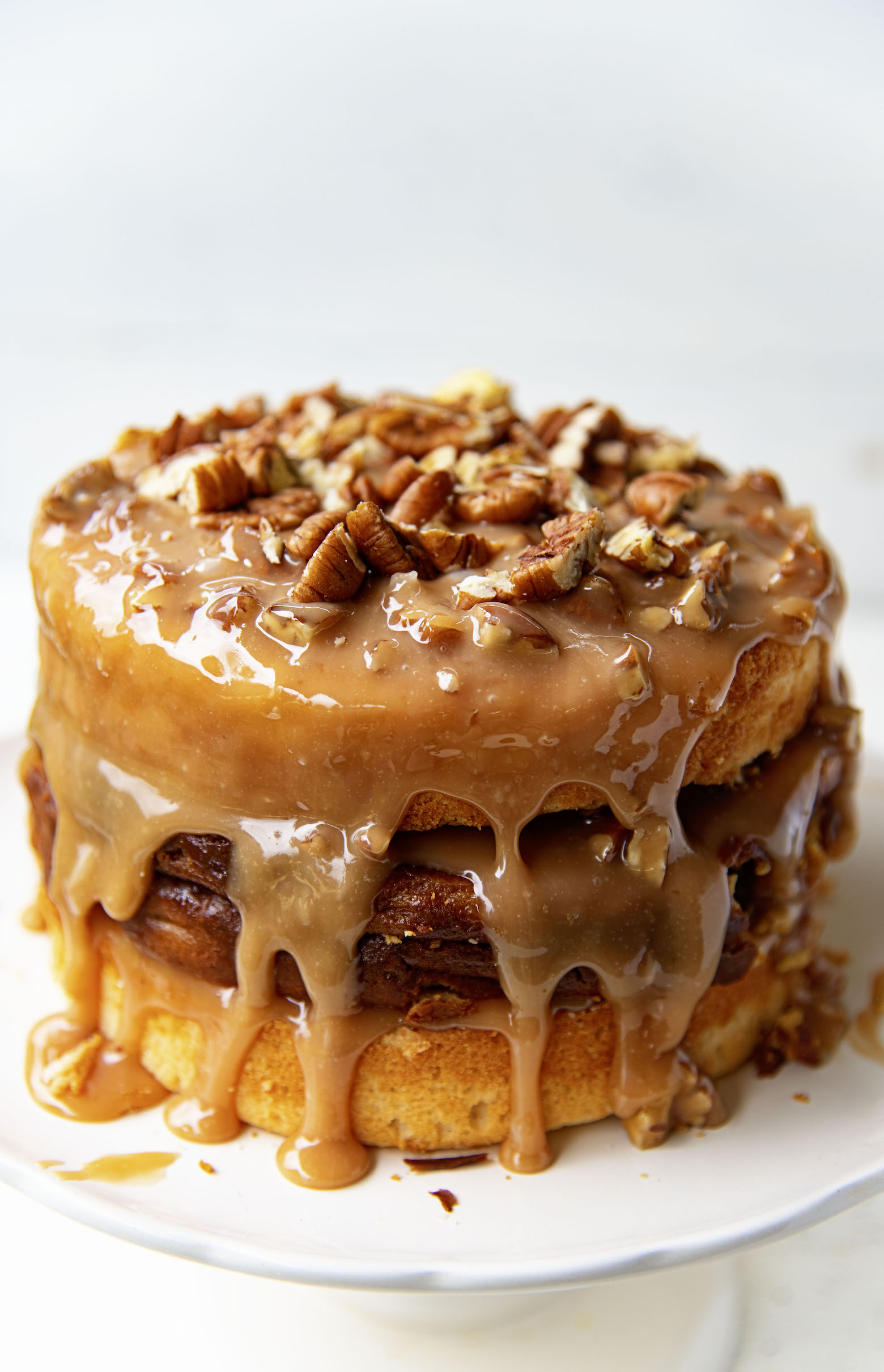 Want More Pumpkin Recipes?
Pumpkin Creme Brûlée Tartlets with Chocolate Ginger Crust
White Chocolate-Pumpkin Topped Blondies
Pumpkin Pecan Pie Gingerbread Bars
Brown Butter Pumpkin Pie Layer Cake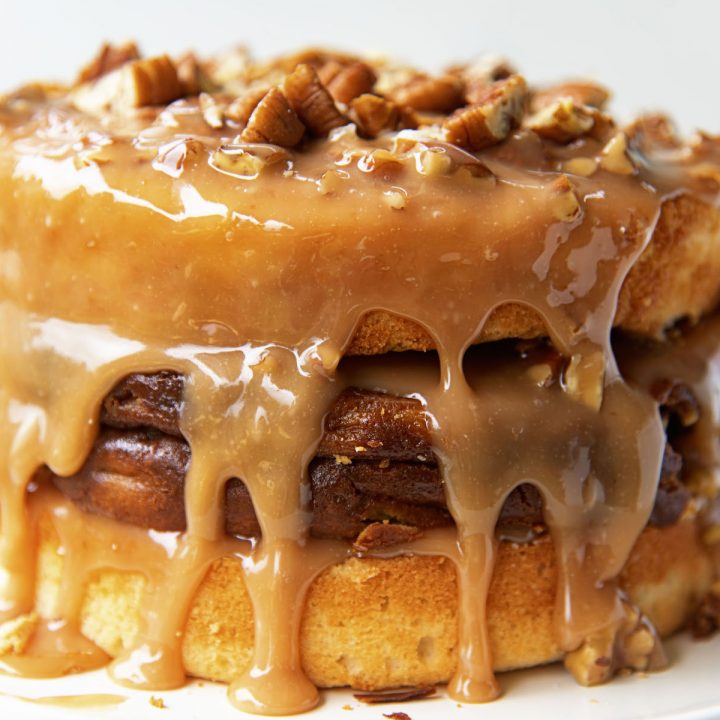 Pumpkin Cinnabon Cheesecake Caramel Pecan Cake
Ingredients
For the Cake:
1 1/2 cups (3 sticks) unsalted butter, at room temperature
2 1/3 cups sugar
3 large egg whites
2 tsp. vanilla extract
3 cups cake flour
3/4 tsp. baking soda
3/4 tsp.salt
1 1/2 tsp, baking powder
1 1/2 cups buttermilk
For the Cheesecake:
16 oz cream cheese, softened
½ cup sugar
½ cup sour cream
1/2 cup pumpkin puree
2 tsp pumpkin spice mix
1 tsp vanilla extract
2 eggs
3 TBSP flour
½ cup butter, melted
½ cup light brown sugar
2 tablespoons cinnamon
For the Caramel Sauce:
1 cup granulated sugar
½ cup heavy cream
2 tablespoons unsalted butter
pinch of salt
1 1/2 cups chopped pecans
Instructions
For the Cake:
Preheat oven to 350F.
Have 1 rack one-third from the bottom of the oven and a second rack two-thirds from the bottom.
Line two 9-inch cake pans with parchment paper rounds and spray with baking spray or butter and flour.
In a medium bowl, combine flour, baking soda, salt, and baking powder.
Using an electric mixer, beat butter and sugar on medium speed with a paddle attachment until light and fluffy, about 2 minutes.
Scrape down sides of bowl and add egg whites and vanilla. Beat on medium speed for 1 minute.
Add 1/3 of flour mixture and beat on medium speed until incorporated.
Add half of buttermilk and beat on medium until mixed in.
Scrape down sides of bowl and repeat adding flour mixture and buttermilk, finishing with remaining 1/3 of flour.
Batter will be thick and glossy.
Pour batter evenly into prepared pans, I like to use an ice cream scoop because the batter is so thick.
Set two cake pans on 1 oven rack and the third pan on the second rack, staggering them so cakes are not directly over each other.
Bake 35-45 minutes, until you can insert a knife or toothpick in and it comes out clean.
Cool cakes in pans for 10 minutes.
Invert onto racks to cool completely. (Cakes can be wrapped in plastic wrap and frozen for up to 3 weeks.)
For the Cheesecake:
Preheat oven to 325°F/160°C.
In a bowl, beat the cream cheese and sugar until smooth.
Add the sour cream, pumpkin puree, pumpkin pie spice, and vanilla, and beat until there are no lumps.
Add the eggs one at a time, mixing completely after each one.
Add in the flour and mix until fully combined. Set aside.
In another bowl, mix the butter, brown sugar, and cinnamon until fully combined. Set aside.
In a greased 9-inch springform pan evenly spread the cheesecake batter, then drop spoonfuls of the butter mixture onto the cheesecake batter.
Swirl the butter mixture into the cheesecake using a knife (try to keep it away from the edges!).
Bake for 30-35 minutes, until the cheesecake is firm around the edges but still slightly jiggly in the middle.
Remove from oven and cool completely.
Place in fridge and cool for at least 3 hours.
For the Caramel Sauce:
In a medium saucepan set over medium-high heat, combine the sugar with 1/4 cup cold water and stir to combine.
Cook, without stirring, until the sugar has turned a deep amber hue, approximately 10 to 12 minutes.
Meanwhile, warm the cream in a small saucepan. When the caramel is ready, slowly whisk in the warm cream and continue simmering the mixture until it is smooth, another 2 to 3 minutes.
Remove from heat, then whisk in the butter, and then the salt, to taste.
To assemble the cake:
Place a buttermilk cake layer on a cake plate. Add 1/3 of the caramel sauce and sprinkle 1 /3 of the pecans.
Top with cheesecake layer.
Add 1/3 of the caramel sauce and sprinkle 1 /3 of the pecans.
Top with the last buttermilk cake layer.
Top cake with remaining caramel sauce and pecans.