This Holly Jolly Vanilla Sprinkle Cake is a white vanilla cake full of sprinkles and topped with a vanilla Swiss meringue buttercream.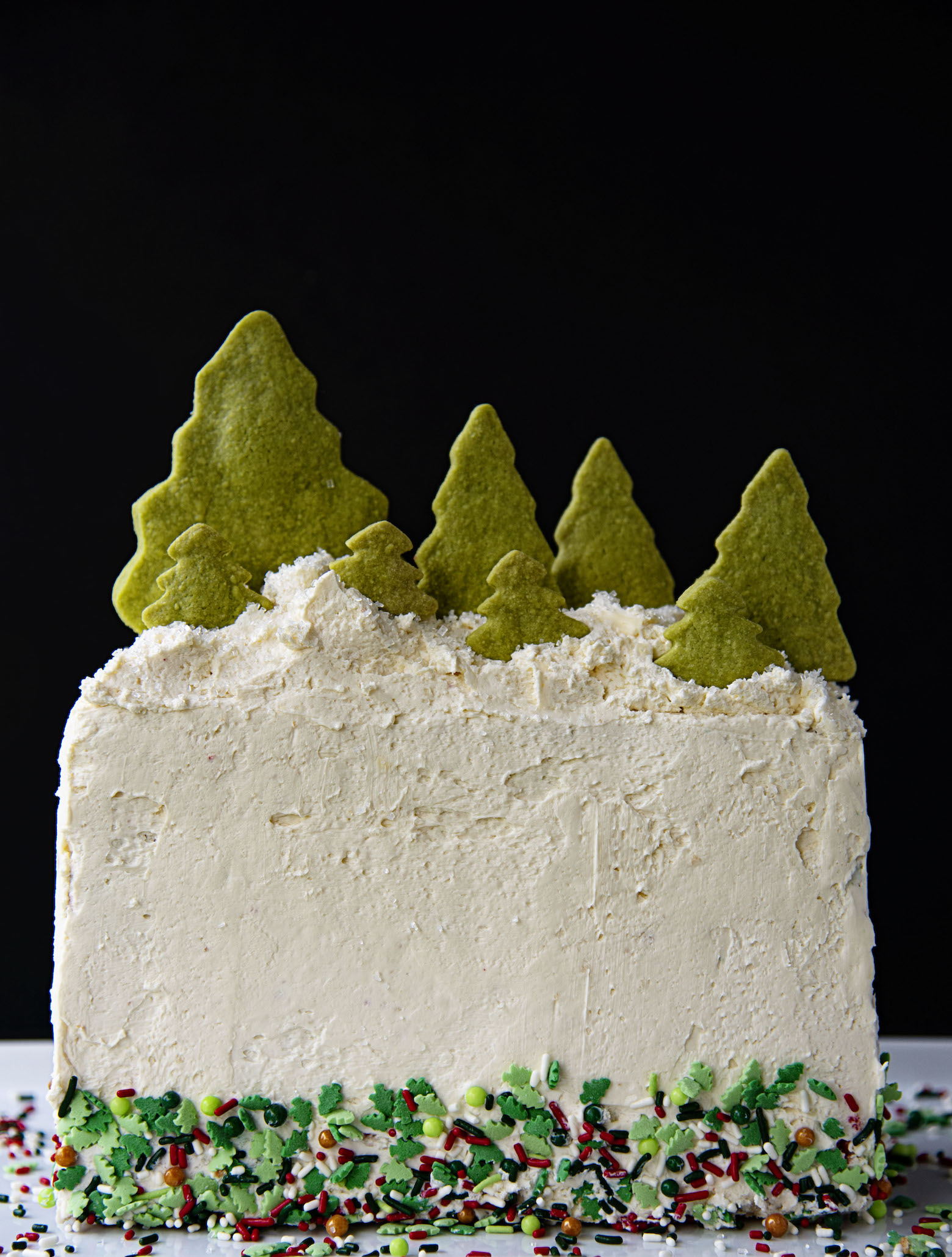 The main reason it took 15 years for me to write a cookbook was because I wanted to do a book my way.
And while that might seem easy let me assure you it is not.
If you bought a copy of my cookbook Holy Sweet! then you know that it's a little different than your average cookbook.
From how it's laid out, the recipes, and the fact that it's filled with stories.
Each recipe has an introduction, and in true Peabody fashion, they don't have much to do with the recipe. 😀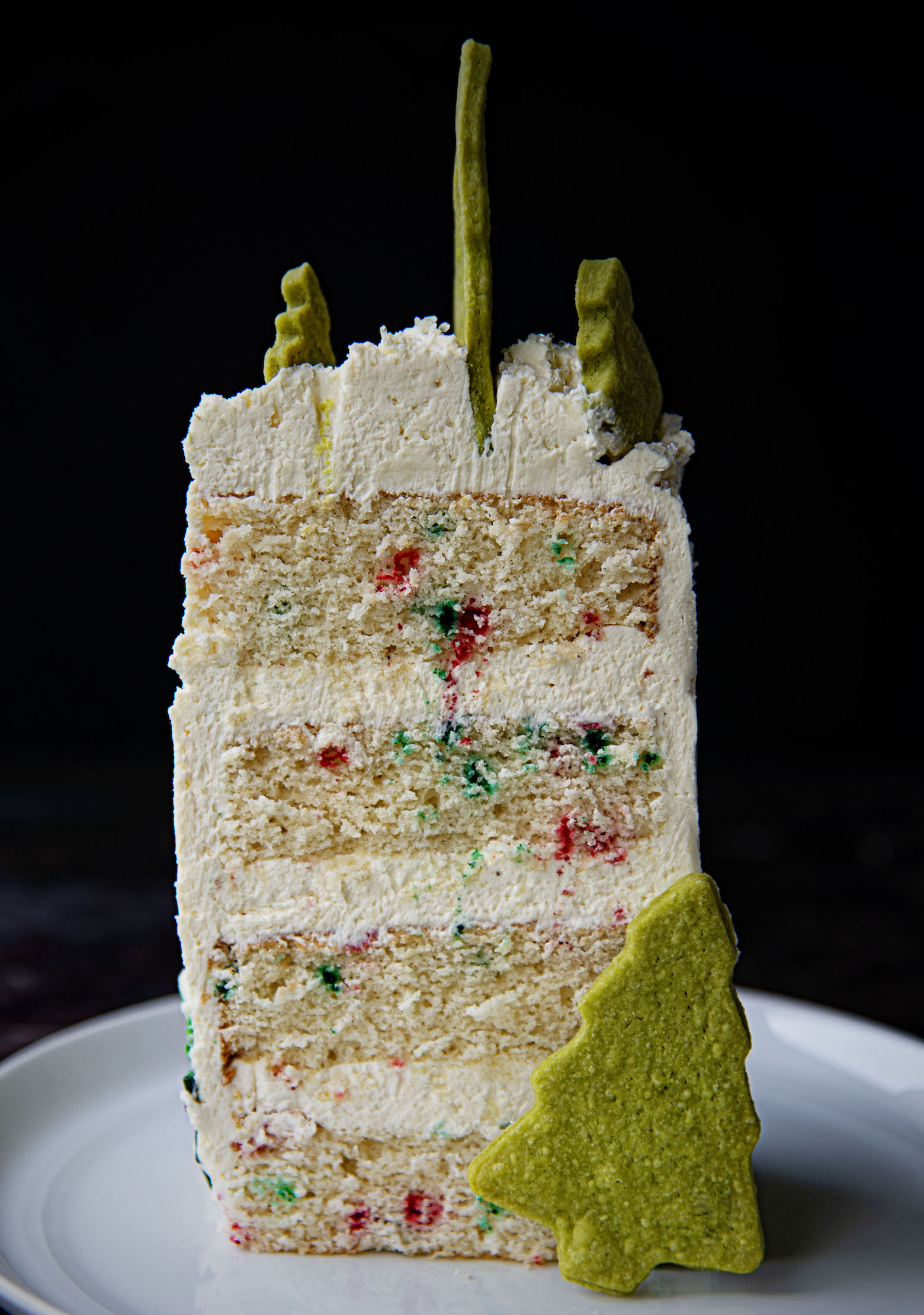 The last chapter of my book is called Holly Jolly.
Which as you might guess are recipes for the holidays.
It was named after our beloved dog Holly Belle who passed of congestive heart failure in 2016.
And so my introduction to the chapter is about our dog Holly.
Who died.
Which sounds really depressing for a cookbook.
But it's not.
It's a celebrations of the lessons that our Holly Belle taught us in the short time we had with her.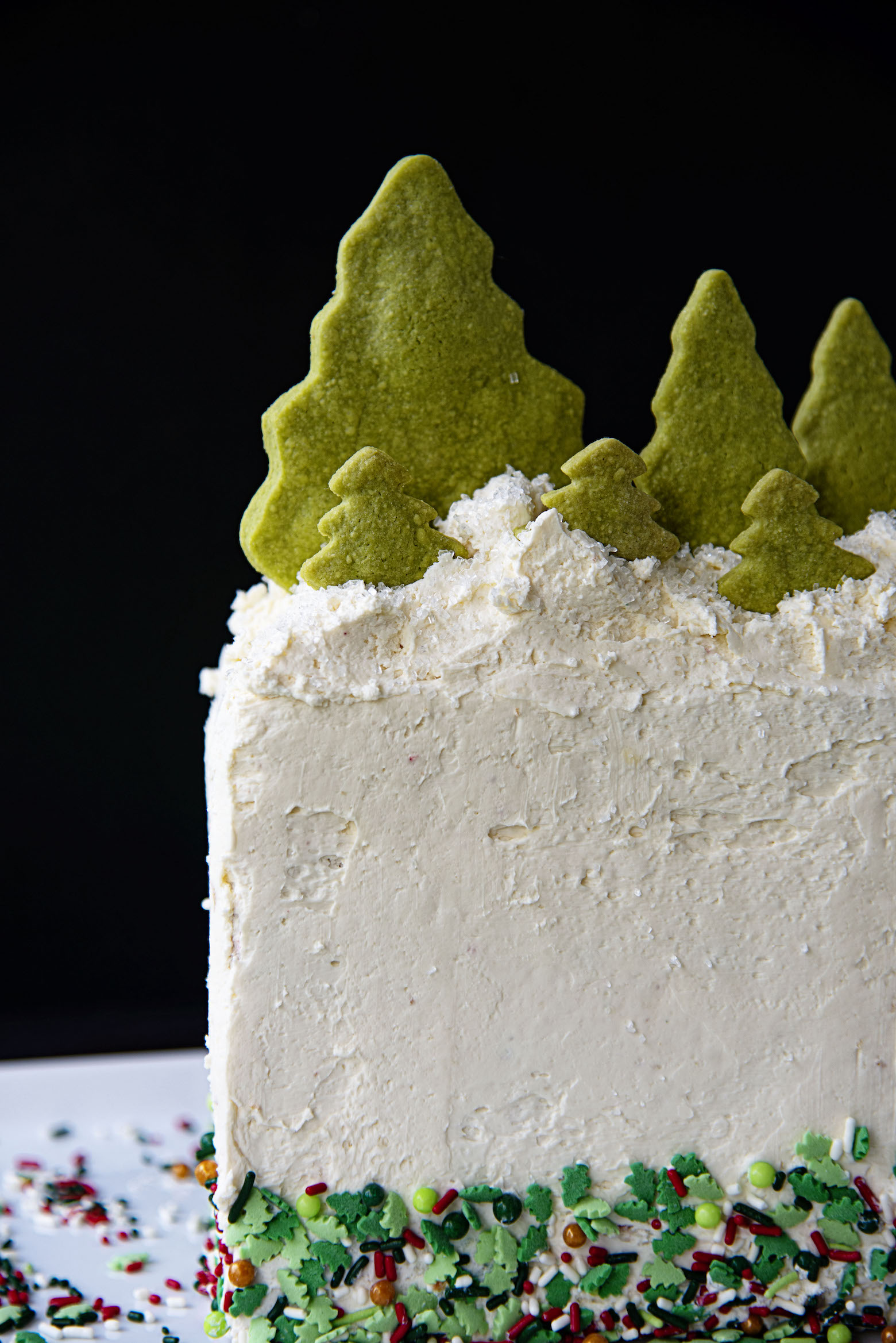 When my publisher Page Street Publishing was on board with it I knew they were my people.
This last Monday our dog Banjo went into congestive heart failure.
We were able to catch it early and so he was quickly stabilized and able to come home with no staying at the ER.
Banjo is much older than Holly was.
She was only 9 when she passed and Banjo is going on 15.
His breed only lives usually 10-12 years so we are already on bonus time.
And while it is sad it's a reminder of the lessons that Holly Belle taught us which is to appreciate living in the moment.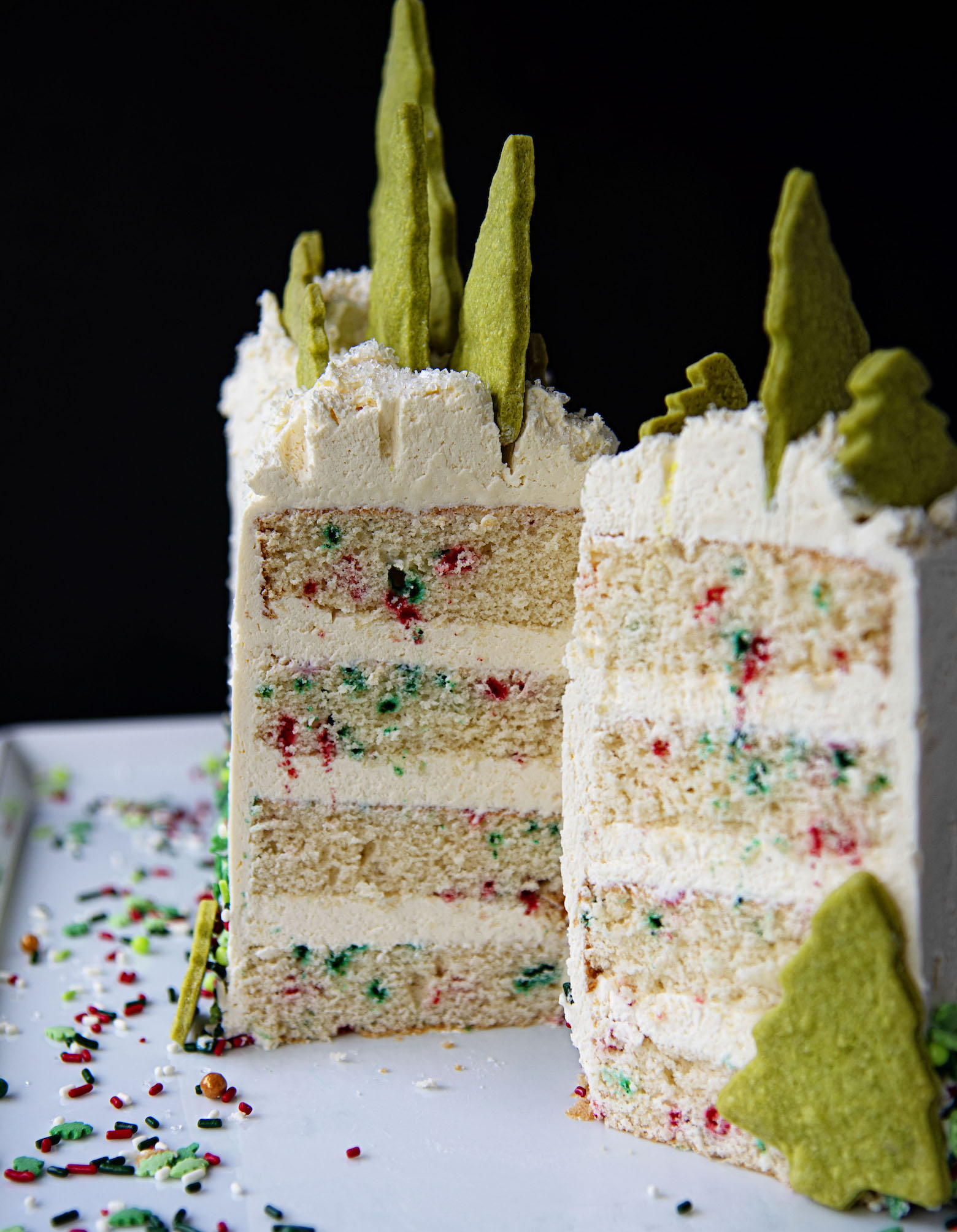 Holly's love of Christmas trees is well known both on this blog and now the book. But she also loved snow.
So to honor her I made this Holly Jolly Vanilla Sprinkle Cake.
Which is decorated with shortbread sugar cookie trees and "snow" frosting.
A white vanilla cake with sprinkles folded in.
I represents her happy disposition that she had during the holidays.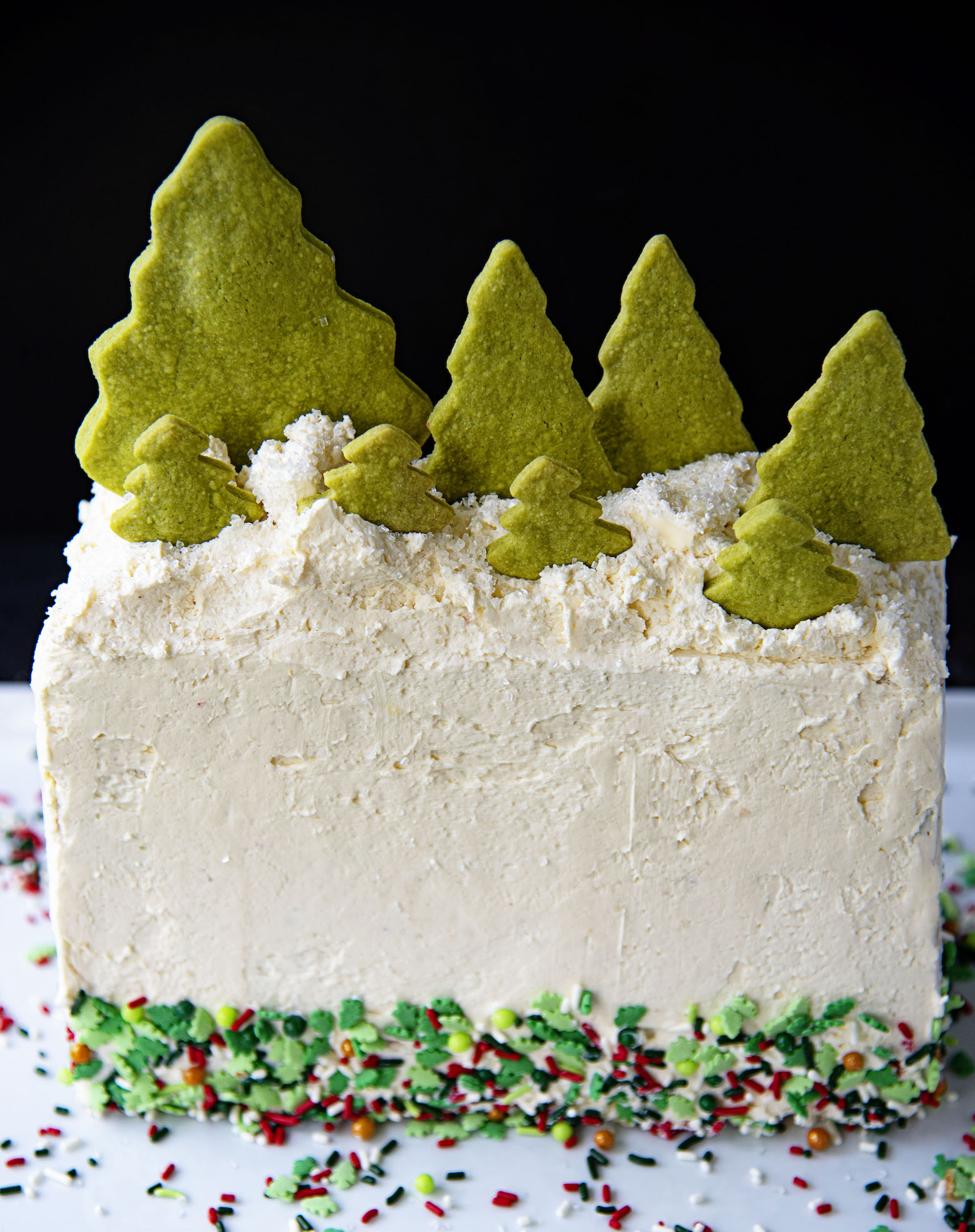 Want More Holiday Cakes?
Bourbon Eggnog White Chocolate Layer Cake
Chocolate Gingerbread Layer Cake
Chocolate Peppermint-White Chocolate Layer Cake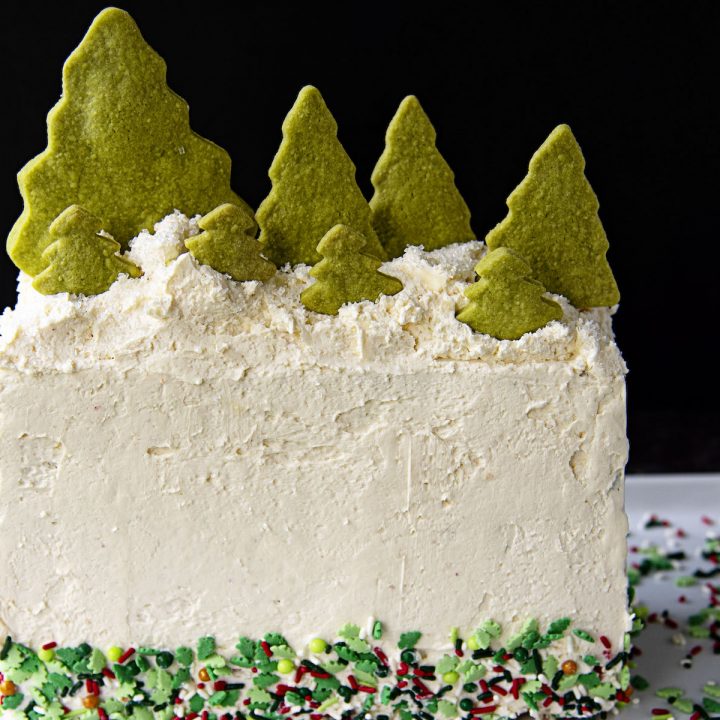 Holly Jolly Vanilla Sprinkle Cake
Ingredients
For the Shortbread Cookies:
1/2 cup unsalted butter, at room temperature
1/4 cup granulated sugar
1 tsp Vanilla Bean Paste (I used Rodelle)
1 cup all-purpose flour
1 1/2 tsp cornstarch
a couple drop
For the Cake:
5 large egg whites
3/4 cup whole milk
2 3/4 cups cake flour
1 1/4 cups granulated sugar
1 TBSP baking powder
1/2 tsp. salt
3/4 cup unsalted butter, at room temperature
1 tsp. vanilla extract (I used Rodelle)
1 cup holiday colored sprinkles
For the Frosting:
1 cup (about 9) egg whites
2 cups granulated sugar
3 cups unsalted butter, cubed and at room temperature
2 tsp. vanilla extract
1/4 tsp. salt
For the Decor:
holiday sprinkles
clear sanding sugar
Instructions
For the Cookies:
Preheat oven to 300° F.
Using a stand mixer with a paddle attachment cream together the butter and sugar until light and fluffy, about three minutes.
Add the vanilla bean paste and beat for another 30 seconds.
Add in flour, 1/4 cup at a time with mixer on low.
Repeat until all the flour is gone.
Add cornstarch and mix until combined.
Let mixer run on low until dough forms.
Add green food coloring and mix until incorporated.
Divide dough in half.
Sprinkle flat surface lightly with flour.
Roll out the cookie to ¼-inch thickness.
Cut with floured tree cookie cutters.
Place 1 inch apart on ungreased baking sheets.
Bake for 20-22 minutes.
For the Cake:
Spray with baking spray a 9-x-13 inch baking pan and line with a parchment and spray circle with baking spray as well.
Preheat oven to 350F.
Stir together the egg whites and 1/4 cup of the milk in a small bowl and set aside.
Sift flour, sugar, baking powder, and salt and put into the bowl of a stand mixer fitted with the paddle attachment.
Mix on low until combined.
With the mixer on low, add the butter vanilla, and the remaining milk until the dry ingredients are moistened
Bump mixer speed up to medium and beat for one minute until all ingredients are fully combined.
Scrape down the bowl.
Add egg white and milk mixture in three parts, each time mixing on medium speed for about 30 seconds
Scrape down the bowl and fold the sprinkles in and mix until fully combined.
Pour into the pan and use a spatula to smooth the top of batter flat and evenly.
Bake to 25-30 minutes or until a toothpick inserted into the center of the cakes comes out clean.
Cool on a wire rack for 10-15 minutes before removing from pans.
Place the egg whites and sugar in the metal bowl of a stand mixer and set over a small pot of simmering water (the bowl should not touch the water).
Heat, stirring occasionally, until mixture is 160F or hot to the touch.
Transfer bowl to stand mixer and beat on high speed with a whisk attachment to medium stiff peaks, about 8 minutes.
Reduce mixer speed to medium low and add butter a tablespoon at a time, letting it incorporate into the meringue for few moments before adding more.
Add vanilla extract and salt and beat on high for 1-2 minutes until smooth and creamy.
To assemble:
Divide the 9-13-inch cake into 4 equal rectangles.
Using a serrated knife trim off any cake top that isn't flat.
Place one layer on a platter.
Spread 1/3 cup of frosting on the layer.
Place the second layer on top.
Then another 1/3 cup frosting.
Add the third layer with another 1/3 cup of frosting.
Place the final layer on top and frost the whole cake with a crumb coat.
Place the cake in the fridge or in my case super cold garage for 30 minutes.
Remove from fridge and frost the cake.
Apply holiday sprinkles to the sides of the cake on the bottom.
Pile the frosting on the top of the cake to look like snow drifts.
Sprinkle some clear sanding sugar on top of the snow drifts.
Place some trees on top of the cake in the snow drifts.