These Voodoo Doll Cookies are all in good fun. Buttery sugar cookie men all dressed up to take a stabbing or two.
"This post and recipe was created for #HalloweenTreatsWeek!
I was sent samples by some of the sponsor companies but as always opinions are 100% mine."
We will just call it a coincidence that I made voodoo dolls with an election less than a month a way. 🤣
Truth is I have been wanting to make these since 2012.
These cookies are the brainchild of Sprinkle Bakes.
I get zero credit for coming up with these cuties.
However, I did change mine up a little bit.
We don't have the same dough and I changed a couple things about how they look but they are all her.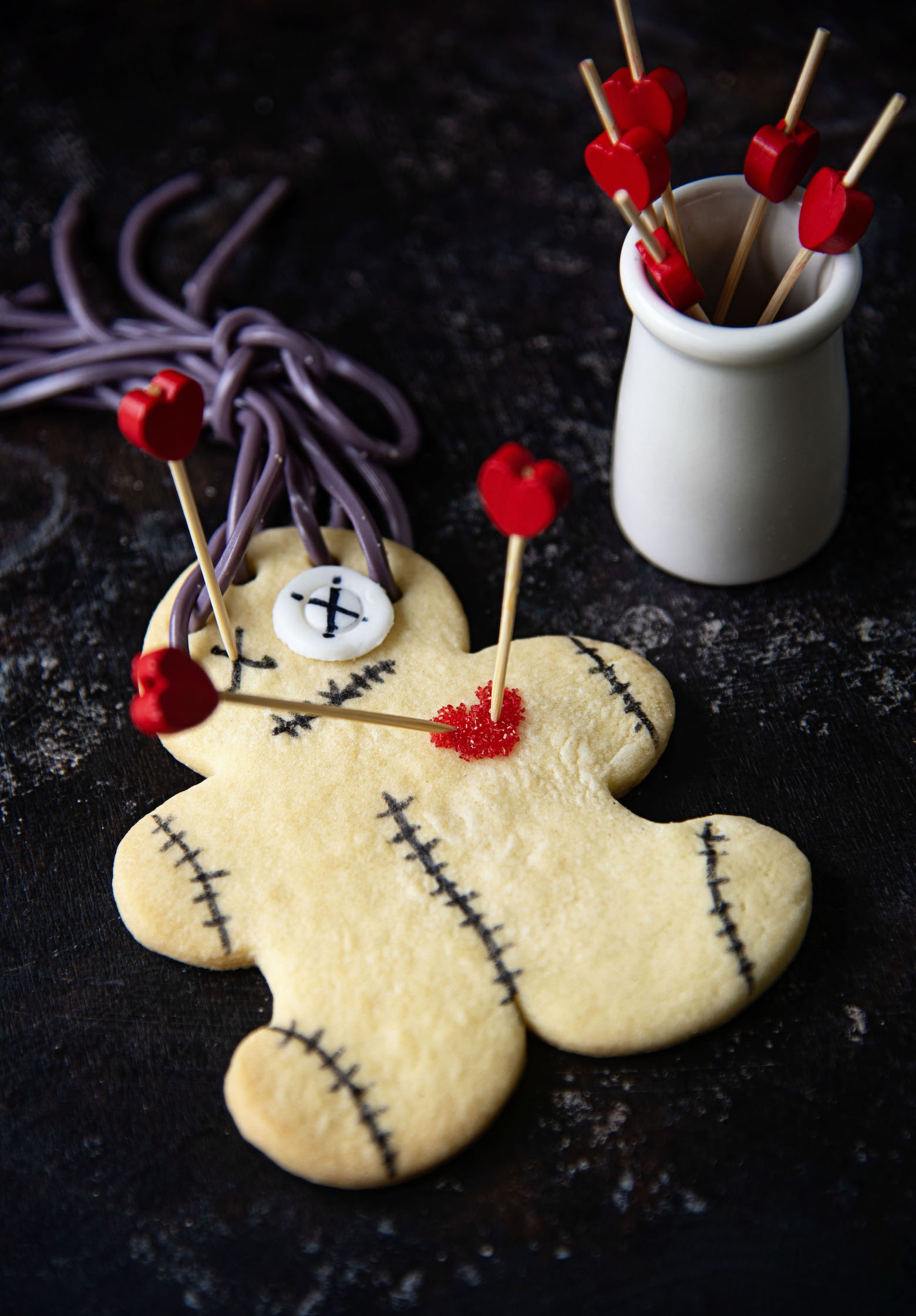 White I don't normally do step by step photos, for these cookies they kind of called for it.
I used a Wilton Gingerbread Boy Comfort Grip Cookie Cutter 5-inch for my voodoo cookies.
Besides the obvious bake the cookies I used a coffee stirrer/straw to poke holes before I baked.
While some closed up a little, it made it easier for me to remake the hole once out of the oven.
The original idea uses a bigger straw and to do it after the cookie baked.
I tried that idea with disastrous results and so the next batch I made…this batch I premade the holes.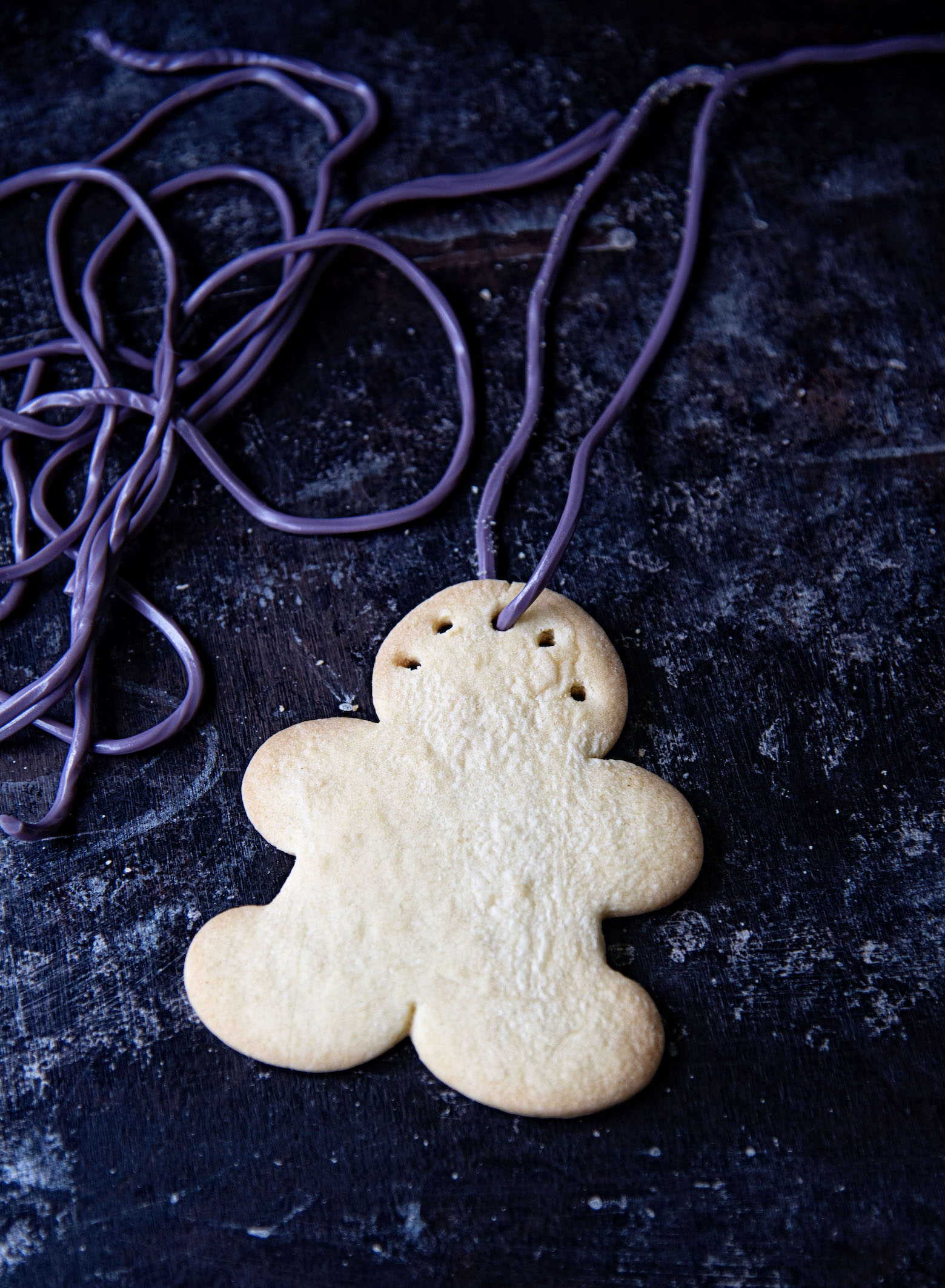 Once they are baked off the holes are there for the licorice hair.
The original used black licorice laces but I can't stand that flavor and went with Grape Licorice Laces.
Which I'm glad I did because I liked how the looked and I ate the leftovers.
Once you have all the licorice hair through the holes gather the laces together and gently tie with another lace.
If you pull too tight the licorice will break so be gentle.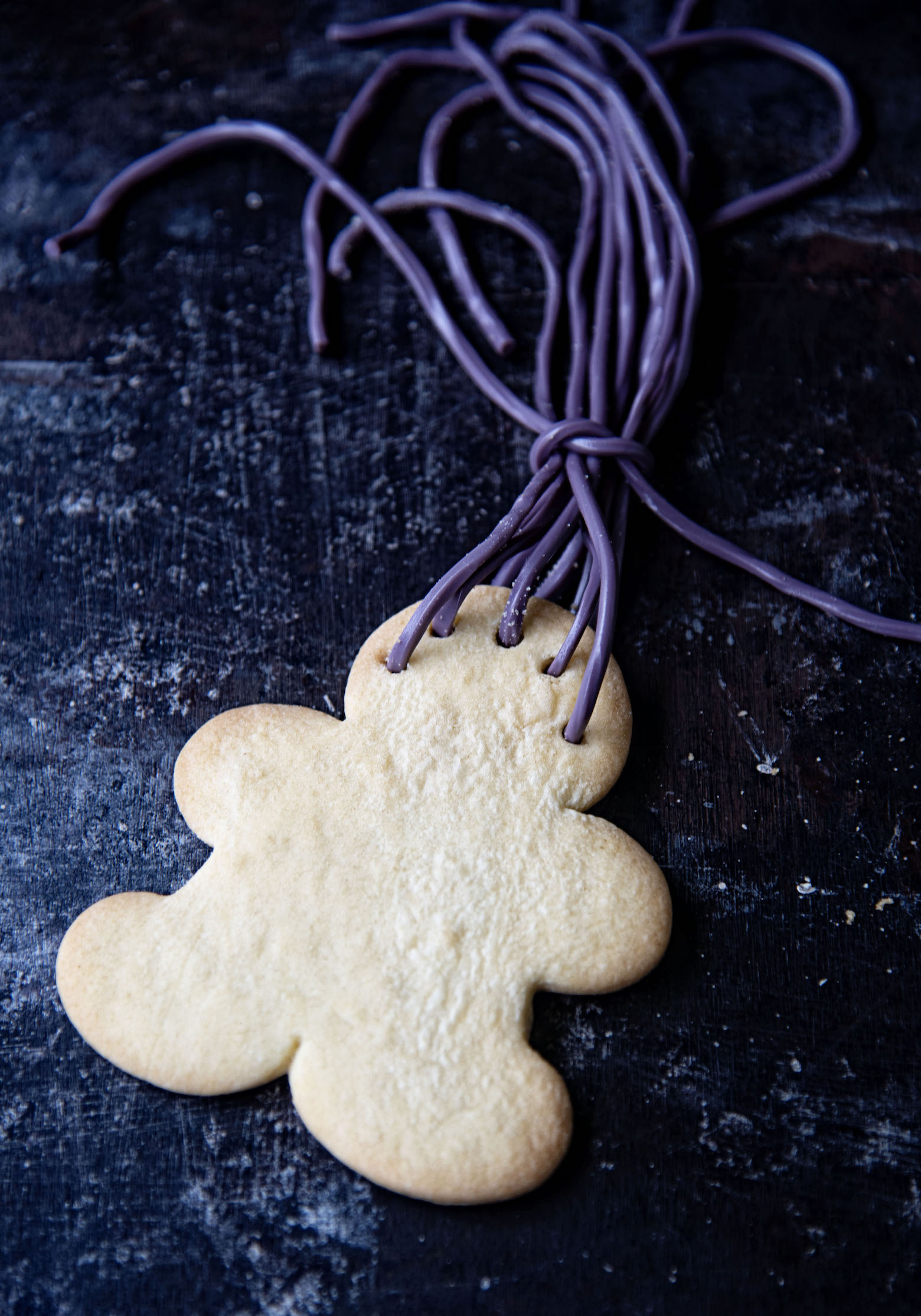 Once that is done you break out the fondant.
I don't usually work with fondant so I was lazy and just bought some.
If you are good at making some then go for it.
Cut 12 round pieces of fondant using the large end of a small piping tip or use a small bottle cap.
Use a food marker lid or other smaller lid to make an impression inside each circle.
This gives it the button look.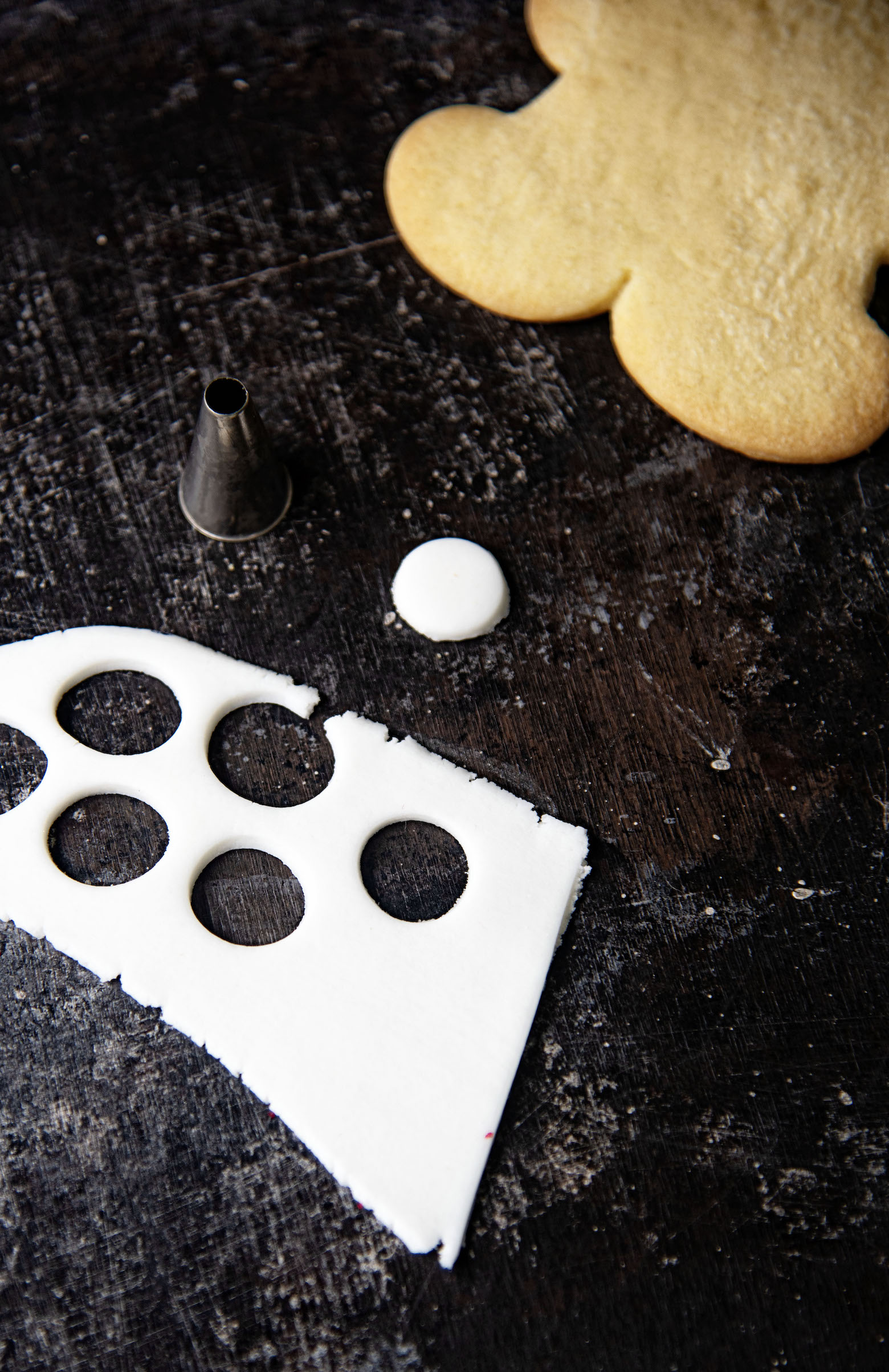 Attach the fondant button eye to the cookie by using a little corn syrup as glue.
Leave the corn syrup out as you will be using it again in a little bit.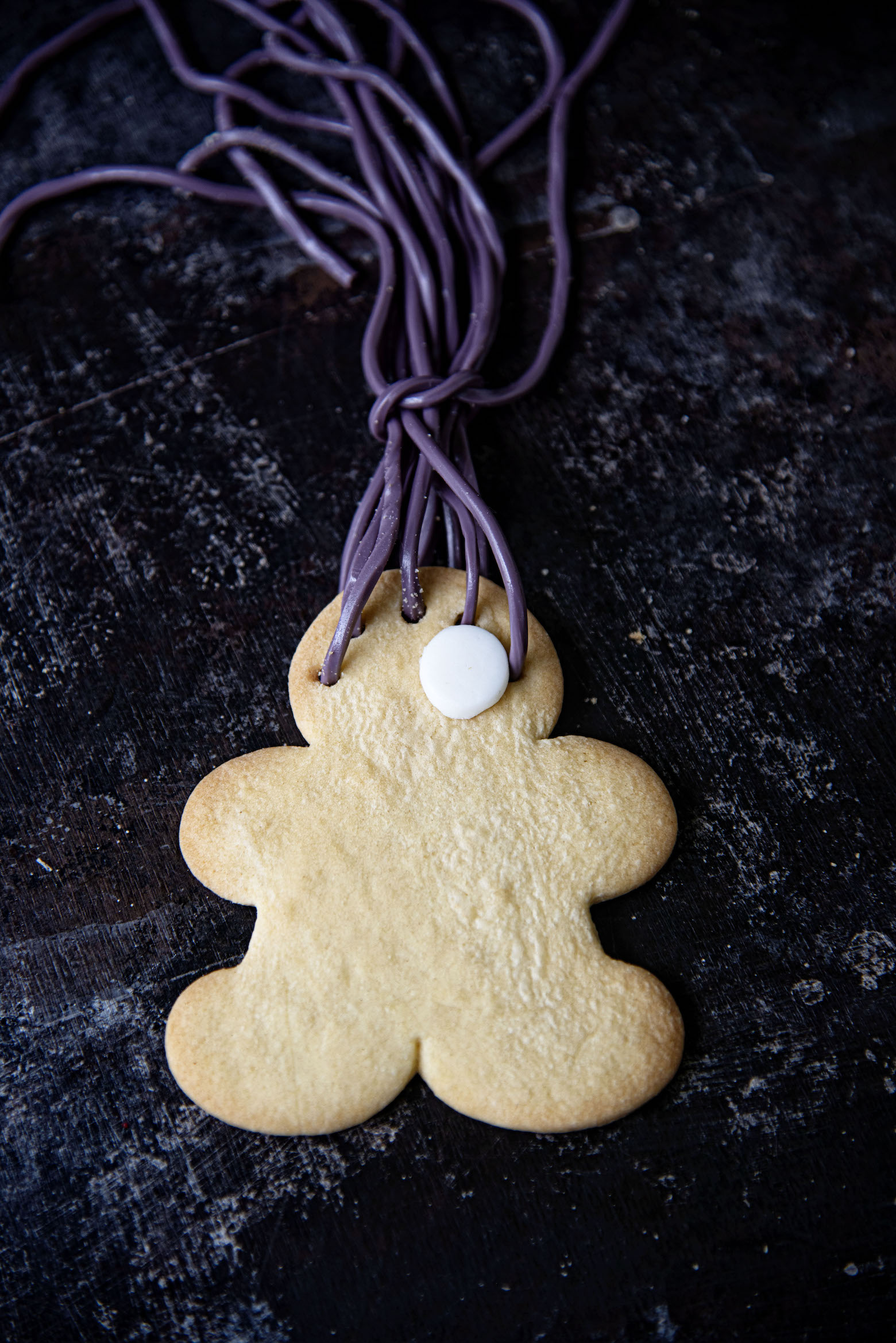 Here you have two choices.
You can use a thin paintbrush and some black liquid food coloring.
Or you can do what I did and use a food decorating pens.
Sprinkle Bakes is a painter so she painted them on.
I don't have that steady of a hand or skill so I'm all about the pen.
You make an X on the button eye and one on the cookie.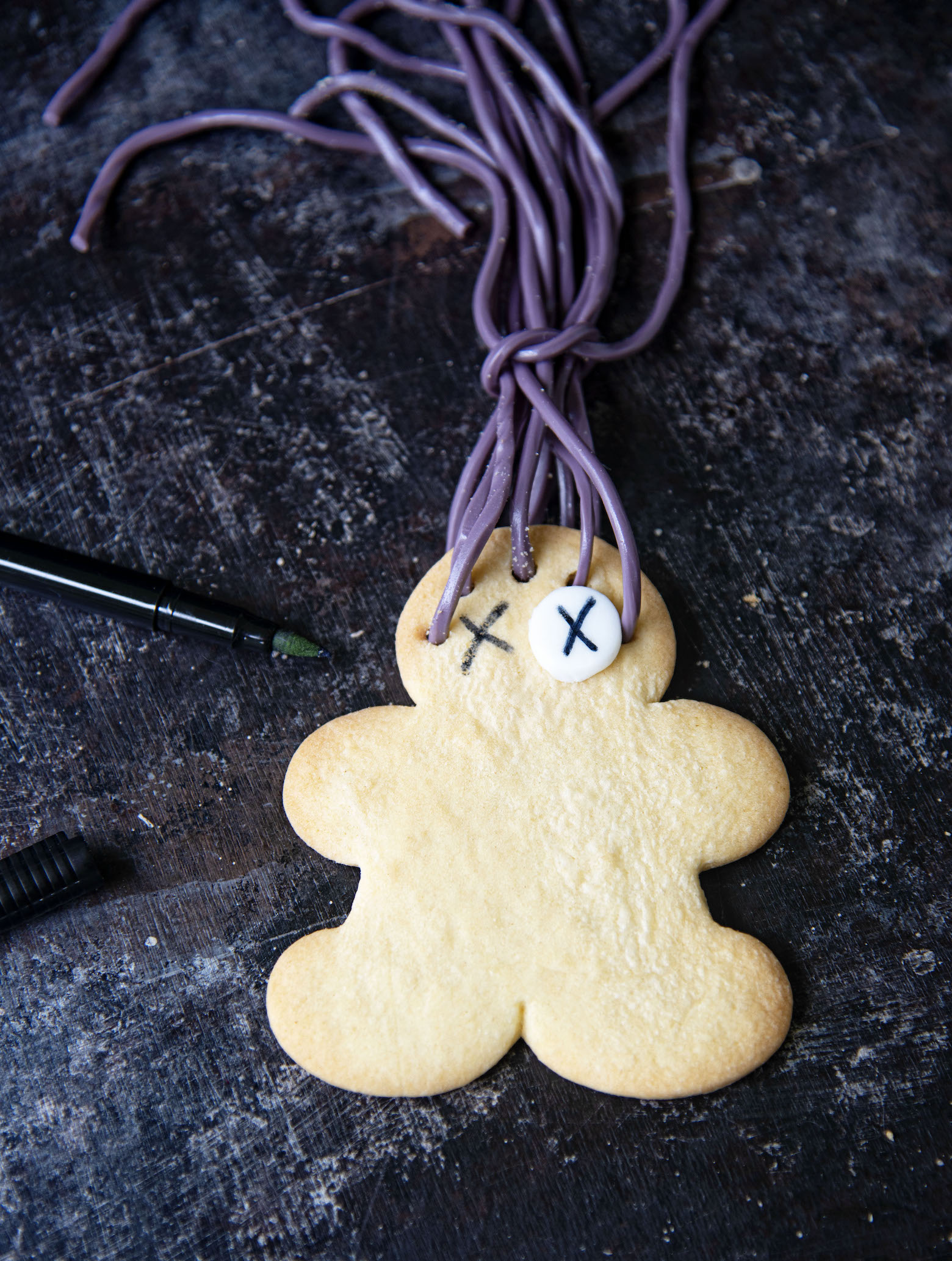 Then using the paintbrush or the food pen make stitches on the cookies body.
One long stitch down the middle.
Then two for the arms.
Two for the feet.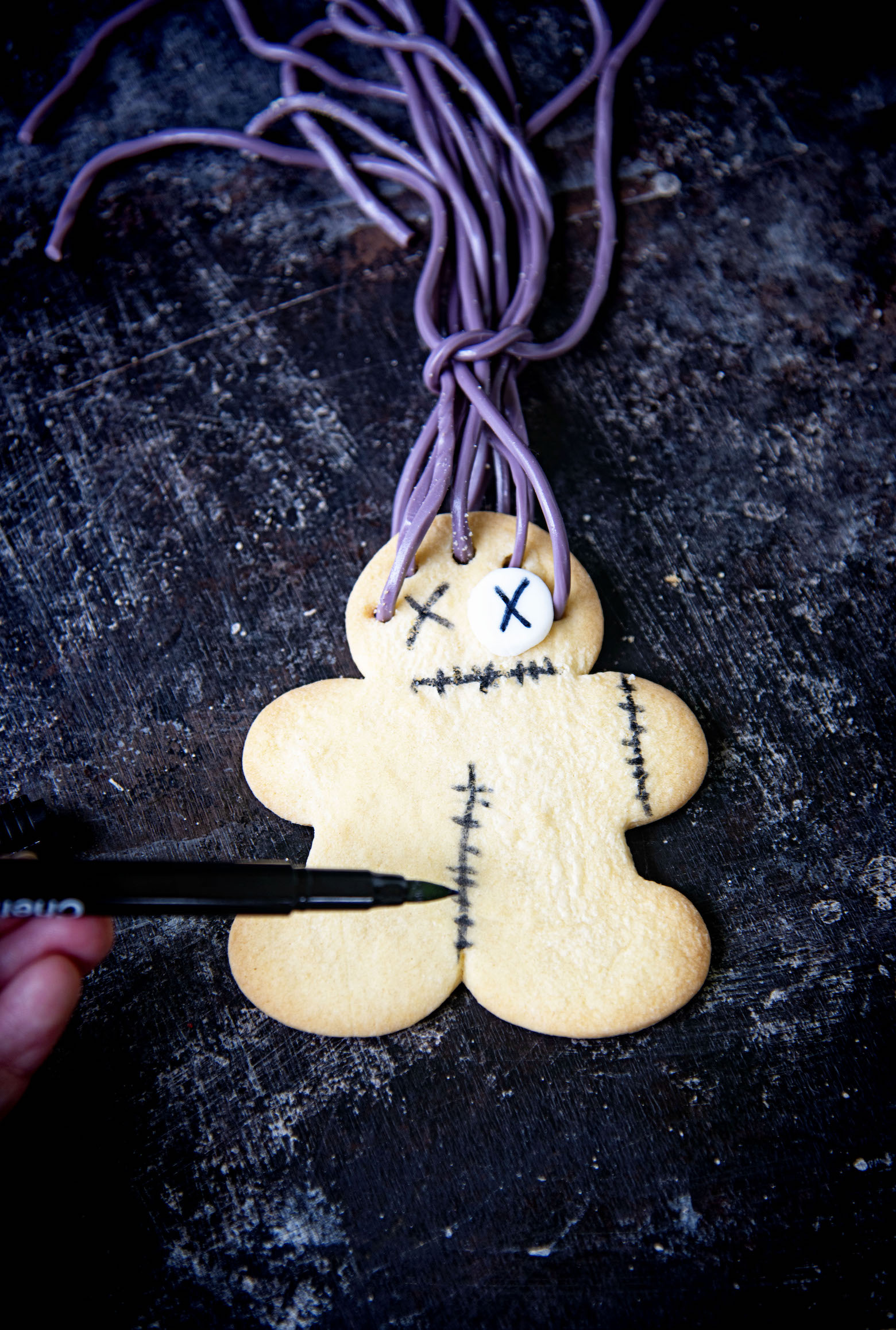 Now grab your corn syrup and a tiny paintbrush.
Paint a heart onto the left side of the doll's chest.
This is kind of hard to see when it's clear.
So later I actually put a drop of red food coloring in there to help guide me to see where it was going.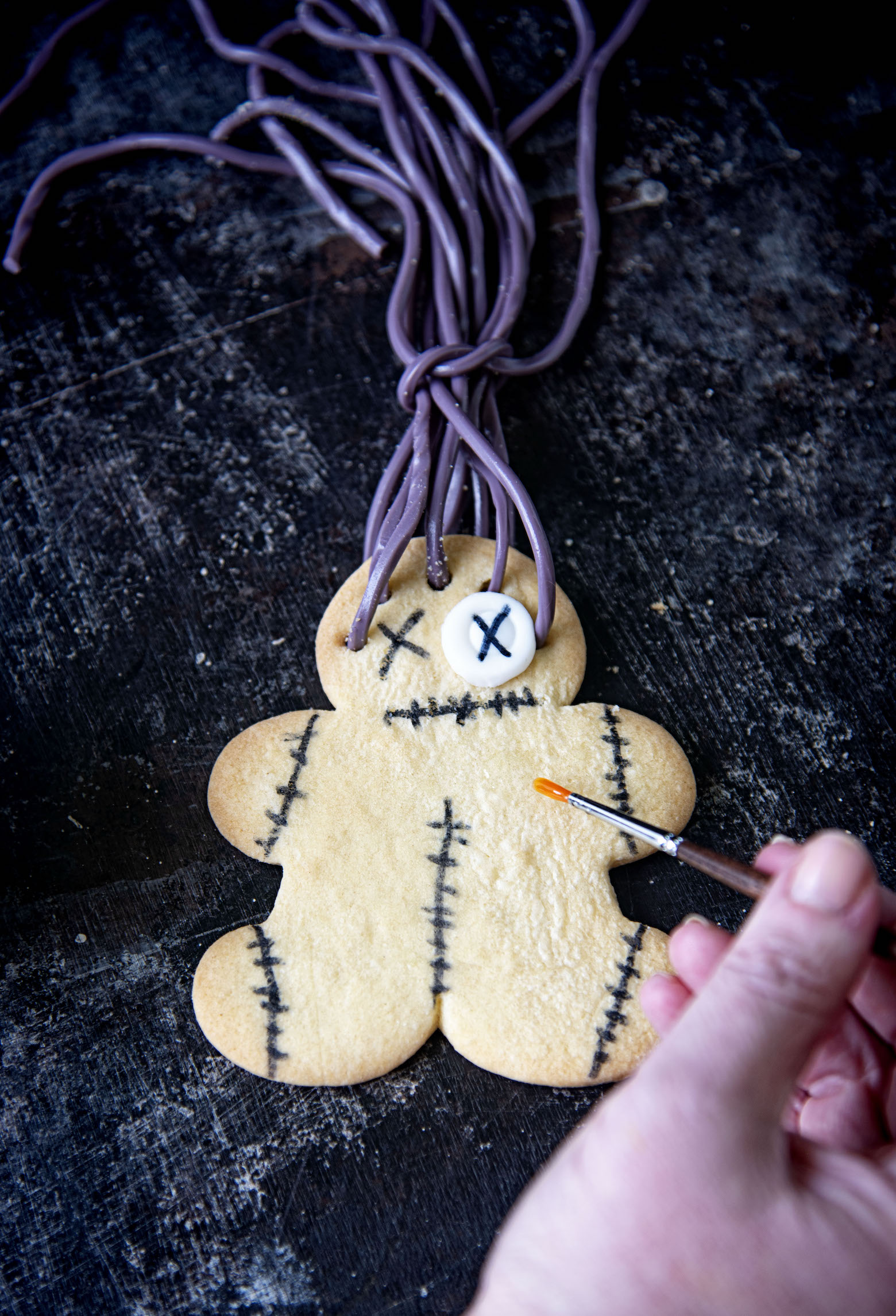 Cover the painted corn syrup heart with red sanding sugar.
You can use your finger or I used a fondant button I screwed up on and press the sugar into the cookie.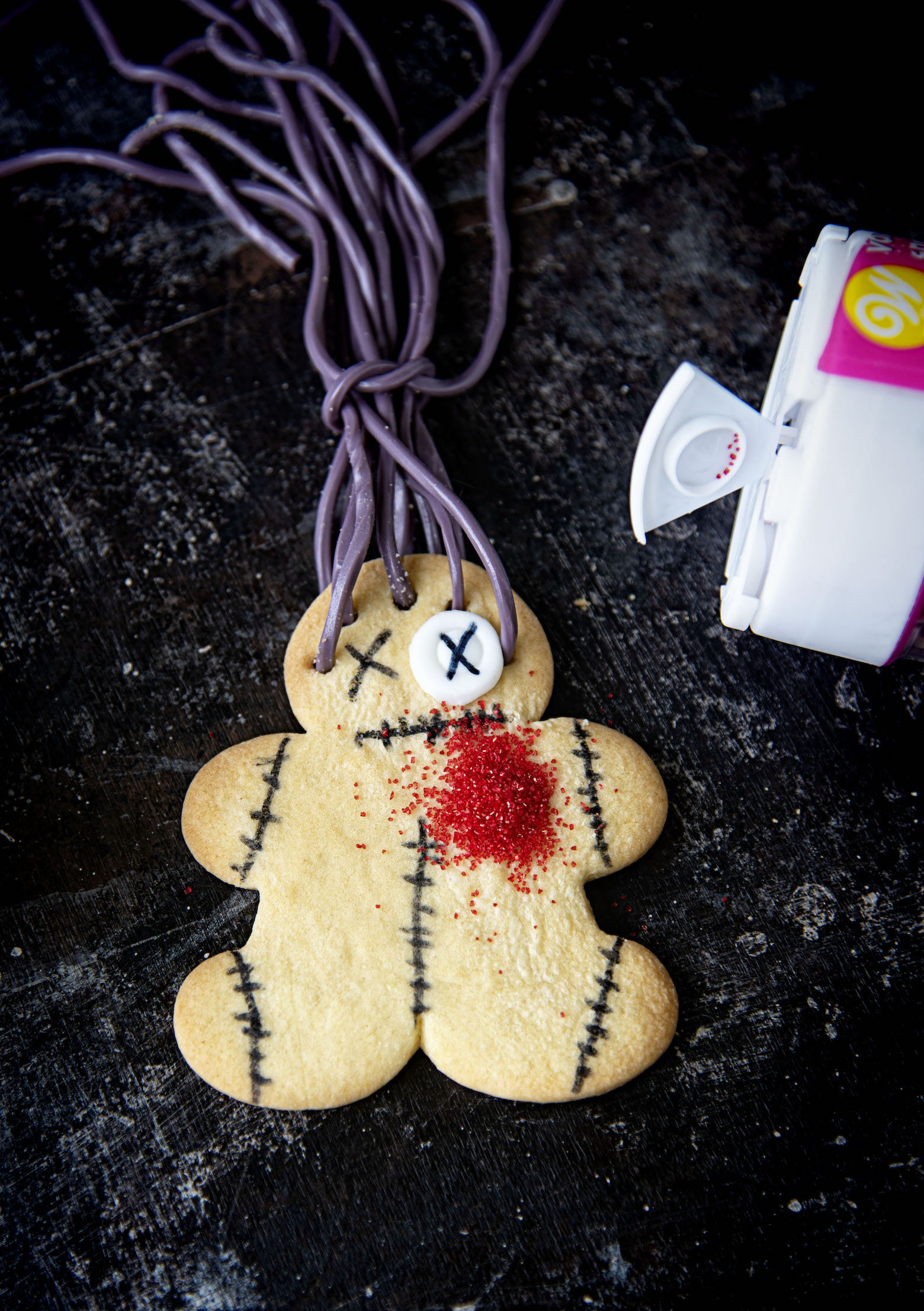 Turn cookie onto its side and tap off excess sanding sugar.
You should hopefully see a heart.
Good and ready to stab. 😀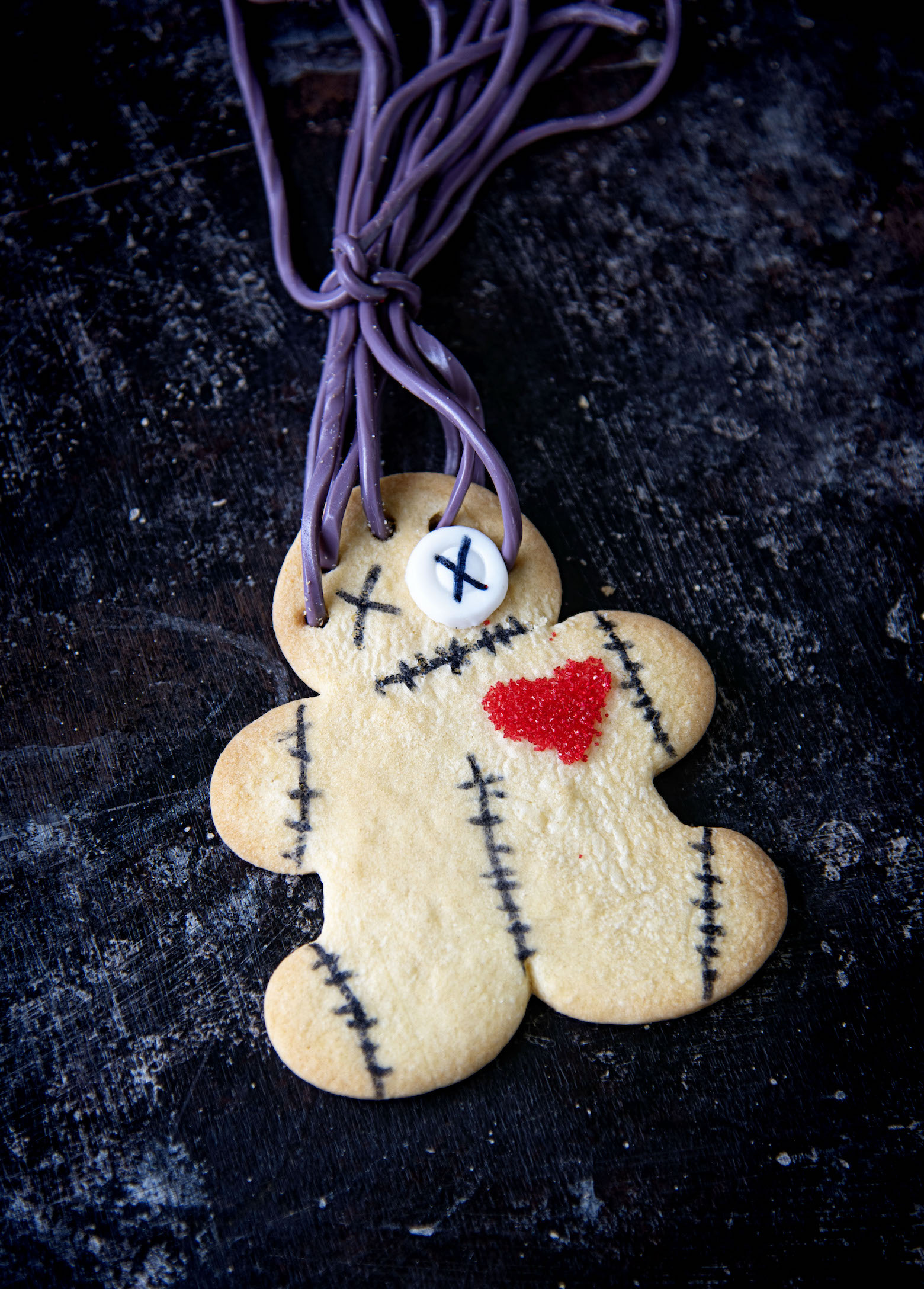 Sprinkle Bakes make her own stick pins using Mike and Ike's and toothpicks.
I was lazy (again) and bought Red Heart Cocktail Sticks.
They were longer than what I wanted so I cut them down.
The little heart twists off pretty easily and I just reattached it with some corn syrup after I cut the stick down.
Make sure to not chop off the end that is pointy.
You need the pointy end to stab.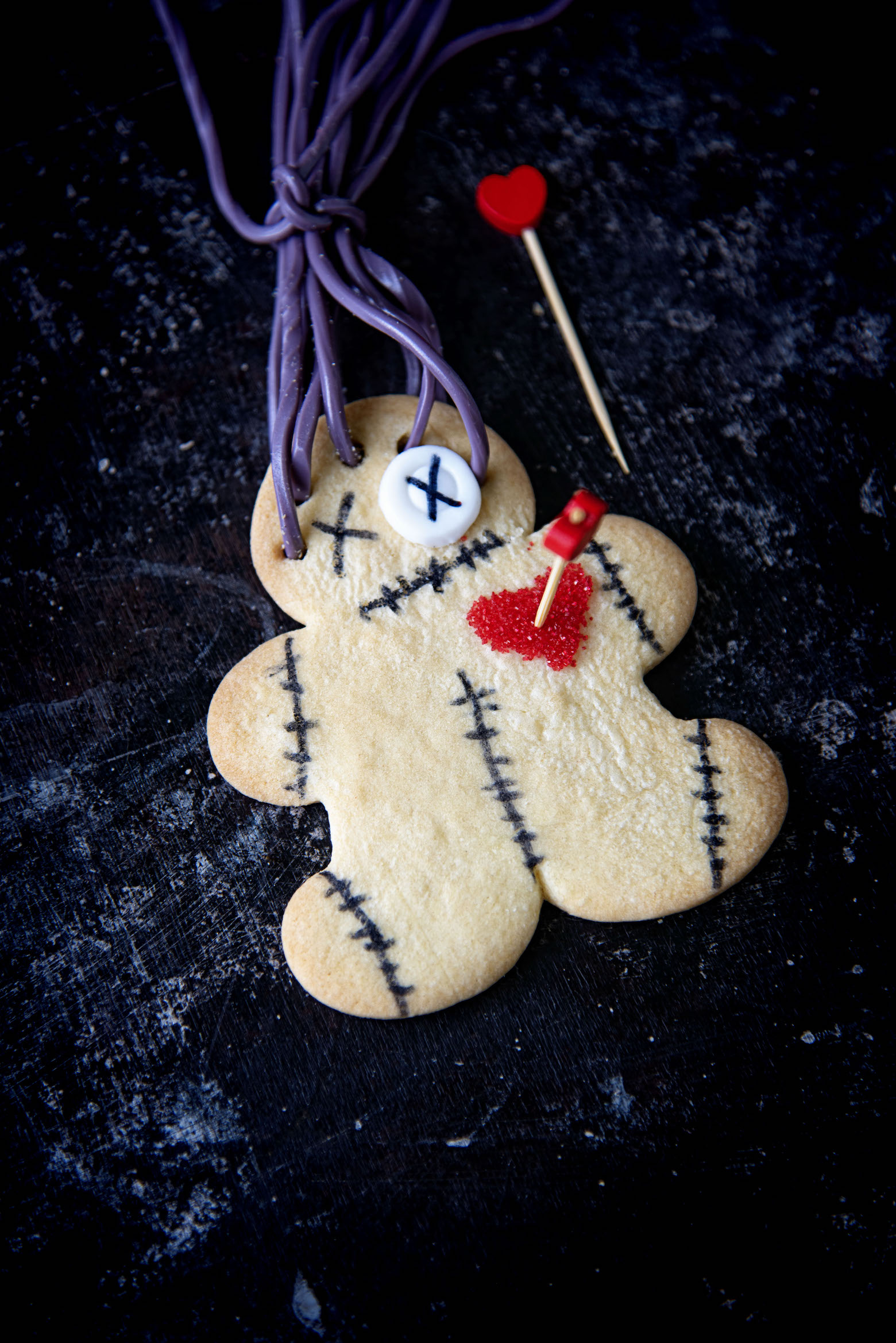 Obviously these take some time.
And in my case some money (those are Amazon affiliate links FYI…cost you nothing…I get a few pennies) since I did not have a lot of the tools to make these since I rarely decorate.
But after making them it was totally worth it.
I'm not skilled at decorating so I was SUPER happy with how they turned out.
That means if I can make them so can you. I made these using both my favorite shortbread cookie dough but those are too delicate and don't spread out.
Normally I don't want my cookies to spread but in this case, especially with all you have to fit on the cookie it was good to make them fat. 🙂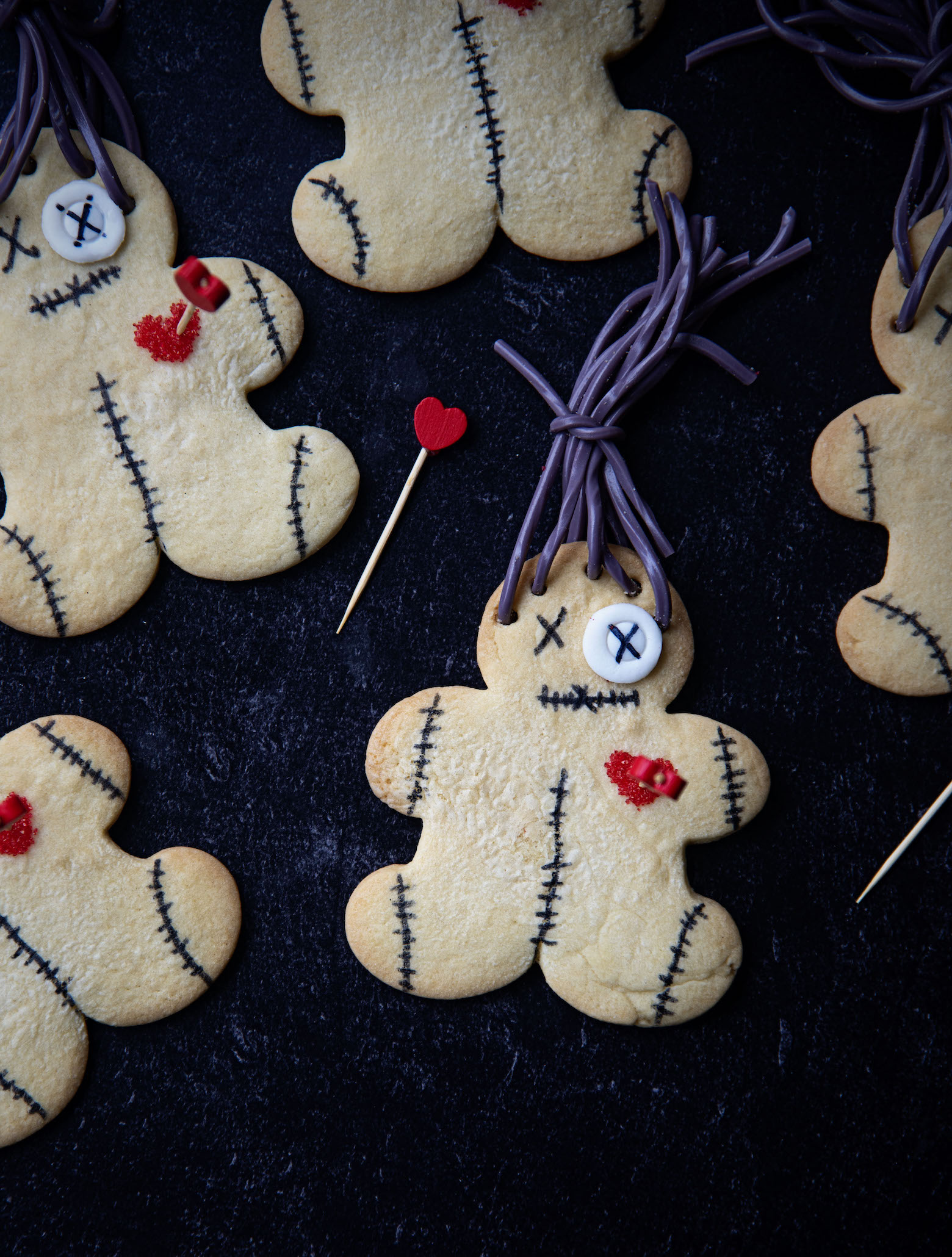 Take a look more spooky Halloween recipes from our #HalloweenTreatsWeek Bloggers today:
Halloween Cookies & Bars:
Halloween Cakes & Cupcakes:
Halloween Brownies:
Halloween Pies & Cheesecakes:
And even more Halloween treats….
Halloween Drinks:
Chilled Halloween Treats:
Sweet Halloween Treats:
Savory Halloween Recipes: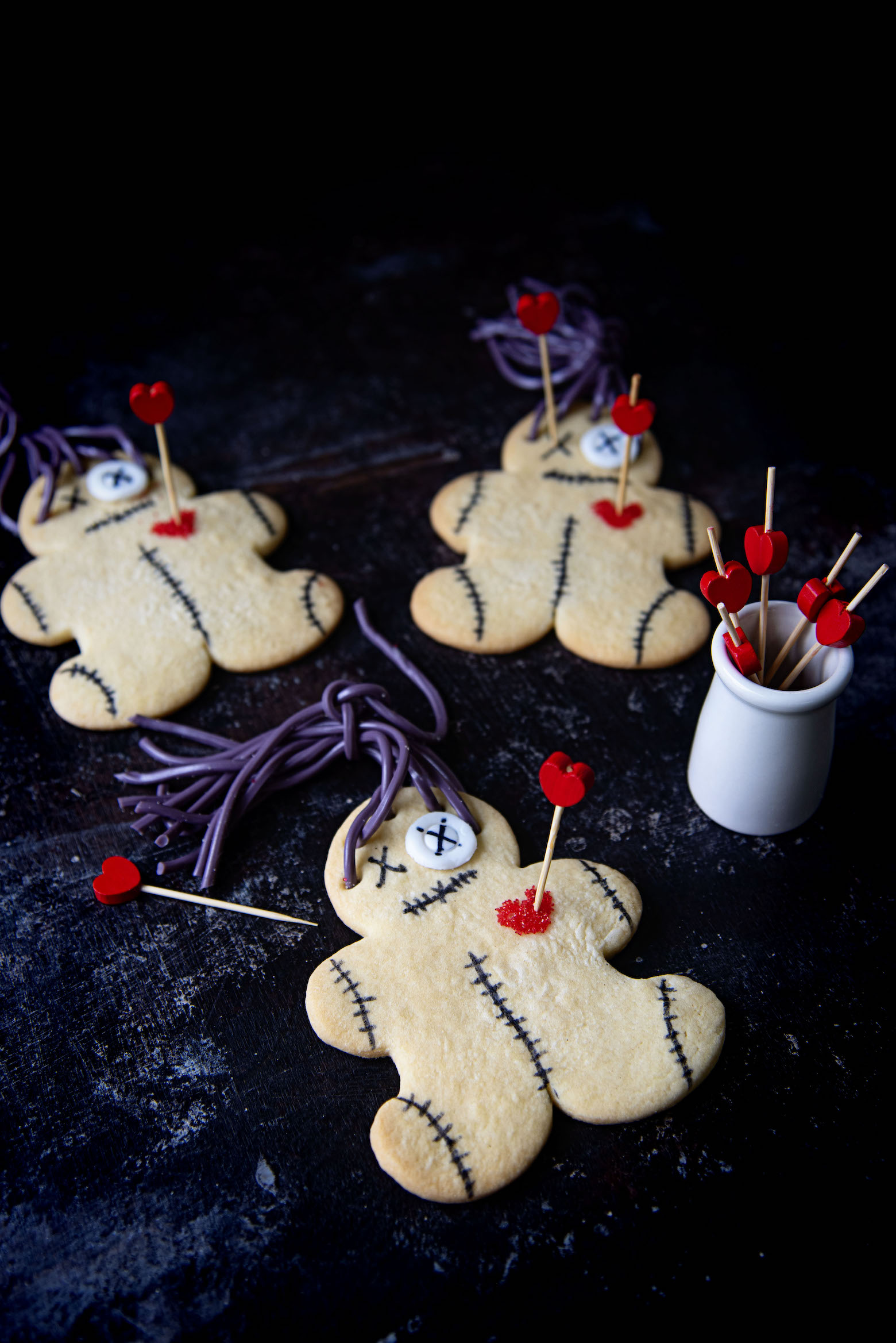 Don't forget about the giveaway with lots of great prizes including my cookbook.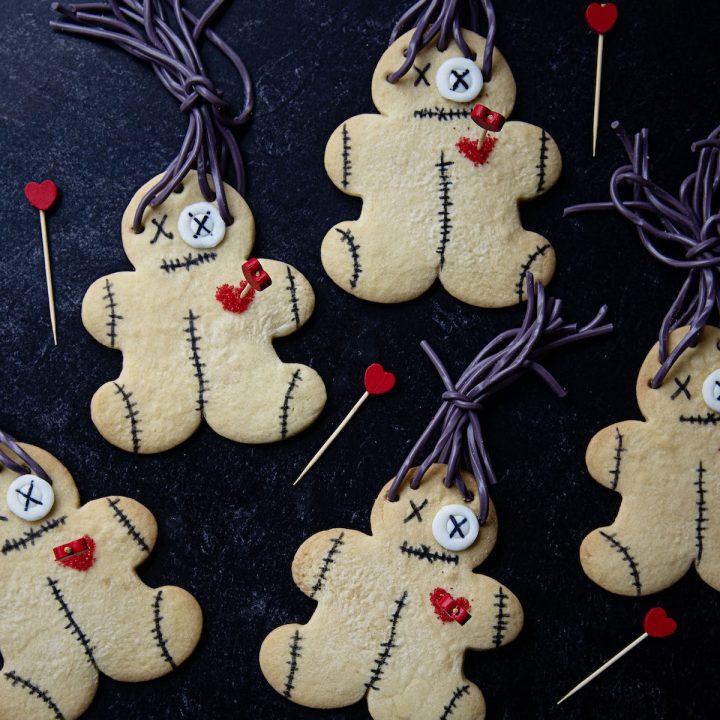 Voodoo Doll Cookies
Ingredients
2 1/4 cups powdered sugar
12 oz (3 sticks) unsalted butter, at room temperature
1 large egg
1 large egg yolk
1 1/2 tsp vanilla extract
3 3/4 cups all purpose flour
1 1/2 tsp baking soda
1 1/2 tsp cream of tartar
Instructions
Preheat oven to 350F.
Cream the powdered sugar and butter for at least 3 minutes.
Add the egg and egg yolk one at a time and scrape down the bowl after they are mixed in.
Add vanilla and mix for 2 more minutes.
Mix in the flour, baking soda and cream of tartar while mixer is on slow speed. Mix till you have a smooth dough.
Chill for at least 4 hours before rolling out.
You are going to use half the dough for this recipe. Save the rest for more cookies later or this makes for a nice cheesecake crust.
Roll out dough and cut using the cookie cutter.
Place them on baking sheets lined with parchment paper.
Place in freezer for 10 minutes.
Remove from freezer and bake for 10-12 minutes.
While you end up making 12 voodoo cookies, I always make extra to eat as I go along or when I screw up and break them. 🙂
For instructions on how to put together the voodoo dolls see the blog post.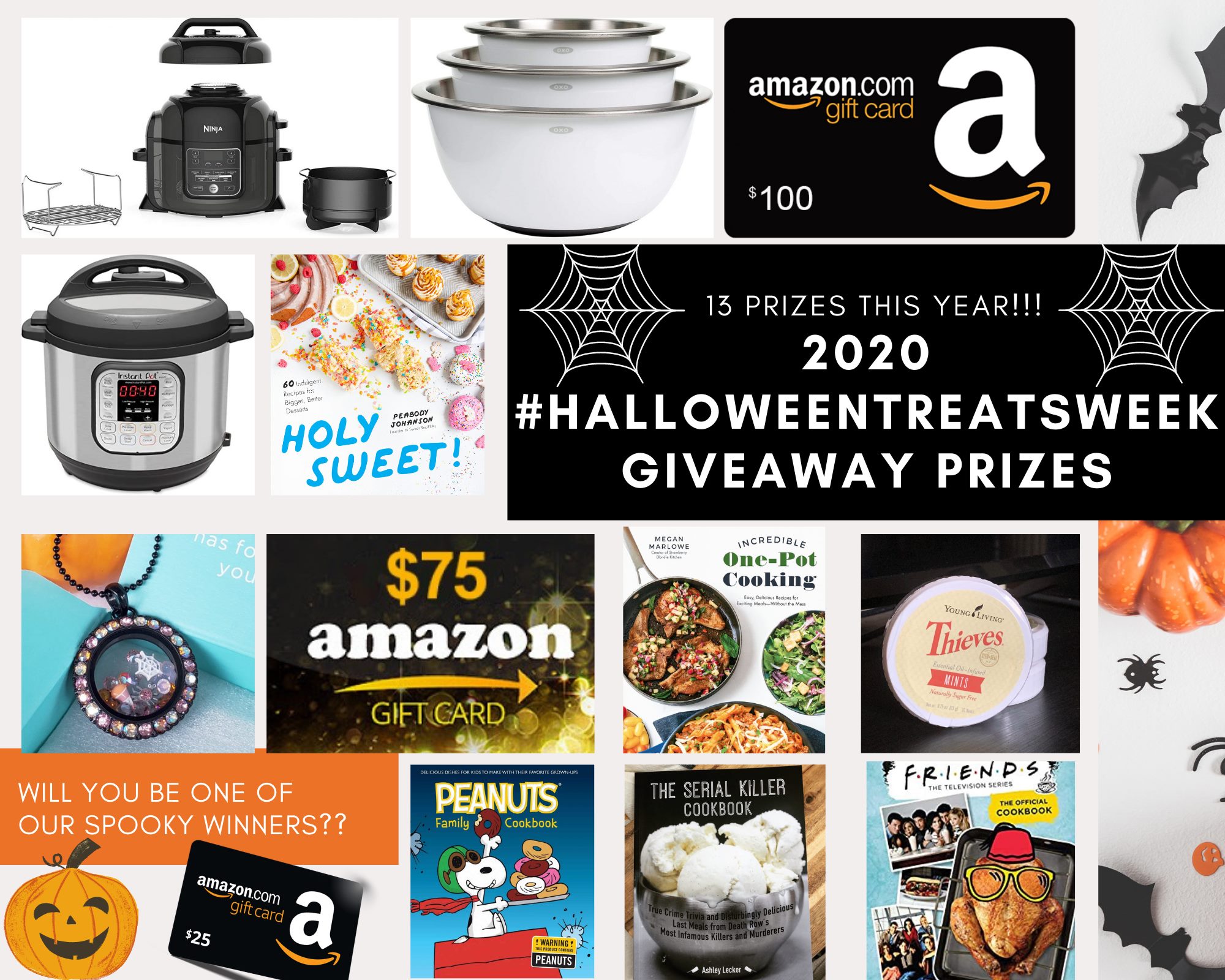 Happy Halloween! Spooky Season is here and it is time for 2020's #HalloweenTreatsWeek event! #HalloweenTreatsWeek is a yearly Halloween blogging event that is hosted by Angie from Big Bear's Wife & its a creepy and haunting week-long event is filled with some amazingly wicked Halloween treats, recipes and some frightfully fun giveaways.
"When witches go riding, and black cats are seen, the moon laughs and whispers 'tis near Halloween."
For the 3rd annual #HalloweenTreatsWeek event we have 30 hauntingly talented bloggers that are sharing their favorite Halloween recipes throughout the week!
Follow the hashtag #HalloweenTreatsWeek on social media and look at the bottom of each post to see all of the Halloween recipes that we're sharing!
Plus, don't forget that we have some great giveaways for you this week thanks to our amazing sponsor and bloggers this year!
Prize #1 from Dixie Crystals
OXO Good Grips 3-Piece Stainless-Steel Mixing Bowl Set
Prize #2 from Angie at BigBearsWife
Ninja OP301 Foodi 9-in-1 Pressure, Slow Cooker, Air Fryer and More, with 6.5 Quart Capacity and 45 Recipe Book, and a High Gloss Finish
Prize #3 from Nicole Taggart's Origami Owl Jewelry Bar
Origami Owl Locket and Halloween Charms
Prize #4 from Kathy at Lemon Blossoms
6 Quart Instant Pot Duo 7-in-1 Electric Pressure Cooker
Prize #5 from Terri at Our Good Life
Young Living's Thieves Mints ($50 Value)
Pop a Thieves Mint into your mouth for cinnamint-fresh breath after meals. Made with naturally derived ingredients and free of artificial sweeteners, dyes, and preservatives, Thieves Mints are a choice you can feel good about. Created with Young Living's Thieves essential oil blend, these mints deliver minty coolness with a hint of warm, sugar-free sweetness. Thieves Mints come in a conveniently sized container that is great to take on the go!!
Prize #6 from Julie at Back To My Southern Roots
1 Copy of – The Peanuts Family Cookbook: Delicious Dishes for Kids to Make with Their Favorite Grown-Ups
1 Copy of her new cookbook "Holy Sweet! 60 Indulgent Recipes for Bigger, Better Desserts"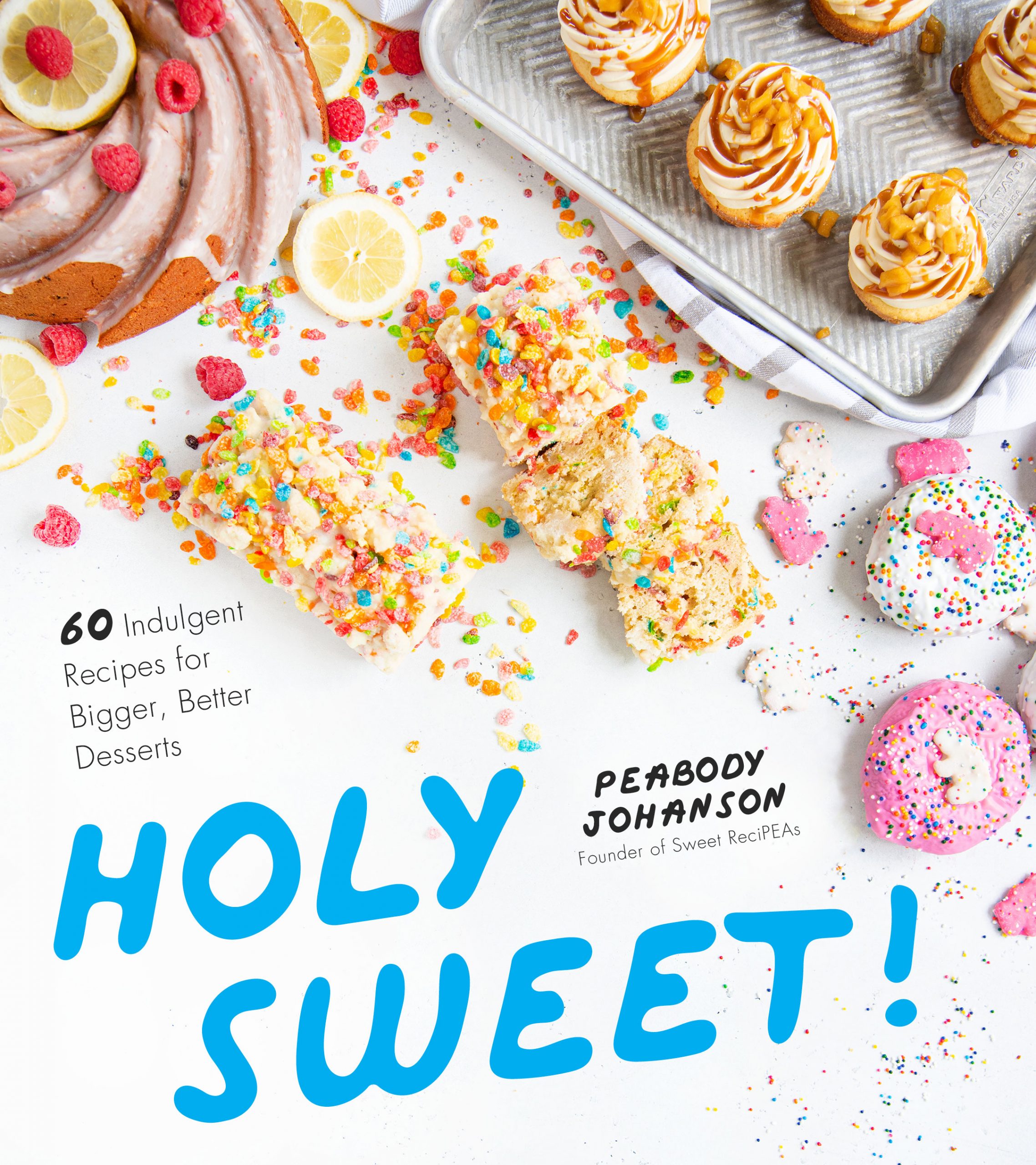 Prize #8 from Megan of Strawberry Blondie Kitchen
1 Copy of her cookbook, "Incredible One-Pot Cooking: Easy, Delicious Recipes for Exciting Meals Without the Mess"
Prize #9 from Nicole of For the Love of Food Blog
1 Copy of "Friends: The Official Cookbook"
Prize #10 from Michaela from An Affair from the Heart, Jennifer from Take Two Tapas and Michele from West Via Midwest
ONE (1) $75 Amazon gift card
Prize #11 from Shanaka from It's Shanaka
ONE (1) $25 Amazon gift card
Prize #12 from Ashley from Cheese Curd In Paradise
1 Copy of her cookbook, " The Serial Killer Cookbook: True Crime Trivia and Disturbingly Delicious Last Meals from Death Row's Most Infamous Killers and Murderers"
Prize #13 from Amy from House of Nash Eats
ONE (1) $100 Amazon gift card
Giveaway open to US Residents 18 years or older.
All entries will be verified.
No PO Boxes Please.
Prizes will be sent directly from sponsors to winners, bloggers are not responsible for prizes.
This giveaway runs from October 5th – October 10th at 11:59PM EST.
Winners will be selected soon afterward and contacted by e-mail.
Winners will have 48 hours to respond or a new winner will be chosen.
There are a total of 14 prizes and therefore we will have a total of 14 winners.
No purchase necessary.
Void where prohibited by law.
Disclaimer: These posts and recipes are part of the week-long event, #HalloweenTreatsWeek but all opinions are 100% mine!
We would like to Thank our amazing brand sponsors: Dixie Crystals that provided a prize pack for our giveaways and also sent some samples and products to the #HalloweenTreatsWeek bloggers to use in their recipes.
We would also love to give a huge thanks to our Halloween Treats Week bloggers because a lot of them also donated prizes for the giveaways, including: Angie of BigBearsWife , Nicole of Nicole Taggart's Origami Owl Jewelry Bar, Kathy of Lemon Blossoms, Terri of Our Good Life, Julie of Back To My Southern Roots, Peabody of Sweet ReciPEAS, Megan of Strawberry Blondie Kitchen, Nicole of For the Love of Food Blog, Michaela of An Affair from the Heart, Jennifer of Take Two Tapas , Michele of West Via Midwest, Shanaka of It's Shanaka, Ashley of Cheese Curd In Paradise, and Amy from House of Nash Eats!