These Fruit Punch Moonshine Jelly Shots are full of fruit punch flavor and pack quite a punch by using 50 proof moonshine.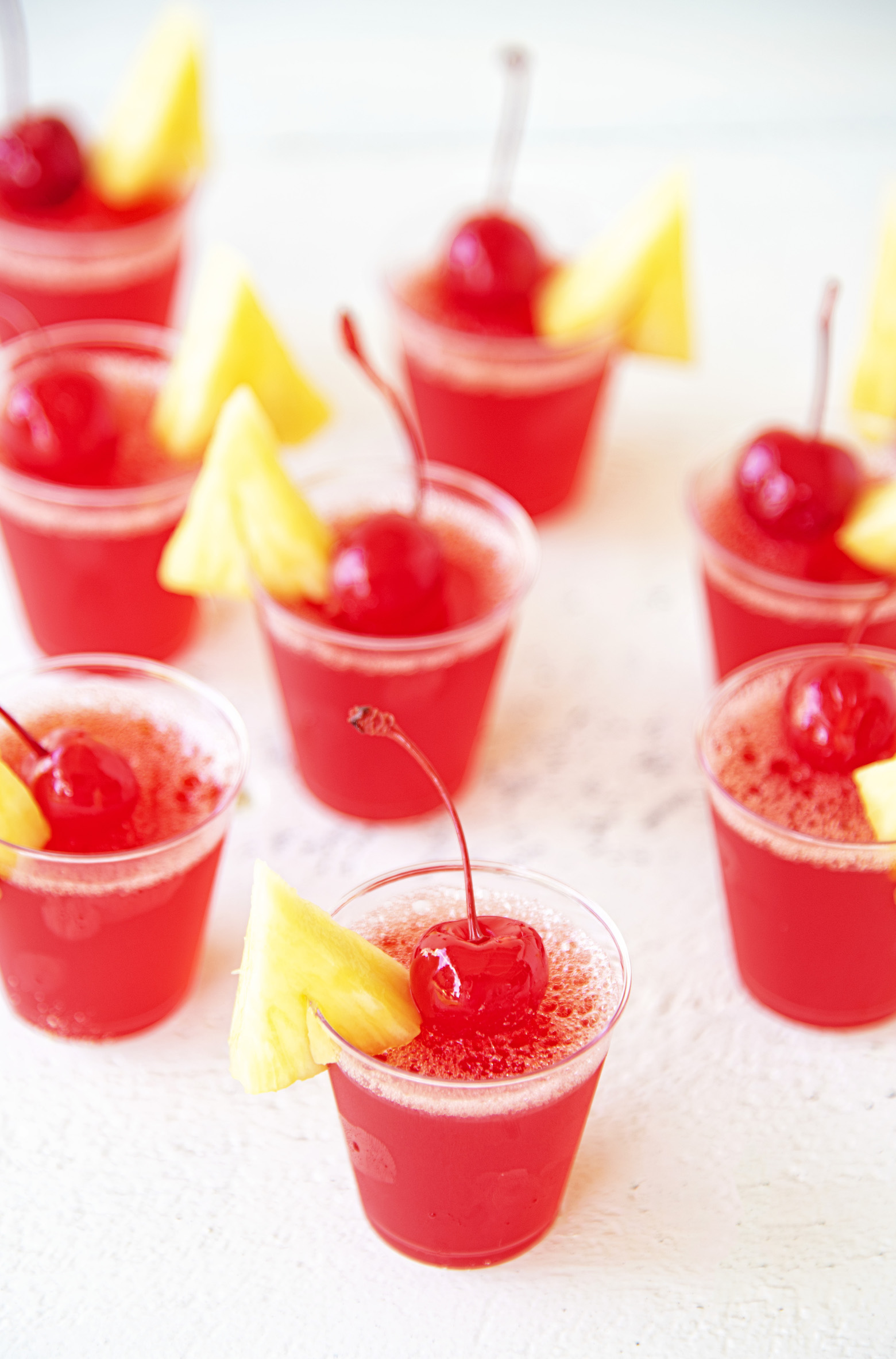 Any birthday party I went to as a kid had fruit punch.
Ironically because it was deemed healthier because it had fruit. 😀
You have got to love the power of advertising and marketing.
It didn't help that we were throwing back cake and ice cream along with the fruit punch.
Luckily for most parents the kids ran around screaming the whole time so by the time you got home your kid was asleep in the back of the car.
Exhausted and in a sugar coma.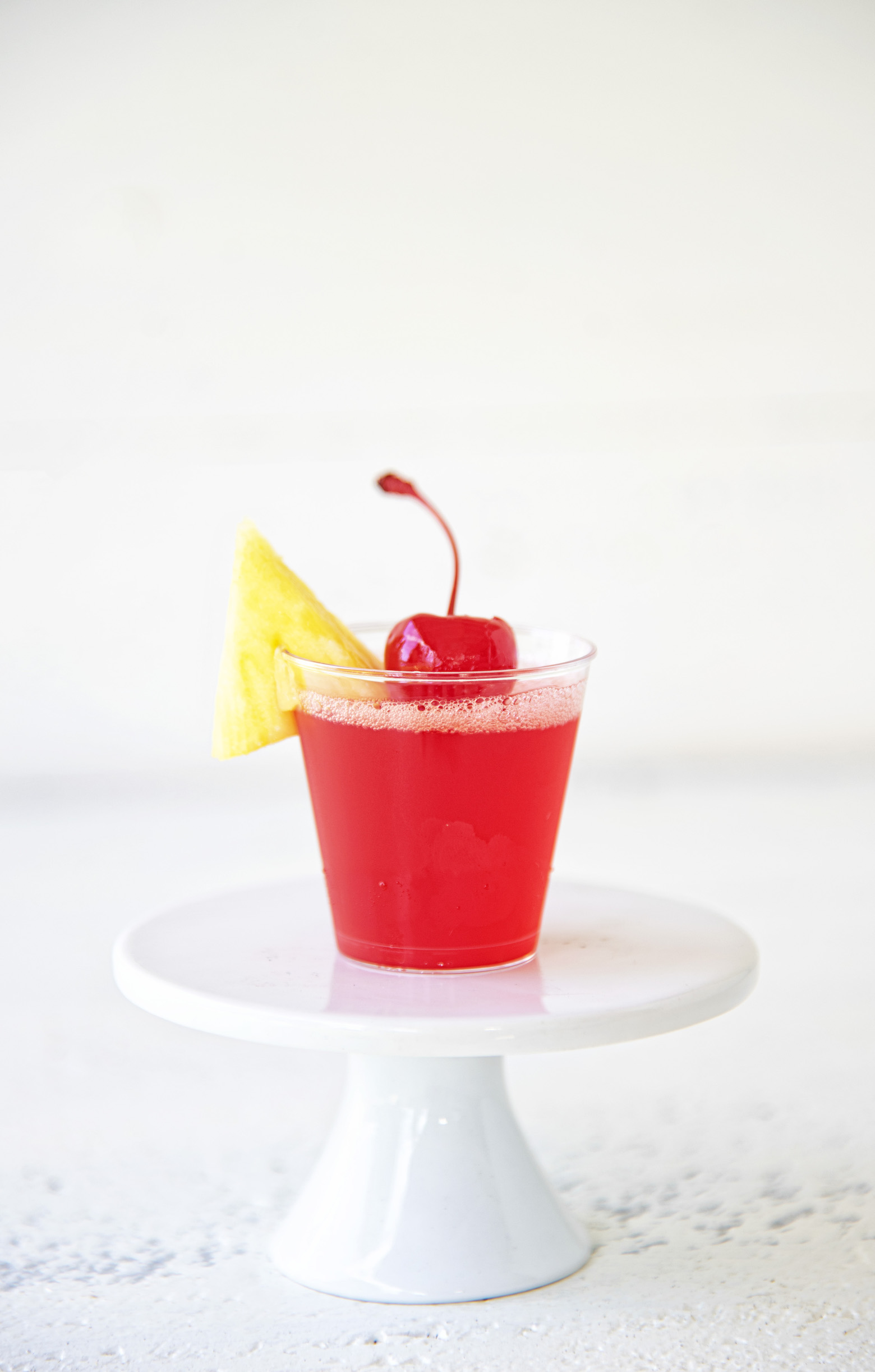 Pretty much everyone I know likes fruit punch. Or at least fruit punch flavored items.
A few years ago there was a fruit punch gelatin flavor.
And honestly they need to bring it back.
As someone who makes a lot of Jelly Shots I would love to sit down with the makers of gelatin.
And tell them what flavors they should offer all the time for us Jelly Shot makers.
Because they are missing out on a big market.
Or at least they are right now because based on my traffic you all are making some Jelly Shots.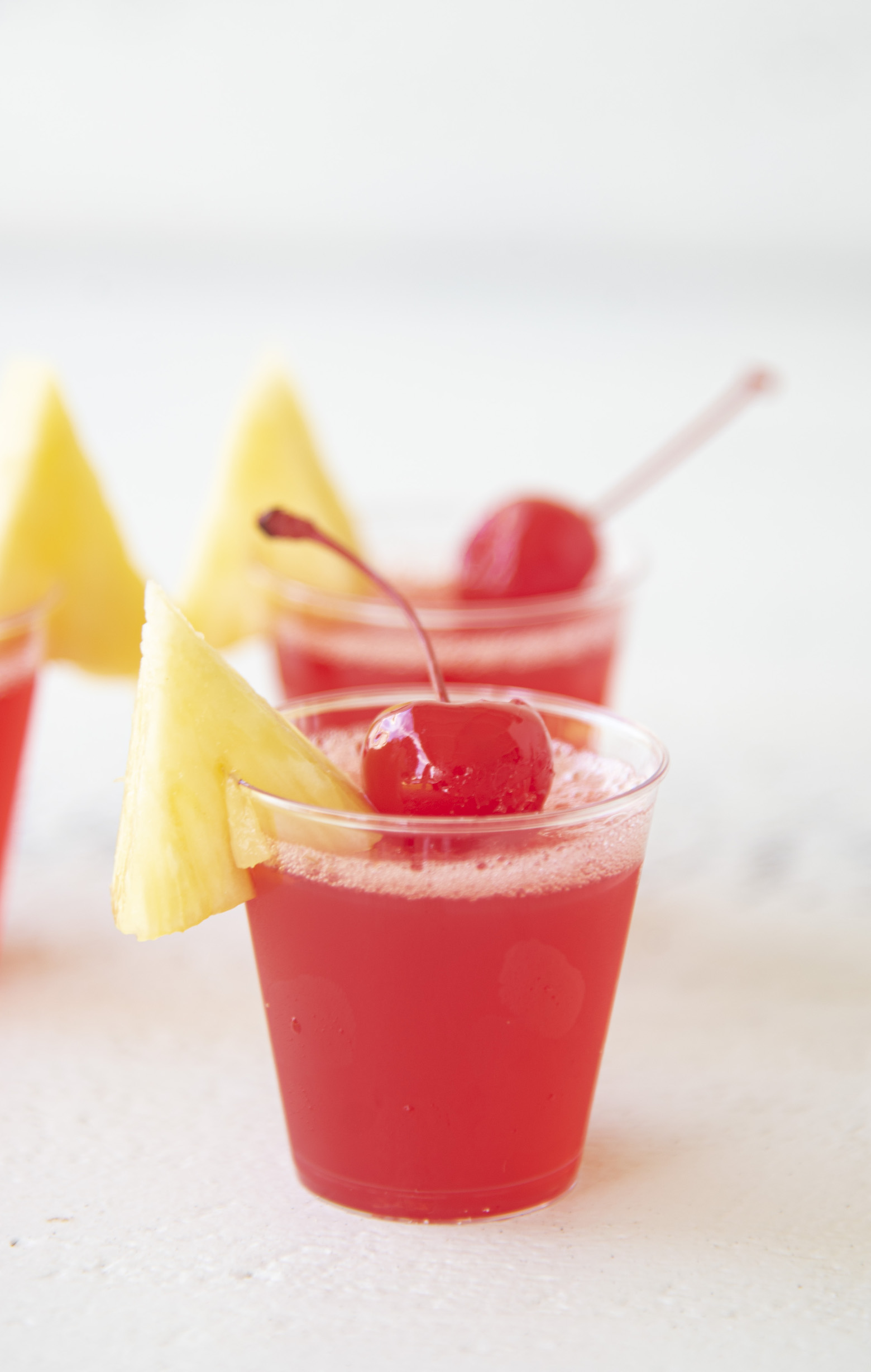 Since I can no longer find fruit punch flavored gelatin, I went with their Island Pineapple flavor to make these Fruit Punch Moonshine Jelly Shots.
It works well with this. I also used Hawaiian Punch Original Red for this.
Because that's the fruit punch I liked as a kid.
Though Minute Maid Berry Punch is my favorite of all time.
I probably should make a Jelly Shot with that flavor as well.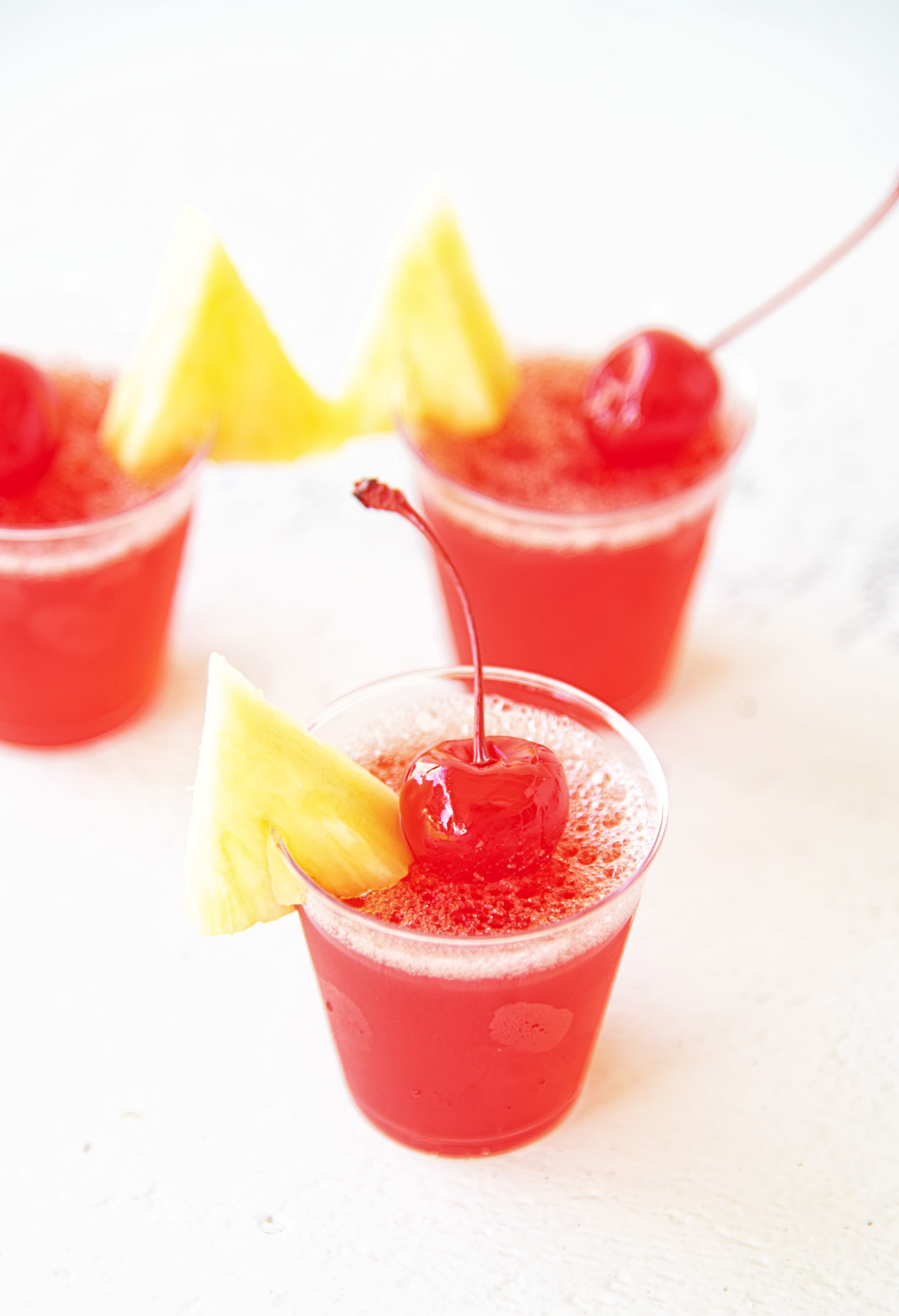 While traditionally the main booze I use in my Jelly Shots is vodka, I chose to go with moonshine this time.
My favorite Moonshine company (Sugarlands) has NASCAR themed moonshine and when I saw they had a fruit punch flavor I put it in the cart.
Cole Swindell is the fruit punch flavor.
I'm assuming that's a driver. 🙂
My husband calls these ones dangerous.
Because they just taste like fruit punch and you don't really taste the booze.
So you have quite a few of them.
And the next thing you know you can't feel your teeth.
Then maybe you will go online and order my cookbook…or 8 of my cookbooks. 😀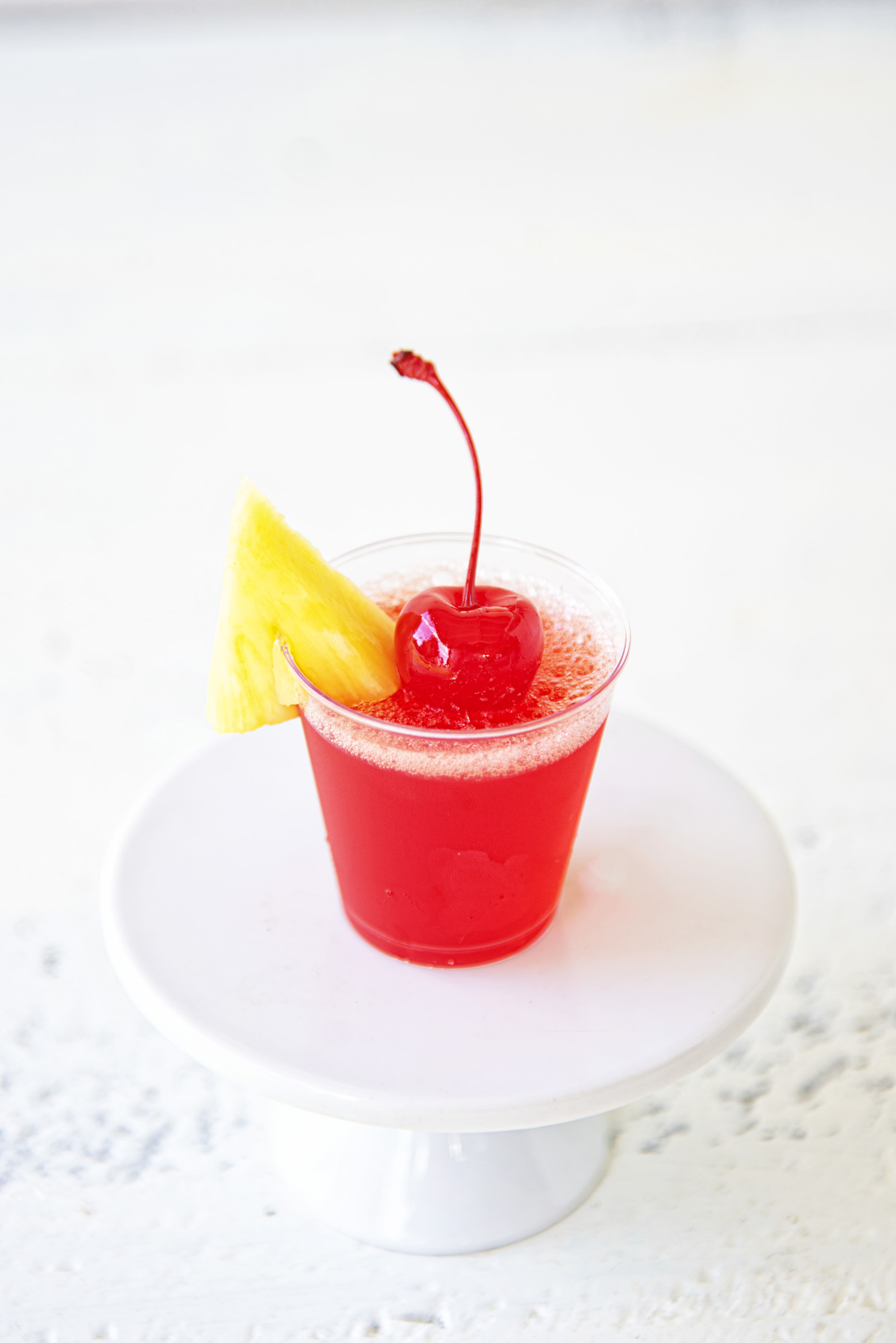 Want More Jelly Shot Recipes?
Peanut Butter Grape Jelly Jelly Shots
Dole Whip Pineapple Jelly Shots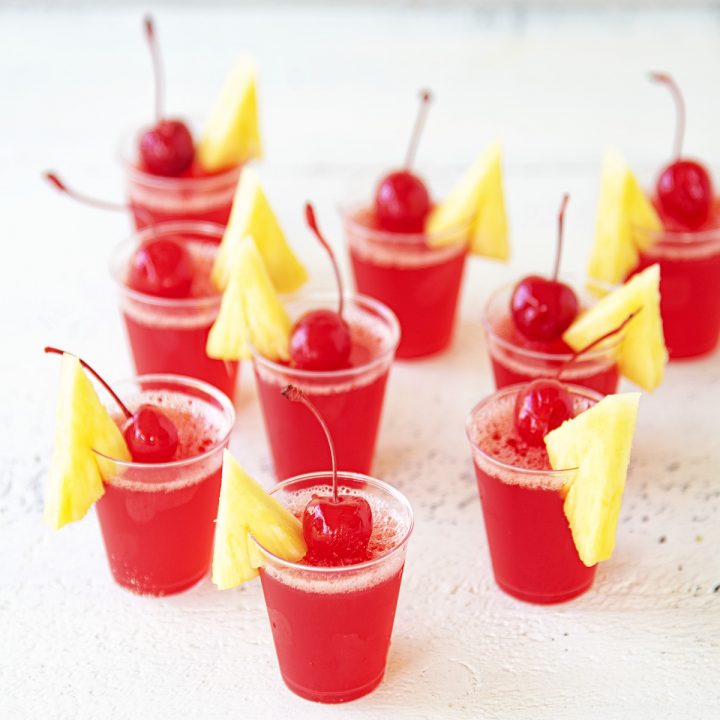 Fruit Punch Moonshine Jelly Shots
Ingredients
3 cup Red Fruit Punch, divided
2 (3 oz) packages Island Pineapple gelatin
1 cup Cole Swindell's Pre Show Punch Moonshine (or any fruit punch flavored moonshine)
fresh pineapple for garnish
maraschino cherries for garnish
Instructions
Bring 1 1/2 cups fruit punch to a boil.
Empty gelatin powder into a large mixing bowl and add the boiling fruit punch.
Continue stirring for two minutes or until the jello is completely dissolved.
Add in the cold fruit punch and Cole Swindell's Pre Show Punch Moonshine.
Stir until mixed and pour into 2oz. cups filled 1/2 to 3/4 of the way.
Top with a small piece of pineapple and maraschino cherries if desired.