This Lemon Coconut Mascarpone Pound Cake is made like a traditional cream cheese pound cake but uses Mascarpone cheese instead.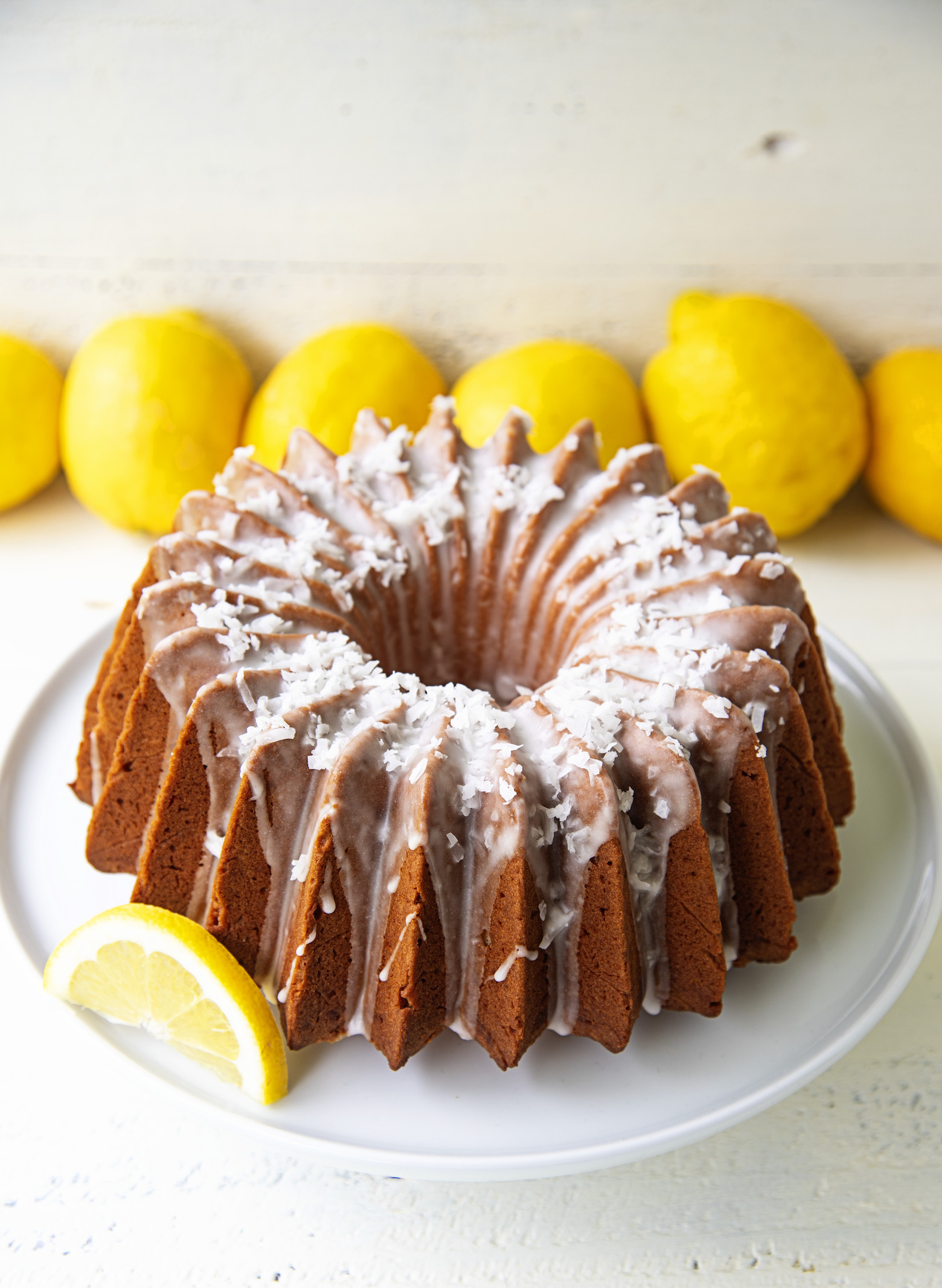 I don't usually get to see my dad on Father's Day.
When we see my parents is usually Christmas and in the last couple of years Easter or Mother's Day.
Part of that is because once summer hits where my parents live there are a ton of tourist.
And usually someone is staying at their house with them.
My parents are always busier than I am. 😀
But this year I was a bit sad not getting to see my dad.
I haven't seen my parents since May 2019.
They had planned to be here for Christmas but my dad injured himself and could not travel.
Then we rescheduled for Easter, and well, we all know how that turned out.
Thanks COVID.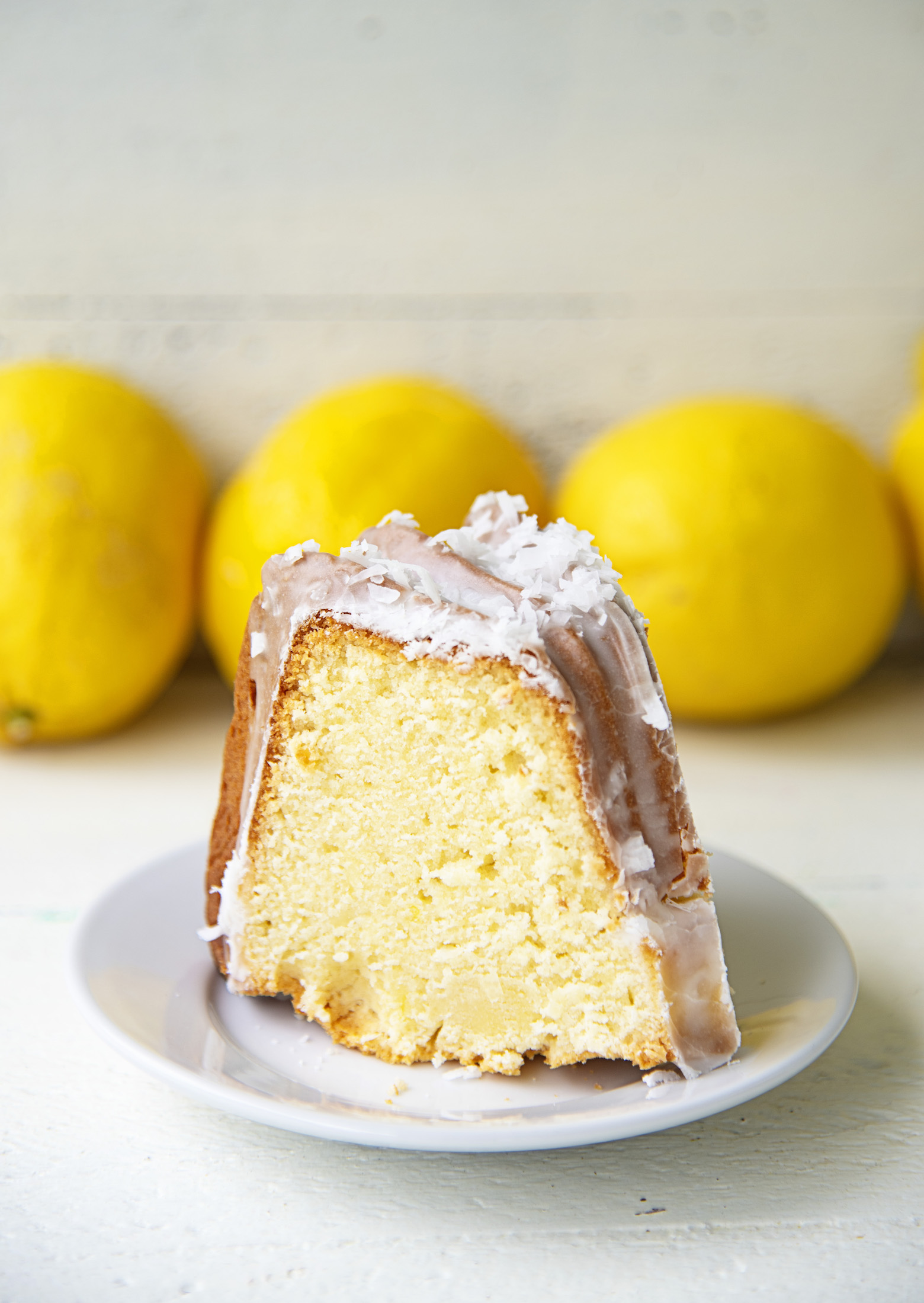 And it's still here everyone.
The virus.
It didn't go away because you want to work on your tan at the beach or have your Bloomin Onion at the Outback.
I get it.
We are over it.
And we are tired of it.
Trust me, I've only been out of the house to take the dogs to the vet and even then my husband comes and he is the one who interacts with the people…I stay in the car.
So I get that you are stir crazy.
But watching my friends in Arizona start to deal with what we in the Seattle are dealt with in March and April is sad.
Watching people with no masks flood into the bar scene like it's no big deal.
Yet, it is.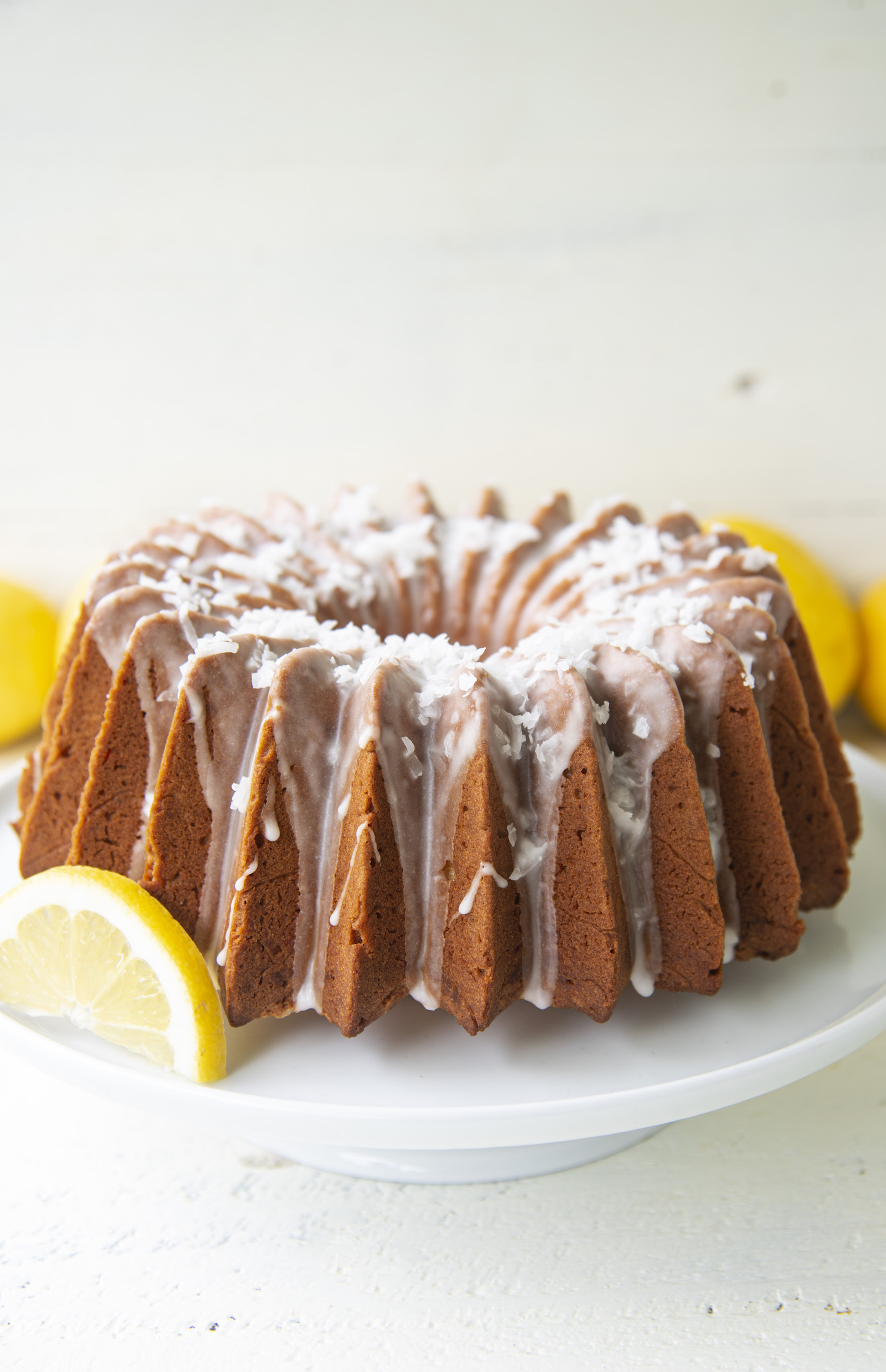 So while I stay home and try and stay safe I continue to bake.
I continue to try and chip away at the five pound tub of Mascarpone that we bought.
That I swear is just regenerating every time I use it.
It does not appear to be getting any smaller.
This Lemon Coconut Mascarpone Pound Cake is essentially a cream cheese pound cake that I subbed in Mascarpone cheese instead.
Makes for a great textured cake.
If you are not a fan of coconut you can always not use it.
The cake will still turn out if you just make it lemon.
I, of course, like the coconut…which is why I put it in there. 😀
And as always wash your hands and be sure to order my cookbook. 
Want More Pound Cake Recipes?
Bourbon Brown Butter Chocolate Chip Cake
Strawberry Lemonade Bundt Cake
Whiskey Glazed Apple Buttermilk Pound Cake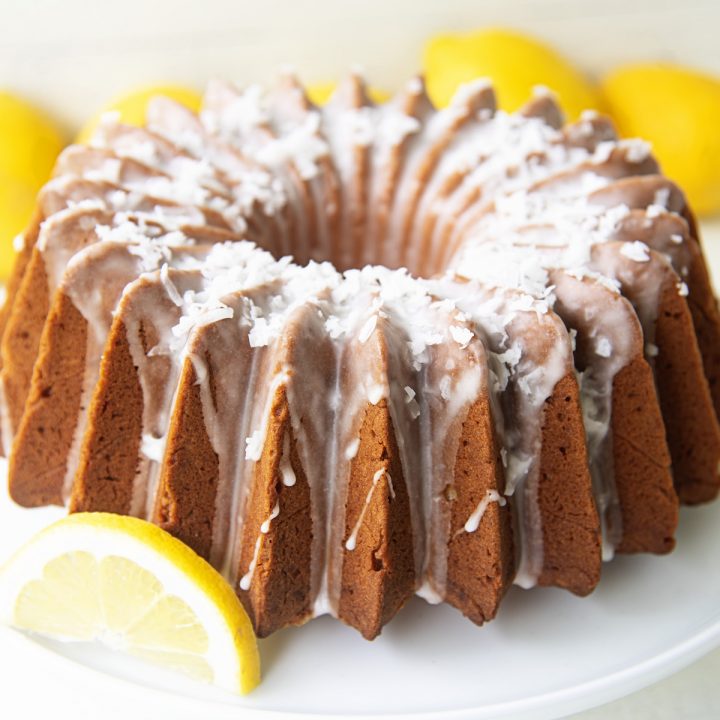 Lemon Coconut Mascarpone Pound Cake
Ingredients
For the Cake:
1 1/2 cups unsalted butter, at room temperature
8 oz. Mascarpone cheese, at room temperature
3 cups granulated sugar
6 eggs
3 cups All-Purpose Flour
½ tsp. salt
¼ cup buttermilk
Zest of two lemons
1 cup shredded sweetened coconut
For the Glaze:
2 cups powdered sugar, sifted
2-4 TBSP fresh lemon juice
coconut as garnish
Instructions
For the cake:
Preheat oven to 325F degrees.
Spray a 12 cup Bundt pan with baking spray.
Using a stand mixer with a paddle attachment, beat butter and Mascarpone together until smooth, about 3 minutes.
Add sugar slowly, beat on medium speed until mixture is light and fluffy.
Add eggs to batter, one at a time, scraping down the sides and bottom of bowl after each addition.
In a separate bowl, whisk together flour and salt; add to butter mixture, alternating with buttermilk, beginning and ending with flour.
Beat batter on low, after each addition, until blended.
Add lemon zest and lemon juice powder and stir until incorporated.
Fold in the coconut.
Pour batter into prepared Bundt pan.
Bake for 1 hour and 30 minutes to 1 hour and 35 minutes or until a cake tester inserted in the center of the cake come out clean.
For the Glaze:
Whisk ingredients together and pour over cake. Sprinkle with coconut if desired.