Butterscotch Swedish Visiting Cake Bars: Very non-traditional Swedish Visiting Cake made into bars and filled with butterscotch chips and a crisp almond meringue topping.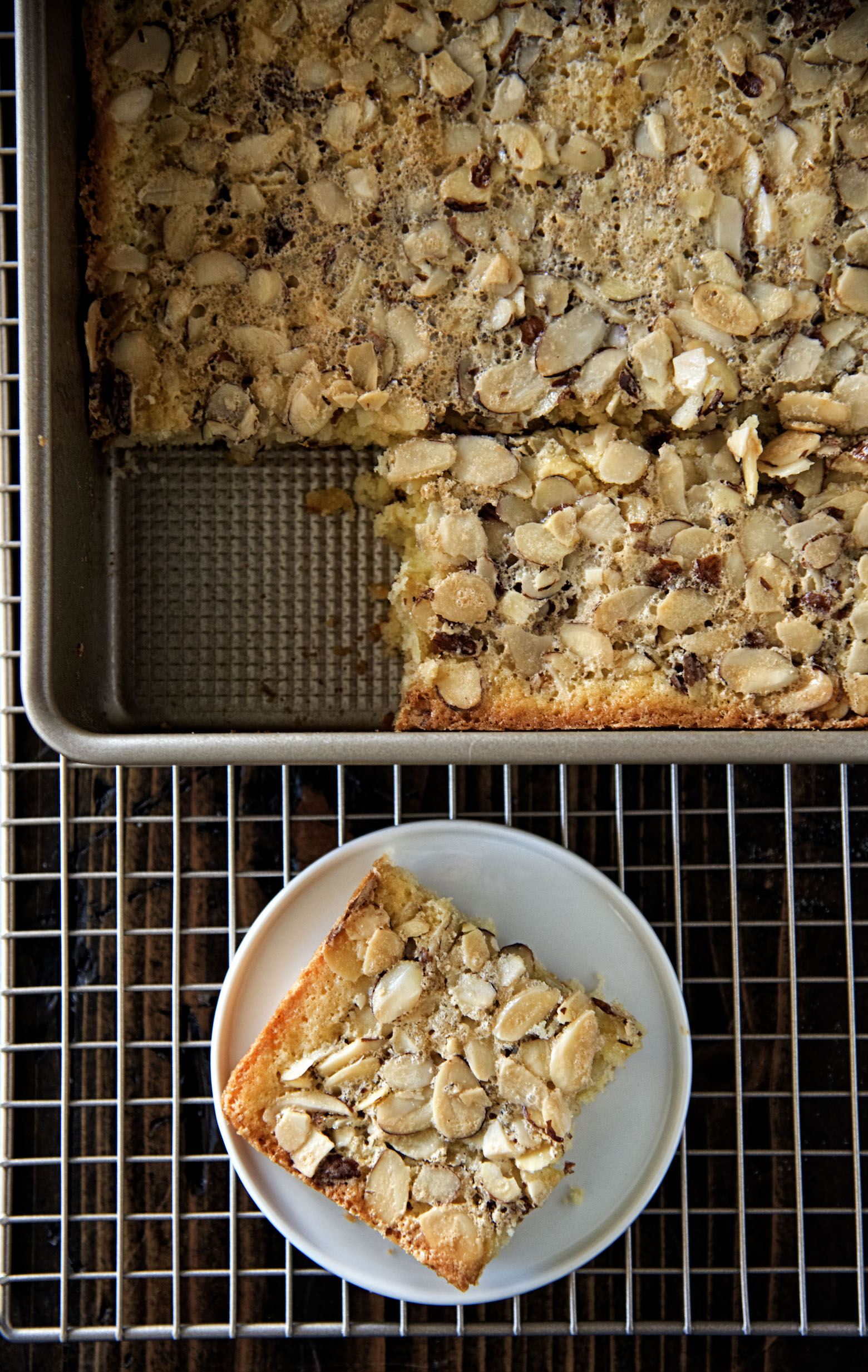 OXO is partnering with chef-supporters of Cookies for Kids' Cancer who are providing recipes we hope will inspire people to host their own Cookies for Kids' Cancer bake sales.
In 2016 OXO told me they were teaming up with Dorie Greenspan and bloggers for Cookies for Kid's Cancer I jumped on board and jumping in again this year.
This isn't a sponsored post in that I received money but sponsored in that OXO did send me some fun goodies to play with to help make my Butterscotch Swedish Visiting Cake Bars.
Here is what they sent me:
Non-Stick Pro Cake Pan – 9″ Square:  Absolutely love this pan. It's got good weight to it and the bars came easily out of it.
Has a nice depth to it as well. I also love that it's 9 and not 8-inches.
5lb Food Scale with Pull Out Display: Long time readers of this blog know that I love me a food scale.
This one is really nice in that it goes up to 5 pounds and it's wide so you can put a plate on it and not just a bowl.
Also great for weighing small amounts.
11″ Balloon Whisk: If you are a baker you can never have too many whisks.
This one was nice for beating though must admit I had to break out the mixer as I hurt my hand at hockey a few weeks back.
Non-Stick Cooling and Baking Rack: This is a great cooling rack.
I especially love that it has handles on it which is a great feature that is not on any of my other cooling racks.
Now onto these cookies.
Even though this is Cookies for Cancer, these bars are really more cake like.
The original recipe did not have butterscotch but I can't bring myself to make the same recipe as every one else. 🙂
I love the addition of the butterscotch chips and so did my husband.
Traditional Swedish Visiting Cake does not have a topping but the almond meringue top is a great addition.
*While I worked with OXO on this post the opinions, bad grammar, and overuse of emoji's is all mine. I did receive products from OXO for this post.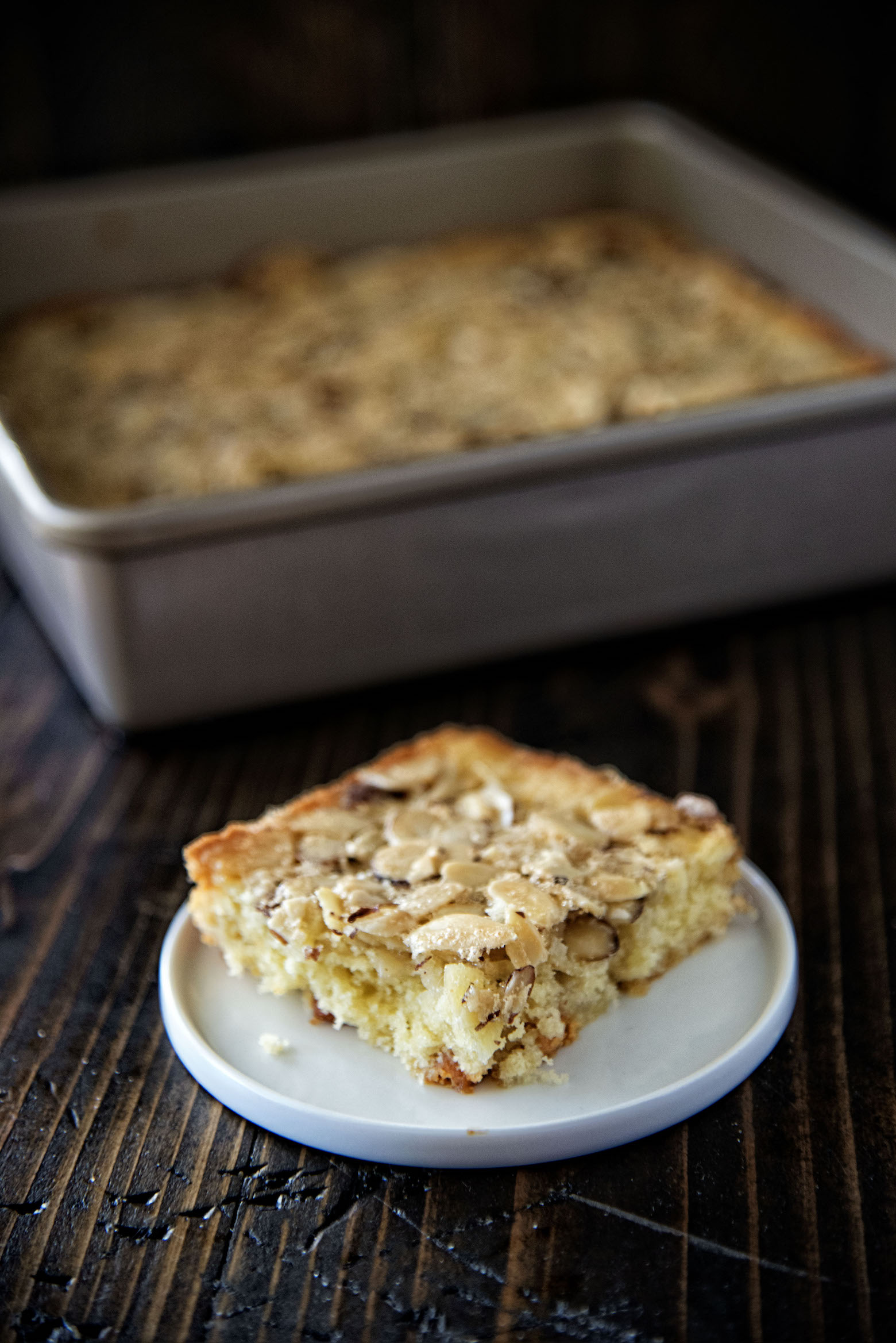 Butterscotch Swedish Visiting Cake Bars 
Makes 9 squares or 18 triangles
For the topping
1 cup (120 grams) powdered sugar
3 large egg whites
1½ cups (150 grams) sliced almonds, blanched or unblanched
For the bars
¾ cup (150 grams) sugar
2 large eggs, at room temperature
¼ tsp. fine sea salt
1½ tsp. pure vanilla extract
¼ tsp. pure almond extract
1 cup (136 grams) all-purpose flour
1 stick (8 tablespoons; 4 ounces; 113 grams) unsalted butter, melted and cooled
1 cup butterscotch chips
Instructions
Center a rack in the oven and preheat it to 350 degrees F. Lightly butter a 9-inch square baking pan and line it with parchment paper.
To make the topping: Put the sugar in a medium bowl and pour over the egg whites.
Using your fingers or a fork, mix until the sugar is moistened.
If there are lumps, ignore them.
Toss in the almonds and stir them around until they're coated with the sugared whites.
Set aside while you make the batter.
To make the bars:
Working in a large bowl (I used a stand mixer due to a recent hand injury at hockey), whisk the sugar, eggs and salt together until the mixture lightens in color and thickens a little, about 2 minutes.
Whisk in the vanilla and almond extracts.
Switch to a flexible spatula and gently stir in the flour.
When the flour is fully incorporated, gradually fold in the melted butter.
You'll have a thick batter with a lovely sheen.
Fold in the butterscotch chips.
Scrape it into the pan and use the spatula to work the batter into the corners.
The layer will be very thin.
Give the topping another stir, or a run-through with your fingers, and turn it out onto the batter.
Use a spatula or your fingers to spread the almonds evenly over the mixture, making sure to get nuts into the corners too.
Baking the bars:
Bake for 28 to 32 minutes, or until a tester inserted into the center of the cake comes out clean or with only a few crumbs stuck to it. The meringue topping will be pale golden brown. If you'd like a deeper color on the topping, run it under the broiler until you get the shade of gold you like best.
Transfer the pan to a rack and let rest for 5 minutes, then run a knife around the edges of the cake and unmold it onto the rack.
Very gently peel away the parchment and invert the cake onto another rack to cool to room temperature.
Transfer the cake to a cutting board and, using a long, thin knife, slice it into nine 3-inch squares.
For smaller portions, cut each square into two triangles.
Storing
Wrapped, the bars will keep at room temperature for 4 to 5 days.