Irish Slammer Layer Cake is chocolate stout cake, Bailey's Irish Cream, Bailey's Buttercream Frosting and covered in Whiskey Caramel Sauce.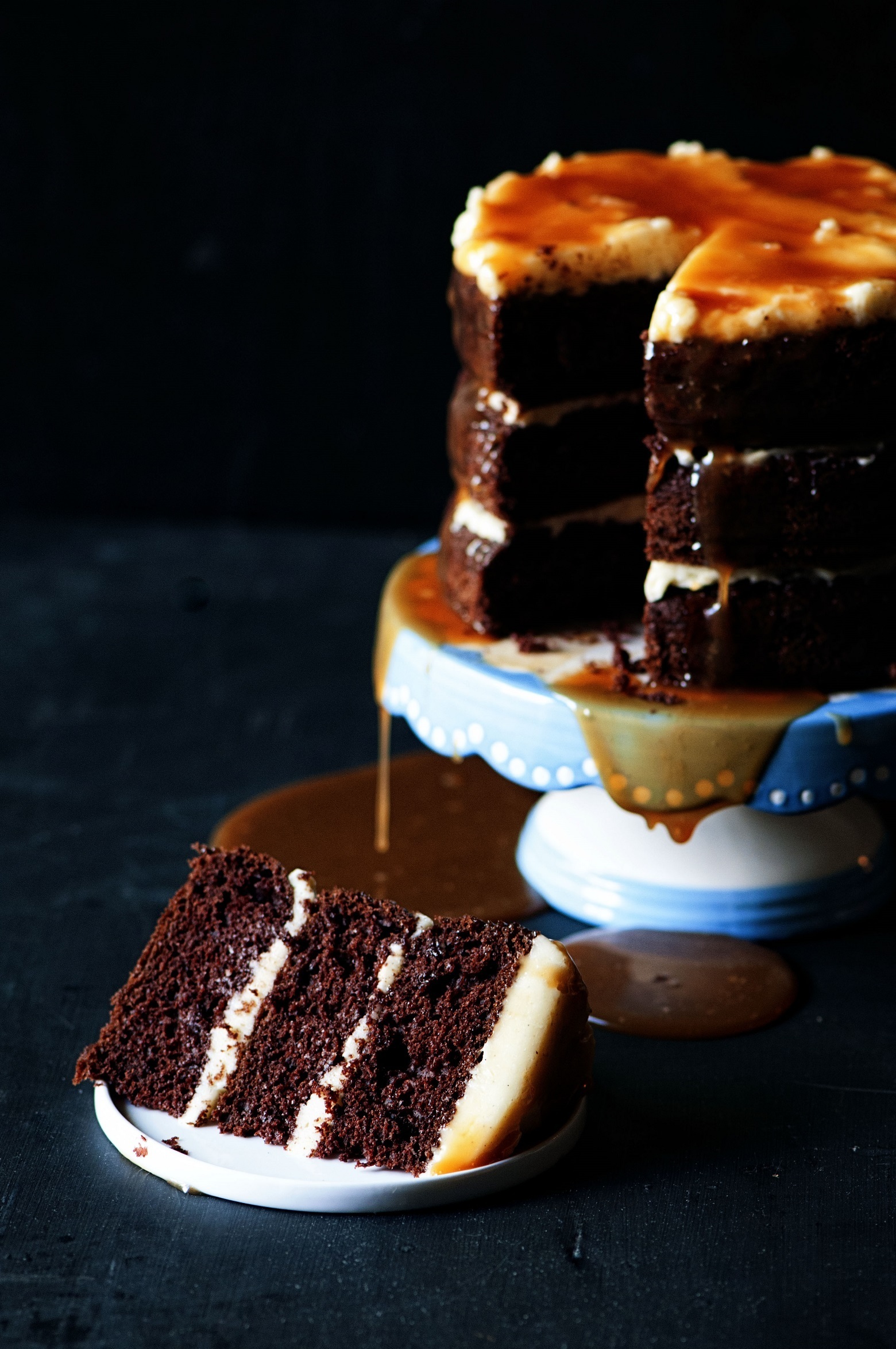 We start the year with New Year's…which involves a lot of drinking usually.
Followed by vowing you won't even drink that much again.
Followed by not following that very well. 🙂
We roll into February. The month of love.
Which means if you are in a relationship maybe you are sipping champagne.
If you are not in a relationship there may be some hard liquor drinking while shoving pizza rolls in your face and shouting what's wrong with me.

For the record nothing is.
Then comes March.
When we all pretend to be Irish.
Well, I don't but a lot of people do.
And we drink.
For one day we really, really drink.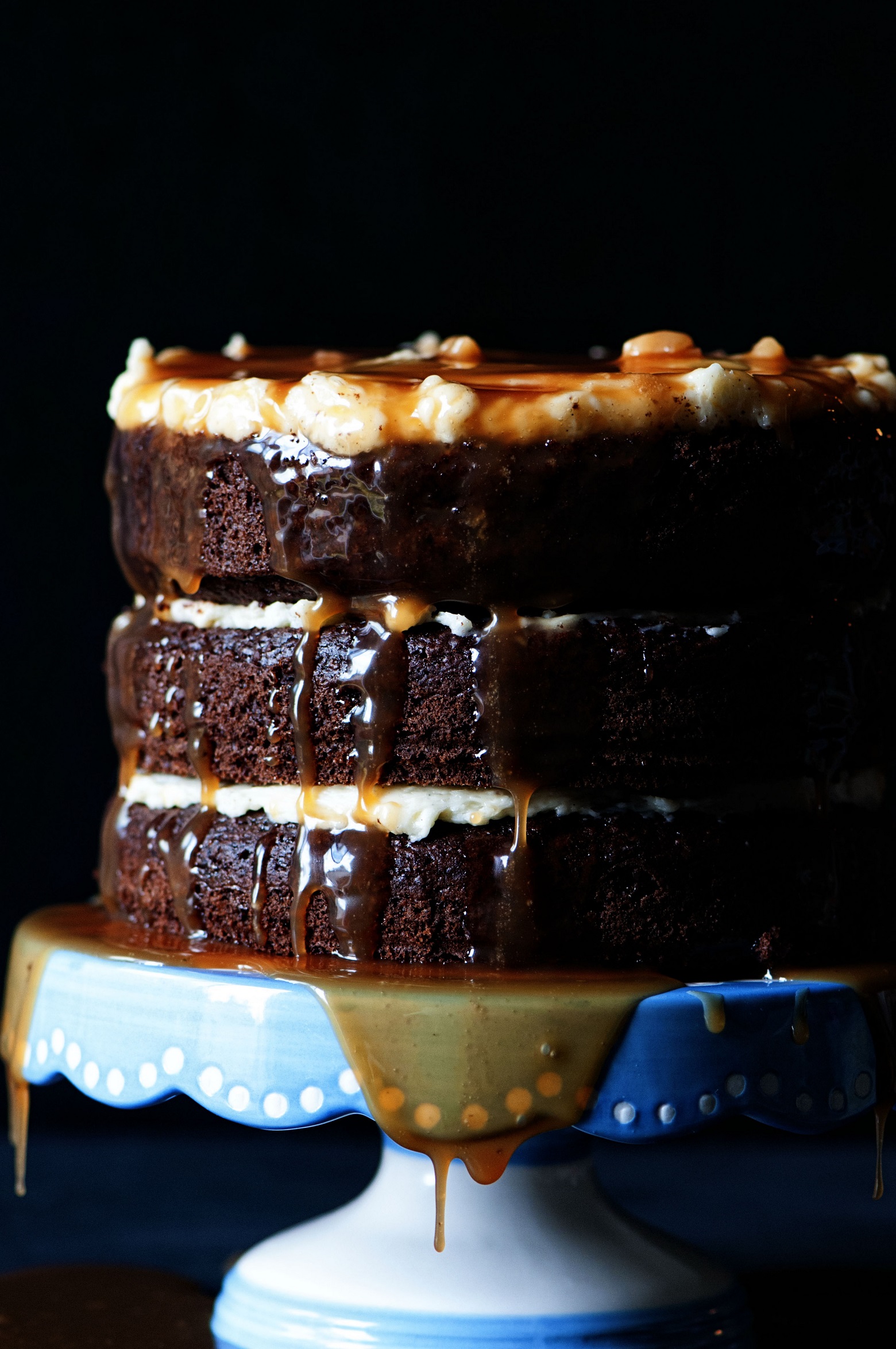 Some people are crazy and think green beer is the way to go.
Don't.
Just don't.
It's watered down beer with food coloring in.
April tends to not be the drinking month.
May we have Cinco de Mayo where everyone drinks margaritas and thinks they are celebrating Mexican Independence Day.
That's September 16th FYI.
June usually is the end of school which means your kids are home…and therefore you alcohol consumption goes up. 😛
July is, of course, the 4th of July…which means drinking plus shooting off fireworks.
Which means overtime for ER doctors and nurses.
August if you live in warm climates is for drinking by the pool.
September is celebratory drinking as the kids go back to school!
October has Oktoberfest which technically is in September but everyone seems to celebrate it in October.
November is Thanksgiving and starts the family is here drinking binge.
December continues the family drinking and we add the celebratory drinking…and eating.
So a full year of drinking!
But let's just focus on the one coming up next week…St. Patrick's Day.
I've made my favorite St. Patty's Day drink, Irish Slammer, into a cake.
A Irish Slammer Layer Cake.
If you don't want to make it with booze…don't make it.

P.S. It's a great day to buy my cookbook Holy Sweet!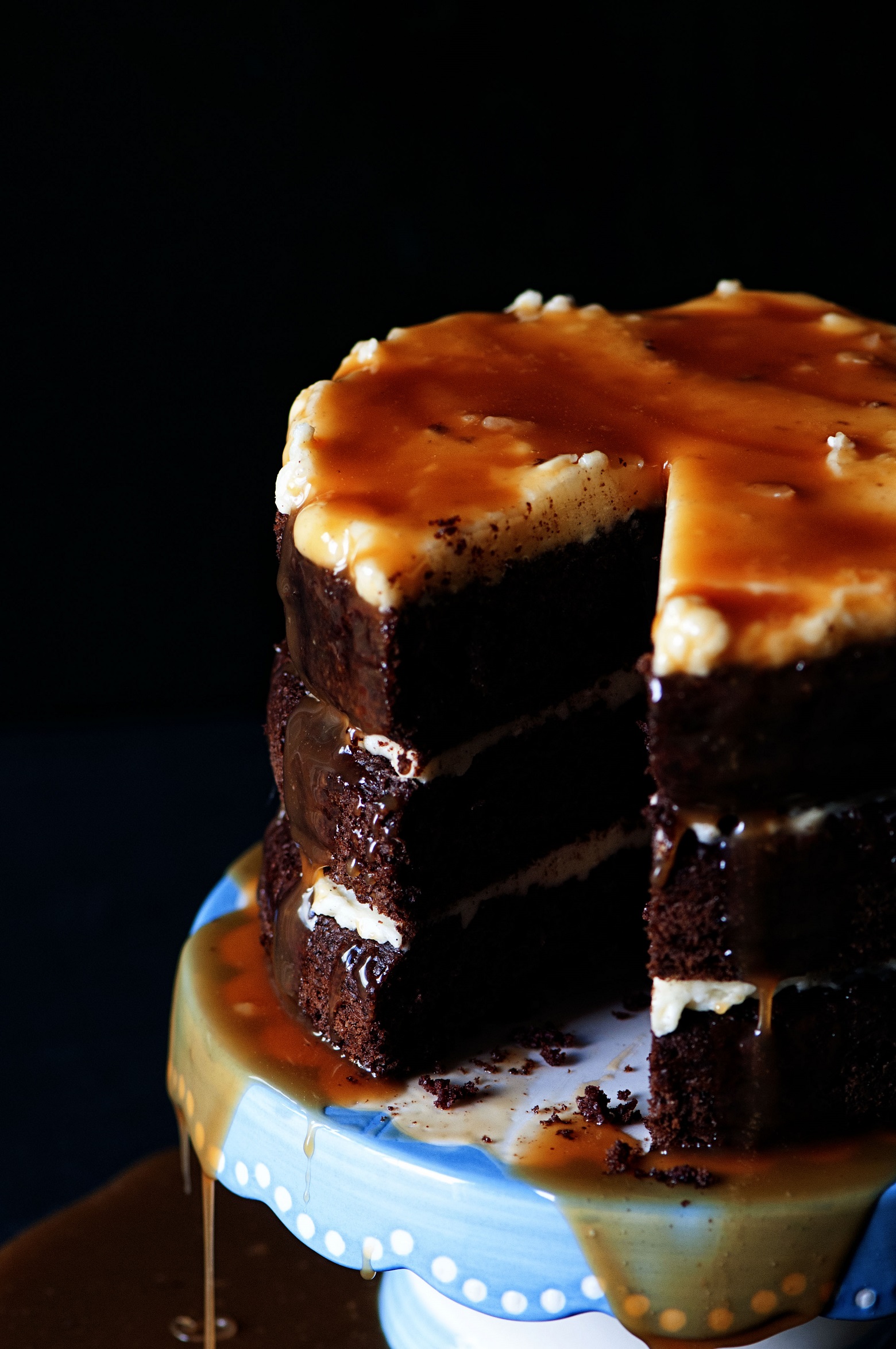 Want more Layer Cake Recipes?
Circus Animal Cookie Layer Cake
Strawberry Lemonade Layer Cake
Strawberry Mascarpone Buttermilk Layer Cake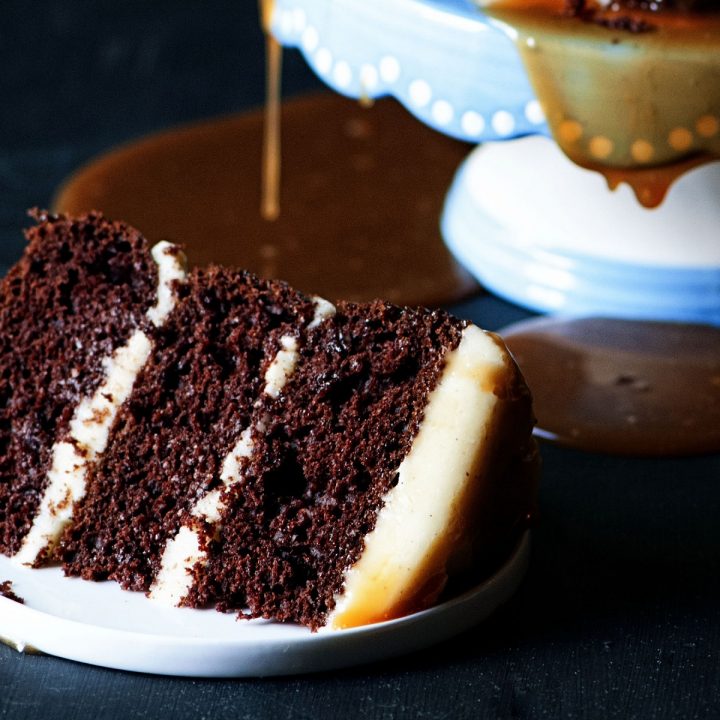 Irish Slammer Layer Cake
Ingredients
For the Chocolate Stout Cake:
1 3/4 cups all-purpose flour
2 cups granulated sugar
3/4 cup unsweetened cocoa
1 1/2 tsp. baking soda
1 1/2 tsp. baking powder
1 tsp. salt
2 eggs
1 cup milk
1/2 cup vegetable oil
1 tsp. vanilla
1 cup boiling stout beer
2 TBSP Bailey's Irish Cream
For the Irish Whiskey Caramel Sauce:
2 cups granulated sugar
¼ cup water
¼ cup Irish whiskey 1 tsp. fresh lemon juice
2 cups heavy cream
½ tsp salt
For the Bailey's Buttercream Frosting:
2 large egg whites, at room temperature
1/2 cup sugar
6 ounces (1 1/2 sticks) unsalted butter, at room temperature
1 TBSP Bailey's Irish Cream
Instructions
For the cake:
Preheat oven 350F.
In a large bowl combine flour, sugar, cocoa, baking soda, baking powder and salt.
Mix together with a wooden spoon then set aside.
In small bowl combine eggs, milk, oil and vanilla.
Beat well with hand mixer(or place in a stand mixer). Slowly add boiling beer and mix.
Add wet ingredients to flour mixture and fold and stir until smooth.
If you are going to make a 2 layer cake with 9-inch pans divide evenly among the two pans. Bake for 30-35 minutes.
If you are going to make three layers with 6-inch pans then divide evenly and bake for about 35-40 minutes.
Let cool on rack before frosting.
For the caramel sauce:
Combine the sugar, water, and whiskey in a heavy bottomed saucepan over medium heat. Cook, gently swirling the pan occasionally, until the sugar dissolves and starts to turn color.
Increase the heat to thigh and boil until the syrup turns a deep amber color, 4 to 5 minutes.
Watch carefully, as it can burn quickly.
Immediately remove the pan from the heat and pour in the cream and salt.
Use a long-handled wooden spoon to carefully stir in the cream, as caramel has a tendency to hiss and splash as the cold cream hits it.
Place the pan over low heat and cook, stirring constantly, until the caramel thickens, 5 to 7 minutes.
The mixture should be the consistency of very thick cream. Let boiling sauce cool until it is just warm before serving.
To store, cover and refrigerate for up to 1 week.
To reheat the sauce, microwave, uncovered, for about 1 minutes on high. Stir until smooth.
You will only use half of the caramel sauce for the cake.
For the frosting:
Combine the egg whites and sugar in the bowl of a stand mixer or in a metal bowl and whisk together. Place the bowl over a saucepan of simmering water, being careful not to let the bottom of the bowl touch the water.
Insert a thermometer and whisk until the mixture reaches 100°F (warm to the touch).
Remove the bowl from the saucepan and place on the stand mixer, fitted with the whisk attachment, or use a hand mixer.
Beat on high speed until the egg whites form soft, thick, shiny peaks.
Make sure your butter is soft and lump-free.
Then add to the meringue a tablespoon at a time while beating at high speed.
Don't worry if the mixture looks broken, with little grains of butter, after you've added all of the butter. Just continue to beat on high speed and the buttercream will smooth out.
Its best to use the buttercream right away. If it firms up before you can use it, though, you can whip it just until it's warm and fluffy again, or warm it ever so slightly in a double boiler.
To assemble cake:
Place one cake layer on cake plate.
Cut off an excess cake so that it's a flat top.
Brush with 1 TBSP Bailey's Irish Cream.
Take 1/3 of frosting and spread it out evenly onto the layer.
Place the second layer on top of the frosted layer.
Cut off excess cake so that it's a flat top.
Brush with 1 TBSP Bailey's Irish Cream.
Add final layer.
Use remainder of frosting to frost top layer.
Pour caramel sauce on top of cake.