Cereal Milk Cereal Rolls: These rolls are filled with Cereal Milk pastry cream, sprinkled with crushed cereal, all topped with cereal milk cream cheese frosting.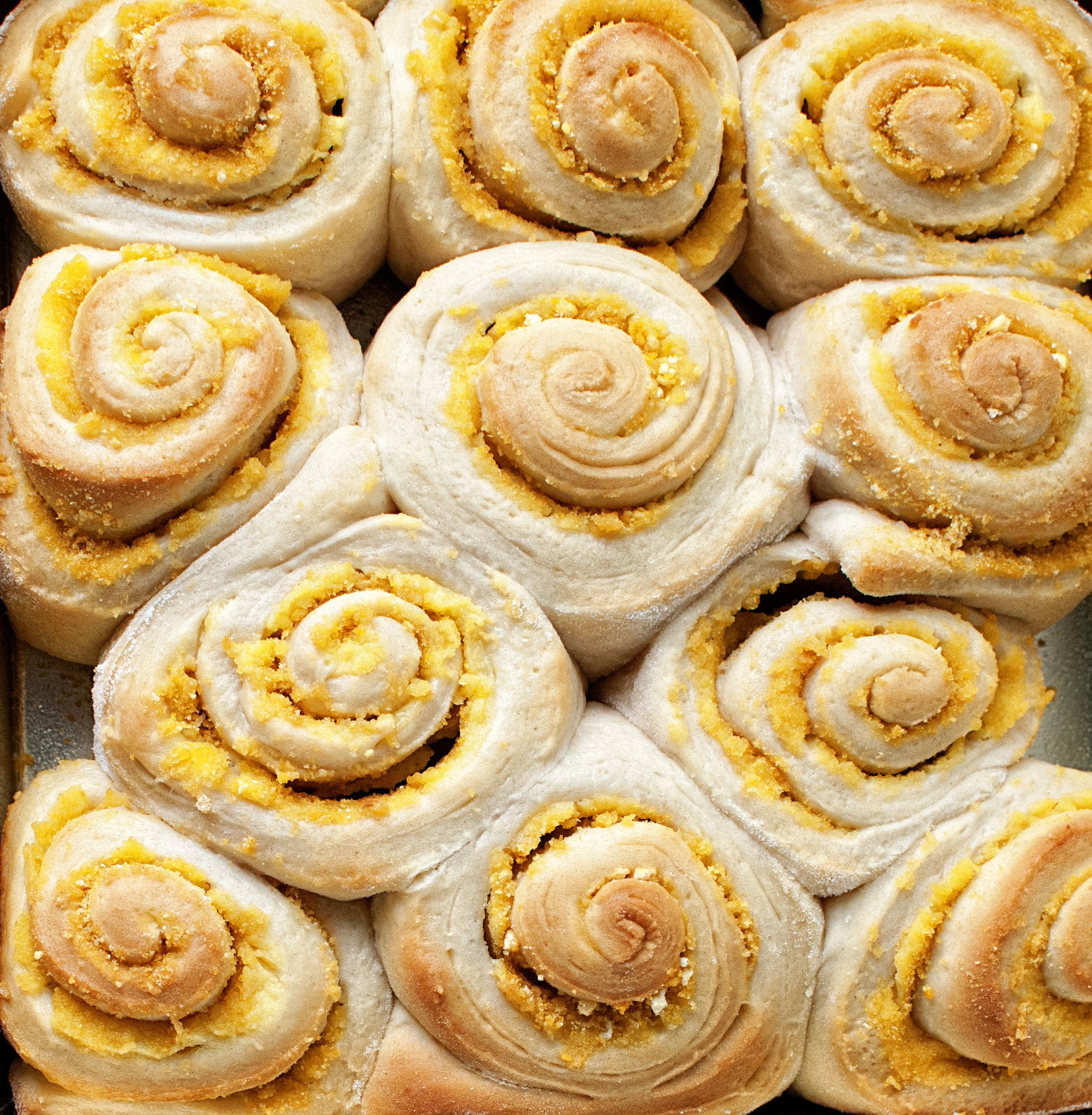 Let me just start by saying these are a project. A fun project but definitely a project. For a weekend day when you are wanting to get your bake on.
I had no idea how these would turn out. I had no idea if they would be worth the effort. For the record they were. At least to me.
I made my own butter for these. Cereal Milk Butter. Now before you say to yourself you would never make butter for this recipe…you make it in a blender and it takes 5 minutes (great visual here). You also get fresh buttermilk out of the deal. And I use the buttermilk in a recipe later this week.
You don't have to make your own butter but I honestly think it's worth the step especially for the cream cheese frosting. If not, I'll sound like Ina Garten and say: store bought is fine. 😀
I wasn't sure what to call these. That took a lot of time to figure out.
Technically they are snails. But who wants to eat something called a Cereal Milk Snail? No one. But rolls with pastry cream in them are snails. Not just any pastry cream…cereal milk pastry cream. In the end I just decied on Cereal Milk Cereal Rolls.
This recipe used a lot of cereal milk. 2 cups in the dough. In the butter (though that was technically cereal milk cream) for the cream cheese frosting and of course, 1 cup in the pastry cream. And then they are sprinkled with crushed cereal as well…so yeah, you definitely can tell they are cereal rolls.
If you are looking for a crazy yummy recipe that will test a few of your cooking/baking skills then this is your recipe. Yeast. Making your own butter. Making pastry cream. It's got quite a few fun things for you to do. 🙂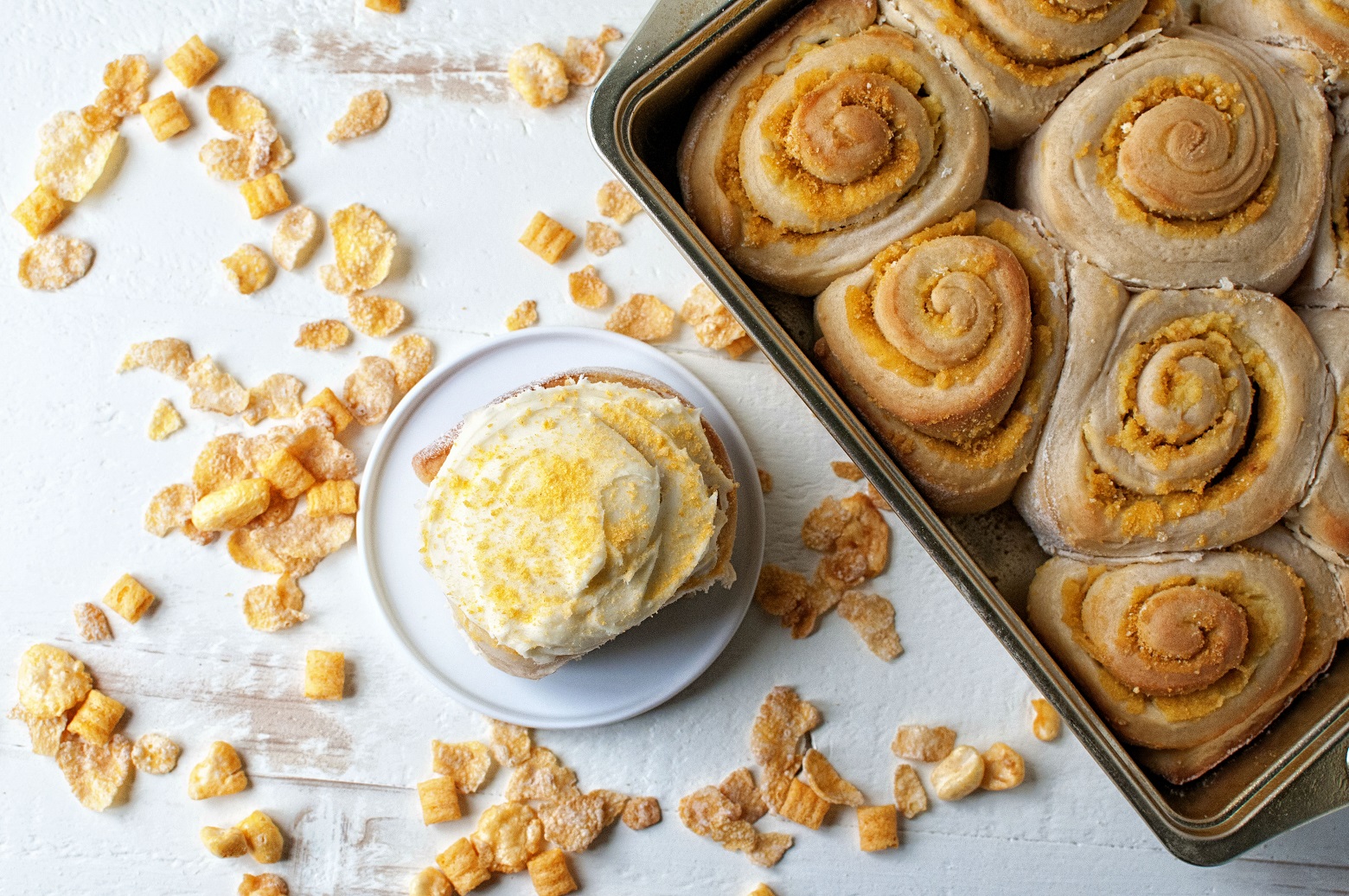 Cereal Milk Cereal Rolls
Recipe Type
:
Breads, Rolls, Breakfast
Author:
Ingredients
Cereal Milk Rolls:
Cereal Milk Pastry Cream (recipe follows)
1 batch dough (recipe follows)
Cereal Milk Cream Cheese Frosting (recipe follows)
1 cup Cereal dust (pulverized Frosted Flakes, Corn Pops, and Captain Crunch) plus more for garnish
Cereal Milk Pastry Cream:
1 cup Cereal Milk
3 large egg yolks
1/4 cups sugar
3 TBSP cornstarch, sifted
2 TBSP unsalted butter, cut into bits at room temperature
For the dough:
2 cups plus 3 TBSP Cereal Milk (see link at bottom of recipe how to make)
1 cup plus 6 TBSP granulated sugar
2 tsp. salt
1/4 cup unsalted butter
1 egg, slightly beaten
2 1/2 tsp. Red Star Yeast Platinum Superior Baking Yeast
6 cups all-purpose flour
Cereal Milk Butter:
2 cups heavy whipping cream
¼ cup Frosted Flakes
¼ cup Captain Crunch
½ cup Corn Pops
Cereal Milk Cream Cheese Frosting:
8 oz. cream cheese, at room temperature
6 oz. Cereal Milk butter, at room temperature (you can just use unsalted butter)
1 tsp. vanilla extract
2 cups powdered sugar
Cereal Milk to thin
Instructions
Cereal Milk Butter:
Pour cream into a medium saucepan.
Add cereal to cream.
Heat cream until it just starts to boil.
Remove from heat.
Steep the cereal for 25 to 35 minutes.
Strain the cream into a bowl.
Press on the cereal in the strainer with a large wooden spoon to squeeze out the cream from the cereal.
Place in fridge for two hours to chill.
Pour the cereal milk cream into the blender and make sure the lid is secure.
Blend. After about five minutes you'll see the butter separate from the buttermilk. Note each blender is different. My Ninja makes it faster than my Vitamix…so watch.
The butter will look like little yellow flakes. Let it sit for a few minutes before you pour off the buttermilk so everything can separate.
Pour the buttermilk into a container with a lid.
Use the wooden spoon to hold back the butter as you pour so you don't end up splashing yourself with buttermilk when a big clump of butter falls in the jar. You'll also use the spoon to press out as much of the buttermilk as possible.
Now, add some cold water to your blender (just enough to cover the butter) and return blender to the base.
Cover with lid and blend the butter for about 30 seconds.
Pour out the last bits of buttermilk and squeeze the butter with the back of your spoon.
Repeat one more time.
This last time, we pour the water into the sink. We mainly want to make sure the water comes out clear so we know there's no more buttermilk in there.
Cover your buttermilk and refrigerate. That buttermilk gets used in the Cereal Milk Banana Bread recipe.
Move your butter to the dish you'll store it in and spread butter on whatever you can so you can give it a taste.
For the pastry cream:
Bring the cereal milk to a boil in a small saucepan.
Meanwhile, in a medium heavy-bottomed saucepan, whisk the egg yolks together with the sugar and cornstarch until thick and well blended.
Still whisking, drizzle in about 1/4 cup of the hot cereal milk– this will temper, or warm, the yolks so they won't curdle.
Whisking all the while, slowly pour in the remainder of the cereal milk.
Put the pan over medium heat and, whisking vigorously, constantly and thoroughly (making sure to get the edges of the pot), bring the mixture to a boil.
Keep at a boil, still whisking, for 1 to 2 minutes, then remove the pan from the heat.
Let sit for 5 minutes, then whisk in the bits of butter, stirring until they are full incorporated and the pastry cream is smooth and silky.
Scrape the pastry cream into a bowl.
You can press a piece of plastic wrap against the surface of the cream to create an airtight seal and refrigerate the pastry cream until cold or, if you want to cool it quickly–as I always do–put the bowl into a larger bowl filled with ice cubes and cold water, and stir the pastry cream occasionally until it is thoroughly chilled, about 20 minutes.
For the rolls:
Place 2 cups of cereal milk in a saucepan over medium heat and bring just to a boil.
Combine 6 TBSP of the sugar, the salt, and the butter in a large bowl, pour the hot milk over it, and let cool to 110-115F.
In a small bowl, mix together the egg and yeast.
Add to the cooled milk mixture, and mix well.
Add the flour and sugar, mix until the dough is soft.
Transfer the dough to a well-floured board and knead until very smooth and elastic, about 5 minutes. You may also use your stand mixer fitted with a hook attachment.
Place the dough in a large, well-greased bowl, cover with plastic wrap, and let rise until doubled in volume, about 1 hour.
Grease a 9X13 inch pan; set aside.
Punch the dough down.
Then roll it out into a 10 X 14-inch rectangle.
Spread the cereal milk pastry cream evenly over the dough leaving one inch at the top on one of the long sides.
Sprinkle the pulverized cereal pieces over the pastry cream.
Starting at one of the long sides, roll the dough up, and pinch the seam well to seal.
Using a serrated knife, cut the dough into 2 inch thick slices, and then place them in the prepared pan.
Cover with plastic wrap and let rise one more time, until doubled in volume, about 1 hour.
Preheat the oven to 350F.
When the rolls have risen, bake until golden brown, about 25 minutes.
Let cool for about 5 minutes. While rolls are cooling, prepare the cream cheese frosting.
For the Frosting:
Using your stand mixer with a paddle attachment beat together the cereal milk butter and cream cheese about three minutes.
With the mixer on low speed, add the powdered sugar a cup at a time until smooth and creamy.
Beat in the vanilla extract.
Frost the rolls.
Sprinkle cereal dust on top of rolls.
*How to make the cereal milk…go here.