Darigold Sharp White Cheddar Cheese, dried cherries, golden raisins, and pecans all fill these wine poached pears for an elegant end to a meal.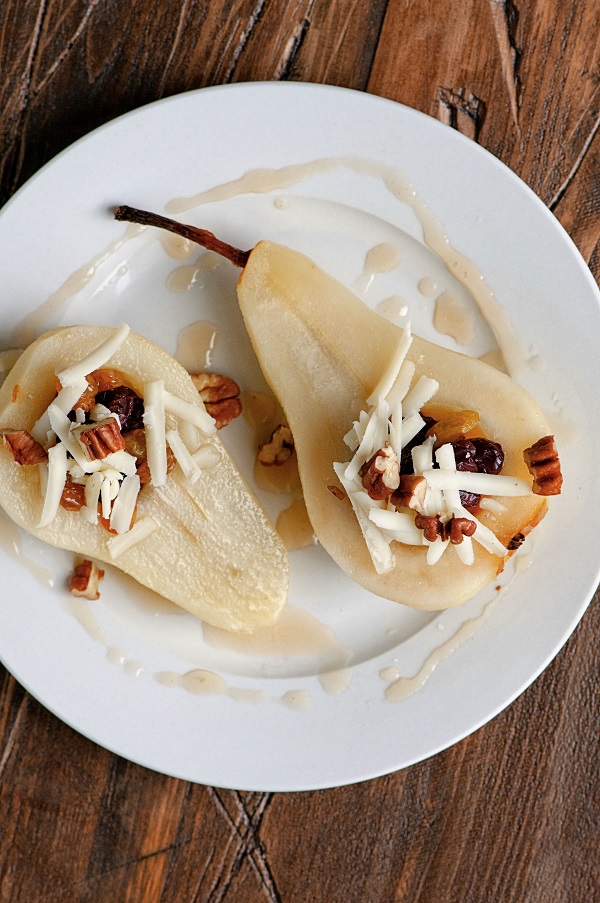 I've partnered with Darigold again to bring you this easy and elegant dessert featuring their yummy Sharp White Cheddar Cheese.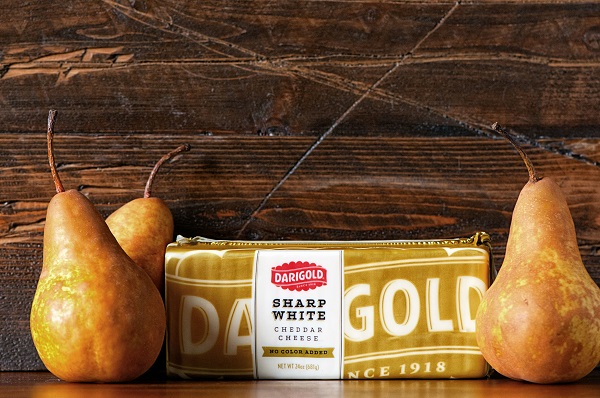 My friend B recently moved back to Napa (I know, real rough, eh?) and seeing her take photos in the vineyards reminded me that I should probably be drinking more wine. 🙂 Or at least cooking with wine. And what goes better with wine than cheese?
So when Darigold asked me if I wanted to recreate their Wine Poached Pears with White Cheddar and Dried Fruit recipe I was all over it. First off because the recipe uses their Sharp White Cheddar which I have been in love with ever since they sent me some and I made the Apple White Cheddar Onion Soup. If you are local to the Seattle area I find it at my Fred Meyer's (also at QFC).
Second this recipe pretty much has all the great things that make up a cheese plate: cheese (duh), fresh fruit, dried fruit, and nuts. And oh yeah, wine. Don't forget the wine. 😀 I personally used white wine because I cannot drink red wine (I love it, it does not love me). However, I highly recommend if you have no issues with red wine that you chose it. Why? There are more red wines that pair with sharp cheddar than whites and it looks so much prettier…though I must admit I like the golden hue color I got from the reduction. Whichever wine you do end up picking make sure it's one you like, especially since you will be boiling it down and, therefore, concentrating its flavors.
This is easy to make. Elegant looking (impress your mother in law!). And of course tasty. It will make you wish you were in Napa unless you are in Napa, then you might wish you were in France.
Once again thanks to Darigold for making wonderful products and for sponsoring post like this so that this little blog of mine can stay afloat. Feel free to follow them on Facebook, Instagram, and Twitter.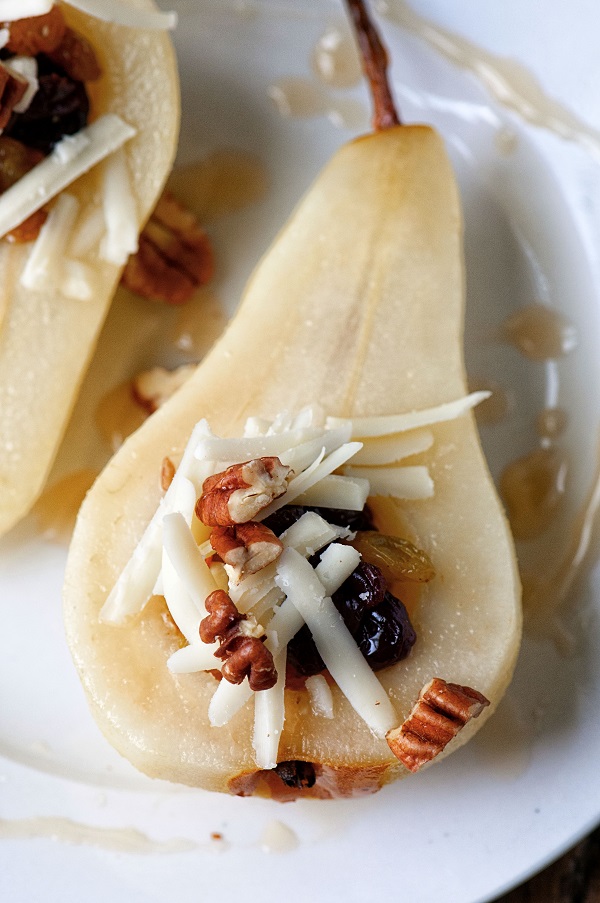 Wine-Poached Pears with White Cheddar and Dried Fruit
Makes 8 servings
4 firm, ripe Bosc pears
1 bottle (750 ML) red or dry white wine
2/3 cup sugar
3 quarter-sized slices of fresh gingerroot
1/3 cup dried sour cherries
1/3 cup sultana (golden) raisins
½ cup crumbled or shredded Darigold Sharp White Cheddar Cheese
1/3 cup coarsely chopped pecans, toasted
Peel pears; cut in half, leaving the stem intact.
Scoop out the cores, using a melon-baller or teaspoon and discard.
Combine wine, sugar and ginger slices in a large saucepan.
Heat to a simmer, stirring until sugar is dissolved. Add pear halves and additional water if needed to cover pears.
Gently cook until pears are tender but still firm (about 5 minutes).
Transfer cooked pears and poaching liquid into a storage container; cool to room temperature.
Lay a piece of waxed paper or parchment directly on top of pears to keep them submerged, and refrigerate until chilled.
Remove pears from poaching liquid.
Drain and place on serving plates cut-side up.
Dividing ingredients equally, fill pears with dried cherries and raisins.
Top with crumbled cheddar cheese and sprinkle with toasted nuts.
Heat 1 cup of the poaching liquid until reduced down to a thin syrup and drizzle onto pears.
Recipe from Darigold